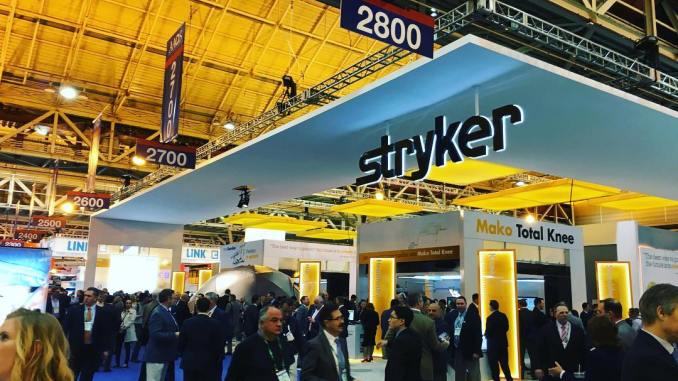 Stryker was founded in 1946 by Dr. Homer Stryker and has since grown to become one of the largest medical technology and device companies in the world. The company partitions their products into three product groups: Medical and Surgical, Reconstructive, and Neurotechnology & Spine. The Medical and Surgical group offers power tools, surgical equipment, computer-assisted surgery systems and applications, minimally invasive surgical solutions and products pertaining to patient care and EMS. The Reconstructive product group provides implant products and systems for hips and knees, trauma and extremities, foot and ankle, sports medicine, orthobiologics and biosurgery and shoulder. The third product group, Neurotechnology and Spine, offers systems and instruments for craniomaxillofacial, interventional spine, neurosurgical, spine and ENT, neurovascular and spinal implants.
Top 3 Stryker Competitors in the Video and Integrated Operating Room (OR) Equipment Market
– Karl Storz
– STERIS
– Olympus
Stryker is the leading competitor in the US market for video and integrated OR equipment. Their dominance can be partially attributed to their early entrance to the integration business which allowed them to amass the largest installed base in the market with over 10,000 integrated ORs in the US alone. Stryker shows robust sales in the markets for OR integration components, surgical camera systems, digital image capture and recording devices, surgical display and PACS monitors, surgical light sources, surgical lighting and surgical booms.
Karl Storz offers products in many of the same segments as Stryker, with often slightly lower but similar market shares, and a strong performance overall despite losing market share to Stryker in previous years due to its delayed introduction of HD products. STERIS was initially a sterilization company that also sold booms and lights, which then entered the integration market without the video or instrumentation component. It is highly unusual for a company without a dedicated video modality to be so successful within the integrated OR market, but the company has built a stellar reputation for its highly advanced and reliable infrastructure offerings. Olympus secured greater market share through its large-scale acquisition of the ImageStream product portfolio in 2015 and its continued success in integrated and hybrid ORs, as well as a strong performance in the image capture market.
Click to learn more about the US Video and Integrated Operation Room Equipment Market
Top 3 Companies Stryker Competes With in the Surgical Navigation Market
– Medtronic
– Brainlab
– Karl Storz
Stryker currently offers three navigation systems with a primary focus in the orthopedics market, but all three systems are also well-suited for cranial, ENT and spinal procedures. Karl Storz is a relatively new competitor in this market with its NAV1™ systems. Brainlab markets three portable navigation platforms which offer varying degrees of sophistication depending on the user's needs. Medtronic offers both navigation platforms, as well as their own imaging system that can be integrated with their StealthStation® navigation system to provide fast, easy, safe and seamless integration with 2D and 3D imaging.
Click to learn more about the US Surgical Navigation Market
Top 3 Stryker Competitors in the Robotic-Assisted Surgery Systems Market
– Intuitive Surgical
– Accuray
– Mazor Robotics
Stryker assumes one of the leading positions in the robotic-assisted surgery market through largely successful sales of its Mako Robotic Arm, a product which Stryker obtained through its acquisition of MAKO Surgical Corporation in 2013. Intuitive Surgical is one of the oldest players in this market, having received FDA approval for their da Vinci® surgical system in 2000. Accuray offers the CyberKnife® system, which is FDA approved to treat tumors in any area of the body where radiation is applicable. Mazor Robotics received FDA clearance for cranial surgery with their Renaissance™ system in 2012, including biopsies, hydrocephalus shunt, and electrode placement. The company announced a definitive merger agreement with Medtronic in September 2018.
Click to learn more about the US Robotic Systems Market
Top 3 Competing Companies to Stryker in the Laparoscopic Device Market
– Medtronic
– Ethicon (Johnson & Johnson)
– Olympus
Stryker competes in the insufflation and suction-irrigation device segment, as well as markets for laparoscopes, hand instruments and direct energy devices. Medtronic and Ethicon compete neck and neck in the direct energy, hand instrument and insufflation device segments among others. Olympus is a leading competitor in the laparoscope market, providing end-users with HD and 3D video laparoscopes, and also has significant shares in the insufflation, suction-irrigation, direct energy, ultrasonic, powered morcellator and female sterilization device segments.,
Click here to learn more about the US Laparoscopic Device Market
Top 3 Stryker Competitors in the Arthroscopic Device Market
– Smith & Nephew
– Arthrex
– ConMed Linvatec
Stryker generates the largest share of its arthroscopic device revenue from the shaver blade, fluid management disposable, RF probe and arthroscope markets. Smith & Nephew is active in all segments of the total arthroscopy market, but has the strongest showing in the high-value RF probe segment. Similarly, ConMed Linvatec is also present in all segments of the market, but captures the majority of its revenue from the fluid management disposables and disposable shaver segments. Arthrex is a strong competitor across various disposable markets. The company's share in the disposable shaver blade segment has increased substantially in recent years with the adoption of the company's premium-priced specialty resection portfolio.
Click here to learn more about the US Arthroscopic Device Market
Top 3 Stryker Competitors in the Orthopedic Large Joint Device Market
– Zimmer Biomet
– DePuy Synthes
– Smith & Nephew
Stryker has a strong presence in the hip and knee replacement device markets, as well as the bone cement market. Currently, Stryker's flagship product is a total knee arthroplasty solution, the Triathlon® Knee System. Following their merger in 2015, the combined entity of the former Zimmer Holdings and Biomet Inc., Zimmer Biomet held the lead in both hip and knee replacement devices despite declining sales in 2017 due to supply issues. DePuy Synthes's revenue in the US knee replacement market remains stable, while their sales in the hip replacement market has experienced growth, a sign of recovery from a bout of bad publicity following the company's recall of the ASR™ XL Acetabular System and DePuy ASR™ Hip Resurfacing System in 2011. Smith & Nephew has also faced some negative attention in the hip replacement market as a result of various product recalls in 2017.
Click here to learn more about the US Large Joint Device Market
Top 3 Companies Stryker Competes with in the Small Bone and Joint Orthopedic Device Market
– DePuy Synthes
– Wright Medical
– Zimmer Biomet
Stryker's shape memory staple market share has significantly increased since their acquisition of the privately-held French company Memometal Technologies in July 2011. With this acquisition they gained the already popular MemoClip™ heat activated compression staple. DePuy Synthes has leading shares in all small bone and joint orthopedic device segments, with the exception of the staple fixation segment. Wright Medical is striving to become the default foot and ankle market manufacturer and offers a complete site of products for foot and ankle orthopedic surgeons. To support their strategic vision, Wright Medical purchased foot and ankle specialists Solana Surgical and OrthoPro in November 2013 and May 2014 respectively. Zimmer Biomet holds a leading position in the shoulder reconstruction market; Zimmer successfully acquired Biomet through a $13.35 billion deal and their absorption of Biomet, who was on track to become the leading shoulder market player, has propelled Zimmer Biomet to become the definitive market leader.
Click here to learn more about the US Small Bone and Joint Orthopedic Device Market
Top 3 Stryker Competitors in the Orthopedic Trauma Device Market
– DePuy Synthes
– Zimmer Biomet
– Smith & Nephew
Stryker maintains a strong position in the plate and screw market with sales of its VariAx™ distal radius locking plate system. They also carry their AxSOS Plating Systems which treat small bone fractures, as well as proximal humeral plates. Smith & Nephew offers a wide variety of plate and screw systems that can be used throughout the shoulder, elbow, wrist, femur and tibia. DePuy Synthes offers an extensive line of intramedullary nailing systems which, along with plates and screws, is one of the company's strongest revenue streams. When DePuy Orthopaedics Inc. acquired Synthes, they sold their own trauma department to Biomet (later Zimmer Biomet) in 2012.
Click here to learn more about the US Orthopedic Trauma Device Market
Top 3 Competing Companies to Stryker in the Orthopedic Soft Tissue Repair & Sports Medicine Market
– Arthrex
– Smith & Nephew
– DePuy Mitek
Stryker has multiple product lines spanning most of the segments in the market, including metal sutures, radiofrequency probes, suture passers and more. Stryker's presence in the all-suture anchor market however, has diminished due to the entrance of Arthrex into the market. Smith & Nephew has a significant market lead in the hip arthroscopy market and they recently acquired Arthocare in 2014 to further their radiofrequency probe technology and solidify their lead in the market. DePuy Mitek has a limited presence in the hip arthroscopy market, but holds significant shares in the shoulder and knee arthroscopy markets.
Click here to learn more about the US Orthopedic Soft Tissue Repair & Sports Medicine Market
Top 3 Competitors in the Orthopedic Biomaterials Market
– Medtronic
– Genzyme
– DePuy Synthes
Through the acquisition of Orthovita in 2011, Stryker gained Orthovita's product Vitoss™, whose existing success and popularity was one of the factors that brought Stryker to the top of the synthetic bone graft substitute market. Medtronic leads the overall bone graft substitute market with their DBM Grafton® product. Their line of machined bone allograft products includes the Tangent® machined bone system and other dowels and wedges. DePuy Synthes is also a strong competitor in both the bone graft substitute and machined bone allograft markets. Genzyme derives its strong position in the overall market from its shares in the hyaluronic acid viscosupplementation segment.
Click here to learn more about the US Orthopedic Biomaterials Market
Top 3 Competitors to Stryker in the Spine Market
– Medtronic
– DePuy Synthes
– NuVasive
Stryker is a strong player in the traditional spine market, but has a relatively weaker position in the MIS spine market. As a result, their total market share trails behind that of Medtronic, DePuy Synthes and NuVasive who all have capitalized on the growing trend on MIS solutions early on. To expand their presence in the MIS market, Stryker acquired rival K2M in the fourth quarter of 2018. K2M's addition to Stryker's strong existing product portfolio allows them to reach a wider range of patients and master new manufacturing technologies.
Click here to learn more about the Global Spine Market or Download a Whitepaper
Top 3 Stryker Competitors in the Neuromodulation, Neurovascular, Neurosurgical and Monitoring Device Market
– Medtronic
– Boston Scientific
– Jude Medical (Abbott)
Stryker's neurovascular portfolio offers products for the minimally invasive treatment of hemorrhagic and ischemic stroke. Following their acquisition of Boston Scientific's neurovascular division, Stryker increased its market shares in the detachable coil, neurovascular catheter and guidewire segments. Despite the loss of their neurovascular division, Boston Scientific's still maintains a relatively higher market position through their strong product offerings in the spinal cord stimulator market, where they compete heavily with Medtronic and St. Jude Medical.
Click here to learn more about the US Neuromodulation, Neurovascular, Neurosurgical and Monitoring Device Market