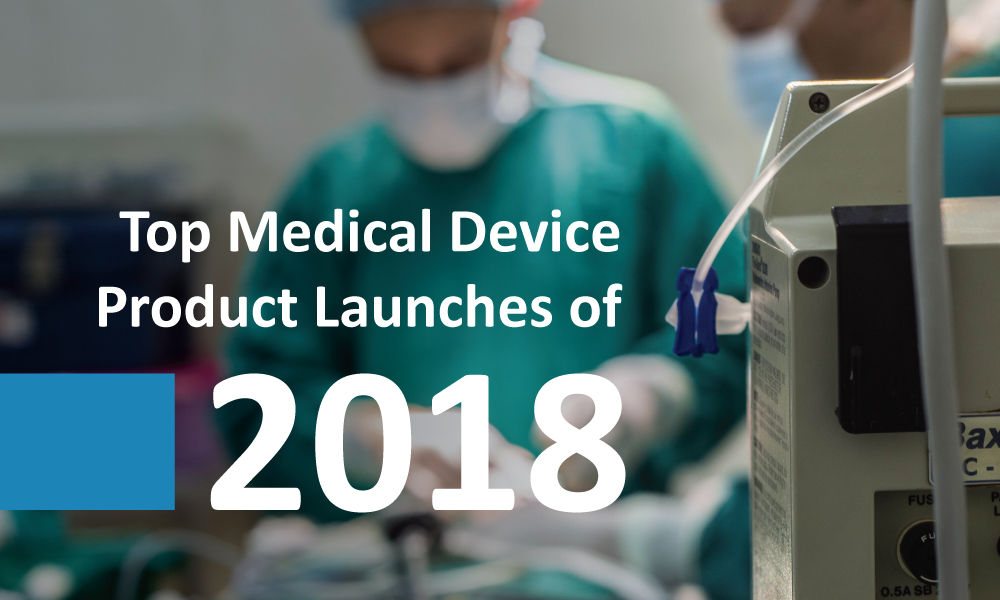 Every year, exciting new medical devices and technologies are introduced to the market, and 2018 was no exception. Here are some the latest innovations and launches that caught the attention of our analysts this year:
Medtronic Launches First 2.0mm Drug-Eluting Stent in the United States
Designed specifically for small vessels, Medtronic announced the FDA approval and U.S. launch of the Resolute Onyx(TM) 2.0 mm Drug-Eluting Stent (DES), the smallest sized DES on the market. This new stent is designed to assist interventional cardiologists treat patients with coronary artery disease (CAD) with small vessels that are often untreatable with larger stent technologies during percutaneous coronary intervention (PCI). It is estimated that approximately 65% of smaller vessels (<= 2.25 mm) are in critical locations of the heart, making them significant lesions to treat.
Click here to learn more about the Interventional Cardiology Market
Envision TEC Launches New High-speed Continuous 3D Printer and its Strongest 3D Printing Material Ever
EnvisionTEC revealed its largest 3D printer ever based on its patented continuous 3D printing technology in early 2018. With a print speed of about 20-50 mm per hour, depending on material, the Vida cDLM prints models in about half the time as the company's best-selling Vida desktop 3D printer. The company followed this release with the launch of an all-new material, E-RigidForm, showcasing it in a 328-foot 3D printed chain. The strength of E-RigidForm enabled EnvisionTEC to 3D print the world's longest resin chain in a single piece. Weaker materials would have sagged during printing such a long and heavy item, causing a print failure.
Click here to learn more about the Digital Dentistry Market
Roland DGA Announce Launch of Intelligent New DGSHAPE Wet Mill for High Esthetic Dental Restorations
Roland DGA launched its new DWX-42W wet mill as the successor to their popular DWX-4W wet mill. The newer model is an intelligent machine that offers effortless production and superior results. Its new machine features include increased Automatic Tool Changer (ATC) capacity with 6-stations, ethernet connectivity, newly designed nozzles and coolant tank, and new grinding burs.
Click here to learn more about the Dental Prosthetics Market
Stryker Unveils Market's First Reusable Suture Passer for Arthroscopic Rotator Cuff Repair, Cobra
Stryker announced the launch of their reusable suture passer, Cobra, at this year's AAOS conference. The aptly named Cobra boasts novel needle manufacturing as well as an innovative jaw design to produce this first-of-its-kind reusable needle technology. According to a press release from Stryker, "Compared to other suture passers on the market, Cobra offers improved needle stiffness to address issues associated with intraoperative misfires and distal tip needle breakages.  In addition, the value-based robust needle technology offers customers a more cost-effective solution."
Click here to learn more about the US Arthroscopic Device Market
NuVasive Launches First-Of-Its-Kind Brigade Lateral Implant
NuVasive announced the U.S. launch of Brigade Lateral, the industry's first interbody implant and instrumentation optimized for lateral anterior lumbar interbody fusion (ALIF). "The NuVasive Lateral ALIF procedure, coupled with the Brigade Lateral implant and instrumentation specifically designed for this approach, is a game changer for me and my patients," said Dr. Michael Cluck, orthopedic surgeon at Bay Area Spine Care in San Jose, California. "When used with minimally invasive surgical techniques, Lateral ALIF allows surgeons to complete a standard ALIF and posterior fixation from one position for both single-level and, more importantly, multi-level lumbar spinal fusions."
Click here to learn more about the Spine Market
Mazor Robotics and Medtronic Gear Up for Mazor X Stealth Launch at NASS2018
The Mazor X Stealth Edition brings integrated stealth navigation technology that promises to enhance user experience through enabling real-time evaluation and verification for the surgeon, as well as reconciliation and checking of the surgical plan execution. The Mazor X Stealth Edition will also provide a robot-guided implant solution that eliminates the need for guide wires with Medtronic implants. Eliminating guide wires increase surgical efficiency, reduced cost and may enhance surgical safety.
Auris Health Unveils the FDA-Cleared Monarch Platform
The Monarch Platform integrates the latest advancements in robotics, software, data science, and endoscope innovation, with the goal of dramatically improving patient outcomes, enhancing physician capabilities, and lowering costs to the healthcare system. The Monarch Platform is a revolutionary flexible endoscopic technology that holds promise to fight lung cancer by allowing physicians to diagnose, and eventually treat, hard-to-reach, small peripheral nodules with greater precision than ever before. Combining traditional endoscopic views into the lung with computer-assisted navigation based on 3-D models of the patient's own lung anatomy, the Monarch Platform provides physicians with continuous bronchoscope vision throughout the entire procedure.
Click to learn more about the US Robotics & Surgical Navigation Market
Abbott's FreeStyle Libre 14 Day Flash Glucose Monitoring System Launches in the U.S.
The FreeStyle Libre system, which first launched in Europe in 2014, with a 14-day wear time, was the first to eliminate the need for fingersticks, and is designed to be an easier-to-use, streamlined and more affordable system compared with other CGMs available on the market. In the U.S., the FreeStyle Libre system (10 day) is approved for replacement of blood glucose monitoring (BGM) for adults with diabetes. With just a quick, one-second scan, users can see real-time glucose readings, as well as identify glucose trends with a directional arrow and review eight hours of glucose history.
Tandem Diabetes Care Releases New t:slim X2 Insulin Pump with Basal-IQ Technology
The t:slim X2 is the first automated insulin delivery system approved for use by children as young as 6 years old, and the first insulin pump designated as compatible with integrated continuous glucose monitoring (iCGM) devices. The Company plans to launch its new product with Dexcom G6® continuous glucose monitoring (CGM) integration, which requires no fingersticks for calibration or diabetes treatment decisions and was the first CGM device to receive the iCGM designation from the FDA earlier this year.
Click here to learn more about the Diabetes Market
Cantel Medical to Bring to Market the ADVANTAGE PLUS Pass-Thru Automated Endoscope Reprocessor
The ADVANTAGE PLUS® Pass-Thru AER has been clinically proven to high-level disinfect the most commonly used endoscopes, including duodenoscopes. The machine also uses a unique pass-through design that supports one-way workflow to ensure the highest quality in infection prevention by reducing the risk of human error, distraction and unintended lapses in cleaning protocols.
Click here to learn more about the Gastrointestinal Endoscopic Device Market
Boston Scientific Unveils the WATCHMAN Left Atrial Appendage Closure (LAAC) Device and Eluvia Drug-Eluting Stent (DES) at TCT18
While already available, both products made headlines at TCT this year with their much-anticipated trial results and registry data. The IMPERIAL trial evaluated the Eluvia Drug-Eluting Vascular Stent System (by Boston Scientific) versus the Zilver PTX Drug-Eluting Peripheral Stent (by Cook Medical) in the first head-to-head trial of DES in patients with superficial femoral artery disease. As the first-late breaking session presented at this year's TCT, data showed that the Eluvia Stent demonstrated superior 12-month data.
During a keynote presentation at TCT 2018, results from a sub-analysis of the final two-year EWOLUTION European registry data demonstrated that the WATCHMAN LAAC Device continues to be a safe and effective alternative to long-term warfarin therapy, offering comparable stroke risk reduction and a significantly reduced risk of major bleeding for patients with non-valvular atrial fibrillation.
Click here to learn more about the Cardiac Surgery Market
iData Research Announces New Market Monitoring Service MedSKU to Track Competitor Sales of Medical Devices
With the addition of SKU-level pricing to their data offering, the granularity that iData can offer has been increased exponentially. By pairing traditional market research reports with SKU-level data, medical device marketers and product managers now have the direct competitive information they need to set prices, target regions, and launch products effectively.