Ventilator Market Analysis, Size, Trends | 2019-2025 | MedCore
Year:

2019

Scope:

2015-2025

Region:

Europe, United States

Pages:

696

Published Date:

02/02/2019

Type:

MedCore
Throughout this medical market research, we analyzed 11 ventilator companies across more than 16 countries and used our comprehensive methodology to understand the market sizes, unit sales, company market shares, and to create accurate forecasts.
Our analysts meticulously research for up to 3 to 4 months to put together one suite of reports (MedSuite), which is a comprehensive analysis of a group of healthcare markets. A MedCore is one portion of that analysis that focuses on one market segment and provides further detailed segmentation to get a much more granular set of market data.
Data Types Included
Unit Sales, Average Selling Prices, Market Value & Growth Trends
Forecasts Until 2025, and Historical Data to 2015
Market Drivers & Limiters for Ventilator market
Competitive Analysis with Market Shares for Each Segment
Recent Mergers & Acquisitions
Disease Overviews and Demographic Information
Company Profiles, Product Portfolios and SWOT for Top Competitors
Related Press Releases from Top Competitors
Market Value and Industry Trends
By 2019, the US ventilator market was valued at $542 million, while the European market was valued at $175 million. Both of these markets are expected to increase in value to exceed $622 million and $185 million in 2025 respectively.
In the United States region, the overall ventilator market is set to grow slowly, with some segments remaining stable, and others generating modest growth levels. Due to the relatively stagnant nature of most segments, market share representation is set to change only very slightly, with the sub-acute and non-invasive market expected to grow over the forecast period. This market is set to experience both minor annual growth in unit sales and price pressures from the maturity of the market and a consequent high degree of competition. Unit growth is set to speed up as demand for more modern machines, such as the non-invasive ventilators, starts to pick up.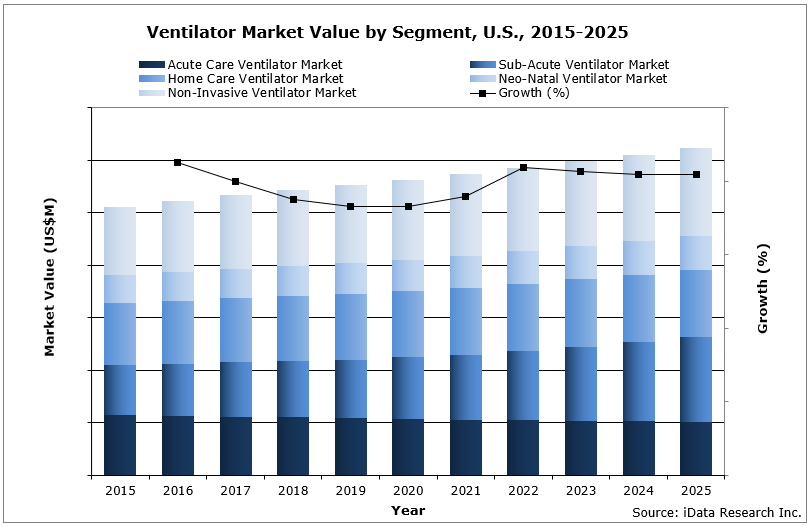 In the European region, the overall ventilator market is segmented into three major types of devices: universal ventilators, neonatal ventilators, and non-invasive ventilators. Universal ventilators are devices that are capable of ventilating all sizes of patients, from adults to neonatal, and are sub-segmented into the acute and home care markets. Neonatal ventilators are designed specifically to ventilate neonatal patients. Non-invasive ventilators rely on the spontaneous breathing of the patient and provide supportive airway pressure. Of these, the acute and home care segment makes up the largest share of the total market.
Competitive Analysis

In both the United States and European regions of the ventilator market, Philips is the leader. Philips is a leading company dedicated specifically to the sleep and respiratory markets. In the United States market, they offer sub-acute, home care, conventional neonatal, and non-invasive ventilators, with particularly strong market shares in the home-care and non-invasive ventilation segments.
A second leading player in both of these markets is Drӓger. They offer a variety of devices in many of their market segments. Specifically, Dräger's Evita® is a universal ventilator that incorporates invasive and non-invasive ventilation parameters, offering flexibility for clinicians that increasingly want to move patients to non-invasive ventilation to improve recovery times. These devices have an advanced software suite that allows the user to choose various representations of the appropriate data.
Report Regional Coverage
Throughout this research series, iData has covered several countries in great detail. Each country may be purchased as a stand-alone report, tailoring the data to your needs. The covered countries are:
United States
Germany
France
U.K.
Italy
Spain
Benelux (Belgium, Netherlands, and Luxembourg)
Scandinavia (Denmark, Finland, Norway, and Sweden)
Austria
Portugal
Detailed Market Segmentation
DON'T SEE THE SEGMENT OR DATA YOU NEED?
Feel free to contact us or send a request by pressing one of the buttons below.
UNITED STATES TABLE OF CONTENTS
LIST OF FIGURES XLIST OF CHARTS XIIEXECUTIVE SUMMARY 1U.S. ANESTHESIA, RESPIRATORY AND SLEEP MANAGEMENT DEVICE MARKET OVERVIEW 1COMPETITIVE ANALYSIS 4MARKET TRENDS 7MARKET DEVELOPMENTS 10MARKETS INCLUDED 12KEY REPORT UPDATES 17VERSION HISTORY 17RESEARCH METHODOLOGY 18Step 1: Project Initiation & Team Selection 18Step 2: Prepare Data Systems and Perform Secondary Research 21Step 3: Preparation for Interviews & Questionnaire Design 23Step 4: Performing Primary Research 24Step 5: Research Analysis: Establishing Baseline Estimates 26Step 6: Market Forecast and Analysis 27Step 7: Identify Strategic Opportunities 29Step 8: Final Review and Market Release 30Step 9: Customer Feedback and Market Monitoring 31
DISEASE OVERVIEW
2.1 BASIC ANATOMY 322.1.1 Respiratory System 322.2 DISEASE TREATMENTS & DIAGNOSTICS 332.2.1 Chronic Obstructive Pulmonary Disease 332.2.2 Sleep Apnea 332.2.2.1 OSA 342.3 PATIENT DEMOGRAPHICS 352.3.1 COPD Incidence 352.3.2 OSA Incidence 35
VENTILATOR MARKET
3.1 INTRODUCTION 363.1.1 Acute-Care Ventilators 363.1.2 Sub-Acute Ventilators 363.1.3 Home Care Ventilators 373.1.4 Neonatal Ventilators 373.1.5 Non-Invasive Ventilators 383.2 MARKET OVERVIEW 393.3 MARKET ANALYSIS AND FORECAST 443.3.1 Acute Care Ventilator Market 443.3.2 Sub-Acute Ventilator Market 463.3.3 Home Care Ventilator Market 483.3.4 Total Neonatal Ventilator Market 503.3.4.1 Dedicated Neonatal Ventilator Market 523.3.4.2 High-Frequency Neonatal Ventilator Market 543.3.5 Non-Invasive Ventilator Market 563.4 DRIVERS AND LIMITERS 583.4.1 Market Drivers 583.4.2 Market Limiters 593.5 COMPETITIVE MARKET SHARE ANALYSIS 61
ABBREVIATIONS
APPENDIX: COMPANY PRESS RELEASES
All Companies Analyzed in this Study

Aire Liquide
AirLife
BOMImed
Breas
Bunnell
Drager
EMT Medical
eVent
Fisher & Paykel
GE Healthcare
Getinge
Hamilton

Hoffrichter GmbH
Medtronic
Percussionaire
Philips
ResMed
Sechrist
SIARE
SLE Ltd
Stephan GmbH
VyAire
Zoll
iData's 9-Step Research Methodology
Our reports follow an in-depth 9-step methodology which focuses on the following research systems:
Original primary research that consists of the most up-to-date market data
Strong foundation of quantitative and qualitative research
Focused on the needs and strategic challenges of the industry participants
Step 1: Project Initiation & Team Selection During this preliminary investigation, all staff members involved in the industry discusses the topic in detail.
Step 2: Prepare Data Systems and Perform Secondary Research The first task of the research team is to prepare for the data collection process: Filing systems and relational databases are developed as needed.
Step 3: Preparation for Interviews & Questionnaire Design The core of all iData research reports is primary market research. Interviews with industry insiders represent the single most reliable way to obtain accurate, current data about market conditions, trends, threats and opportunities.
Step 4: Performing Primary Research At this stage, interviews are performed using contacts and information acquired in the secondary research phase.
Step 5: Research Analysis: Establishing Baseline Estimates Following the completion of the primary research phase, the collected information must be synthesized into an accurate view of the market status. The most important question is the current state of the market.
Step 6: Market Forecast and Analysis iData Research uses a proprietary method to combine statistical data and opinions of industry experts to forecast future market values.
Step 7: Identify Strategic Opportunities iData analysts identify in broad terms why some companies are gaining or losing share within a given market segment.
Step 8: Final Review and Market Release An integral part of the iData research methodology is a built-in philosophy of quality control and continuing improvement is integral to the iData philosophy.
Step 9: Customer Feedback and Market Monitoring iData philosophy of continuous improvement requires that reports and consulting projects be monitored after release for customer feedback and market accuracy.