Anesthesia, Respiratory and Sleep Therapy Devices Market Analysis, Size, Trends | 2019-2025 | MedSuite
0
Year

:

2019

Scope

:

2015-2025

Region

:

Europe, United States

Pages

:

1922

Type

:

MedSuite
Industry Trends
Oxygen therapy devices, sleep diagnostic devices and respiratory disposables, are expected to be the fastest-growing segments in the European anesthesia, respiratory and sleep management device market. As an alternative to the centralized delivery of concentrated oxygen, devices that allow patients to generate their own oxygen at home have played a significant role. This report focuses on these products. The growth exhibited by the oxygen therapy segment largely reflects this modest shift toward alternative oxygen therapy devices. This growth is expected to abate as replacement sales come to comprise a larger share of the market.
The U.S. anesthesia, respiratory and sleep therapy devices market is set to grow over the forecast period. Overall, this market is experiencing increased consumer awareness, advancing technology, shifting preferences and insurance reimbursement changes. The U.S. Census Bureau projects that the population of people aged 50 or older will more than double by 2030, reaching 70 million. In the U.S., the population growth rates for those over the age of 65 will increase between 2017 and 2030 as the baby boomer generation (currently, the largest age demographic) reaches retirement age. Along with this increase, the prevalence and discovery of chronic respiratory diseases would increase as well. The majority of patients who rely on oxygen therapy products tends to be seniors. Thus, the aging population is set to generate growth for the overall ARS market.

Report Regional Coverage
Throughout this research series, iData has covered several countries in great detail. Each country may be purchased as a stand-alone report, tailoring the data to your needs. The covered countries are:
United States
Europe (15 countries including: Germany, France, U.K., Italy, Spain, Benelux (Belgium, Netherlands and Luxembourg), Scandinavia (Denmark, Finland, Norway and Sweden) Austria, Switzerland and Portugal)
The Only Medical Device Market Research With:

✔

Unit Sales Growth Analysis


✔

Average Selling Prices


✔

Competitor Shares by Segment & Country


✔

 SKU-Level Research Methods


✔

 The Lowest Acquisition Cost


Highly Detailed Segmentation
While this report suite contains all applicable market data, each of the markets are also available as stand alone MedCore reports. This allows you to get access to only the specific market segment research that you need. You can view all these included reports and segmentation here:
Anesthesia Delivery Unit Devices Market – MedCore
Anesthesia Monitors Market – MedCore
Anethesia Information Management Systems Market – MedCore
Anesthesia Disposables Market – MedCore
Ventilators Market – MedCore
Nebulizers Market – MedCore
Respiratory Disposables Market – MedCore
Oxygen Therapy Market – MedCore
Therapeutic Obstructive Sleep Apnea Devices Market – MedCore
Sleep Diagnostic Devices Market – MedCore
Buying all of these reports together in this suite package will provide you with substantial discounts from the separate prices. Request Pricing to Learn More
Full Segmentation Map for the United States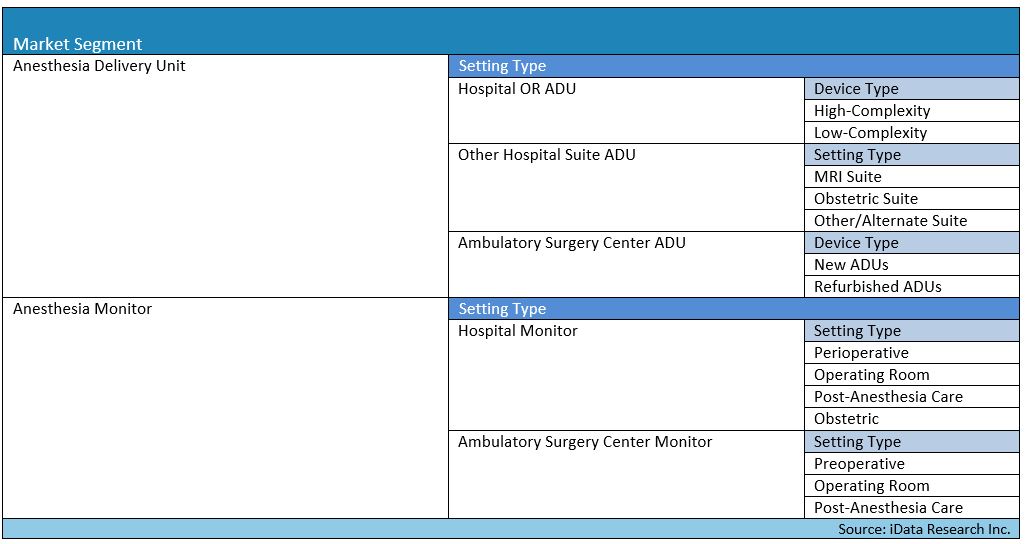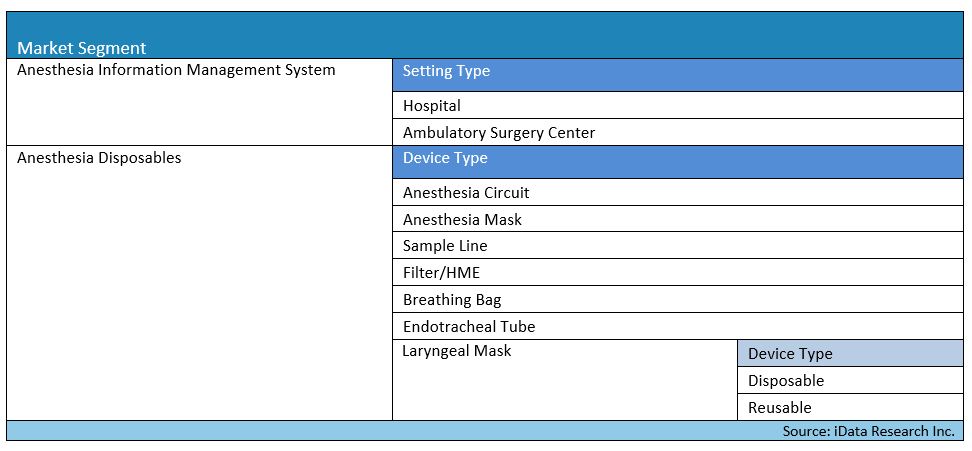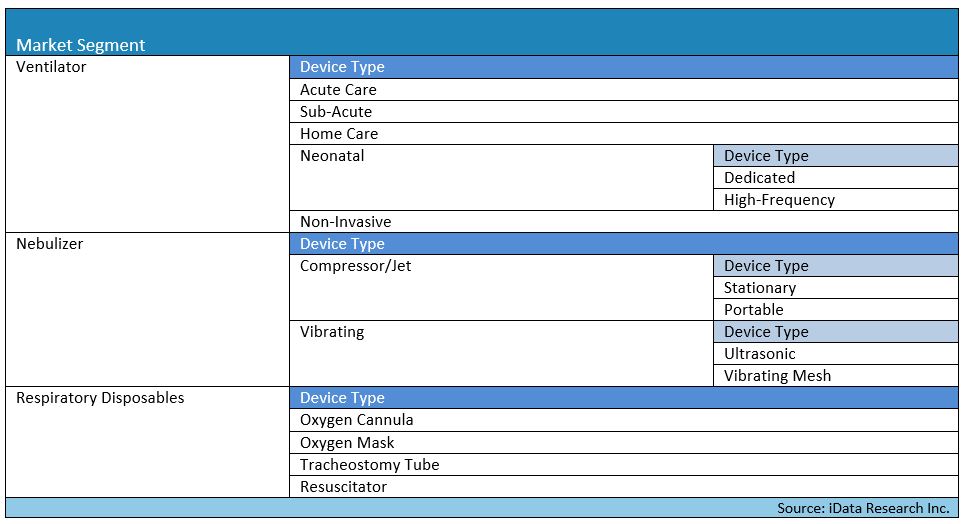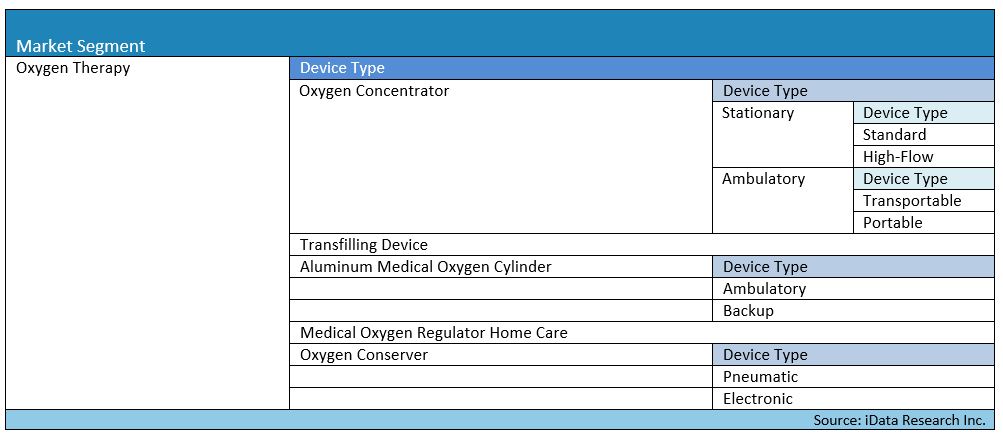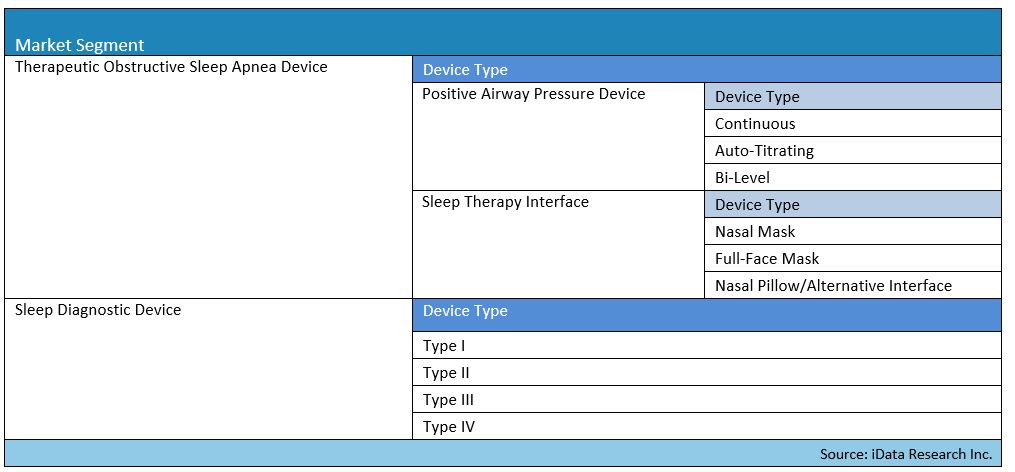 Anesthesia, Respiratory and Sleep Therapy Devices Market Report Data Types Included
Unit Sales, Average Selling Prices, Market Value & Growth Trends
10 Year Scope
Market Drivers & Limiters for Each Segment
Competitive Analysis with Market Shares for Each Segment
Recent Mergers & Acquisitions
Disease Overviews and Demographic Information
Company Profiles, Product Portfolios and SWOT for Top Competitors
Related Press Releases from Top Competitors
Anesthesia, Respiratory and Sleep Therapy Devices Market
Share Insights
Of the many companies in the US anesthesia, respiratory and sleep therapy devices market, Philips is the leader, specializing in respiratory devices, therapeutic sleep management and patient monitors. Philips especially maintained their presence in equipment and devices, but less so on the side of disposables. ResMed held the second-leading position through the company's major presence in the sleep therapy and diagnostic markets. From 2015 to 2018, ResMed acquired a significant amount of companies in order to expand their presence within certain segments, but also within certain global regions, such as China. Overall, ResMed is expected to continue to experience revenue growth, especially in the near future.
Philips and ResMed are the two leading competitors in the European anesthesia, respiratory and sleep management devices markets. Combined, they accounted for close to half of the overall market share and were leading players in a majority of segments covered in this report. ResMed was the market leader in the therapeutic sleep management device market, while Philips led the ventilator, nebulizer and sleep diagnostic device markets.
Combined, strong competition is found in GE Healthcare, Mindray, EPIC, Cerner, AllScripts, Teleflex, Becton Dickinson, Ambu and others.
All Companies Analyzed in this Study

• Aerogen
• Airgas
• AirLife
• Air Liquide
• AirSep
• Alpha Trace
• Ambu
• Armstrong Medical
• Becton Dickinson
• BESCO
• Beurer
• BMC
• Breas
• Cadwell Labs
• CAIRE
• Ca-Mi
• Catalina Cylinders
• Clement Clarke
• Compumedics
• CONTEC
• ConvaTec
• Cramer Decker
• Degmed
• DeVilbiss
• digi02
• Drӓger
• DRE
• Elmaslar
• EVEREST
• eVent
• EVO Medical
• Fannin
• Farum
• Fisher & Paykel
• Flexicare
• Flotec
• Fukuda Denshi
• GE Healthcare
• Getinge
• Giotto
• Global Medical Holdings
• Graham Field
• Grass Technologies
• Hamilton Medical
• Hans Rudolph
• HCMedi
• IBM Watson Health

• iMDsoft
• Inogen

• Intersurgical
• Invacare
• Itamar
• Kare
• Luxfer
• Mada Medical
• Maquet
• Massimo
• Medis
• Medline
• Medtronic
• Mercury Medical
• Metal Impact
• Mindray
• Natus
• Nellcor
• Nidek
• Nihon Kohden
• O2 Concepts
• Omron
• Oxlife
• PARI
• Penlon
• Percussionaire
• Philips
• Picis
• Precision Medical
• ResMed
• Salter Labs
• Sechrist
• Shinmed
• Siare
• SLE
• Smiths Medical
• Somnostar
• Spacelabs
• SunMed
• Teleflex
• The Respiratory Group
• Ventlab
• VisionAire
• VyAire
• Weinmann
• Welch Allyn
• WestMed
• Worthington
• Zoll
Statistics and Procedure Trends
According to the COPD foundation, a COPD survey found that 81% of COPD patients have six or more comorbidities, including weight loss, arthritic pain, cancer, cardiac problems, osteoporosis, depression, hypertension, sleep apnea and diabetes. In 2016, the Global Burden of Disease Study by the World Health Organization (WHO) reported 251 million cases of COPD globally. Lower and middle-income countries constitute more than 90% of COPD-related deaths.
Latest Market Developments
July 2018 – Linde is on track to complete a $46 billion merger with Praxair by
the end of 2018
March 2017 – Chinese pharmaceutical giant, Fosun Pharma, is now the majority
owner of Breas Medical
For a Full Table of Contents From Any of the Country Reports in this Global Series, please
Contact iData
iData's 9-Step Research Methodology
Our reports follow an in-depth 9-step methodology which focuses on the following research systems:
Original primary research that consists of the most up-to-date market data
Strong foundation of quantitative and qualitative research
Focused on the needs and strategic challenges of the industry participants
Step 1: Project Initiation & Team Selection During this preliminary investigation, all staff members involved in the industry discusses the topic in detail.
Step 2: Prepare Data Systems and Perform Secondary Research The first task of the research team is to prepare for the data collection process: Filing systems and relational databases are developed as needed.
Step 3: Preparation for Interviews & Questionnaire Design The core of all iData research reports is primary market research. Interviews with industry insiders represent the single most reliable way to obtain accurate, current data about market conditions, trends, threats and opportunities.
Step 4: Performing Primary Research At this stage, interviews are performed using contacts and information acquired in the secondary research phase.
Step 5: Research Analysis: Establishing Baseline Estimates Following the completion of the primary research phase, the collected information must be synthesized into an accurate view of the market status. The most important question is the current state of the market.
Step 6: Market Forecast and Analysis iData Research uses a proprietary method to combine statistical data and opinions of industry experts to forecast future market values.
Step 7: Identify Strategic Opportunities iData analysts identify in broad terms why some companies are gaining or losing share within a given market segment.
Step 8: Final Review and Market Release An integral part of the iData research methodology is a built-in philosophy of quality control and continuing improvement is integral to the iData philosophy.
Step 9: Customer Feedback and Market Monitoring iData philosophy of continuous improvement requires that reports and consulting projects be monitored after release for customer feedback and market accuracy.