Gynecological Devices Market Analysis, Size, Trends | Global | 2017-2022 | MedSuite
Year:

2017

Scope:

2013-2023

Region:

Asia-Pacific, Australia, China, Europe, Japan, United States

Pages:

3650

Published Date:

05/04/2017

Type:

MedSuite
Industry Trends
In the U.S. gynecological devices market, fluid management devices are the fastest growing segment with strong sales linked to growth in the hysteroscope market and capital equipment replacement that many had put off in the past. However, this segment is smaller compared to many of the others, so while it may be growing at the highest rate, it will not have the largest increase in pure dollars. This belongs to the pelvic organ prolapse market, which will make a comeback after recovering from legal issues from the past.
The largest segment of the U.S. market was the global endometrial ablation segment, due to the fact that it caters to heavy uterine bleeding, which is highly prevalent condition, especially within the older demographic. Moreover, it is a minimally invasive technology; these types of procedures have experienced significant growth over the past decade.
In the European gynecological devices market, global endometrial ablation and endometrial resection are indirectly linked, offering competing
treatment options for the same patients. The largest change in this market is the exit of Johnson & Johnson from the endometrial ablation market in March 2016, leaving a large market share to be redistributed among the remaining competitors. The uterine fibroid embolization device market is currently stable. In Southern Europe, many women are also delaying treatment due to the struggling economy. Hysteroscopes and colposcopes both experienced positive growth. Overall, both of these markets are well established and stable with similar growth projected through to 2022.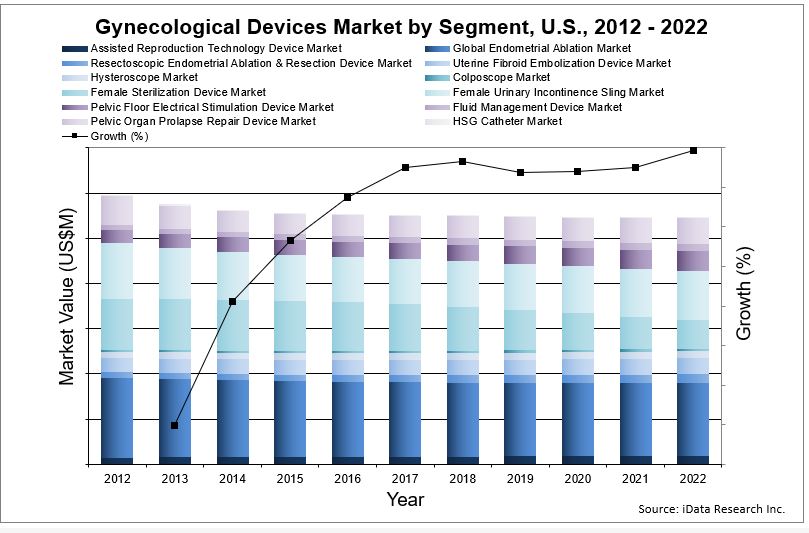 Report Regional Coverage
Throughout this research series, iData has covered several countries in great detail. Each country may be purchased as a stand-alone report, tailoring the data to your needs. The covered countries are:
United States
Europe (15 countries including: Germany, France, U.K., Italy, Spain, Benelux (Belgium, Netherlands and Luxembourg), Scandinavia (Denmark, Finland, Norway and Sweden) Austria, Switzerland and Portugal)
Japan
Australia
China
Aisa Pacific
The Only Medical Device Market Research With:

✔

Procedure Volume Analysis


✔

Unit Sales Growth Analysis


✔

Average Selling Prices


✔

Competitor Shares by Segment & Country


✔

 SKU-Level Research Methods


✔

 The Lowest Acquisition Cost


Highly Detailed Segmentation
While this  report suite contains all gynecological devices market data, each of the markets are also available as stand alone MedCore reports. This allows you to get access to only the gynecological devices market research that you need. You can view these separate reports and segmentation here:
Procedure Numbers for Gynecological Devices Market – MedPro
Uterine Fibroid Embolization Devices Market – MedCore
Global Endometrial Ablation Market – MedCore
Female Sterilization Market – MedCore
Pelvic Floor Electrical Stimulation Devices and Pelvic Organ Prolapse Repair Devices Market – MedCore
Hysteroscopes Market – MedCore
Hysterosalpingography Catheters Market – MedCore
Female Urinary Incontinence Slings Market – MedCore
Fluid Management Equipment Market – MedCore
Resectoscopic Endometrial Ablation & Resection Devices Market – MedCore
Colposcopes Market – MedCore
Assisted Reproduction Devices Market – MedCore
Buying all of these reports together in this suite package will provide you with substantial discounts from the separate prices. Request Pricing to Learn More.
Full Segmentation Map for Europe

Gynecological Device Market Report Data Types
Unit Sales, Average Selling Prices, Market Value & Growth Trends
Procedure Volumes
Forecasts Until 2022, and Historical Data to 2012
Market Drivers & Limiters for Each Segment
Competitive Analysis with Market Shares for Each Segment
Recent Mergers & Acquisitions
Gynecological Procedure Volumes
Disease Overviews and Demographic Information
Company Profiles for Top Competitors
Related Press Releases from Top Competitors
Gynecological Device Market Share Insights
In the U.S. gynecological devices market, Hologic was the leading competitor in the gynecological device market, due to its dominance in the global endometrial ablation market. With its radiofrequency ablation device, NovaSure™, the company has over half of the endometrial ablation market segment. Hologic is a very highly regarded company, and it has beenvery successful in women's health. Its products reflect innovation that has the best interest of the patient taken into account. Bayer was the second leading competitor in the gynecological device market. Its position can beattributed to its domination of the female sterilization device market. The Essure® remains the only transcervical implant device on the market. Due to the minimal invasiveness of the procedure, it has remained extremely popular.
In Europe, Karl Storz held the lead in three of the twelve sub-markets within Gynecology, holding a diverse product portfolio as market leader in
Endometrial Resection Devices, Hysteroscopes and Fluid Management Equipment. The partnership between Karl Storz and MTP (Medical Technical Promotion gmbh) has contributed to the company's strong growth and consistent sales in a recovering economy.
Globally, there is strong competition from Cooper Surgical, Cook Medical, Vitrolife, Johnson & Johnson, Boston Scientific, Terumo, Merit Medical Systems, Richard Wolf, Olympus, Fotona, CR Bard and others.
All Companies Analyzed in this Study

Alma Surgical
AngioDynamics
Astora Women's Health
Asclepion
Astec Bio
Bayer
Bison
Boston Scientific
BTG
Carl Zeiss
CCD
Coloplast
Cook Medical
Cooper Surgical
CR Bard
Deka Medical Lasers
Esco
Fotona
Gynetics
Genea BioMedix
Hologic
Irvine
Johnson & Johnson
JCD

Kaps
Karl Storz (+MTP)
Kitazato
Kebomed
Leica
Life Global
Lumenis
Medi-Con International
Medtronic
Merck KgbA
Merit Medical Systems
Naka Medical
Nidacon Medical
Olympus
Pentax
Reproline Medical
Richard Wolf
Rocket Medical
Sciton
Serag Weissner
Smiths Medical
Terumo
The LifeGlobal® Group
Vitrolife
Wallace Needles
Gynecological Devices Statistics and Procedure Trends
There are a total of 435,487 hysteroscopy procedures being performed annually in the United States. The main driver behind hysteroscopy procedure numbers is the aging population. Many conditions that require hysteroscopy are more evident in the older female demographics. Moreover, hysteroscopy plays a large part in fertility assistance as it can be used in the determination of uterine abnormalities. It has also been suggested that the hysteroscopic removal of fibroid and polyps improves the success rates of in vitro fertilization (IVF). As couples are increasingly opting to undergo ART procedures and to obtain fertility assistance, it is expected that hysteroscopy procedures will also see a corresponding growth.
In the U.S. alone, over 317,103 female sterilization procedures are being performed annually, an increase of 4.1% over the previous
year. Growth in female sterilization procedures has primarily been driven by growth in mechanical sterilization procedures due to the growing popularity of Cooper Surgical's Filshie® Clips.
For a Full Table of Contents From Any of the Country Reports in this Global Series, please
Contact iData
One of the the most accurate methods of market research in the medical device industry is to analyze the procedure volumes and trends. Through this study on gastrointestinal devices, iData Research has performed an analysis on the following procedure segments in order to increase the accuracy of our market sizing, and provide you with the volume of procedures over a 10 year range.
Procedure Volume Analysis Segments in Europe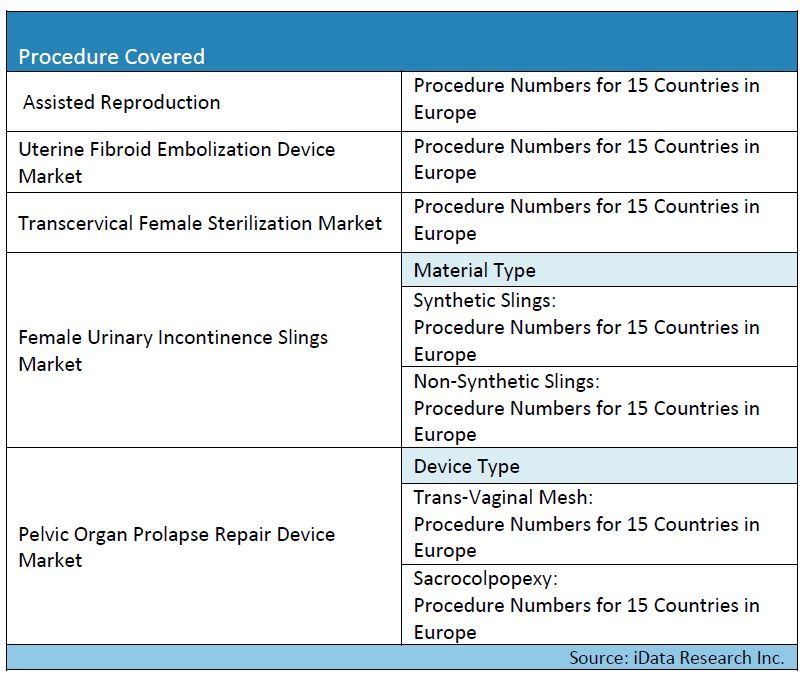 iData's 9-Step Research Methodology
Our reports follow an in-depth 9-step methodology which focuses on the following research systems:
Original primary research that consists of the most up-to-date market data
Strong foundation of quantitative and qualitative research
Focused on the needs and strategic challenges of the industry participants
Step 1: Project Initiation & Team Selection During this preliminary investigation, all staff members involved in the industry discusses the topic in detail.
Step 2: Prepare Data Systems and Perform Secondary Research The first task of the research team is to prepare for the data collection process: Filing systems and relational databases are developed as needed.
Step 3: Preparation for Interviews & Questionnaire Design The core of all iData research reports is primary market research. Interviews with industry insiders represent the single most reliable way to obtain accurate, current data about market conditions, trends, threats and opportunities.
Step 4: Performing Primary Research At this stage, interviews are performed using contacts and information acquired in the secondary research phase.
Step 5: Research Analysis: Establishing Baseline Estimates Following the completion of the primary research phase, the collected information must be synthesized into an accurate view of the market status. The most important question is the current state of the market.
Step 6: Market Forecast and Analysis iData Research uses a proprietary method to combine statistical data and opinions of industry experts to forecast future market values.
Step 7: Identify Strategic Opportunities iData analysts identify in broad terms why some companies are gaining or losing share within a given market segment.
Step 8: Final Review and Market Release An integral part of the iData research methodology is a built-in philosophy of quality control and continuing improvement is integral to the iData philosophy.
Step 9: Customer Feedback and Market Monitoring iData philosophy of continuous improvement requires that reports and consulting projects be monitored after release for customer feedback and market accuracy.