Product Description
This Global Report Series represents iData's entire collection of country-level reports in the Global Dental X-Ray Imaging market. Each of these reports may be purchased as a stand-alone report, tailoring the data to your needs. The covered countries are listed below, including the report's base year:
Global Dental X-Ray Market Insights
The dental x-ray market continues to be in a state of change as traditional film-based procedures experienced sharp declines, shifting the market to incorporate digital capturing methods.
Analog intraoral X-ray machines have become nearly obsolete since the introduction of digital imaging to dentistry. The large majority of new intraoral X-ray systems sold are PSP systems or digital sensors. The intraoral X-ray systems market has become a replacement market where analog units are constantly being traded for digital systems. A significant number of dentists in some countries (i.e. Germany) are still using analog systems, whereas in some other countries and regions (i.e. Scandinavia), digitalization has reached 80% of the market. However, across all markets, whenever analog systems need to be replaced, digital systems are preferred.
The choice of digitalization, or PSP systems versus sensors, is influenced by several factors. First, the size of the dental office determines what kind of system is purchased. Large offices with more than one dentist or assistant prefer PSP systems because the initial cost of buying multiple sensors for every room is much higher than investing in one PSP system with several PSP plates.
A developing trend in the intraoral X-ray unit market is the adoption of handheld intraoral X-ray units. While handheld systems are more expensive in the range of $7,000 to $8,000, they provide added benefits over their wall-mounted counterparts. Benefits include their ability to be used across multi-operatories within a practice, eliminating the need for multiple units in larger practices; as well as their space-saving design, providing more convenience to small-sized practices where available wall space is a potential issue.
Research Regional Coverage
Throughout this research series, iData has covered several countries in great detail. Each country may be purchased as a stand-alone report, tailoring the data to your needs. The covered countries are:
United States
Germany
France
U.K.
Italy
Spain
Benelux (Belgium, Netherlands, Luxembourg)
Scandinavia (Denmark, Finland, Norway, Sweden)
Austria
Switzerland
Portugal
China
Highly Detailed Segmentation
Intraoral X-Ray Imaging Systems Market

By Equipment

Intraoral X-Ray Device
PSP System
Digital Sensor

By Consumables

Intraoral Analog X-Ray Film
PSP Plate

Extraoral X-Ray Imaging Market

Digital Panoramic
Pan/Ceph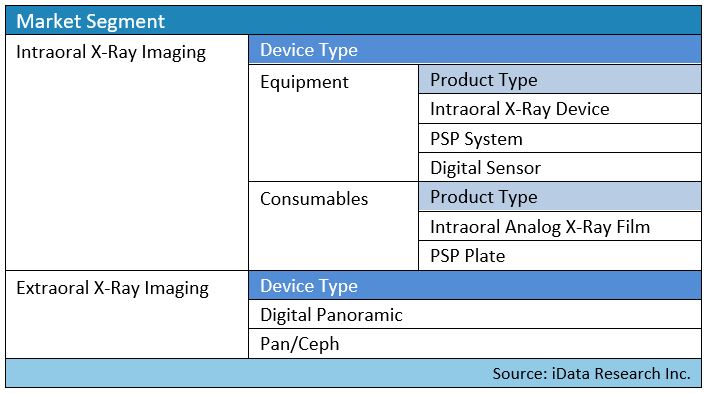 Dental X-Ray Imaging Market Data Included
Unit Sales, Average Selling Prices, Market Value & Growth Trends
10 Year Scope (3 Year Historical + 7 Year Forecast Period)
Market Drivers & Limiters for Each Segment
Competitive Analysis with Market Shares
Product Portfolios
Related Press Releases from Top Competitors
Dental X-Ray Market Share Insights
The Danaher Group was one of two competitors that held significant market shares across all four segments in 2015. The company continued to lead the market with a total market share of 30%. Danaher also led the individual extraoral X-ray device and CBCT scanner markets. With six different dental imaging brands under its name, the Danaher Group is expected to continue solidifying its presence in the U.S. market.
Carestream Dental trails behind Danaher in the United States, however competes very comparatively with Dentsply in Europe. The company is also the leading competitor in the individual intraoral X-ray device market where it had a strong presence due to sales of intraoral X-ray film.
Top Dental X-Ray Companies Analyzed

3DISC Imaging
ACTEON Group
AGFA
Air Techniques
Apixia
Aribex
Belmont
Carestream Dental
CEFLA Group
Cieos
Corix
Cyber Medical Imaging
Danaher Group
DentiMax
Dentsply Sirona
Durr Dental
Flow Dental
Fona Dental
Fujian Meisheng
Fujifilm
Genoray

Heraeus Kulzer
ImageWorks
J. Morita
MyRay
Owandy
Patterson Dental
Planmeca
Progeny
Runyes
Safco
Shanghai Bai Yun
Sigma
Sota
Southland Distribution & Sales
Suni Vatech
Tianjin Qinan Technology
VideoDental Concepts
Villa Sistemi Medicali
Xzeal Technologies
Yoshida
About Our In-Depth MedCore Research
Our analysts meticulously research for up to 3 to 4 months to put together one suite of reports (MedSuite), which is a comprehensive analysis on a group of healthcare markets. A MedCore is one portion of that analysis that focuses on one market segment, and provides further detailed segmentation to get a much more granular set of market data.
This MedCore is also found in the full report suite titled Dental Imaging Market Analysis – MedSuite