Dental Imaging Market Size, Share & Trends Analysis | Global | 2019-2025 | 3 MedSuites | Includes: Intraoral X-Ray Imaging, Extraoral X-Ray Imaging & Cone Beam Computed Tomography Devices
Year:

2019

Scope:

2015-2025

Region:

China, Europe, United States

Pages:

703

Published Date:

09/04/2019

Type:

MedSuite
This Global Report Series represents iData's entire collection of country-level reports in the Global Dental Imaging market. Each of these reports may be purchased as a stand-alone report, tailoring the data to your needs. The covered countries are listed below, including the report's publication year:
Global Dental Imaging Market Industry Trends
In 2019, the U.S. dental imaging market size was valued at $796 million, while the European dental imaging market size was valued at $523 million. Within both the markets, the Cone Beam Computed Tomography segment is showing the fastest growth.
Both intraoral and extraoral X-rays with digital technology are rapidly penetrating the market and replacing analog systems. Digital technology provides dental practitioners with numerous technological and operational efficiencies when operating X-ray systems. With digital technology, dentists are able to immediately upload and manipulate X-ray images using imaging software. This allows dentists to observe enhanced images of the X-rays and make more accurate diagnoses. Likewise, dentists are able to save a greater amount of time between patients, thereby increasing patient turnover. Furthermore, switching to digital technology helps to minimize the amount of radiation exposure to patients.
Some dentists, especially those of older generations, take longer to adopt new technology in their offices. Many will not even consider the investment until significant scientific research is conducted and some conclusive evidence is provided with regards to the safety of radiation-generating machines. This slows down the growth of hi-tech devices significantly, although as evidence becomes clearer, the resistance will wear off, increasing penetration rates in the medium run.
Prices are decreasing across both the 2D and 3D extraoral categories and within digital sensors. While this will spur larger unit sale volumes, market growth rates are substantially diminished. As the 2D extraoral market is saturated, and the intraoral market has only a small portion of dentists left to transition to digital technology, the long-term result of the current price competition is a lower market value.
Research Regional Coverage
Throughout this research series, iData has covered several countries in great detail. Each country may be purchased as a stand-alone report, tailoring the data to your needs. The covered countries are:
United States
Germany
France,
U.K.
Italy
Spain
Benelux (Belgium, Netherlands, Luxembourg)
Scandinavia (Denmark, Finland, Norway, Sweden)
Austria,
Switzerland
Portugal
China
Dental Imaging Market Segmentation Summary
While this report suite contains all U.S. dental imaging market data, each of the market segments are also available as a stand-alone report, MedCore This allows you to get access to only the dental imaging market research that you need. 
Product Portfolio for Dental Imaging Devices – MedFolio
Procedure Numbers for Dental Imaging Devices – MedPro
Market Report for Intraoral X-Ray Imaging – MedCore
Market Report for Extraoral X-Ray Imaging – MedCore
Market Report for Cone Beam Computed Tomography Scanners – MedCore
Full Segmentation Map for the United States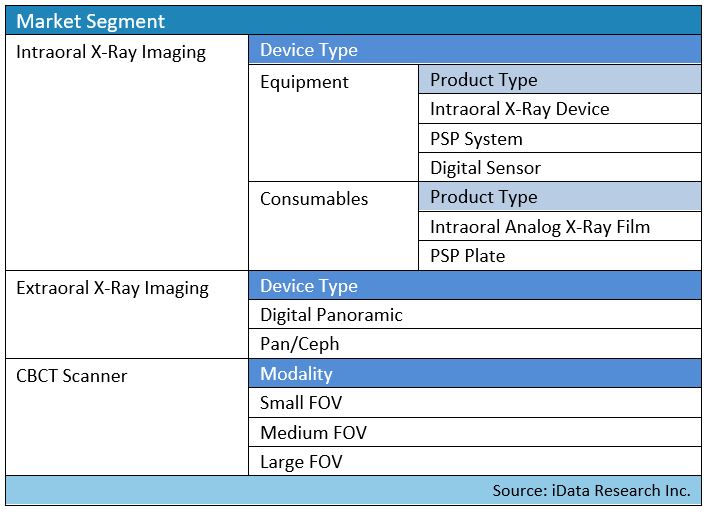 Dental Imaging Market Data Included
Unit Sales, Average Selling Prices, Market Value & Growth Trends
Procedure Volume Analysis
Forecasts Until 2025, and Historical Data to 2015
Market Drivers & Limiters for Each Device Segment
Competitive Analysis with Market Shares for Each Segment
Recent Mergers & Acquisitions
Disease Overviews and Demographic Information
Company Profiles, Product Portfolios and SWOT for Top Competitors
Related Press Releases from Top Competitors
Dental Imaging Market Share Insights
The dental imaging market is very competitive, with several players all vying for the top 4 or 5 spots within each region. KaVo Kerr (Danaher) was the stand-out leader in the United States market, quickly followed by Dentsply Sirona, Carestream Dental, and Planmeca.
With six different dental imaging brands under its name, the Danaher Group is expected to continue solidifying its presence in the U.S. market, however, trails behind other companies in the European and Chinese markets. As the leading competitor in most segments, KaVo Kerr had significantly more share than the other competitors in this market. With recent heavy product consolidation after purchasing companies like Aribex, i-CAT™, Instrumentarium, Soredex, Gendex and Dexis, KaVo Kerr is posed to redevelop its product line in targeted areas.
Carestream Dental trails behind KaVo Kerr in the United States, but holds a leading position in the European region. The Carestream Dental brand is a substantial competitor in the U.S., due to the price point at which it is able to offer products. It has maintained strong positions within the extraoral and CBCT markets, which comprised just over half of the overall revenue it generated from the dental market.
Top Global Digital Imaging Companies Analyzed

Acteon Group
AGFA
Air Techniques
Apixia
Belmont
Carestream
CEFLA Group
Chicago X-ray Systems Inc. (Rayos)
Cieos
Corix
Cruxell
Cyber Medical Imaging
DentiMax
Dentsply Sirona
Dürr Dental
Flow Dental
Foma
Fona Dental
Fujian Meisheng
Fujifilm
Genoray
Hefei Meiya (MEYER) Optoelectronic Technology
Henry Schein
Imageworks
Innixim
J. Morita
KaVo Kerr
Kulzer

Midmark
MyRay
Orixsscan
Owandy
Panoramic Corporation
Patterson Dental
Planmeca
PreXion
Ray Medical
Runyes
Saevo
Safco
Shanghai Bai Yun
Sigma Digital X-ray
Skydent
Sota Imaging
Southland Distribution and Sales
Teledyne e2v
Tianjin Qinan Technology
Trident
Vatech
Video Dental Concepts
Villa Sistemi Medicali
XDR Radiology
Yoshida
Yoshida Dental
Dental Imaging Statistics and Procedure Trends
There are three methods for taking intraoral X-ray shots, including analog film, photostimulable phosphor (PSP) plates and digital sensors. Analog film captures X-ray images which must be subsequently developed in a dark room or with an electronic film processor. PSP plates capture images in a method similar to film. The plates must then be scanned by a PSP system which will convert the image into a digital file made viewable on any computer using imaging software. Finally, digital sensors are electronic devices that allow the direct acquisition of a digital X-ray image without any intermediary processing step.
The majority of dental X-ray procedures result from regular dental checkups in the general population. Growth in the total number of procedures is not driven by the increased number of patients, but from the transition over to digital technology. Digital images require a smaller dose of radiation on the patient and, therefore, more images can be taken while staying cognizant of patient health.
CONTACT US FOR ADDITIONAL INFORMATION
For full segmentation and any questions regarding research coverage, please contact us for a complimentary demo of the full report.

For a Full Table of Contents From Any of the Country Reports in this Global Series, please
Contact iData
TABLE OF CONTENTS
LIST OF FIGURESLIST OF CHARTSEXECUTIVE SUMMARY
U.S. DENTAL IMAGING DEVICE MARKET OVERVIEW
COMPETITIVE ANALYSIS 3MARKET TRENDS 5MARKET DEVELOPMENTS 6PROCEDURE NUMBERS 8MARKETS INCLUDED 8KEY REPORT UPDATES 9VERSION HISTORY 9
RESEARCH METHODOLOGY
Step 1: Project Initiation & Team Selection 10Step 2: Prepare Data Systems and Perform Secondary Research 13Step 3: Preparation for Interviews & Questionnaire Design 15Step 4: Performing Primary Research 16Step 5: Research Analysis: Establishing Baseline Estimates 18Step 6: Market Forecast and Analysis 19Step 7: Identify Strategic Opportunities 21Step 8: Final Review and Market Release 22Step 9: Customer Feedback and Market Monitoring 23
PRODUCT ASSESSMENT
2.1 PRODUCT PORTFOLIOS 242.1.1 Intraoral X-Ray Imaging Devices 242.1.1.1 Introduction 242.1.1.2 Intraoral X-Ray Units 262.1.1.3 Intraoral X-Ray Digital Sensors 282.1.1.4 PSP System Devices 302.1.1.5 Intraoral X-Ray Film 312.1.2 Extraoral X-Ray Imaging Devices 322.1.2.1 Introduction 322.1.2.2 Extraoral X-Ray Units 332.1.3 CBCT Imaging Devices 362.1.3.1 Introduction 362.1.3.2 CBCT Scanners 362.2 REGULATORY ISSUES AND RECALLS 392.2.1 January 2018 392.2.2 October 2016 392.2.3 September 2016 402.2.4 January 2016 412.2.5 September 2015 412.2.6 April 2015 412.2.7 October 2014 422.2.8 March 2014 432.2.9 January 2014 432.2.10 May 2013 442.2.11 January 2013 442.2.12 April 2012 452.3 CLINICAL TRIALS 462.3.1 Dental Radiography 472.3.2 Cone Beam Computed Tomography 50
U.S. DENTAL IMAGING DEVICE MARKET OVERVIEW
3.1 INTRODUCTION 543.2 MARKET OVERVIEW 553.3 TREND ANALYSIS BY SEGMENT 603.4 DRIVERS AND LIMITERS 633.4.1 Market Drivers 633.4.2 Market Limiters 653.5 COMPETITIVE MARKET SHARE ANALYSIS 673.6 MERGERS AND ACQUISITIONS 733.7 COMPANY PROFILES 753.7.1 ACTEON Group 753.7.2 Carestream Dental 763.7.3 Danaher 773.7.4 Dentsply Sirona 793.7.5 Dürr Dental 803.7.6 Planmeca 813.7.7 Progeny 823.7.8 Vatech 833.8 SWOT ANALYSIS 843.8.1 ACTEON Group 843.8.2 Carestream Dental 853.8.3 Danaher 863.8.4 Dentsply Sirona 873.8.5 Fujian Meisheng 883.8.6 Planmeca 893.8.7 Vatech 90
PROCEDURE NUMBERS
4.1 INTRODUCTION 914.2 PROCEDURE OVERVIEW 934.3 PROCEDURE ANALYSIS AND FORECAST 974.3.1 Intraoral X-Ray Procedures 974.3.2 Extraoral X-Ray Procedures 1004.3.3 CBCT Procedures 103
INTRAORAL X-RAY IMAGING MARKET
5.1 INTRODUCTION 1055.2 MARKET OVERVIEW 1075.3 MARKET ANALYSIS AND FORECAST 1125.3.1 Intraoral X-Ray Equipment Market 1125.3.1.1 Intraoral X-Ray Device Market 1155.3.1.2 PSP System Market 1175.3.1.3 Digital Sensor Market 1205.3.2 Intraoral X-Ray Consumables Market 1235.3.2.1 Analog Film Market 1255.3.2.2 PSP Plate Market 1275.4 DRIVERS AND LIMITERS 1295.4.1 Market Drivers 1295.4.2 Market Limiters 1305.5 COMPETITIVE MARKET SHARE ANALYSIS 132
EXTRAORAL X-RAY IMAGING MARKET
6.1 INTRODUCTION 1386.2 MARKET OVERVIEW 1406.3 MARKET ANALYSIS AND FORECAST 1456.3.1 Total Extraoral X-Ray Imaging Market 1456.3.2 Digital Panoramic System Market 1486.3.3 Pan/Ceph System Market 1516.4 DRIVERS AND LIMITERS 1536.4.1 Market Drivers 1536.4.2 Market Limiters 1536.5 COMPETITIVE MARKET SHARE ANALYSIS 156 
CONE BEAM COMPUTED TOMOGRAPHY MARKET
7.1 INTRODUCTION 1607.1.1 Product Distribution by FOV 1617.2 MARKET OVERVIEW 1647.3 MARKET ANALYSIS AND FORECAST 1697.3.1 Total Cone Beam Computed Tomography Market 1697.3.2 Small FOV CBCT Market 1717.3.3 Medium FOV CBCT Market 1747.3.4 Large FOV CBCT Market 1767.4 DRIVERS AND LIMITERS 1787.4.1 Market Drivers 1787.4.2 Market Limiters 1797.5 COMPETITIVE MARKET SHARE ANALYSIS 180ABBREVIATIONS 184
One of the the most accurate methods of market research in the medical device industry is to analyze the procedure volumes and trends. Through this study on dental imaging equipment, iData Research has performed an analysis on the following procedure segments in order to increase the accuracy of our market sizing, and provide you with the volume of procedures over a 10 year range. While the below market segmentation map is representative of the United States, procedure volume data is also provided for the other regions within this complete series.
Procedure Volume Analysis Segments in the United States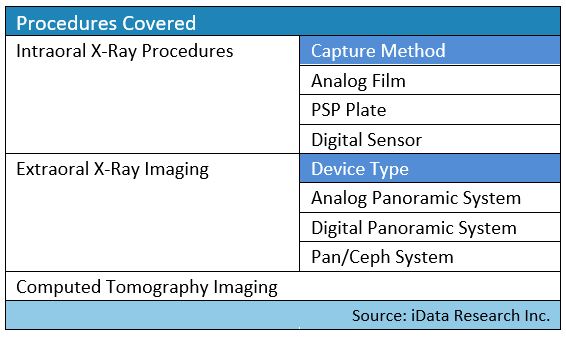 iData's 9-Step Research Methodology
Our reports follow an in-depth 9-step methodology which focuses on the following research systems:
Original primary research that consists of the most up-to-date market data
Strong foundation of quantitative and qualitative research
Focused on the needs and strategic challenges of the industry participants
Step 1: Project Initiation & Team Selection During this preliminary investigation, all staff members involved in the industry discusses the topic in detail.
Step 2: Prepare Data Systems and Perform Secondary Research The first task of the research team is to prepare for the data collection process: Filing systems and relational databases are developed as needed.
Step 3: Preparation for Interviews & Questionnaire Design The core of all iData research reports is primary market research. Interviews with industry insiders represent the single most reliable way to obtain accurate, current data about market conditions, trends, threats and opportunities.
Step 4: Performing Primary Research At this stage, interviews are performed using contacts and information acquired in the secondary research phase.
Step 5: Research Analysis: Establishing Baseline Estimates Following the completion of the primary research phase, the collected information must be synthesized into an accurate view of the market status. The most important question is the current state of the market.
Step 6: Market Forecast and Analysis iData Research uses a proprietary method to combine statistical data and opinions of industry experts to forecast future market values.
Step 7: Identify Strategic Opportunities iData analysts identify in broad terms why some companies are gaining or losing share within a given market segment.
Step 8: Final Review and Market Release An integral part of the iData research methodology is a built-in philosophy of quality control and continuing improvement is integral to the iData philosophy.
Step 9: Customer Feedback and Market Monitoring iData philosophy of continuous improvement requires that reports and consulting projects be monitored after release for customer feedback and market accuracy.