Dental Bone Graft Substitutes Market Analysis, Size, Trends | Global | 2019-2025 | MedSuite
0
Year

:

2019

Scope

:

2015-2025

Region

:

Argentina, Australia, Brazil, China, Europe, India, Japan, Mexico, South Korea, United States

Published Date

:

01/03/2019

Pages

:

3577

Type

:

MedSuite
Industry Trends
A major limiter preventing market growth in the dental bone graft substitute and other biomaterials markets is the commoditization across the dental bone graft substitute and dental barrier membrane segments. While various distributors compete for market share, many receive their products from the same suppliers, and further market penetration of small competitors has resulted in less product differentiation and more affordable options. This is applying downward pressure on the ASP, limiting the market value going forward.
The growing number of general practitioners (GPs) placing implants is driving the total markets for dental bone graft substitutes and other biomaterials forward by increasing the volume of dental
implant procedures. The increased number of GPs placing implants increases the probability that a patient is informed on the importance of having a sufficient level of bone in their jaw prior to the procedure. Ultimately, this will result in a greater number of patient referrals to specialists for dental regenerative procedures that incorporate dental biomaterials.
One trend within the dental bone graft substitute and other biomaterials markets is the bundling of bone graft materials with large-scale implant purchases, rendering the products extremely discounted or even complimentary. As periodontists and oral surgeons outnumber general practitioners in terms of the number of dentists placing implants in the United States, and as these specialists tend to buy in bulk, this trend is expected to persist in the future.
The European market is seeing a trend in the growth of allograft product use. The continent is experiencing double-digit growth in allograft products, due to their effectiveness. While regulatory barriers have somewhat limited the allograft space, demand is forecasted to drive growth through 2025.

Report Regional Coverage
Throughout this research series, iData has covered several countries in great detail. Each country may be purchased as a stand-alone report, tailoring the data to your needs. The covered countries are:
United States
Europe (15 countries including: Germany, France, U.K., Italy, Spain, Benelux (Belgium, Netherlands and Luxembourg), Scandinavia (Denmark, Finland, Norway and Sweden) Austria, Switzerland and Portugal)
Japan
India
China
South Korea
Australia
Brazil
Mexico
Argentina
The Only Medical Device Market Research With:

✔

Procedure Volume Data & Trends


✔

Unit Sales Growth Analysis


✔

Average Selling Prices


✔

Competitor Shares by Segment & Country


✔

 Interview-based Research Methods


✔

 The Lowest Acquisition Cost


Highly Detailed Segmentation
While this report suite contains all applicable market data, each of the market segments are also available as stand alone MedCore reports. This allows you to get access to only the specific market segment research that you need. You can view all these included reports and segmentation here:
Market Overview for Dental Bone Graft Substitutes – MedView
Procedure Numbers for Dental Bone Graft Substitutes – MedPro
Market Report for Dental Bone Graft Substitutes – MedCore
Market Report for Dental Growth Factor – MedCore
Market Report for Dental Barrier Membranes – MedCore
Buying all of these reports together in this suite package will provide you with substantial discounts from the separate prices. Request Pricing to Learn More
Full Segmentation Map for the United States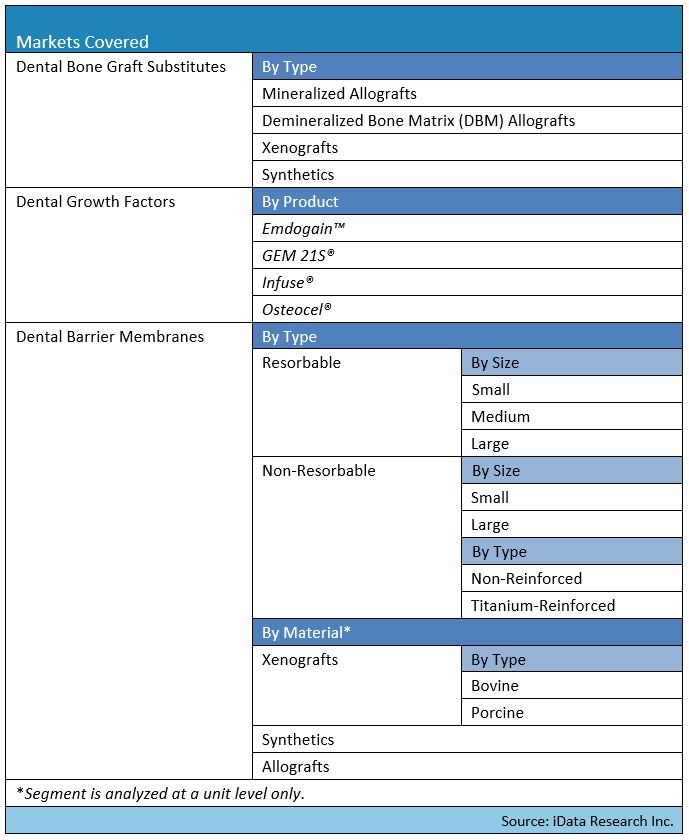 Market Report Data Types Included
Unit Sales, Average Selling Prices, Market Value & Growth Trends
Forecasts Until 2025, and Historical Data to 2015
Market Drivers & Limiters for Each Segment
Competitive Analysis with Market Shares for Each Segment
Recent Mergers & Acquisitions
Disease Overviews and Demographic Information
Company Profiles, Product Portfolios and SWOT for Top Competitors
Related Press Releases from Top Competitors
Dental Bone Graft Substitutes Market Share Insights
Geistlich is a clear leader in the dental bone graft substitutes market, particularly in Europe, where they command more than one-third of the market share themselves. The U.S. market sees stronger competition from Zimmer Biomet, ACE Surgical, and BioHorizons to compete as leaders in this space. Geistlich's emerging market share in the overall market is a direct result of their
dominance strictly within the xenograft market. The Bio-Oss® bovine xenograft product line in the xenograft realm of DBGS is recognized as the gold standard within the xenograft market. In fact, the product is the clear leader of the xenograft market.
Combining the dental divisions of each company, Zimmer Dental and BIOMET 3i merged in June of 2015, creating an entity that rivals that of Geistlich in the United States. The company continues to maintain a strong presence in the overall DBGS market by providing products in the mineralized allograft, DBM allograft, xenograft and synthetic sub-segments of the market. In the European market Zimmer Biomet still trails behind Botiss Biomaterials.
Botiss continues to experience significant growth, largely owing to its distribution deal established with Straumann, a leading dental implant manufacturer. The company is headquartered in Berlin, Germany and has R&D and production sites in Germany, Austria and the United Kingdom. Unlike Geistlich, the leading competitor in the market, Botiss maintains a much more varied
product portfolio in the dental biomaterial market. Though the company is most successful in the xenograft segment, Botiss also produces and distributes allograft and synthetic DBGS materials.
Throughout this series of research, iData studied over 100 companies in this market. For a full list of companies analyzed see the table below.
All Companies Analyzed in this Study

AB Dental
ACE Surgical
Advanced BioTech Products Ltd.
Allgens
Alpha-Bio Tec
Amann Girrbach
Anthogyr
Arthrex
Augma Biomaterials
Australia Biotechnologies
B&W
Baumer
BEGO
Beijing YHJ Science and Trade Co.
Benco
BenQ Corporation
Bicon
BIOBank
BioHorizons
Biomatlante
BioMimetic
BiosLight S.A. de C.V.
Biotek
Bioxen
Botiss Biomaterials
BTI
Cells + Tissuebank Austria
Ceramisys
Citagenix
Collagen Matrix
CoorsTek
Cortex Dental
CowellMedi
Criteria
Curasan
Danaher Corporation
Datum Dental
Degradable Solutions
Dental Wings
Dentegris
Dentium USA
Dentsply Sirona
Dyna Dental
Equinox
Euroteknika
Exactech
FGM
G. Surgiwear
GC Corporation
Geistlich
Genoss
Hans Biomed
Henry Schein
HOYA Technosurgical
IFGL Bio Ceramics Limited
Impladent LTD
Implant Direct
InBiomed
Inion
Intralock

JHS
Kasios
KaVo Kerr
Keramat
Keystone Dental
KOKEN
KYOCERA
Laboratorio Celina
LifeNet Health
Lutipold Pharmaceuticals
Lynch Biologics
Matcom
Medica-Integral
Medtronic
MegaGen
MIS Implants
MTF
Neobiotech
Neodent
Neoss
NIBEC
Nobel Biocare
Noraker
NovaBone
Odontit
Olympus Terumo Biomaterials
Oscotec
Osseocon
Ossix Dental
Osstem Implant
OST Development
Osteogenics
Osteohealth
OT Medical
Patterson
Pharmatrix
Regentix
Resorba
Rocky Mountain Tissue Bank
S.I.N.
Salvin
Shanghai Rebone Biomaterials
Shanxi OsteoRad
Sheng Chi Biotechnology
Silvestre Labs
Sistema INP
Snoasis Medical
Straumann
Sunmax Biotechnology
Sunstar
Tecnoss
Tianjin Sannie
Tirden
Tissue Banks
TreeOss
UNC
Unicare BioMedical
W. L. Gore
Zimmer Biomet
Latest Market Developments
March 2019 – Straumann Group increases ownership stake in Anthogyr to 100%.
September 2018 – Henry Schein acquires Medentis Medical.
September 2018 – LYNCH Biologics purchases GEM21S® from Luitpold Pharmaceuticals Inc.
One of the the most accurate methods of market research in the medical device industry is to analyze the procedure volumes and trends. Through this study on dental bone graft substitutes, iData Research has performed an analysis on the following procedure segments in order to increase the accuracy of our market sizing, and provide you with the volume of procedures over a 10 year range. While the below market segmentation map is representative of the United States, procedure volume data is also provided for the other regions within this complete series.
Procedure Volume Analysis Segments in the United States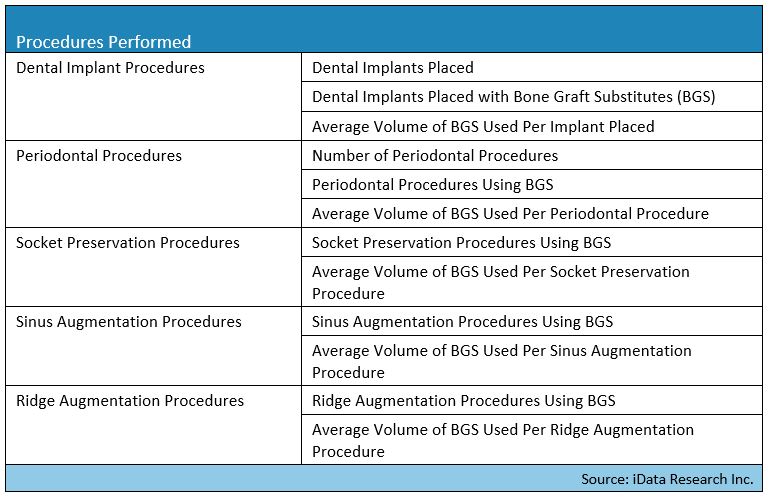 iData's 9-Step Research Methodology
Our reports follow an in-depth 9-step methodology which focuses on the following research systems:
Original primary research that consists of the most up-to-date market data
Strong foundation of quantitative and qualitative research
Focused on the needs and strategic challenges of the industry participants
Step 1: Project Initiation & Team Selection During this preliminary investigation, all staff members involved in the industry discusses the topic in detail.
Step 2: Prepare Data Systems and Perform Secondary Research The first task of the research team is to prepare for the data collection process: Filing systems and relational databases are developed as needed.
Step 3: Preparation for Interviews & Questionnaire Design The core of all iData research reports is primary market research. Interviews with industry insiders represent the single most reliable way to obtain accurate, current data about market conditions, trends, threats and opportunities.
Step 4: Performing Primary Research At this stage, interviews are performed using contacts and information acquired in the secondary research phase.
Step 5: Research Analysis: Establishing Baseline Estimates Following the completion of the primary research phase, the collected information must be synthesized into an accurate view of the market status. The most important question is the current state of the market.
Step 6: Market Forecast and Analysis iData Research uses a proprietary method to combine statistical data and opinions of industry experts to forecast future market values.
Step 7: Identify Strategic Opportunities iData analysts identify in broad terms why some companies are gaining or losing share within a given market segment.
Step 8: Final Review and Market Release An integral part of the iData research methodology is a built-in philosophy of quality control and continuing improvement is integral to the iData philosophy.
Step 9: Customer Feedback and Market Monitoring iData philosophy of continuous improvement requires that reports and consulting projects be monitored after release for customer feedback and market accuracy.