Urology Market Size, Share & Trends Analysis | Global | 2019-2025 | MedSuite | Includes: Stone Management Devices Market, BPH Treatment Devices Market and 5 more
Year:

2019

Scope:

10 Years

Region:

Europe, India, Japan, United States

Pages:

2106

Published Date:

03/04/2019

Type:

MedSuite
Industry Trends
In the U.S. urology market, the demand side of the market continues to undergo consolidation, with hospitals acquiring outpatient facilities and expanding the reach of the group purchasing organizations (GPOs), coupled with the reimbursement cuts across the urology space, average selling prices are expected to remain under significant pressure, negatively impacting the future growth of the market.
Since NeoTract launched UroLift®, an implant for the treatment of BPH, in the U.S. in 2013 and in Europe in 2010, the device has been rapidly adopted by urologists, following the trend from other regions where it is available, such as Canada, Australia and more. The UroLift® procedure is minimally invasive and can be performed in a relatively short amount of time, making it an attractive treatment option for BPH. In 2017, NeoTract was acquired by Teleflex, which is expected to further drive adoption of UroLift® by leveraging the large presence and sales distribution network of Teleflex.
In Europe, the adverse effects of urinary incontinence slings have been up for discussion since 2008, when the U.S. Food and Drug Administration (FDA) released warnings regarding the use of surgical mesh for stress urinary incontinence. Since then, the market for urinary incontinence slings has been on the decline. In 2018, the National Health Service (NHS) suspended the use of female urinary
incontinence slings in NHS hospitals in the United Kingdom. This has had negative impacts on the overall urinary incontinence sling market.

Report Regional Coverage
Throughout this research series, iData has covered several countries in great detail. Each country may be purchased as a stand-alone report, tailoring the data to your needs. The covered countries are:
United States
Europe (15 countries including Germany, France, U.K., Italy, Spain, Benelux (Belgium, Netherlands, and Luxembourg), Scandinavia (Denmark, Finland, Norway, and Sweden) Austria, Switzerland, and Portugal)
Japan
India
Brazil
China
Australia
Brazil
The Only Medical Device Market Research With:

✔

Procedure Volume Analysis


✔

Unit Sales Growth Analysis


✔

Average Selling Prices


✔

Competitor Shares by Segment & Country


✔

 SKU-Level Research Methods


✔

 The Lowest Acquisition Cost


Highly Detailed Segmentation
While this report suite contains all applicable market data, each of the markets is also available as stand-alone MedCore reports. This allows you to get access to only the specific market segment research that you need. You can view all these included reports and segmentation here:
Procedure Numbers for Urological Devices – MedPro
Urinary Incontinence Devices Market – MedCore
US Market Report for Stone Management Devices – MedCore
US Market Report for BPH Treatment Devices –  MedCore
US Market Report for Urological Endoscope –  MedCore
US Market Report for Prostate Cancer Treatment Devices – MedCore
US Market Report for Urodynamic Equipment Market – MedCore
US Market Report for Nephrostomy Devices  – MedCore
US Market Report for Erectile Dysfunction Devices – MedCore
Buying all of these reports together in this suite package will provide you with substantial discounts from the separate prices. Request Pricing to Learn More.
Full Segmentation Map for the United States

Data Types Included
Unit Sales, Average Selling Prices, Market Value & Growth Trends
10 Year Scope
Market Drivers & Limiters for Each Segment
Competitive Analysis with Market Shares for Each Segment
Recent Mergers & Acquisitions
Disease Overviews and Demographic Information
Company Profiles, Product Portfolios and SWOT for Top Competitors
Related Press Releases from Top Competitors
Urological Devices Market Share Insights
In the U.S. urology market, the leading competitor is Boston Scientific. The company holds the leading positions in the stone management device market, BPH treatment device market, and erectile dysfunction market. BARD is the second-leading competitor. The company also holds the leading position in the urinary incontinence device market, solely attributed to its dominant position in the urinary catheter market. Coloplast was the third-leading competitor. The company currently stands in the second-leading positions in the urinary incontinence device market and erectile dysfunction device market.
Coloplast is the leading competitor in the European urological device market. The company's position in the overall market can be primarily attributed to its success in the urinary catheter and erectile dysfunction device markets, where it is the market leader. Coloplast is also prominent in the markets for nephrostomy devices, urinary incontinence slings and stone management devices.
In both the Indian and Japanese urology markets, Varian Medical Systems was the leading competitor in the total urological device markets. The company was only involved in the external beam radiation therapy segment. Among these urological device market segments, the EBRT segment was the largest, which contributed to the company's large share of the total prostate cancer treatment market.
Globally, strong competition is found through top players, such as Teleflex, Hollister, Boston Scientific, BARD, Karl Storz, Cook Medical, LABORIE, Olympus, and others.
All Companies Analyzed in this Study

Ackermann
Advanced Endoscopic Devices
Aeromed
 Agency for Medical Innovations (A.M.I.)
Allium Group
Amecath
 Angiodynamicss
Apexmed International
Applied Medical
AprioMed
Aspide
Aqlane Medical
Argon Medical
Ashlar
Augusta Medical Systems
Authentic Option
B. Braun
BARD
Bactiguard
Best Medical
BioDerm
Biolitec
Bioteq
Boston Scientific
BR Surgical
Calcura Technologies
Caldera Medical
Cardinal Health
CL Medical
Coloplast
Contura
Convatec
Convergent Laser Technologies
Cook Medical
Cooper Surgical
C.R. Bard
Deroyal
Direx
Dornier MedTech
Dynarex
Eckert & Ziegler BEBIG
EDAP TMS
Electro Medical Systems
Elekta
Envaste Medical
Ethicon
Galil Medical
GE Oncura
Helioscopie
Healthtronics
Hollister
Initiative Surgical
Innovaquartz
IsoAid
IsoRay
Karl Storz
LABORIE
Laser Peripheral
LISA Laser

Lumenis
Manfred Sauer
MaxiFlex
Medadv
MedGyn
Medifocus
MediPlus
Medispec
Medline
Med-Sonics
Mermaid Medical
MTS Medical
Nasco
Neomedic International
Northgate Technologies
Olympus
Optimed
Palex
Owen Mumford
Peco Medical
Pnn Medical
Poiesis Medical
Promedon
Prometheus
ProstaLund
ProSurg
Quanta System
Richard Wolf
RocaMed
Rusch
Salix
Schölly Fiberoptic
Shockwave Medical
Siemens
Smiths Medical
SOPRO-COMEG
SRS Medical
Stahl Endoscopy
Stryker
Surgical Direct
Teleflex
Theragenics
Trimedyne
Typenex
UreSil
Urolastic
Urologix
UroMed
Urotech
Urovision
Utah Medical
Varian
Vygon
Wellspect HealthCare
Zephyr Surgical Implants
Statistics and Procedure Trends
In the urology market in the United States, the largest segment was prostate cancer treatment, which accounted for approximately 58% of
the total procedure volume. The relatively large size of this segment is attributed to the high prevalence rate of prostate cancer and the various therapies available for treatment. The second-largest segment was stone management, which accounted for approximately 20% of the total procedure volume. Growth of this segment will primarily be driven by ureteral stent placement procedures and transurethral procedures.
In 2018, over 2.7 million urological procedures were performed in Europe, a small increase from the previous year. With a procedural share of over 45%, stone management procedures accounted for the largest portion of all procedure types discussed. This was followed by prostate cancer, interventional BPH procedures and nephrostomy procedures.
Benign Prostatic Hyperplasia is one of the most common diseases for men, especially for men older than age 50. The prevalence of BPH increases with age, starting at 8% in men between ages 31 to 40, to 60% at the age of 60 and 80% over the age of 80.
A study published in The Canadian Journal of Urology reported that 23% of diagnoses seen by urologists in urologic practices are BPH diagnoses, making it the second most common diagnosis after UTIs. There have been no clear patterns regarding age-adjusted relative BPH risk and ethnicity, as epidemiological studies have reported inconsistent results.
There are over 436,128 urological procedures being performed in Japan annually. Prostate cancer procedures represented 42.5% of the total number of procedures performed that year, followed by BPH procedures, which accounted for 34.5%. Stone treatment procedures accounted for 23% of the market.
Latest Market Developments
November 2018 – Boston Scientific announces acquisition of BTG.
August 2018 – OmniGuide acquires LISA Laser.
April 2018 – Boston Scientific acquires NxThera.
April 2018 – LABORIE acquires the urology company Cogentix Medical.
See many more by requesting a free sample report of this analysis.
For a Full Table of Contents From Any of the Country Reports in this Global Series, please
Contact iData
One of the the most accurate methods of market research in the medical device industry is to analyze the procedure volumes and trends. Through this study on urology devices, iData Research has performed an analysis on the following procedure segments in order to increase the accuracy of our market sizing, and provide you with the volume of procedures over a 10 year range. While the below market segmentation map is representative of the United States, procedure volume data is also provided for the other regions within this complete series.
Procedure Volume Analysis Segments in the United States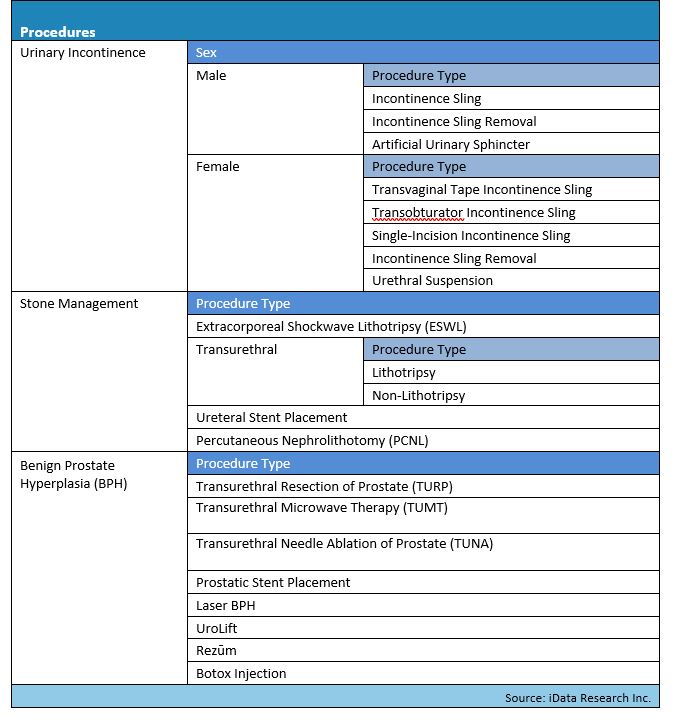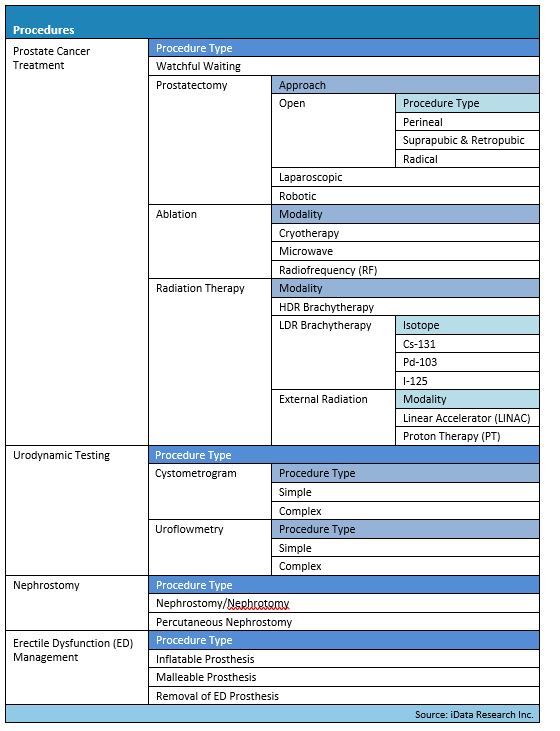 iData's 9-Step Research Methodology
Our reports follow an in-depth 9-step methodology which focuses on the following research systems:
Original primary research that consists of the most up-to-date market data
Strong foundation of quantitative and qualitative research
Focused on the needs and strategic challenges of the industry participants
Step 1: Project Initiation & Team Selection During this preliminary investigation, all staff members involved in the industry discusses the topic in detail.
Step 2: Prepare Data Systems and Perform Secondary Research The first task of the research team is to prepare for the data collection process: Filing systems and relational databases are developed as needed.
Step 3: Preparation for Interviews & Questionnaire Design The core of all iData research reports is primary market research. Interviews with industry insiders represent the single most reliable way to obtain accurate, current data about market conditions, trends, threats and opportunities.
Step 4: Performing Primary Research At this stage, interviews are performed using contacts and information acquired in the secondary research phase.
Step 5: Research Analysis: Establishing Baseline Estimates Following the completion of the primary research phase, the collected information must be synthesized into an accurate view of the market status. The most important question is the current state of the market.
Step 6: Market Forecast and Analysis iData Research uses a proprietary method to combine statistical data and opinions of industry experts to forecast future market values.
Step 7: Identify Strategic Opportunities iData analysts identify in broad terms why some companies are gaining or losing share within a given market segment.
Step 8: Final Review and Market Release An integral part of the iData research methodology is a built-in philosophy of quality control and continuing improvement is integral to the iData philosophy.
Step 9: Customer Feedback and Market Monitoring iData philosophy of continuous improvement requires that reports and consulting projects be monitored after release for customer feedback and market accuracy.