ENT & Bronchoscopy Devices Market Analysis, Size, Trends | United States | 2019-2025 | MedSuite
Year:

2019

Scope:

2015-2025

Region:

United States

Pages:

308

Published Date:

10/08/2019

Type:

MedSuite
The full report suite on the U.S. market for ENT endoscopic and bronchoscopic devices includes ENT endoscopes, ENT powered instruments, ENT hand instruments, ENT surgical energy devices, balloon dilation devices, drug-eluting stents, bronchoscopes, bronchoscopic hand instruments, tracheobronchial stents, bronchoscopic biopsy devices, and foreign body removal device markets.
Single-use devices have become increasingly popular in the ENT endoscopic and bronchoscopic device market. Benefits of single-use devices include a decreased risk of infection and no reprocessing after use. Recently, single-use devices have gained significant traction in the bronchoscope market.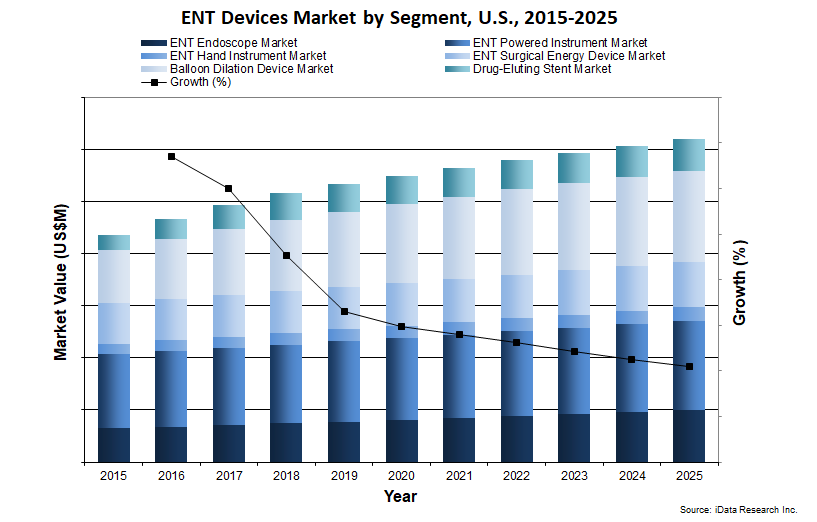 The Only Medical Device Market Research With:

✔

Procedure Volume Data & Trends


✔

Unit Sales Growth Analysis


✔

Average Selling Prices


✔

Competitor Shares by Segment & Country


✔

 SKU-Level Research Methods


✔

 The Lowest Acquisition Cost


Highly Detailed Segmentation
While this report suite contains all applicable United States dialysis market data, each of the market segments are also available as stand alone MedCore reports. This allows you to get access to only the dialysis market research that you need. You can view all these included reports and segmentation here:
Procedure Volumes for ENT and Bronchoscopy Procedures  – MedPro – Using a number of databases, internal and external, we're able to provide you with the total volume of ENT procedures being performed for each of the markets mentioned in this suite of reports.
Product Portfolio for ENT and Bronchoscopy Procedures – MedFolio – Covering all segmentation within this ENT device suite, we include insight on all available products in each market, any recalls and clinical trials.
ENT Endoscope Market – MedCore – Segmented into 2 main markets: rigid ENT endoscopes and Flexible ENT endoscopes.
ENT Powered Instrument Market – MedCore – Segmented into 2 main markets: ENT powered instrument capital equipment and ENT powered instrument disposables.
ENT Hand Instrument Market – MedCore – This market covers several types ENT of hand instruments including sinus hand instruments, laryngeal hand instruments, and otology hand instruments.
ENT Surgical Energy Device Market – MedCore – Segmented into 2 main markets: capital equipment and RF & Ultrasonic probes.
Bronchoscope Market – MedCore – Segmented into 2 main markets: rigid bronchoscopes and flexible bronchoscopes
Tracheobronchial Stent Market – MedCore – Segmented into 2 main markets: metal tracheobronchial stents and silicone tracheobroncial stents
OTHER INFORMATION – Company Profiles and SWOT, Disease Overviews, & Related Press Releases from Top Competitors
Data Types Included
Unit Sales, Average Selling Prices, Market Value & Growth Trends
Procedure Volume Analysis and Trends
10 Year Scope and Forecast Range
Market Drivers & Limiters for Each Segment
Competitive Analysis with Market Shares for Each Segment
Recent Mergers & Acquisitions
Disease Overviews and Demographic Information
Company Profiles, Product Portfolios and SWOT for Top Competitors
For a Full Table of Contents From Any of the Country Reports in this Global Series, please
Contact iData
The "Japan Market Report Suite for Small Bone and Joint Orthopedic Devices Market Analysis, Size, Trends" includes analysis on the following companies currently active in this market:
All Companies Analyzed in this Study

Acclarent
Advanced Monitors Corporation
Aesculap
Ambu
American Diagnostic Corporation
Anthony Products
ASSI
ATMOS MedizinTechnik
Bausch & Lomb
BD
Bien-Air
BOMImed
Boston Medical Products
Boston Scientific
Bovie Medical
BR Surgical
Brasseler
Clarus Medical
Cogentix Medical
ConMed
Cook Medical
DePuy Synthes

Ecleris
ERBE
Ethicon
Fujinon
Getinge
GlobalMed
Grace Medical
Hayden Medical
Heine
Hobbs Medical
Hood Laboratories
Instrumentarium
Integra LifeSciences
Intersect ENT
IntuBrite
Inventis
Invotec
JEDMED
Karl Storz
KaWe
KLS Martin
LYMOL Medical
Machida
Medi-Globe
MedRx
Medtronic

Merit Medical
Micromed Medizintechnik
Millennium Surgical
Nouvag AG
Olympus
OmniGuide
Otometrics
Pentax
Richard Wolf
Riester
Sklar Surgical Instruments
Smith & Nephew
Stryker
Sutter
Symmetry Surgical
Teleflex
TeleMed Systems
Thoracent
US Endoscopy
Verathon
Welch Allyn
For a Full Table of Contents From Any of the Country Reports in this Global Series, please
Contact iData
For a Full Table of Contents From Any of the Country Reports in this Global Series, please
Contact iData
iData's 9-Step Research Methodology
Our reports follow an in-depth 9-step methodology which focuses on the following research systems:
Original primary research that consists of the most up-to-date market data
Strong foundation of quantitative and qualitative research
Focused on the needs and strategic challenges of the industry participants
Step 1: Project Initiation & Team Selection During this preliminary investigation, all staff members involved in the industry discusses the topic in detail.
Step 2: Prepare Data Systems and Perform Secondary Research The first task of the research team is to prepare for the data collection process: Filing systems and relational databases are developed as needed.
Step 3: Preparation for Interviews & Questionnaire Design The core of all iData research reports is primary market research. Interviews with industry insiders represent the single most reliable way to obtain accurate, current data about market conditions, trends, threats and opportunities.
Step 4: Performing Primary Research At this stage, interviews are performed using contacts and information acquired in the secondary research phase.
Step 5: Research Analysis: Establishing Baseline Estimates Following the completion of the primary research phase, the collected information must be synthesized into an accurate view of the market status. The most important question is the current state of the market.
Step 6: Market Forecast and Analysis iData Research uses a proprietary method to combine statistical data and opinions of industry experts to forecast future market values.
Step 7: Identify Strategic Opportunities iData analysts identify in broad terms why some companies are gaining or losing share within a given market segment.
Step 8: Final Review and Market Release An integral part of the iData research methodology is a built-in philosophy of quality control and continuing improvement is integral to the iData philosophy.
Step 9: Customer Feedback and Market Monitoring iData philosophy of continuous improvement requires that reports and consulting projects be monitored after release for customer feedback and market accuracy.