Urinary Incontinence Market Size, Share & Trends Analysis | Global | 2019-2025 | MedCore | Includes: Urinary Catheter, Intermittent Catheter, Foley Catheter, and Male External Catheter
Year:

2019

Scope:

10 Years

Region:

China, Europe, India, Japan, United States

Pages:

231

Published Date:

03/02/2019

Type:

MedCore
Industry Trends
Urinary catheters are hollow plastic or rubber tubes inserted into the urethra to collect urine for patients with urinary dysfunction. Intermittent catheters are used for short-term catheterization and are segmented into a conventional, closed system and antimicrobial catheters. Foley catheters are generally used as long-term catheters and are retained by a balloon at the tip, which is inflated with water. Foley catheters are segmented into those that are sold alone or those sold as trays, as well as further segmentation between conventional and antimicrobial Foley catheters. Male external catheters are devices that fit over the penis and connect to a drainage bag. A urethral bulking agent is a hydrogel composed of a biocompatible recombinant protein polymer that is injected into the periurethral or transurethral route to treat stress urinary incontinence. Bulking agents treat urinary incontinence by increasing the tissue bulk around the urethra, thus increasing the resistance to urinary outflow. Urinary incontinence slings are devices inserted into the body to treat incontinence symptoms. This procedure is predominantly performed on females and male sling procedures are performed on a much smaller number of patients. The procedure involves placing a sling around the urethra to lift it to a position where sufficient urethral compression will achieve urine control.
In the U.S., Japan, and China, the urinary catheter market accounts for the majority of the total market value.  In all regions, the incidence of urinary incontinence generally increases with age. In that regard, the aging population, combined with longer life expectancies, will drive the market for urinary incontinence treatments in the future. In the elderly, urinary incontinence may result from a confluence of factors, including comorbid conditions, medications, neuro-urinary pathology, and more. In Europe, the urinary incontinence sling market accounted for the majority of the total market value. The urinary incontinence sling market includes female and male urinary incontinence slings. Female urinary incontinence slings are further segmented by sling type. This segment has been declining as the awareness regarding the negative effects of female urinary incontinence slings rises.
Report Regional Coverage
Throughout this research series, iData has covered several countries in great detail. Each country may be purchased as a stand-alone report, tailoring the data to your needs. The covered countries are:
United States
Europe (15 countries including Germany, France, U.K., Italy, Spain, Benelux (Belgium, Netherlands, and Luxembourg), Scandinavia (Denmark, Finland, Norway, and Sweden) Austria, Switzerland, and Portugal)
China
Japan
The Only Medical Device Market Research With:

✔

Unit Sales Growth Analysis


✔

Average Selling Prices


✔

Competitor Shares by Segment & Country


✔

 SKU-Level Research Methods


✔

 The Lowest Acquisition Cost


Highly Detailed Segmentation
Urinary Catheter Market
Urethral Bulking Agent Market
Incontinence Management Device Market
Urinary Bag Market
*Not all segments covered in each country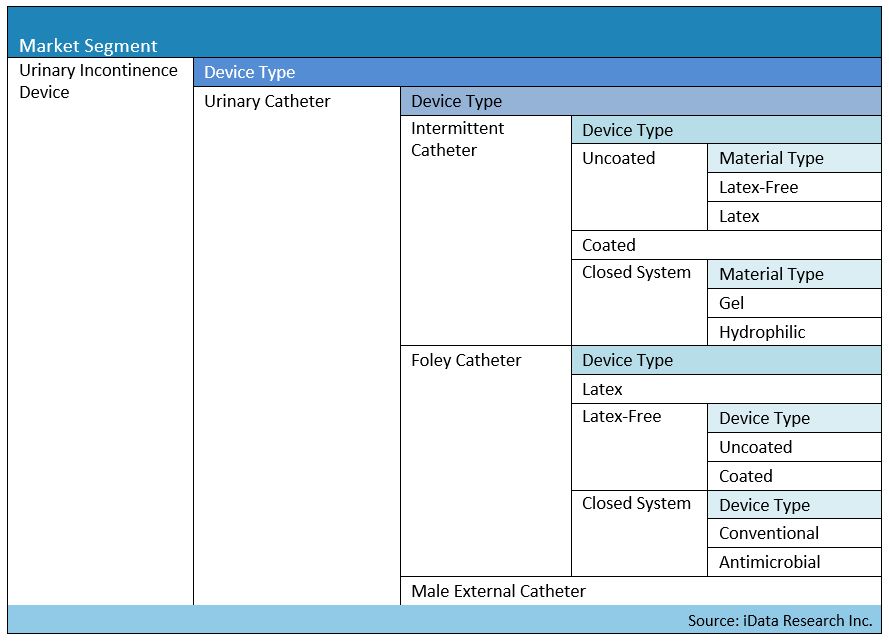 Report Data Types Included
Unit Sales, Average Selling Prices, Market Value & Growth Trends
10 Year Scope (3 Year Historical + 7 Year Forecast Period)
Market Drivers & Limiters for Each Segment
Competitive Analysis with Market Shares
Product Portfolios
Related Press Releases from Top Competitors
Urinary Incontinence Market Share Insights
In the U.S., Japan, and China, BARD's leading competitor in the urinary incontinence device market, with approximately 30% of the total market share. The company's position in the overall market is solely attributed to its presence in the urinary catheter market and urinary bag market, where it held the leading positions. BARD used to be active in the urethral bulking agent market and female incontinence sling market but has since exited those segments. The company was acquired by Becton Dickinson in December 2017, and this is expected to supplement its position in the overall market.
In Europe, Boston Scientific is the leading competitor in the overall urinary incontinence sling market. Their market share is achieved through the acquisition of American Medical Systems' male UI portfolio in August 2015. Boston Scientific now dominates the market for male slings and artificial urinary sphincters, the latter of which are not included in this report. In addition to leading the male urinary incontinence sling market, Boston Scientific was the second-leading competitor in the female urinary incontinence sling market.
Other companies analyzed include Ethicon, Aesculap/B. Braun, LifeCell, Cook Medical, and Tutogen.
All Companies Analyzed in this Study

Aeromed
Agency for Medical Innovations (A.M.I.)
AMS
Aqlane Medical
Aspide
Authentic Option
BARD
BioDerm
Boston
Boston Scientific
C.R. Bard
Caldera Medical
Cardinal Health
China Medlife Products Co.
CL Medical
Coloplast
Contura
Cook Medical
Cousin Biotech
Covidien
Deroyal
DynaMesh
Dynarex

Ethicon (Johnson & Johnson)
Fuji Systems
Goodtech
Helioscopie
Hitec Medical Co.
Hollister
LABORIE
MedGyn
Medline
Nasco
Neomedic International
Peco Medical
Promedon
Quindao Goodpro International Co.
Salix
Smiths Medical
Teleflex
Terumo
Toray
Urolastic
Utah Medical
About Our In-Depth MedCore Research
Our analysts meticulously research for up to 3 to 4 months to put together one suite of reports (MedSuite), a comprehensive analysis of a group of healthcare markets. A MedCore is one portion of that analysis that focuses on one market segment and provides further detailed segmentation to get a much more granular set of market data.
This MedCore is also found in the full report suite titled Urology Market which contains several other extremities medical device markets.
The "US Market Report Suite for Urological Devices 2016 - MedSuite" includes analysis on the following companies currently active in this market: Ame Cath Aspide Astora Best Medical, Biolitec, Boston Scientific, C.R. Bard, Calcula Technologies, Caldera, Cogentix Coloplast Convergent Lasers Cook Medical Cooper Surgical Cousin Biotech Dornier DynaMesh Eckert and Ziegler EDAPElectro Medical Technologies Elekta Ethicon Galil Medical GE Oncura Healthtronics Hollister Iso AidIso Ray Karl Storz LaborieLumenisMedifocusMediPlusMedlineMedTechMedtronicOlympusPrometheusProstalundQuanta SystemsRichard WorlfSiemensSRS MedicalTeleflexTheragenicsTrimedyneUrologixUrotechVarian*Not all companies are currently active in every segment or sub-report from this suite. For more details contact an iData Research Product Advisor.
iData's 9-Step Research Methodology
Our reports follow an in-depth 9-step methodology which focuses on the following research systems:
Original primary research that consists of the most up-to-date market data
Strong foundation of quantitative and qualitative research
Focused on the needs and strategic challenges of the industry participants
Step 1: Project Initiation & Team Selection During this preliminary investigation, all staff members involved in the industry discusses the topic in detail.
Step 2: Prepare Data Systems and Perform Secondary Research The first task of the research team is to prepare for the data collection process: Filing systems and relational databases are developed as needed.
Step 3: Preparation for Interviews & Questionnaire Design The core of all iData research reports is primary market research. Interviews with industry insiders represent the single most reliable way to obtain accurate, current data about market conditions, trends, threats and opportunities.
Step 4: Performing Primary Research At this stage, interviews are performed using contacts and information acquired in the secondary research phase.
Step 5: Research Analysis: Establishing Baseline Estimates Following the completion of the primary research phase, the collected information must be synthesized into an accurate view of the market status. The most important question is the current state of the market.
Step 6: Market Forecast and Analysis iData Research uses a proprietary method to combine statistical data and opinions of industry experts to forecast future market values.
Step 7: Identify Strategic Opportunities iData analysts identify in broad terms why some companies are gaining or losing share within a given market segment.
Step 8: Final Review and Market Release An integral part of the iData research methodology is a built-in philosophy of quality control and continuing improvement is integral to the iData philosophy.
Step 9: Customer Feedback and Market Monitoring iData philosophy of continuous improvement requires that reports and consulting projects be monitored after release for customer feedback and market accuracy.