Urology Market Size, Share & Trends Analysis | Brazil | 2020-2026 | MedSuite | Includes: Urinary Incontinence Market, Pelvic Organ Prolapse Repair Market, and 3 more
Year:

2020

Scope:

10 Years

Region:

Brazil

Pages:

383

Published Date:

11/02/2019

Type:

MedSuite
By 2020, the Brazilian urological device market size was valued at $663.6 million, with over 1.23 million urological procedures performed every year. The market value is expected to increase at a compound annual growth rate (CAGR) of 2.8% to reach $806 million in 2026.
Throughout this medical market research, we analyzed 54 urology companies across Brazil and used our comprehensive methodology to understand the market sizes, unit sales, company market shares, and to create accurate forecasts.
While this MedSuite report contains all of the Brazilian Urological Device market data and analysis, each of the market segments is also available as stand-alone MedCore reports. This allows you to get access to only the market research that you need.
DATA TYPES INCLUDED
Unit Sales, Average Selling Prices, Market Value & Growth Trends
Urology Procedure Volumes
Market Forecasts Until 2026, and Historical Data to 2016
Competitive Analysis with Market Shares for Each Segment
Market Drivers & Limiters for Each Urological Device market
Recent Mergers & Acquisitions
Disease Overviews and Demographic Information
Market Value and Industry Trends
The primary limiter of many of these urological device markets is the increasing use of pharmaceutical treatments. For instance, both stone management and BPH device markets, the largest segments in this report, are limited tremendously by drug therapy. In 2018, over 90% of BPH patients received drug therapy treatment over interventional methods. While drugs do not solve the underlying problem of either prostate or stone growth, they do reduce the severity of symptoms, which allows patients to delay or avoid surgery.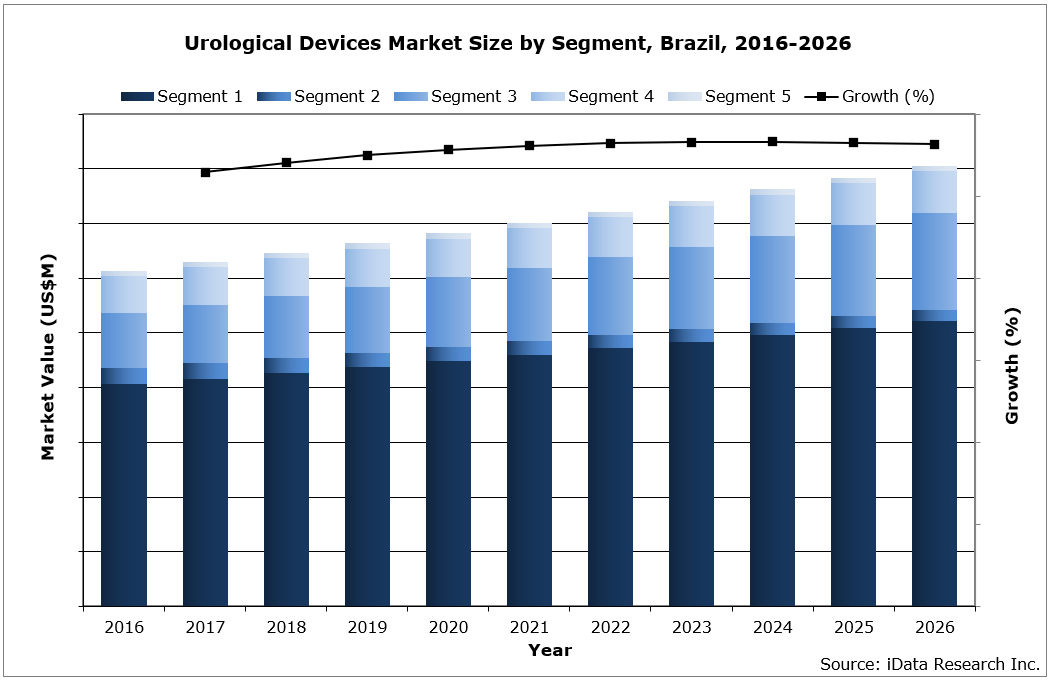 Since NeoTract launched UroLift®, an implant for the treatment of BPH, in the U.S. in 2013, the device has been slowly adopted in the U.S., as well as in other regions where it is available, such as Europe, Canada, Australia, and more. However, as of 2019, UroLift® has not been approved for sale in Brazil. The UroLift® procedure is minimally invasive and can be performed in a relatively short amount of time, making it an attractive treatment option for BPH. In 2017, NeoTract was acquired by Teleflex, which is expected to further drive the adoption of UroLift® by leveraging the large presence and sales distribution network of Teleflex.
Competitive Analysis

By 2020, the leading competitor in the Brazilian urological device market was Promedon. Promedon's STEEMA® urethral sling system for the treatment of female stress urinary incontinence (SUI) is one of the most popular devices in Brazil and makes up a huge portion of sales in the region.
The second-leading competitor in the urology market was Boston Scientific. The company's most recent innovation was the inception of the single-use flexible ureteroscope market, with the launch of LithoVue™ in 2016. Boston Scientific also entered the global Rezūm® market through its acquisition of NxThera in April 2018.
BARD was the third-leading competitor by 2020. As of March 2019, BARD discontinued its global production of vaginal mesh products and urinary incontinence devices. Devices affected include the Ajust® single-incision sling, Ajust® Helical single-incision sling, Align® urethral support system and Align® trans-obturator urethral support system. The Pelvic organ prolapse repair device market is expected to decline, due to lawsuits and the discontinuation of products.
Segments Covered
Click on each title to view detailed market segmentation.
Detailed Market Segmentation
DON'T SEE THE SEGMENT OR DATA YOU NEED?
Feel free to contact us or send a request by pressing one of the buttons below
TABLE OF CONTENTS For The BRAZIL UROLOGY MARKET Report Suite
ILIST OF FIGURES XLIST OF CHARTS XIXEXECUTIVE SUMMARY 1BRAZIL UROLOGICAL DEVICE MARKET OVERVIEW 1COMPETITIVE ANALYSIS 4MARKET TRENDS 6MARKET DEVELOPMENTS 7PROCEDURE NUMBERS 8MARKETS INCLUDED 9VERSION HISTORY 10RESEARCH METHODOLOGY 11Step 1: Project Initiation & Team Selection 11Step 2: Prepare Data Systems and Perform Secondary Research 14Step 3: Preparation for Interviews & Questionnaire Design 16Step 4: Performing Primary Research 17Step 5: Research Analysis: Establishing Baseline Estimates 19Step 6: Market Forecast and Analysis 20Step 7: Identify Strategic Opportunities 22Step 8: Final Review and Market Release 23Step 9: Customer Feedback and Market Monitoring 24
DISEASE OVERVIEW
2.1 BASIC ANATOMY 252.1.1 Urinary System 252.1.1.1 Male Urinary System 262.1.1.2 Female Urinary System 272.2 DISEASE TREATMENT AND DIAGNOSTICS 282.2.1 Benign Prostatic Hyperplasia 282.2.2 Urinary Incontinence 302.2.3 Urinary Tract Infections 322.2.4 Kidney Stones 332.2.5 Bladder Prolapse 352.2.6 Overactive Bladder 362.2.7 Prostatitis 372.2.8 Erectile Dysfunction 392.2.9 Cancer 412.2.9.1 Prostate Cancer 412.2.9.2 Bladder Cancer 422.2.10 Indications for Pelvic Organ Prolapse Repair 43
PRODUCT ASSESSMENT
3.1 INTRODUCTION 453.2 PRODUCT PORTFOLIOS 453.2.1 Urinary Incontinence 453.2.1.1 Urinary Catheters 453.2.1.1.1 Intermittent Catheters 453.2.1.1.2 Foley Catheters 463.2.1.1.3 Male External Catheters 473.2.1.2 Urethral Bulking Agents 483.2.1.3 Incontinence Management Devices 493.2.1.3.1 Female Incontinence Slings 493.2.1.3.2 Male Implantable Devices 503.2.1.4 Urine Bags 523.2.1.4.1 Leg Bags 523.2.1.4.2 Night Bags 523.2.2 Pelvic Organ Prolapse Repair 573.2.2.1 Autologous Tissue as an Alternative to Vaginal Mesh 583.2.2.2 Product Matrix for Pelvic Organ Prolapse Repair 593.2.3 Stone Management 603.2.3.1 ESWL Equipment 603.2.3.2 ISWL Equipment 613.2.3.3 Holmium Lasers 613.2.3.4 Stone Fragment Retrieval Devices 623.2.3.5 Ureteral Stents 623.2.4 BPH Treatment 663.2.4.1 TURP 663.2.4.2 TUMT 673.2.4.3 TUNA 673.2.4.4 Prostatic Stents 683.2.4.5 Laser BPH 693.2.4.5.1 Photoselective Vaporization of the Prostate (PVP) 703.2.4.5.2 Laser Vaporization of the Prostate 713.2.4.5.3 Laser Ablation of the Prostate 723.2.4.5.4 Laser Resection of the Prostate 723.2.4.5.5 Laser Enucleation of the Prostate 733.2.5 Erectile Dysfunction 753.2.5.1 Penile Implants 753.2.5.1.1 Inflatable 753.2.5.1.2 Malleable 763.2.5.2 Vacuum 763.3 REGULATORY ISSUES AND RECALLS 783.3.1 Boston Scientific 783.3.1.1 Stone Management 783.3.1.2 Nephrostomy 803.3.2 C. R. Bard (Becton Dickinson) 813.3.2.1 Urinary Incontinence 813.3.2.2 Stone Management 863.3.2.3 Urological Endoscopes 863.3.2.4 Prostate Cancer Treatment 863.3.2.5 Nephrostomy 873.3.3 Coloplast 893.3.3.1 Urinary Catheter 893.3.3.2 Erectile Dysfunction 893.3.4 Cook Medical 903.3.4.1 Stone Management 903.3.4.2 Nephrostomy 913.3.5 Elekta 933.3.5.1 Prostate Cancer Treatment 933.3.6 Karl Storz 943.3.6.1 Urological Endoscopes 943.3.7 Olympus 953.3.7.1 Urological Endoscopes 953.4 CLINICAL TRIALS 973.4.1 Boston Scientific 973.4.1.1 Urinary Incontinence 973.4.1.2 BPH Treatment 983.4.1.3 Urological endoscopes 993.4.1.4 Nephrostomy 1003.4.1.5 Erectile Dysfunction 1013.4.2 C. R. Bard (Becton Dickinson) 1023.4.2.1 Urinary Incontinence 1023.4.2.2 Prostate Cancer Treatment 1043.4.3 Coloplast 1053.4.3.1 Urinary Incontinence 1053.4.4 Cook Medical 1083.4.4.1 Nephrostomy 1083.4.5 Elekta 1103.4.5.1 Prostate Cancer Treatment 1103.4.6 Ethicon (Johnson & Johnson) 1123.4.6.1 Urinary Incontinence 1123.4.7 Karl Storz 1143.4.7.1 Stone Management 1143.4.7.2 Urological Endoscopes 1163.4.8 Laborie 1193.4.8.1 Urodynamics 1193.4.9 Medline 1213.4.9.1 Urinary Incontinence 1213.4.10 Olympus 1223.4.10.1 Stone Management 1223.4.10.2 BPH Treatment 1233.4.10.3 Urological Endoscopes 124
BRAZIL UROLOGICAL DEVICE MARKET OVERVIEW
4.1 INTRODUCTION 1264.2 CURRENCY EXCHANGE RATE 1274.3 MARKET OVERVIEW 1284.4 TREND ANALYSIS BY SEGMENT 1344.5 DRIVERS AND LIMITERS 1384.5.1 Market Drivers 1384.5.2 Market Limiters 1394.6 COMPETITIVE MARKET SHARE ANALYSIS 1414.7 MERGERS AND ACQUISITIONS 1484.8 COMPANY PROFILES 1504.8.1 Boston Scientific 1504.8.2 C. R. Bard (Becton Dickinson) 1524.8.3 Coloplast 1544.8.4 Cook Medical 1554.8.5 Ethicon (Johnson & Johnson) 1564.8.6 Karl Storz 1574.8.7 Laborie 1584.8.8 Olympus 1594.9 SWOT ANALYSIS 1614.9.1 Boston Scientific 1624.9.2 C. R. Bard (Becton Dickinson) 1644.9.3 Coloplast 1664.9.4 Cook Medical 1674.9.5 Ethicon (Johnson & Johnson) 1694.9.6 Karl Storz 1704.9.7 Laborie 1714.9.8 Olympus 172
PROCEDURE NUMBERS
5.1 PROCEDURE OVERVIEW 1745.2 URINARY INCONTINENCE PROCEDURES 1795.2.1 Male Incontinence Management Procedures 1815.2.2 Female Incontinence Management Procedures 1845.3 PELVIC ORGAN PROLAPSE REPAIR PROCEDURES 1875.4 STONE MANAGEMENT PROCEDURES 1895.4.1 ESWL Procedures 1915.4.2 Transurethral Procedures 1935.4.3 Ureteral Stent Placement Procedures 1955.4.4 PCNL Procedures 1975.5 BPH PROCEDURES 1995.6 ERECTILE DYSFUNCTION MANAGEMENT PROCEDURES 201
URINARY INCONTINENCE MANAGEMENT DEVICE MARKET
6.1 INTRODUCTION 2046.2 MARKET OVERVIEW 2066.3 MARKET ANALYSIS AND FORECAST 2116.3.1 Total Urinary Catheter Market 2116.3.1.1 Intermittent Catheter Market 2146.3.1.2 Foley Catheter Market 2166.3.1.3 Male External Catheter Market 2186.3.2 Total Urethral Bulking Agent Market 2206.3.2.1 Male Urethral Bulking Agent Market 2246.3.2.2 Female Urethral Bulking Agent Market 2266.3.3 Total Incontinence Management Device Market 2286.3.3.1 Total Male Implantable Incontinence Device Market 2316.3.3.1.1 Male Incontinence Sling Market 2366.3.3.1.2 Male Artificial Urinary Sphincter Market 2386.3.3.2 Total Female Incontinence Sling Market 2406.3.3.2.1 Transvaginal Tape Female Incontinence Sling Market 2456.3.3.2.2 Transobturator Female Incontinence Sling Market 2476.3.3.2.3 Single-Incision Female Incontinence Sling Market 2496.4 DRIVERS AND LIMITERS 2516.4.1 Market Drivers 2516.4.2 Market Limiters 2526.5 COMPETITIVE MARKET SHARE ANALYSIS 255
PELVIC ORGAN PROLAPSE REPAIR DEVICE MARKET
7.1 INTRODUCTION 2607.2 MARKET OVERVIEW 2627.3 MARKET ANALYSIS AND FORECAST 2677.3.1 Total Pelvic Organ Prolapse Repair Device Market 2677.3.2 Transvaginal Mesh Market 2707.3.3 Sacrocolpopexy Mesh Market 2737.4 DRIVERS AND LIMITERS 2757.4.1 Market Drivers 2757.4.2 Market Limiters 2767.5 COMPETITIVE MARKET SHARE ANALYSIS 278
STONE MANAGEMENT DEVICE MARKET
8.1 INTRODUCTION 2818.2 MARKET OVERVIEW 2838.3 MARKET ANALYSIS AND FORECAST 2898.3.1 ESWL Equipment Market 2898.3.2 ISWL Equipment Market 2928.3.3 Total Holmium Laser Market 2958.3.3.1 Holmium Laser Equipment Market 2988.3.3.2 Holmium Laser Fiber Market 3008.3.4 Total Stone Fragment Retrieval Device Market 3038.3.4.1 Nitinol Stone Fragment Retrieval Device Market 3098.3.4.2 Stainless Steel Stone Fragment Retrieval Device Market 3118.3.5 Ureteral Stent Market 3138.3.6 Ureteral Guidewire Market 3168.4 DRIVERS AND LIMITERS 3198.4.1 Market Drivers 3198.4.2 Market Limiters 3208.5 COMPETITIVE MARKET SHARE ANALYSIS 323
BPH TREATMENT DEVICE MARKET
9.1 INTRODUCTION 3299.1.1 Treatments 3299.1.1.1 TURP 3309.1.1.2 Minimally Invasive Treatments 3309.1.1.3 Laser BPH Treatments 3319.1.2 Comparison of TURP and Laser BPH Procedures 3319.1.3 Emerging Technologies 3329.2 MARKET OVERVIEW 3349.3 MARKET ANALYSIS AND FORECAST 3399.3.1 Total TURP Market 3399.3.1.1 Monopolar Electrode Market 3429.3.1.2 Bipolar Electrode Market 3449.3.2 Total Laser BPH Market 3469.3.2.1 Laser BPH Equipment Market 3499.3.2.2 Laser BPH Fiber Market 3519.4 DRIVERS AND LIMITERS 3539.4.1 Market Limiters 3559.5 COMPETITIVE MARKET SHARE ANALYSIS 358
ERECTILE DYSFUNCTION DEVICE MARKET
10.1 INTRODUCTION 36210.1.1 Low Testosterone Pharmaceutical Delivery 36310.2 MARKET OVERVIEW 36410.3 MARKET ANALYSIS AND FORECAST 37010.3.1 Inflatable Erectile Dysfunction Device Market 37010.3.2 Malleable Erectile Dysfunction Device Market 37310.4 DRIVERS AND LIMITERS 37510.4.1 Market Drivers 37510.4.2 Market Limiters 37610.5 COMPETITIVE MARKET SHARE ANALYSIS 378
ABBREVIATIONS
The
Urology Market Report Suite| Brazil | 2020-2026 | MedSuite
includes analysis on the following companies currently active in this market:
Allium Medical
Amecath
Americanas
AMS
Amsino
BARD
Biolitec
Biosat
Boston Scientific
Cardinal Health
Coloplast
ConvaTec
Cook Medical
Deroyal
Dipher
Direx Group
Dornier MedTech
Electro Medical Systems
Ethicon
Fibra Cirurgica
Gigaa Laser
Handle
Hollister
HR Penile Prosthesis
Jena Surgical
Karl Storz
LABORIE

Lumenis
Medconi
Medfibers
MedGyn
Medi-Globe
MedNova
MedPro Medical
Olympus
OmniGuide
OrtoPonto
Peco Medical
Plasti-Med
PNN Medical
Promedon
Prosurg, Inc.
Richard Wolf
Rocamed
Siemens
Silimed
Simbionix Ltd.
Smiths Medical
Teleflex
Trimedyne
UroMed
UroVision
Vitae Saude
ZSI
iData's 9-Step Research Methodology
Our reports follow an in-depth 9-step methodology which focuses on the following research systems:
Original primary research that consists of the most up-to-date market data
Strong foundation of quantitative and qualitative research
Focused on the needs and strategic challenges of the industry participants
Step 1: Project Initiation & Team Selection During this preliminary investigation, all staff members involved in the industry discusses the topic in detail.
Step 2: Prepare Data Systems and Perform Secondary Research The first task of the research team is to prepare for the data collection process: Filing systems and relational databases are developed as needed.
Step 3: Preparation for Interviews & Questionnaire Design The core of all iData research reports is primary market research. Interviews with industry insiders represent the single most reliable way to obtain accurate, current data about market conditions, trends, threats and opportunities.
Step 4: Performing Primary Research At this stage, interviews are performed using contacts and information acquired in the secondary research phase.
Step 5: Research Analysis: Establishing Baseline Estimates Following the completion of the primary research phase, the collected information must be synthesized into an accurate view of the market status. The most important question is the current state of the market.
Step 6: Market Forecast and Analysis iData Research uses a proprietary method to combine statistical data and opinions of industry experts to forecast future market values.
Step 7: Identify Strategic Opportunities iData analysts identify in broad terms why some companies are gaining or losing share within a given market segment.
Step 8: Final Review and Market Release An integral part of the iData research methodology is a built-in philosophy of quality control and continuing improvement is integral to the iData philosophy.
Step 9: Customer Feedback and Market Monitoring iData philosophy of continuous improvement requires that reports and consulting projects be monitored after release for customer feedback and market accuracy.