Urology Market Size, Share & Trends Analysis | Australia | 2020-2026 | MedSuite | Includes: Urinary Incontinence Market, Pelvic Organ Prolapse Repair Market, and 3 more
Year:

2020

Scope:

10 Years

Region:

Australia

Pages:

387

Published Date:

10/15/2019

Type:

MedSuite
In 2020, the Australian urology market size was valued at nearly $72 million, with over 167,000 yearly urological procedures performed every year. The market size is expected to increase at a compound annual growth rate (CAGR) of 3% to reach nearly $89 million in 2026.
Throughout this medical market research, we analyzed 31 urology companies across Australia and used our comprehensive methodology to understand the market sizes, unit sales, company market shares, and to create accurate forecasts.
While this MedSuite report contains all of the Australian Urological Device market data and analysis, each of the market segments is also available as stand-alone MedCore reports. This allows you to get access to only the market research that you need.
DATA TYPES INCLUDED
Unit Sales, Average Selling Prices, Market Value & Growth Trends
Urology Procedure Volumes
Market Forecasts Until 2026, and Historical Data to 2016
Competitive Analysis with Market Shares for Each Segment
Market Drivers & Limiters for Each Urological Device market
Recent Mergers & Acquisitions
Disease Overviews and Demographic Information
Market Value and Industry Trends
The BPH treatment market, and the stone management device market, accounted for the majority of the total market value in 2019. The growth in these two segments is driven by the stable demand for related procedures, the growing prevalence of prostatic and kidney diseases, and the premium prices for lasers and lithotripters.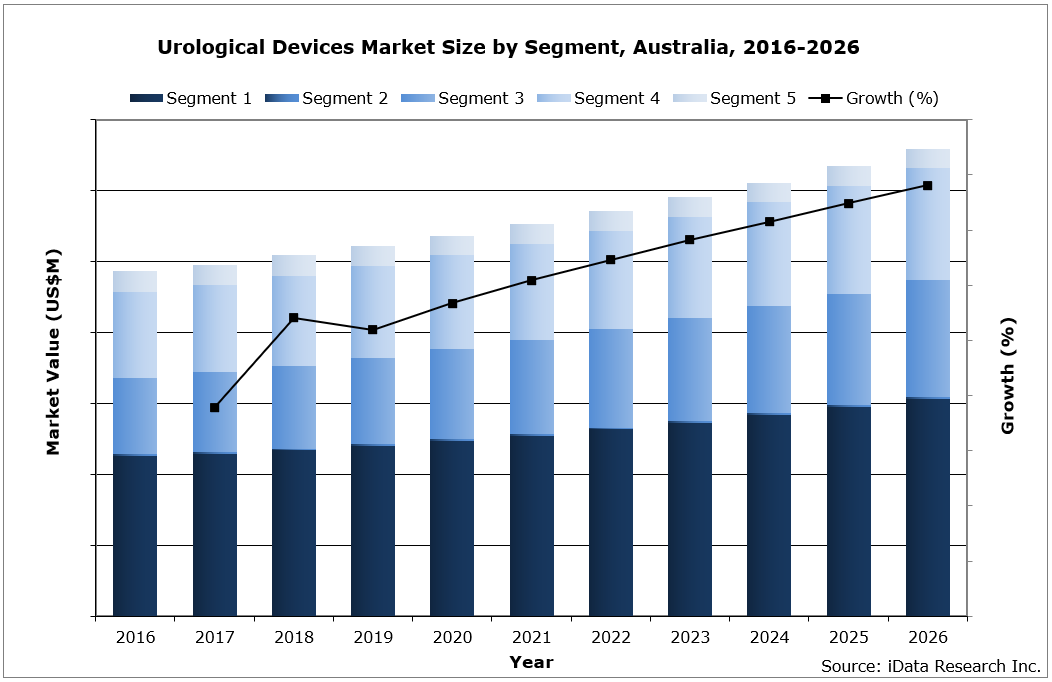 The stable growth across the market is driven by the continuing adoption of new technologies, focused on the largest and the growing areas of the market. The UroLift® market has experienced rapid growth since its launch in Australia in 2012 and its reimbursement coverage in 2013.
The female urinary incontinence market, which represented nearly one-third of the combined incontinence management device market, is undergoing structural changes, due to regulatory and reimbursement changes regarding transvaginal tape and mini-slings. Both devices are currently banned in Australia.
Competitive Analysis

By 2020, the leading competitor in the Australian urological device market was Boston Scientific. The company held the leading positions in the pelvic organ prolapse repair market, stone management device market, and BPH treatment device market. The company's leading position is attributed to its established products, including men's health and prostate health businesses. The acquisition of NxThera and its Rezūm® system in 2018 provided Boston Scientific's sole presence in the emerging Rezūm® market in Australia.
Coloplast was the second-leading competitor in the urology market in Australia. This was attributed to the company's leading share in the urinary incontinence market, primarily driven by the catheter segment, as well as its notable share of pelvic organ prolapse repair and its leading share in erectile dysfunction treatment.
Olympus was the third-leading competitor in the Australian urological device market by 2020. This was attributed to its second-leading position in the BPH treatment market and a notable presence in the stone management device market. Olympus operates a urology/gynecology business unit (UGBU), the growth of which is supported by the company's strength in the gastrointestinal business and in surgical device technologies.
Segments Covered
Click on each title to view detailed market segmentation.
Detailed Market Segmentation
DON'T SEE THE SEGMENT OR DATA YOU NEED?
Feel free to contact us or send a request by pressing one of the buttons below.
TABLE OF CONTENTS FOR THE AUSTRALIA UROLOGICAL DEVICE MARKET REPORT SUITE
TABLE OF CONTENTS ILIST OF FIGURES XLIST OF CHARTS XIXEXECUTIVE SUMMARY 1AUSTRALIA UROLOGICAL DEVICE MARKET OVERVIEW 1COMPETITIVE ANALYSIS 3MARKET TRENDS 6MARKET DEVELOPMENTS 7PROCEDURE NUMBERS 8MARKETS INCLUDED 9VERSION HISTORY 10RESEARCH METHODOLOGY 11Step 1: Project Initiation & Team Selection 11Step 2: Prepare Data Systems and Perform Secondary Research 14Step 3: Preparation for Interviews & Questionnaire Design 16Step 4: Performing Primary Research 17Step 5: Research Analysis: Establishing Baseline Estimates 19Step 6: Market Forecast and Analysis 20Step 7: Identify Strategic Opportunities 22Step 8: Final Review and Market Release 23Step 9: Customer Feedback and Market Monitoring 24
DISEASE OVERVIEW
2.1 BASIC ANATOMY 252.1.1 Urinary System 252.1.1.1 Male Urinary System 262.1.1.2 Female Urinary System 272.2 DISEASE TREATMENT AND DIAGNOSTICS 282.2.1 Benign Prostatic Hyperplasia 282.2.2 Urinary Incontinence 292.2.3 Urinary Tract Infections 312.2.4 Kidney Stones 322.2.5 Bladder Prolapse 342.2.6 Overactive Bladder 352.2.7 Prostatitis 362.2.8 Erectile Dysfunction 382.2.9 Cancer 392.2.9.1 Prostate Cancer 392.2.9.2 Bladder Cancer 402.2.10 Indications for Pelvic Organ Prolapse Repair 412.3 PATIENT DEMOGRAPHICS 42
PRODUCT ASSESSMENT
3.1 INTRODUCTION 443.2 PRODUCT PORTFOLIOS 443.2.1 Urinary Incontinence 443.2.1.1 Urinary Catheters 443.2.1.1.1 Intermittent Catheters 443.2.1.1.2 Foley Catheters 453.2.1.1.3 Male External Catheters 463.2.1.2 Urethral Bulking Agents 473.2.1.3 Incontinence Management Devices 483.2.1.3.1 Female Incontinence Slings 483.2.1.3.2 Male Implantable Devices 493.2.1.4 Urine Bags 513.2.1.4.1 Leg Bags 513.2.1.4.2 Night Bags 513.2.2 Pelvic Organ Prolapse Repair 563.2.2.1 Autologous Tissue as an Alternative to Vaginal Mesh 573.2.2.2 Product Matrix for Pelvic Organ Prolapse Repair 583.2.3 Stone Management 593.2.3.1 ESWL Equipment 593.2.3.2 ISWL Equipment 603.2.3.3 Holmium Lasers 603.2.3.4 Stone Fragment Retrieval Devices 613.2.3.5 Ureteral Stents 613.2.4 BPH Treatment 653.2.4.1 TURP 653.2.4.2 TUMT 663.2.4.3 TUNA 663.2.4.4 Prostatic Stents 673.2.4.5 Laser BPH 683.2.4.5.1 Photoselective Vaporization of the Prostate (PVP) 693.2.4.5.2 Laser Vaporization of the Prostate 703.2.4.5.3 Laser Ablation of the Prostate 713.2.4.5.4 Laser Resection of the Prostate 713.2.4.5.5 Laser Enucleation of the Prostate 723.2.5 Erectile Dysfunction 743.2.5.1 Penile Implants 743.2.5.1.1 Inflatable 743.2.5.1.2 Malleable 753.2.5.2 Vacuum 753.3 REGULATORY ISSUES AND RECALLS 773.3.1 Boston Scientific 773.3.1.1 Stone Management 773.3.1.2 Nephrostomy 793.3.2 C. R. Bard (Becton Dickinson) 803.3.2.1 Urinary Incontinence 803.3.2.2 Stone Management 853.3.2.3 Urological Endoscopes 853.3.2.4 Prostate Cancer Treatment 853.3.2.5 Nephrostomy 863.3.3 Coloplast 883.3.3.1 Urinary Catheter 883.3.3.2 Erectile Dysfunction 883.3.4 Cook Medical 893.3.4.1 Stone Management 893.3.4.2 Nephrostomy 903.3.5 Elekta 923.3.5.1 Prostate Cancer Treatment 923.3.6 Karl Storz 933.3.6.1 Urological Endoscopes 933.3.7 Olympus 943.3.7.1 Urological Endoscopes 943.4 CLINICAL TRIALS 963.4.1 Boston Scientific 963.4.1.1 Urinary Incontinence 963.4.1.2 BPH Treatment 973.4.1.3 Urological endoscopes 983.4.1.4 Nephrostomy 993.4.1.5 Erectile Dysfunction 1003.4.2 C. R. Bard (Becton Dickinson) 1013.4.2.1 Urinary Incontinence 1013.4.2.2 Prostate Cancer Treatment 1033.4.3 Coloplast 1043.4.3.1 Urinary Incontinence 1043.4.4 Cook Medical 1073.4.4.1 Nephrostomy 1073.4.5 Elekta 1093.4.5.1 Prostate Cancer Treatment 1093.4.6 Ethicon 1113.4.6.1 Urinary Incontinence 1113.4.7 Karl Storz 1133.4.7.1 Stone Management 1133.4.7.2 Urological Endoscopes 1153.4.8 Laborie 1183.4.8.1 Urodynamics 1183.4.9 Medline 1203.4.9.1 Urinary Incontinence 1203.4.10 Olympus 1213.4.10.1 Stone Management 1213.4.10.2 BPH Treatment 1223.4.10.3 Urological Endoscopes 123
AUSTRALIA UROLOGICAL DEVICE MARKET OVERVIEW
4.1 INTRODUCTION 1254.2 CURRENCY EXCHANGE RATE 1264.3 MARKET OVERVIEW 1274.4 TREND ANALYSIS BY SEGMENT 1334.5 DRIVERS AND LIMITERS 1364.5.1 Market Drivers 1364.5.2 Market Limiters 1374.6 COMPETITIVE MARKET SHARE ANALYSIS 1404.7 MERGERS AND ACQUISITIONS 1474.8 COMPANY PROFILES 1494.8.1 Boston Scientific 1494.8.2 C. R. Bard (Becton Dickinson) 1514.8.3 Coloplast 1534.8.4 Cook Medical 1544.8.5 Ethicon 1554.8.6 Karl Storz 1564.8.7 Laborie 1574.8.8 Olympus 1584.9 SWOT ANALYSIS 1604.9.1 Boston Scientific 1614.9.2 C. R. Bard (Becton Dickinson) 1634.9.3 Coloplast 1654.9.4 Cook Medical 1664.9.5 Ethicon 1684.9.6 Karl Storz 1694.9.7 Laborie 1704.9.8 Olympus 171
PROCEDURE NUMBERS
5.1 PROCEDURE OVERVIEW 1735.2 URINARY INCONTINENCE PROCEDURES 1805.2.1 Male Incontinence Management Procedures 1825.2.2 Female Incontinence Management Procedures 1855.3 PELVIC ORGAN PROLAPSE REPAIR 1885.4 STONE MANAGEMENT PROCEDURES 1905.4.1 ESWL Procedures 1925.4.2 Transurethral Procedures 1945.4.3 Ureteral Stent Placement Procedures 1965.4.4 PCNL Procedures 1985.5 BPH PROCEDURES 2005.5.1 BPH Procedures 2015.5.2 Prostatectomy Procedures 2035.6 ERECTILE DYSFUNCTION MANAGEMENT PROCEDURES 205
URINARY INCONTINENCE DEVICE MARKET
6.1 INTRODUCTION 2086.2 MARKET OVERVIEW 2096.3 MARKET ANALYSIS AND FORECAST 2146.3.1 Total Urinary Catheter Market 2146.3.1.1 Intermittent Catheter Market 2176.3.1.2 Foley Catheter Market 2196.3.1.3 Male External Catheter Market 2216.3.2 Total Urethral Bulking Agent Market 2236.3.2.1 Male Urethral Bulking Agent Market 2276.3.2.2 Female Urethral Bulking Agent Market 2296.3.3 Total Incontinence Management Device Market 2316.3.3.1 Total Female Incontinence Sling Market 2346.3.3.1.1 Transvaginal Tape Female Incontinence Sling Market 2406.3.3.1.2 Transobturator Female Incontinence Sling Market 2426.3.3.1.3 Single-Incision Female Incontinence Sling Market 2446.3.3.2 Total Male Implantable Incontinence Device Market 2466.3.3.2.1 Male Incontinence Sling Market 2516.3.3.2.2 Male Artificial Urinary Sphincter Market 2536.4 DRIVERS AND LIMITERS 2556.4.1 Market Drivers 2556.4.2 Market Limiters 2556.5 COMPETITIVE MARKET SHARE ANALYSIS 258
PELVIC ORGAN PROLAPSE REPAIR DEVICE MARKET
7.1 INTRODUCTION 2647.2 MARKET OVERVIEW 2687.3 MARKET ANALYSIS AND FORECAST 2737.3.1 Total Pelvic Organ Prolapse Repair Device Market 2737.3.2 Transvaginal Mesh Market 2767.3.3 Sacrocolpopexy Mesh Market 2797.4 DRIVERS AND LIMITERS 2817.4.1 Market Drivers 2817.4.2 Market Limiters 2817.5 COMPETITIVE MARKET SHARE ANALYSIS 283
STONE MANAGEMENT DEVICE MARKET
8.1 INTRODUCTION 2878.2 MARKET OVERVIEW 2908.3 MARKET ANALYSIS AND FORECAST 2968.3.1 ESWL Equipment Market 2968.3.2 ISWL Equipment Market 2998.3.3 Total Holmium Laser Market 3018.3.3.1 Holmium Laser Equipment Market 3048.3.3.2 Holmium Laser Fiber Market 3068.3.4 Total Stone Fragment Retrieval Device Market 3098.3.4.1 Nitinol Stone Fragment Retrieval Device Market 3148.3.4.2 Stainless Steel Stone Fragment Retrieval Device Market 3168.3.5 Ureteral Stent Market 3188.3.6 Ureteral Guidewire Market 3208.4 DRIVERS AND LIMITERS 3228.4.1 Market Drivers 3228.4.2 Market Limiters 3238.5 COMPETITIVE MARKET SHARE ANALYSIS 325
BPH TREATMENT DEVICE MARKET
9.1 INTRODUCTION 3319.1.1 Treatments 3319.1.2 Comparison of TURP and Laser BPH Procedures 3339.1.3 Emerging Technologies 3339.2 MARKET OVERVIEW 3359.3 MARKET ANALYSIS AND FORECAST 3409.3.1 Total TURP Market 3409.3.1.1 Monopolar Electrode Market 3439.3.1.2 Bipolar Electrode Market 3459.3.2 Total Laser BPH Market 3479.3.2.1 Laser BPH Equipment Market 3509.3.2.2 Laser BPH Fiber Market 3529.3.3 UroLift® Market 3549.3.4 Rezūm® Market 3569.4 DRIVERS AND LIMITERS 3589.4.1 Market Limiters 3599.5 COMPETITIVE MARKET SHARE ANALYSIS 362
ERECTILE DYSFUNCTION DEVICE MARKET
10.1 INTRODUCTION 36610.1.1 Low Testosterone Pharmaceutical Delivery 36710.2 MARKET OVERVIEW 36810.3 MARKET ANALYSIS AND FORECAST 37310.3.1 Inflatable Erectile Dysfunction Device Market 37310.3.2 Malleable Erectile Dysfunction Device Market 37610.3.3 Vacuum Erection Device Market 37810.4 DRIVERS AND LIMITERS 38010.4.1 Market Drivers 38010.4.2 Market Limiters 38010.5 COMPETITIVE MARKET SHARE ANALYSIS 382
ABBREVIATIONS
The
Urology Market Report Suite | Australia | 2020-2026 | MedSuite
includes analysis on the following companies currently active in this market:
Applied Medical
BARD
Bonro Medical
Boston Scientific
Coloplast
Contura
ConvaTek
Cook Medical
Dornier MedTech
EDAP TMS
EMS
Endo Personal Care
Endotherapeutics
Getz Healthcare
High Tech Medical
Hollister

Johnson & Johnson
Karl Storz
KESSEL Medintim
Laborie
Lamidey Noury
Lumenis
Medtronic
Neogenix
Olympus
Richard Wolf
Siemens
Stryker
Surgical Implants
Teleflex
Zephyr Surgical Implants
iData's 9-Step Research Methodology
Our reports follow an in-depth 9-step methodology which focuses on the following research systems:
Original primary research that consists of the most up-to-date market data
Strong foundation of quantitative and qualitative research
Focused on the needs and strategic challenges of the industry participants
Step 1: Project Initiation & Team Selection During this preliminary investigation, all staff members involved in the industry discusses the topic in detail.
Step 2: Prepare Data Systems and Perform Secondary Research The first task of the research team is to prepare for the data collection process: Filing systems and relational databases are developed as needed.
Step 3: Preparation for Interviews & Questionnaire Design The core of all iData research reports is primary market research. Interviews with industry insiders represent the single most reliable way to obtain accurate, current data about market conditions, trends, threats and opportunities.
Step 4: Performing Primary Research At this stage, interviews are performed using contacts and information acquired in the secondary research phase.
Step 5: Research Analysis: Establishing Baseline Estimates Following the completion of the primary research phase, the collected information must be synthesized into an accurate view of the market status. The most important question is the current state of the market.
Step 6: Market Forecast and Analysis iData Research uses a proprietary method to combine statistical data and opinions of industry experts to forecast future market values.
Step 7: Identify Strategic Opportunities iData analysts identify in broad terms why some companies are gaining or losing share within a given market segment.
Step 8: Final Review and Market Release An integral part of the iData research methodology is a built-in philosophy of quality control and continuing improvement is integral to the iData philosophy.
Step 9: Customer Feedback and Market Monitoring iData philosophy of continuous improvement requires that reports and consulting projects be monitored after release for customer feedback and market accuracy.