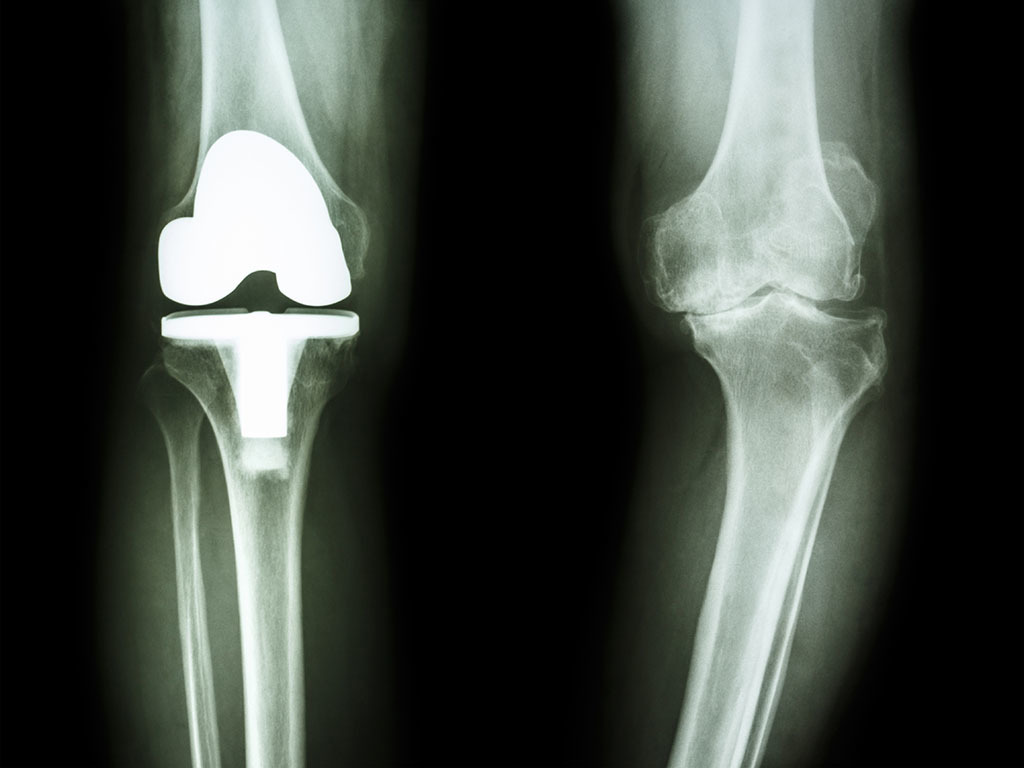 Register to receive a free US Orthopedic Large Joint Device Market Report Suite  synopsis and brochure
Technological advancements have long had a profound effect on the medical device market, and the knee replacement industry is no exception. Knee replacements are already the most common type of large joint replacement in the United States, and with increasing obesity rates and older age demographics, knee replacement procedure volumes are growing like never before, with over 1 million knee replacement procedures performed in 2018 in the United States alone. Conversely, as younger patients opt for knee replacement procedures as well, additional technologies for knee revision procedures are being met with high demand as many patients from this demographic will outlive their joint replacements. As such, new knee replacement technologies are poised to have a profound effect on the market as this industry meets its increasing demands.
New 3D Printing Knee Replacement Technologies
The latest developments in the joint reconstruction market include the application of additive-manufacturing technology, or 3D printing, in the process of implant manufacturing. 3D printing is an attractive manufacturing method because not only does it have the capacity to produce off-the-shelf devices with enriched qualities for better clinical outcomes than conventional materials, but it can also can be used to produce custom implants based on the patients' computed-tomography (CT) scans. The material has the potential to produce better clinical results due to the porous structure of additively manufactured materials, which mimics human bone structure to allow for the bone ingrowth and better implant fixation.
The growing use of 3D-printing technology in orthopedics will fuel the cementless knee replacement market. The use of cementless devices saves time during surgery, and is therefore provides an incentive to surgeons. In more classic cemented devices, the surgeon must premix the cement mixture immediately before placing the implant into the patient, which can be a cumbersome process. This exciting segment fueled by new technology is thus thriving with a growth rate in the low double-digits in an overall market that is remaining relatively stagnant.
CAD/CAM Data Driving Advancement
Computer-aided manufacturing (CAD/CAM) technologies have been implemented in various medical fields, including the knee replacement market. While both 3D-printing and CAD/CAM methods are used in the manufacturing of various products, they differ in that 3D printing involves gradually adding up material to form a final object while CAD/CAM does the opposite – the final product is created by subtracting material from a raw block using various automatically computed machining techniques. As such, both methods possess different benefits and disadvantages that impact their adoption for diverse manufacturing tasks.
Much recent advancement in implant technology has been helped by CAD/CAM data obtained from magnetic resonance (MR) and computer tomography (CT) images to design custom implants according to the anatomical needs to that specific patient. Custom implants such as these are attractive to patients as they provide an optimal final implant while also accounting for any existing medical conditions or anomalies they may have
Robotic Surgeries on the Rise
As an increasing number of robotic procedures are performed in the United States annually. Despite this segment's recent growth, orthopedic surgery began to incorporate robotic technology in 1992, when the robotic system ROBODOC was first introduced by Integrated Surgical Systems. The first long-term results of total hip arthroplasty with ROBODOC were published in 2018, outlining an absence of implant failures and improvements of clinical outcomes at a 14-year follow-up. Years later, companies such as Stryker and Smith & Nephew have embraced the success of robotic surgery in orthopedics with current platforms such as the Mako™ Robotic Arm and NAVIO™. The number of replacement procedures performed robotically is expected to surpass the double-digit range in coming years.
Smart Technology Emerging in Orthopedics
Apple has made several recent efforts to rebrand the new Apple Watch as a health-conscious platform. In tandem, Zimmer Biomet, a market leader in joint replacement development, has been working with Apple on a new study regarding knee and hip implant patients. The study aims to monitor patients before and after the operations using Apple Watch sensors and iPhone connectivity while also providing education services to patients in an effort to improve their pre- and post- operative care. Additionally, this method provides a communications channel between caregivers, doctors, and patients using Zimmer Biomet's mymobility app. The currently US-only study is helping Zimmer Biomet understand the possibilities of health monitoring from a connected app while Apple is learning what stakeholders in the health industry are seeking in smartwatch and smartphone health services.
For Further Information
More on the orthopedic large joints replacement market in the U.S. can be found in a series of reports published by iData entitled the U.S. Market Report Suite for Orthopedic Large Joint Devices.