Surgical Robotics and Navigation Market Analysis, Size, Trends | Global | 2019-2025 | MedSuite | Includes: ENT Surgical Navigation Market, Minimally Invasive Surgery Robotics Systems Market, and 8 more
Year:

2019

Scope:

2015-2025

Region:

Australia, China, Europe, India, Japan, United States

Pages:

4221

Published Date:

04/04/2019

Type:

MedSuite
Industry Trends
The shift from open cavity procedures to minimally invasive procedures has already occurred within the United States, Australia and Europe. For hospitals to attract top talent, they must be equipped with the latest in high-tech equipment and facilities in order to increase efficiency for the surgeon. Incorporating surgical navigation and robotic systems into operating rooms helps institutions promote themselves as industry leaders. Surgical navigation is a more established technology which has become the standard of care in neurosurgery, with adoption increasing in other segments.
Currently, in the Australian and U.S. surgical robotics markets, particularly the robotic-assisted MIS market, are moving towards further minimizing the invasiveness of surgical procedures. In May 2018, Intuitive Surgical received FDA clearance for their single-port da Vinci SP® Surgical System, which allows surgeons to enter the body through a single incision. Some other robotic companies plan to enter the  single-incision robotic-assisted surgery market in the near future and are currently involved in research and development activities.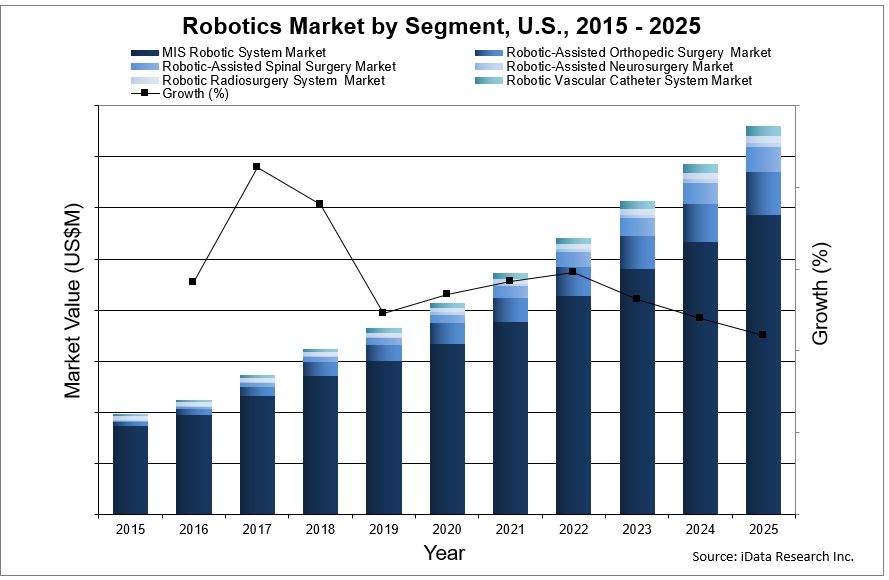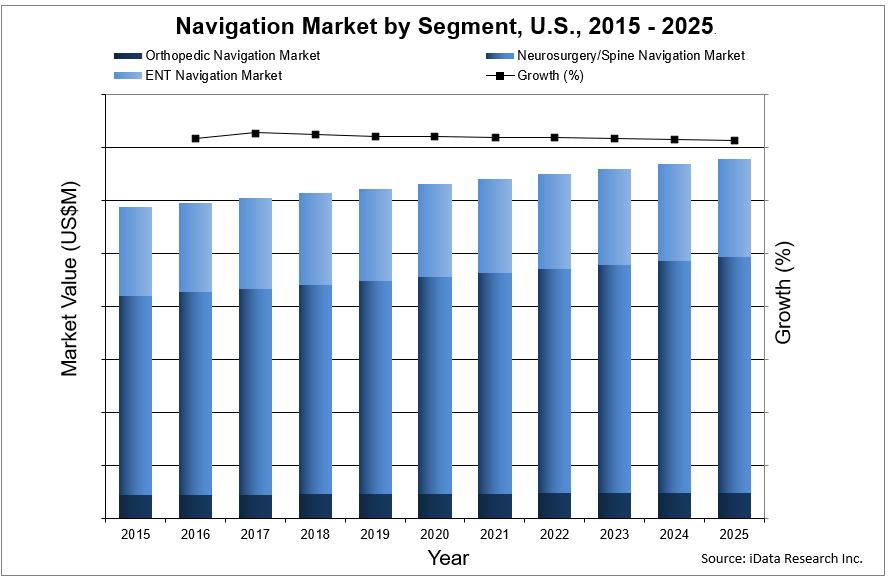 Report Regional Coverage
Throughout this research series, iData has covered several countries in great detail. Each country may be purchased as a stand-alone report, tailoring the data to your needs. The covered countries are:
United States
Europe (15 countries including: Germany, France, U.K., Italy, Spain, Benelux (Belgium, Netherlands and Luxembourg), Scandinavia (Denmark, Finland, Norway and Sweden) Austria, Switzerland and Portugal)
Japan
India
China
Australia
The Only Medical Device Market Research With:

✔

Procedure Volume Analysis


✔

Unit Sales Growth Analysis


✔

Average Selling Prices


✔

Competitor Shares by Segment & Country


✔

 SKU-Level Research Methods


✔

 The Lowest Acquisition Cost


Highly Detailed Segmentation
While this report suite contains all applicable market data, each of the markets are also available as stand alone MedCore reports. This allows you to get access to only the specific market segment research that you need. You can view all these included reports and segmentation here:
Procedure Numbers for Surgical Robotics and Navigation Market – MedPro
Neurosurgery Navigation Market – MedCore
Spinal Surgical Navigation Market – MedCore
ENT Surgical Navigation Market  – MedCore
Orthopedic Surgical Navigation Market – MedCore
Robotic-Assisted Spinal Surgery Systems Market – MedCore
Robotic-Assisted Neurosurgery Systems Market – MedCore
Minimally Invasive Surgery Robotics Systems Market – MedCore
Robotic Radiosurgery Systems Market – MedCore
Vascular Catheter Placement Surgical Robotics Market – MedCore
Robotic-Assisted Orthopedic Surgery Market – MedCore
Buying all of these reports together in this suite package will provide you with substantial discounts from the separate prices. Request Pricing to Learn More
Full Segmentation Map for the United States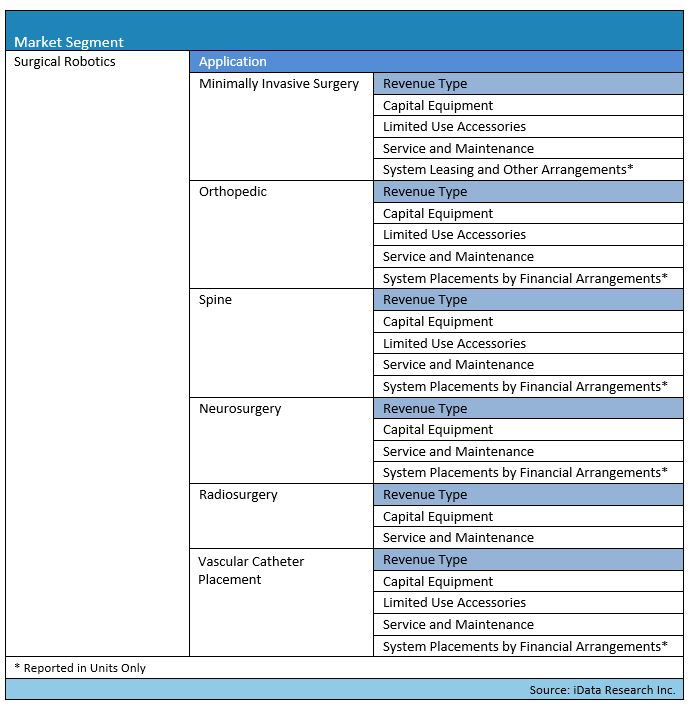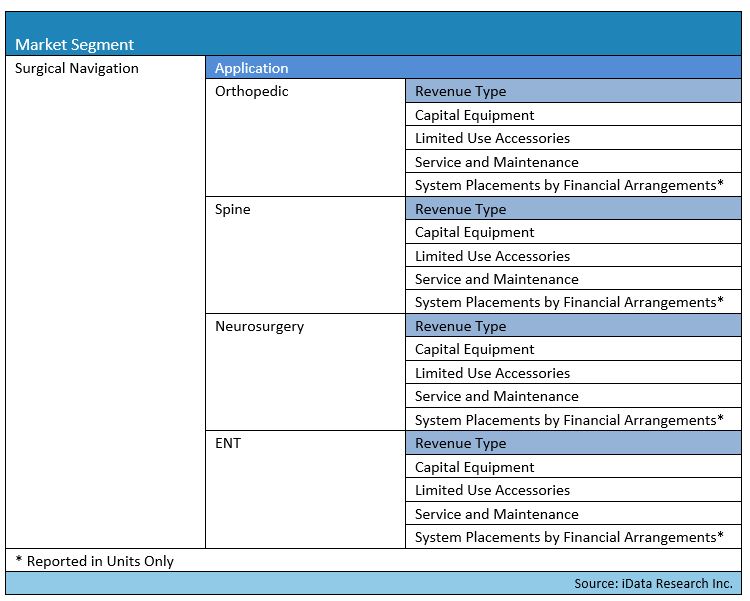 Data Types Included
Unit Sales, Average Selling Prices, Market Value & Growth Trends
Procedure Volumes
10 Year Scope and Forecast range
Market Drivers & Limiters for Each Segment
Competitive Analysis with Market Shares for Each Segment
Recent Mergers & Acquisitions
Disease Overviews and Demographic Information
Company Profiles, Product Portfolios and SWOT for Top Competitors
Surgical Robotics and Navigation Market Share Insights
Intuitive Surgical continues to dominate the United State's overall surgical robotics and navigation market. However, the competitive landscape in the surgical robotics market has been changing steadily in recent years with a number of mergers and acquisitions and new market entrants. Companies such as Auris Health, Globus Medical, Medrobotics, Procept BioRobotics and TransEnterix entered the market over the last few years. Competition in the surgical robotics market is expected to further intensify over the forecast period, with a number of companies currently involved in research and development activities. Companies such as BrainLab, DePuy Synthes, Titan Medical, Verb Surgical and Zimmer Biomet have stated their plans to enter segments of the surgical robotics market within the next few years. Zimmer Biomet led the robotic-assisted neurosurgery market in 2018 and plans to expand to spine and orthopedic robotic applications within in the near future.
Brainlab leads the surgical navigation systems market in Europe. The company has established itself through brand recognition, particularly in its home market, and is expected to remain a strong competitor. Brainlab's primary competitor is Medtronic, who is the global market leader in surgical navigation. Inuitive Surgical leads the surgical robotic systems market in Europe. Being the oldest and most established competitor in this space, the company continues to remain a dominant player in the market, with a focus on minimally invasive surgical procedures.
Globally, strong competition is found between Stryker, Medtech, Mazor Robotics, EndoMaster, CMR Surgical, Medicaroid and others.
All Companies Analyzed in this Study

 Accuray
Acclarent
Aesculap
AOT
Auris Health
avateramedical® GmbH
AVRA Medical
Blue Belt Technologies
BrainLab
Cardan Robotics
Catheter Precision
ClaroNav
CMR Surgical
Corindus Vascular Robotics
DePuy Synthes
EndoMaster
ELMED Medical Systems
Exactech
Fiagon
Getinge
Globus Medical
Hansen Medical
IMRIS Deerfield
Intellijoint Surgical
Intuitive Surgical
Invuity
JointPoint
KAIST Future Medical Robotics Research Center
Karl Storz
Kinamed
Koh Young Technology
KUKA
MAKO Surgical Corporation
Mazor Robotics
Medacta

Mazor Robotics
Medical Surgical Technologies
Medicaroid
Medrobotics
Medtech
Medtronic
meerecompany
Nemaris
Memic Innovative Surgery
NOVADAQ
OMNILife Science
OrthAlign
OrthoGrid
OrthoSensor
Procept BioRobotics
Renishaw
Samsung
Scopis Medical
Smith & Nephew
Stereotaxis
Stryker
Synaptive Medical
THINK Surgical
Tinavi Medical Technologies
Titan Medical
TransEnterix
Verb Surgical
Virtual Incision
XACT Robotics
Zap Surgical Systems
Ziehm Imaging
Zimmer Biomet
7D Surgical
Statistics and Procedure Trends
There are currently over 578,375 procedures being performed annually in the U.S. surgical navigation market. This number includes spinal, neurosurgery, ENT (ear, nose, and throat) and orthopedic procedures, such as total knee arthroplasty (TKA), total hip arthroplasty (THA) and partial knee reconstruction procedures. The total number of navigated procedures is projected to grow to reach 718,224 procedures performed by 2025.
In the U.S., neurosurgery procedures are the most frequently performed with surgical navigation, accounting for approximately 43.3% of total navigated cases. Surgical navigation is used during brain tumor removal, brain biopsies, deep brain stimulation (DBS), cerebrospinal fluid (CSF) management, and catheter placement for laser ablation procedures; and is considered as the standard of care for almost all of these procedures. Neurosurgery procedures are projected to remain the most common surgically navigated procedure by 2025.
In Europe, the most common procedure performed is total knee arthroplasty (TKA). A successful TKA procedure requires fixating the prosthesis accurately in all 3 axes so there is smooth tracking of the patella and soft tissue and no notching of the anterior femoral cortex. However, even when the procedure is performed by an experienced surgeon, axis alignment errors greater than 3o can occur up to 20% of the time. Using a navigation system for a TKA procedure has proven to reduce the percent of inaccurate axis alignment. Navigation systems also provide an advantage during TKA revision.
See many more by requesting a free sample report of this analysis.
For a Full Table of Contents From Any of the Country Reports in this Global Series, please
Contact iData
One of the the most accurate methods of market research in the medical device industry is to analyze the procedure volumes and trends. Through this study on the surgical robotics and navigation market, iData Research has performed an analysis on the following procedure segments in order to increase the accuracy of our market sizing, and provide you with the volume of procedures over a 10 year range. While the below market segmentation map is representative of the United States, procedure volume data is also provided for the other regions within this complete series.
Procedure Volume Analysis Segments in the United States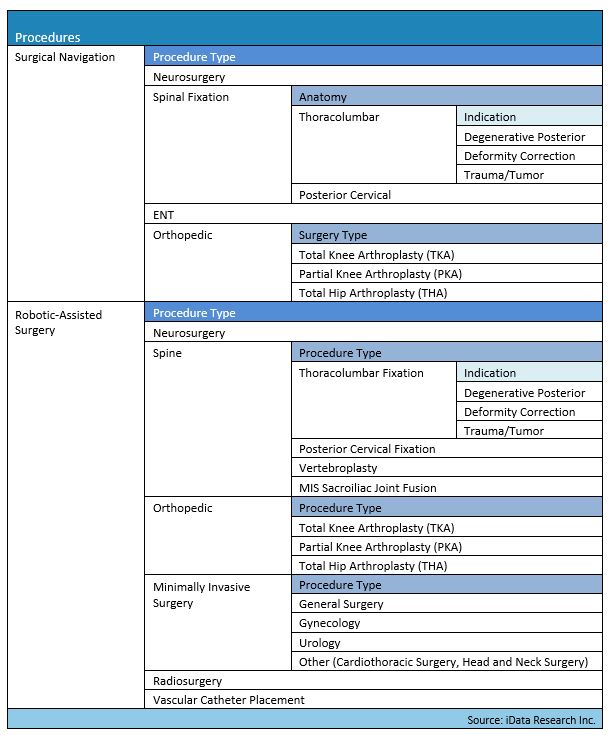 iData's 9-Step Research Methodology
Our reports follow an in-depth 9-step methodology which focuses on the following research systems:
Original primary research that consists of the most up-to-date market data
Strong foundation of quantitative and qualitative research
Focused on the needs and strategic challenges of the industry participants
Step 1: Project Initiation & Team Selection During this preliminary investigation, all staff members involved in the industry discusses the topic in detail.
Step 2: Prepare Data Systems and Perform Secondary Research The first task of the research team is to prepare for the data collection process: Filing systems and relational databases are developed as needed.
Step 3: Preparation for Interviews & Questionnaire Design The core of all iData research reports is primary market research. Interviews with industry insiders represent the single most reliable way to obtain accurate, current data about market conditions, trends, threats and opportunities.
Step 4: Performing Primary Research At this stage, interviews are performed using contacts and information acquired in the secondary research phase.
Step 5: Research Analysis: Establishing Baseline Estimates Following the completion of the primary research phase, the collected information must be synthesized into an accurate view of the market status. The most important question is the current state of the market.
Step 6: Market Forecast and Analysis iData Research uses a proprietary method to combine statistical data and opinions of industry experts to forecast future market values.
Step 7: Identify Strategic Opportunities iData analysts identify in broad terms why some companies are gaining or losing share within a given market segment.
Step 8: Final Review and Market Release An integral part of the iData research methodology is a built-in philosophy of quality control and continuing improvement is integral to the iData philosophy.
Step 9: Customer Feedback and Market Monitoring iData philosophy of continuous improvement requires that reports and consulting projects be monitored after release for customer feedback and market accuracy.