Spinal Implants Market Size, Share & Trends Analysis | Global | 2019-2025 | MedSuite | Includes: Vertebral Compression Fracture Market, Spinal Surgery Instrumentation Market, and 5 more
Year:

2019

Scope:

2015-2025

Region:

Argentina, Australia, Brazil, China, Europe, India, Japan, Mexico, South Korea, Taiwan, United States

Pages:

6976

Published Date:

6/3/2019

Type:

MedSuite
Industry Trends
Despite many challenges, growth is expected in many market segments, as the patient demographics in the U.S. maintain a steady demand for such procedures. Growth has slowed in the last few years as newer, minimally invasive innovations gradually cannibalized the traditional spine market. The VCF segment will be the fastest-growing in the market and will be continually driven by novel and emerging technologies.
The greatest limiting factor for the spinal fusion markets is the growth of competing technologies, including minimally invasive surgeries and motion preservation technology. Lumbar artificial discs (LADs) have not been as successful at cannibalizing thoracolumbar fixation devices as previously anticipated, due to a lack of reimbursement and unfavorable clinical results, however cervical artificial discs (CADs) have seen strong growth. Favorable reimbursement policies are expected for these devices as favorable clinical results involving newer devices emerge.
One of the key drivers for the interbody device market is the increase in the target population, which is composed of aging baby boomers. The majority of spinal fusion procedures are performed on individuals over the age of 60. This age group is the fastest-growing demographic in the United States.

Report Regional Coverage
Throughout this research series, iData has covered several countries in great detail. Each country may be purchased as a stand-alone report, tailoring the data to your needs. The covered countries are:
United States
Europe (15 countries including: Germany, France, U.K., Italy, Spain, Benelux (Belgium, Netherlands and Luxembourg), Scandinavia (Denmark, Finland, Norway and Sweden) Austria, Switzerland and Portugal)
Japan
India
China
South Korea
Taiwan
Australia
Brazil
Mexico
Argentina
The Only Medical Device Market Research With:

✔

Procedure Volume Data & Trends


✔

Unit Sales Growth Analysis


✔

Average Selling Prices


✔

Competitor Shares by Segment & Country


✔

 SKU-Level Research Methods


✔

 The Lowest Acquisition Cost


Highly Detailed Segmentation
While this report suite contains all data, each of the markets are also available as stand alone MedCore reports. This allows you to get access to only the spine market research that you need. You can view these separate reports and segmentation here:
Procedure Volumes for Spinal Implants and VCF– MedPro
Product Portfolio for Spinal Implants and VCF – MedFolio
Vertebral Compression Fracture Market – MedCore
Thoracolumbar Fixation Market – MedCore
Spinal Surgery Instrumentation Market – MedCore
Spinal Electrical Stimulation Market – MedCore
Motion Preservation Devices Market – MedCore
Interbody Devices Market – MedCore
Cervical Fixation Market – MedCore
Of course, buying all of these reports together in this suite package will provide you with substantial discounts from the separate prices. Ask for a Quote to Learn More
Full Segmentation Map for the United States



Market Data Types Included
Unit Sales, Average Selling Prices, Market Value & Growth Trends
Procedure Volumes
Forecasts Until 2025, and Historical Data to 2015
Market Drivers & Limiters for Each Segment
Competitive Analysis with Market Shares for Each Segment
Recent Mergers & Acquisitions
Disease Overviews and Demographic Information
Company Profiles and SWOT for Top Competitors
Spinal Implants Market Share Insights
Medtronic and DePuy Synthes have been battling for the leading market share of the US and Europe spinal implants markets, with a combined market share that's nearly half of the entire market. While Medtronic had a solid lead of the market since their acquisition of Kyphon in 2007, DePuy Synthes has come up as a contender since the merger in 2011 that created this company.
Medtronic's strong position in the VCF market can be attributed to Kyphon's former monopoly of the percutaneous vertebral augmentation market, with its kyphoplasty product. Medtronic also released its Prestige® CAD, one of only two CADs available on the U.S. market, in 2009. The company also launched the Bryan® cervical artificial disc in 2009; however, a soft product launch and complex surgical procedure has prevented significant growth. Medtronic's X-STOP® is still the strongest competitor in the interspinous decompression segment. Medtronic's leading position in the market will continually be challenged as new competitors in individual markets gradually erode the company's share of the total market.
DePuy Synthes' spine product portfolio contains several devices that are widely used in the spinal implant industry. The company was the market leader in the European cervical and thoracolumbar fixation and interbody device markets. DePuy Synthes gained market share from the merger between the two spine companies, increasing its market share to be just slightly behind Medtronic. DePuy Synthes is the only company with both a cervical artificial disc (CAD) and a lumbar artificial disc (LAD) on the European market: the ProDisc®-L and the ProDisc®-C.
Over 150 competitors were analyzed in this study, many of which sell products in only 1 or 2 countries.
All Companies Analyzed in this Study

Aegis Spine
Aesculap
Alphatec Spine
Amedica
Ammtec
Apiary Medical
Apoloo Spine
A-SPINE
Atlas Spine
Aurora Spine
Australian Pacific Medical
AxioMed
Baxano Surgical
BD Medical
Benvenue Medical
Biomecanica
BioSpine
BK Meditech
BM Korea
BM Korea
Boss Instruments
CANWELL Medical
Centinel Spine
CGBio
ChoiceSpine
Chun Li Zheng Da Medical
Cook Medical
Corentec
Cousin Biotech
Custom Spine
DePuy Synthes
DFine
DJO
Double Medical
EUROS
Evolution Surgical
Exactech
FH Orthopedics
GENOSS
Globus Medical
GMReis
Grupo Ortopedia Alemana
GS Medical
gSource
Halyard Health
Hansong Biobank
Health-Joy Medical
HumanTech
Huvexel
Icotec
IDEAL Medical
iMedicom
Implanet
Inion
Innomed
Innovasis
Integra LifeSciences
Integrated Medical Systems
Intocare
Invibio
Invuity
Japan MDM
Jiangsu Jinlu Group
Joimax
K2M
KiSCO
Kyungwon Medical
L&K Biomed
Life Instruments
Life Spine
LifeHealthcare
LinkBio Corp.
MDT
Medacta International
Medfix Instruments
Medicrea
Medtronic

Medyssey
Merit Medical
MicroPort
Millenium Surgical Corp.
Neoortho Produtos Ortopedicos
NexMed International
Nexxt Spine
Nova Spine
Nutech
NuVasive
Orthofix
OrthoPediatrics
Ortointese
Osseon
OsteoMed
Otis Biotech
Paonan Biotech
Paradigm BioDevices
Pioneer Surgical
Precision Spine
Prism Surgical
Providence Medical Technology
Richard Wolf
RTI Surgical
Safe Orthopaedics
Sanyou Medical
Seaspine
SeohanCare
Showa Ika
SI-Bone
Signature Orthopaedics
SIGNUS Medical
Sintea Plustek
Solco Biomedical
Spinal Elements
Spinal Kinetics
Spine Wave
Spineart
Spinelab
Spirit Medical
St. Jude Medical
Stryker
Superior Surgical
Surgi Bio
Suzhou and Science & Technology
Symmetry Surgical
Synergy Disc Replacement
Taeyeon Medical
TDM
Tecomet
TeDan Surgical Innovations
Teijin Nakashima Medical
Teleflex
TianXinFu Medical
Titan Spine
Traumec Health Technology
Trym
Tyber Medical
U&I Corporation
Ulrich Medical
Vertebral Technologies
Vertical Spine
Vertiflex
VG Innovations
VTI
Walkman Biomaterial
Waston Medical
Weigao Ortho
Wenzel Spine
Wiltrom
Xinrong Bolt Medical Equipment
Xtant Medical
Yellowsteps
Zhengtian Medical Insrtu
Zimmer Biomet
Zyga Technology
Spinal Implants Statistics and Procedure Trends
Over 1.4 million spinal procedures are performed each year in the United States. The greatest number of procedures were performed in the cervical fixation segment, with over 350,000 total procedures. This was followed closely by interbody fusion procedures, and by thoracolumbar fixation procedures. Motion preservation was responsible for the fewest procedures. However, this was one of the fastest-growing segments in terms of procedure volumes, as reimbursement has seen favorable improvement. Overall, the U.S. spine market will continue to see low-single-digit growth over the forecast period, reaching approximately 1.6 million procedures performed by 2025.
The European market sees less than half the volume of the United States in procedures. However, in contrast to the increasing volume of motion preservation procedures in the U.S., Europe's fastest growing segment is the vertebral compression fracture market.
There are four main types of spinal disorders that may call for traditional surgical treatment. Disorders that occur due to degradation of the intervertebral discs are referred to as degenerative disc disease (DDD). These types of disorders occur due to aggregate stresses and/or systematic problems in the vertebral body that occur over extended periods of time. The discs between vertebrae are made up of a central portion, the nucleus pulposus and an outer complex series of fibrous rings, the annulus fibrosus.
Osteoporosis is a pathophysiological condition in which bone quality is normal, but bone quantity is deficient. It is a metabolic disorder that commonly occurs in postmenopausal women in their 50s and 60s due to decreased estrogen levels, but can also occur in men, commonly in their 70s. Consequently, about 52 million Americans suffer from osteoporosis and low bone mass. Though common due to aging, osteoporosis is a serious condition that leaves an individual's bones brittle making them vulnerable to break. As such, 20% of senior citizens who break a hip will die within one year from problems related to the breakage or from the surgery. There are a number of uncontrollable risk factors that contribute to developing osteoporosis other than low estrogen levels, for example, being over age 50, family history of osteoporosis, low body weight, previous broken bones and multiple myeloma.
Latest Market Developments
May 9, 2019 – Stryker enters definitive agreement to acquire Titan Spine
January 28, 2019 – Medtronic launches Mazor X Stealth Edition – fully-integrated procedural solution for surgical planning, workflow, execution and confirmation for spine procedures (robot-assisted spinal surgery)
January 19, 2019 – Depuy Synthes invested €36 million into 3D printing research
For a Full Table of Contents From Any of the Country Reports in this Global Series, please
Contact iData
One of the the most accurate methods of market research in the medical device industry is to analyze the procedure volumes and trends. Through this study on the spinal implants market, iData Research has performed an analysis on the following procedure segments in order to increase the accuracy of our market sizing, and provide you with the volume of procedures over a 10 year range. While the below market segmentation map is representative of the United States, procedure volume data is also provided for the other regions within this complete series.
Procedure Volume Analysis Segments in the United States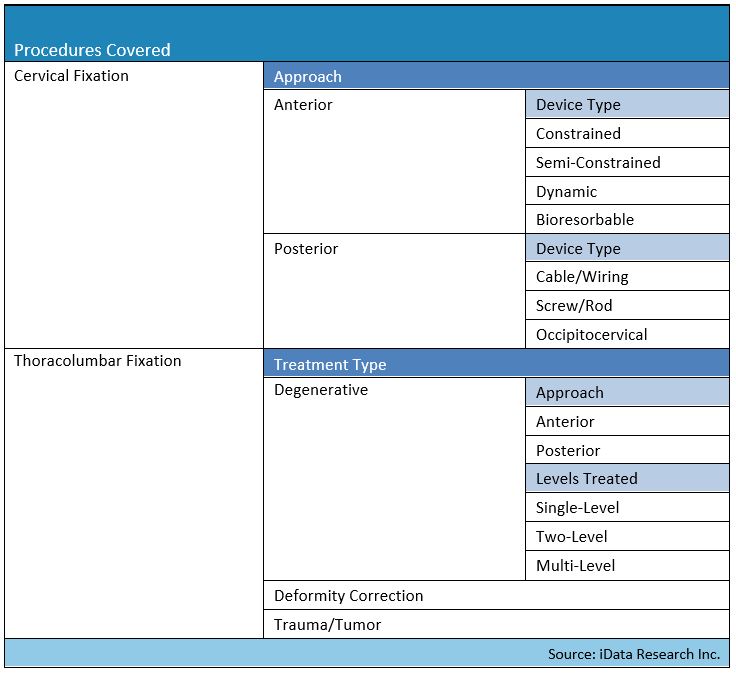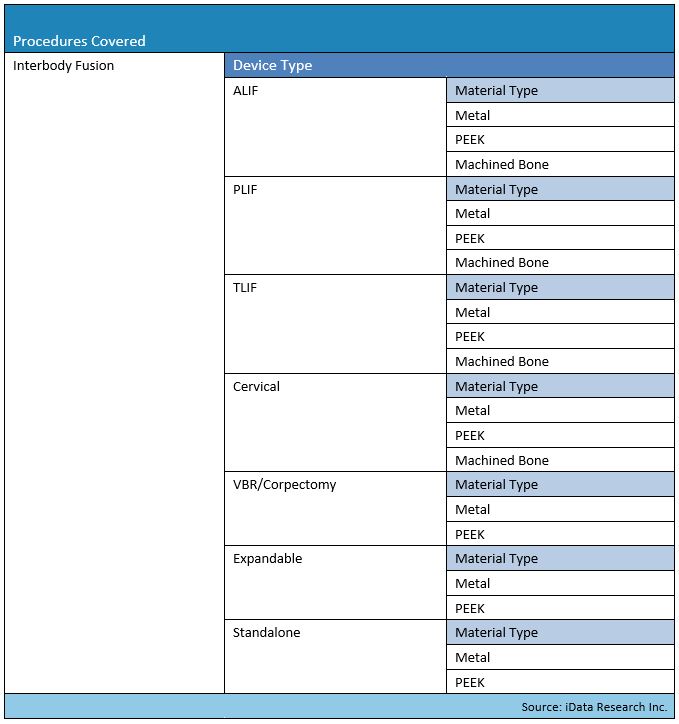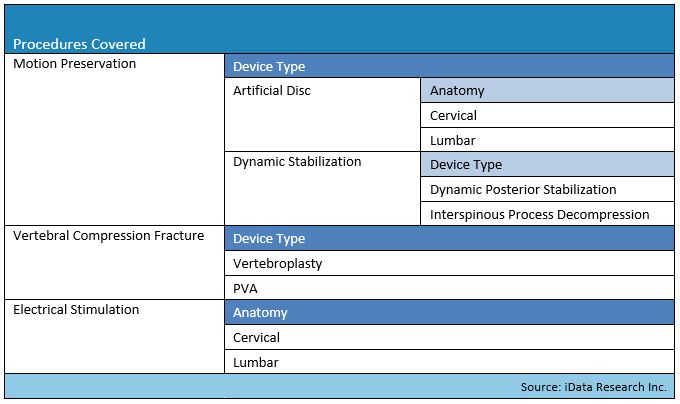 iData's 9-Step Research Methodology
Our reports follow an in-depth 9-step methodology which focuses on the following research systems:
Original primary research that consists of the most up-to-date market data
Strong foundation of quantitative and qualitative research
Focused on the needs and strategic challenges of the industry participants
Step 1: Project Initiation & Team Selection During this preliminary investigation, all staff members involved in the industry discusses the topic in detail.
Step 2: Prepare Data Systems and Perform Secondary Research The first task of the research team is to prepare for the data collection process: Filing systems and relational databases are developed as needed.
Step 3: Preparation for Interviews & Questionnaire Design The core of all iData research reports is primary market research. Interviews with industry insiders represent the single most reliable way to obtain accurate, current data about market conditions, trends, threats and opportunities.
Step 4: Performing Primary Research At this stage, interviews are performed using contacts and information acquired in the secondary research phase.
Step 5: Research Analysis: Establishing Baseline Estimates Following the completion of the primary research phase, the collected information must be synthesized into an accurate view of the market status. The most important question is the current state of the market.
Step 6: Market Forecast and Analysis iData Research uses a proprietary method to combine statistical data and opinions of industry experts to forecast future market values.
Step 7: Identify Strategic Opportunities iData analysts identify in broad terms why some companies are gaining or losing share within a given market segment.
Step 8: Final Review and Market Release An integral part of the iData research methodology is a built-in philosophy of quality control and continuing improvement is integral to the iData philosophy.
Step 9: Customer Feedback and Market Monitoring iData philosophy of continuous improvement requires that reports and consulting projects be monitored after release for customer feedback and market accuracy.