Spinal Implants Market Size, Share & COVID-19 Impact Analysis | Global | 2022-2028 | MedSuite | Includes: Vertebral Compression Fracture Market, Spinal Surgery Instrumentation Market, and 5 more
Year:

2022

Scope:

10 Years

Region:

Global

Type:

MedSuite
iData's Global spinal implant market was valued at $15.4 billion in 2021. This is expected to increase over the forecast period at a CAGR of 5.5% to reach $22.5 billion.
The full report suite on the global spinal implant and vertebral compression fracture (VCF) market, covering 70 countries and 7 regions, includes segments for traditional cervical and thoracolumbar fixation devices, interbody devices, motion preservation devices, VCF treatment and spinal surgery instrumentation.
MARKET REPORT DATA TYPES INCLUDED
Unit Sales, Average Selling Prices, Market Value & Growth Trends
Forecasts Until 2028, and Historical Data to 2018
Market Drivers & Limiters for Each Segment
Competitive Analysis with Market Shares for Each Segment
Recent Mergers & Acquisitions
Procedure Volumes
Company Profiles, Product Portfolios and SWOT for Top Competitors
COVID-19 Impact Analysis
GLOBAL SPINAL IMPLANTS MARKET TRENDS
Growth in major segments of this market will be limited by the increasing popularity of minimally invasive surgery, including thoracolumbar fixation, interbody devices and instrumentation. Minimally invasive surgeries can result in faster recovery times, which will consequently decrease procedure costs for hospitals. This will create an increased demand for minimally invasive procedures and, conversely, gain some portion of the growth from traditional open spine procedures.
COVID-19 IMPACT ANALYSIS ON THE GLOBAL SPINAL IMPLANTS MARKET
The effects of the pandemic on the global spinal implant and VCF market have been different in each market segment. The vertebral compression fracture segment experienced the steepest declines in 2020. thoracolumbar fixation market was the second-most-affected segment in 2020. The least-impacted segment was cervical fixation. All of the segments of this market experienced growth in 2021, except for cervical fixation and thoracolumbar fixation.
GLOBAL SPINAL IMPLANT MARKET SHARE INSIGHTS
Overall, within the Global Spinal Implants market there are two dominant competitors: Medtronic, DePuy Synthes, and Stryker.
In 2021, Medtronic was the leader of the global spine and vertebral compression fracture (VCF) market. Medtronic gained this position through its leading position in the cervical fixation, thoracolumbar fixation, vertebral compression fracture and interbody segments. Medtronic also held the second-leading position in the motion preservation segment.
MARKET SEGMENTATION SUMMARY
Procedure Numbers for Spinal Implants and VCF – Includes:

Cervical Fixation Procedures, Thoracolumbar Fixation Procedures, Interbody Device Procedures, Motion Preservation Procedures, Vertebral Compression Fracture Procedures, Spinal Electrical Stimulation Device Procedures

Cervical Fixation Market – Further Segmented Into:

Anterior Cervical Fixation Market, Posterior Cervical Fixation Market

Thoracolumbar Fixation Market – Further Segmented Into:

Degenerative Thoracolumbar Fixation Market, Deformity Correction Thoracolumbar Fixation Market, Trauma/Tumor Thoracolumbar Fixation Market

Interbody Device Market – Further Segmented Into:

ALIF Market, PLIF Market, TLIF Market, and CIF Market, VBR/Corpectomy Market, Expandable Interbody Device Market, Standalone Interbody Device Market

Motion Preservation Market – Further Segmented Into:

Artificial Disc Market, Dynamic Stabilization Market

Vertebral Compression Market – Further Segmented Into:

 Vertebral Compression Fracture Market, Vertebroplasty Market, Percutaneous Vertebral Augmentation Market

Electrical Stimulation Device Market – Further Segmented Into:

Cervical Electrical Stimulation Devices and Lumbar Electrical Stimulation Devices

Spinal Surgery Instrumentation Market – Includes:

 Data aggregated for tools not otherwise mentioned in other segments and procedures – for example, scalpels, catheters, rongeurs, clamps, forceps, retractors, and cannula, in addition to other products.
GLOBAL RESEARCH SCOPE
Report Attribute
Details
 Regions
 North America (Canada, United States)
 Latin America (Argentina, Brazil, Chile, Colombia, Mexico, Peru, Venezuela)
 Western Europe (Austria, Benelux, France, Germany, Italy, Portugal, Scandinavia, Spain, Switzerland, U.K.)
 Central & Eastern Europe (Baltic States, Bulgaria, Croatia, Czech Republic, Greece, Hungary, Kazakhstan,   Poland, Romania, Russia, Turkey, Ukraine)
 Middle East (Bahrain, Iran, Israel, Kuwait, Oman, Qatar, Saudi Arabia, United Arab Emirates)
 Asia Pacific (Australia, Cambodia, China, Hong Kong, India, Indonesia, Japan, Malaysia, Myanmar, New Zealand,   Philippines, Singapore, South Korea, Taiwan, Thailand, Vietnam)
 Africa (Algeria, Egypt, Ghana, Kenya, Libya, Morocco, Nigeria, South Africa, Sudan, Uganda)
 Base Year
 2021
 Forecast
 2022-2028
 Historical Data
 2018-2021
 Quantitative Coverage
Market Size, Market Shares, Market Forecasts, Market Growth Rates, Units Sold, and Average Selling Prices.
 Qualitative Coverage
COVID19 Impact, Market Growth Trends, Market Limiters, Competitive Analysis & SWOT for Top Competitors,   Mergers & Acquisitions, Company Profiles, Product Portfolios, FDA Recalls, Disruptive Technologies, Disease   Overviews.
 Data Sources
Primary Interviews with Industry Leaders, Government Physician Data, Regulatory Data, Hospital Private Data,   Import & Export Data, iData Research Internal Database.
For a Full Table of Contents From Any of the Country Reports in this Global Series, please
Contact iData
One of the the most accurate methods of market research in the medical device industry is to analyze the procedure volumes and trends. Through this study on the spinal implants market, iData Research has performed an analysis on the following procedure segments in order to increase the accuracy of our market sizing, and provide you with the volume of procedures over a 10 year range. While the below market segmentation map is representative of the United States, procedure volume data is also provided for the other regions within this complete series.
Procedure Volume Analysis Segments in the United States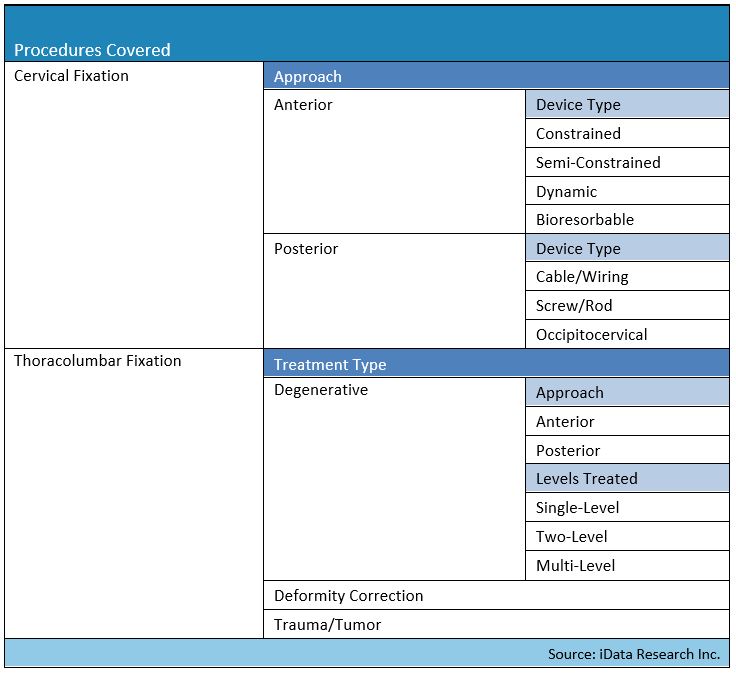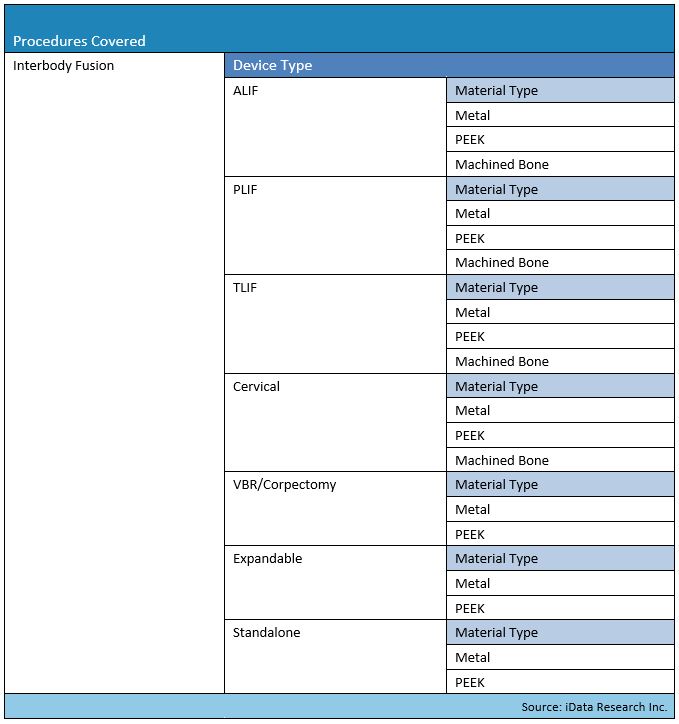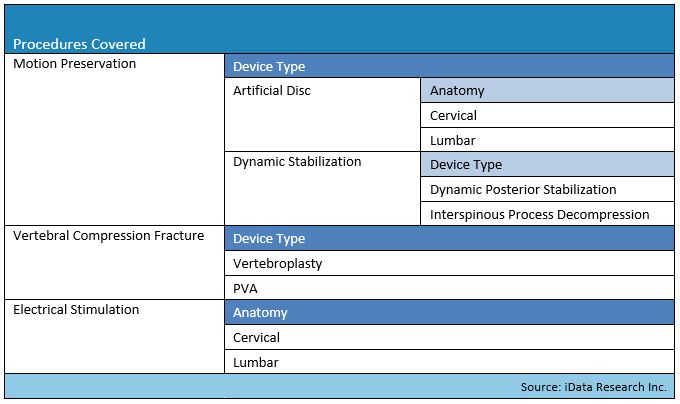 iData's 9-Step Research Methodology
Our reports follow an in-depth 9-step methodology which focuses on the following research systems:
Original primary research that consists of the most up-to-date market data
Strong foundation of quantitative and qualitative research
Focused on the needs and strategic challenges of the industry participants
Step 1: Project Initiation & Team Selection During this preliminary investigation, all staff members involved in the industry discusses the topic in detail.
Step 2: Prepare Data Systems and Perform Secondary Research The first task of the research team is to prepare for the data collection process: Filing systems and relational databases are developed as needed.
Step 3: Preparation for Interviews & Questionnaire Design The core of all iData research reports is primary market research. Interviews with industry insiders represent the single most reliable way to obtain accurate, current data about market conditions, trends, threats and opportunities.
Step 4: Performing Primary Research At this stage, interviews are performed using contacts and information acquired in the secondary research phase.
Step 5: Research Analysis: Establishing Baseline Estimates Following the completion of the primary research phase, the collected information must be synthesized into an accurate view of the market status. The most important question is the current state of the market.
Step 6: Market Forecast and Analysis iData Research uses a proprietary method to combine statistical data and opinions of industry experts to forecast future market values.
Step 7: Identify Strategic Opportunities iData analysts identify in broad terms why some companies are gaining or losing share within a given market segment.
Step 8: Final Review and Market Release An integral part of the iData research methodology is a built-in philosophy of quality control and continuing improvement is integral to the iData philosophy.
Step 9: Customer Feedback and Market Monitoring iData philosophy of continuous improvement requires that reports and consulting projects be monitored after release for customer feedback and market accuracy.