Operating Room Equipment Market Analysis, Size, Trends | Global | 2019-2025 | MedSuite
Year:

2019

Scope:

2015-2025

Region:

Asia-Pacific, China, Europe, Japan, South Korea, United States

Pages:

2454

Published Date:

02/04/19

Type:

MedSuite
Industry Trends
Integrated operating rooms are continually becoming more sophisticated, and are evolving to adjust to the demands of the U.S. healthcare system. Operating rooms are viewed as profit centers in healthcare facilities, and as more facilities realize the benefit of integrating their ORs, demand will continue to drive this market and the other markets, which are directly correlated. Hybrid rooms are becoming more popular, due to their versatility and increased efficiency. New competitors are entering the market, providing options at very competitive prices, which is creating a tough environment for manufacturers in the already overcrowded market. However, as more facilities look to invest to integrate their ORs, there will be more need for versatile solutions to differentiate those companies with quality products from those that are not providing products up to standards.
The adoption of 4K-capable devices in the operating room has stimulated significant growth in the integrated operating room market. Hospitals are investing in this technology earlier than anticipated, in order to future proof their operating rooms, which has resulted in unexpectedly high growth rates for 4K surgical displays and camera systems. While the majority of competitors in the integrated operating room market offer 4K surgical displays, only two companies, Olympus and Arthrex, currently offer 4K camera systems. As the remainder of the integration companies continue to release their own iterations of 4K camera systems, the HD installed base will continue to be replaced with 4K equivalents.

Report Regional Coverage
Throughout this research series, iData has covered several countries in great detail. Each country may be purchased as a stand-alone report, tailoring the data to your needs. The covered countries are:
United States
Europe (15 countries including: Germany, France, U.K., Italy, Spain, Benelux (Belgium, Netherlands and Luxembourg), Scandinavia (Denmark, Finland, Norway and Sweden) Austria, Switzerland and Portugal)
Japan
China
South Korea
Asia Pacific
The Only Medical Device Market Research With:

✔

Unit Sales Growth Analysis


✔

Average Selling Prices


✔

Competitor Shares by Segment & Country


✔

 SKU-Level Research Methods


✔

 The Lowest Acquisition Cost


Highly Detailed Segmentation
While this report suite contains all applicable market data, each of the markets are also available as stand alone MedCore reports. This allows you to get access to only the specific market segment research that you need. You can view all these included reports and segmentation here:
Operating Room Equipment Market  – MedCore
Hybrid Operating Room Market – MedCore
Hybrid Operating Room Imaging System Market  – MedCore
Surgical Camera System Market – MedCore
Digital Image Capture and Recording Device Market – MedCore
Surgical Display and PACS Monitor Market – MedCore
Medical Photo PRinter Market – MedCore
Surgical Light Source Market – MedCore
Surgical Headlight Market – MedCore
Surgical Lighting Market – MedCore
Surgical Boom Market – MedCore
Surgical Table Market – MedCore
Surgical Microscope Market – MedCore
Buying all of these reports together in this suite package will provide you with substantial discounts from the separate prices. Request Pricing to Learn More.
Full Segmentation Map for the United States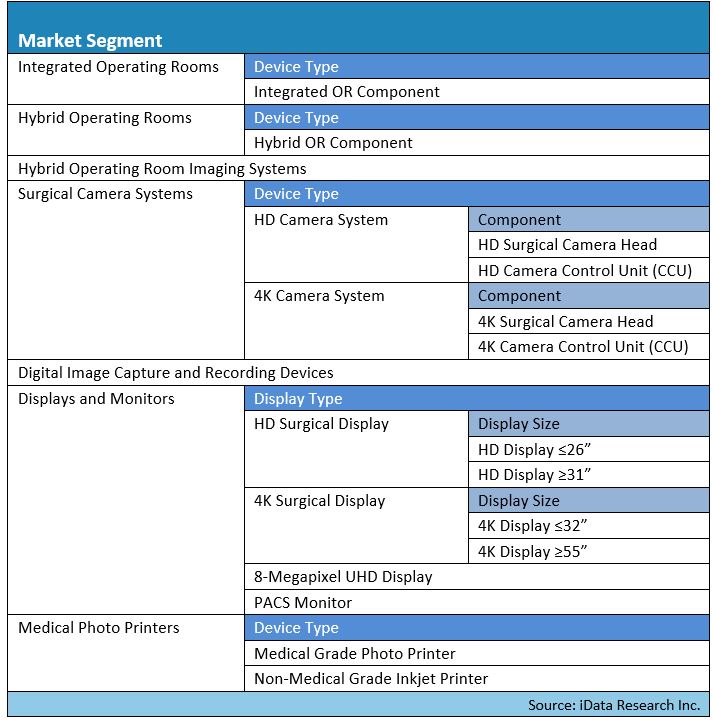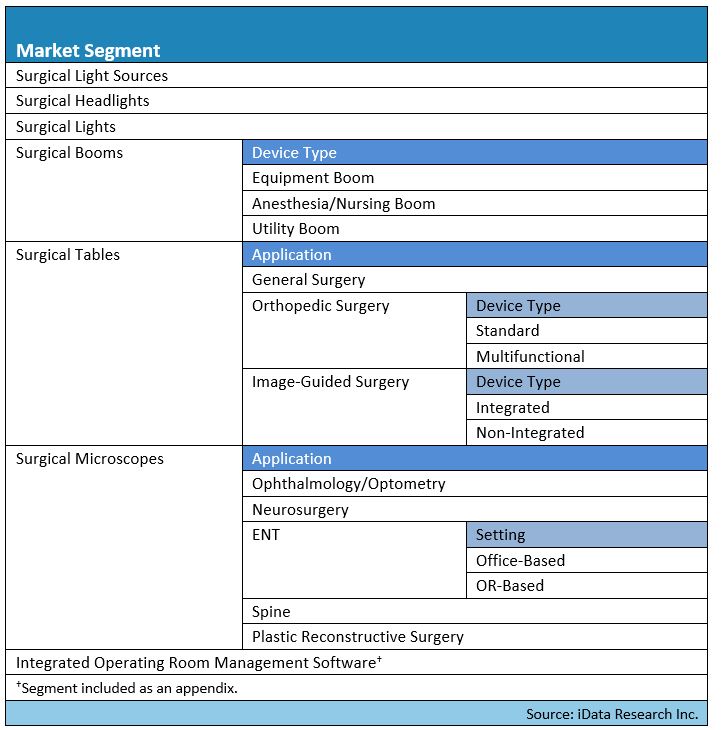 Data Types Included
Unit Sales, Average Selling Prices, Market Value & Growth Trends
Forecasts Until 2024, and Historical Data to 2014
Market Drivers & Limiters for Each Video and Integrated Operating Room Equipment Segment
Competitive Analysis with Market Shares for Each Segment
Recent Mergers & Acquisitions
Disease Overviews and Demographic Information
Company Profiles, Product Portfolios and SWOT for Top Competitors
Related Press Releases from Top Competitors
Operating Room Equipment Market Share Insights
Of the many companies in the U.S. and European operating room equipment market, Stryker is the leading competitor, followed by Karl Storz. Stryker offered products in every segment, and was the market leader in six of the segments. Their dominance is partly due to the fact that Stryker has been in the business since 1992, meaning that they were first company to enter the integration business, allowing them to amass the largest installed base in the market.
The company's dominance in the market can also be attributed to its aggressive sales force. Stryker has an extensive network of sales representatives that are constantly approaching hospitals to sell new products or to ensure customer satisfaction. Being on the forefront of technological advancement, as well as having a well-established position in the market, Stryker is expected to maintain their role as market leader.
In this report suite we've analyzed several other companies, which include market shares from Olympus, Carl Zeiss, Skytron, Siemens, MAQUET, Leica Microsystems, Arthrex, Philips, Mizuho OSI, TRUMPF, GE, Smith & Nephew, Richard Wolf, ConMed, Integra LifeSciences, SONY, and Others.
All Companies Analyzed in this Study

Alcon Medical
Allen Medical
Amico Clinical
Arthrex
Banyan Medical Systems
Barco
BFW Inc.
Brainlab
Brandon Medical
Carestream
Carl Zeiss
Central Uni Co.
Codonics
ConMed
Cool-View
Cuda Surgical
CV Medical
Daray
DePuy Synthes
Design for Vision
DNH
DORICON
Draeger
DRE Medical
EIZO
Eschmann
Enova Illumination
Foreseeson
FSN Medical Technologies
Gaes Medica
GE
GSI Medical
Haag-Streit
Heine
ILO electronic
IMRIS
Integra LifeSciences
Isolux
JVC
Karl Storz
Leica Microsystems
Light-Tech Inc.
MAQUET
Med X Change

MediCapture
Merivaara
Mitsibishi
Mizuho OSI
Möller-Wedel GmbH
NDS Surgical Imaging
NEC Display Solutions of America
NSE Ltd.
NUVO Surgical
Oasys
Olympus
OPT
Mizuho OSI
Panasonic
Pentax
Perlong Medical
Philips
Prescott's Inc.
Products for Medicine
Richard Wolf
Ronin Surgical
Schaerer Mayfield
Shanghai Huifeng Medical
SheerVision
Siemens
SIMEON
Skytron
Smith & Nephew
SONY
STERIS
Stryker
Sunoptic Surgical
SurgiTel
Takara Belmont
Takeuchi
Tokibo
TopCon
Toshiba
Totoku
TRUMPF
UTI Technology Inc.
Yamada-Shomei
For a Full Table of Contents From Any of the Country Reports in this Global Series, please
Contact iData
iData's 9-Step Research Methodology
Our reports follow an in-depth 9-step methodology which focuses on the following research systems:
Original primary research that consists of the most up-to-date market data
Strong foundation of quantitative and qualitative research
Focused on the needs and strategic challenges of the industry participants
Step 1: Project Initiation & Team Selection During this preliminary investigation, all staff members involved in the industry discusses the topic in detail.
Step 2: Prepare Data Systems and Perform Secondary Research The first task of the research team is to prepare for the data collection process: Filing systems and relational databases are developed as needed.
Step 3: Preparation for Interviews & Questionnaire Design The core of all iData research reports is primary market research. Interviews with industry insiders represent the single most reliable way to obtain accurate, current data about market conditions, trends, threats and opportunities.
Step 4: Performing Primary Research At this stage, interviews are performed using contacts and information acquired in the secondary research phase.
Step 5: Research Analysis: Establishing Baseline Estimates Following the completion of the primary research phase, the collected information must be synthesized into an accurate view of the market status. The most important question is the current state of the market.
Step 6: Market Forecast and Analysis iData Research uses a proprietary method to combine statistical data and opinions of industry experts to forecast future market values.
Step 7: Identify Strategic Opportunities iData analysts identify in broad terms why some companies are gaining or losing share within a given market segment.
Step 8: Final Review and Market Release An integral part of the iData research methodology is a built-in philosophy of quality control and continuing improvement is integral to the iData philosophy.
Step 9: Customer Feedback and Market Monitoring iData philosophy of continuous improvement requires that reports and consulting projects be monitored after release for customer feedback and market accuracy.