Operating Room Equipment Market Analysis, Size, Trends & COVID19 Impact Analysis | Canada | 2020-2026 | MedSuite | Includes: Surgical Table Market, Surgical Boom Market, and 5 more
Year:

2020

Scope:

2016-2026

Region:

Canada

Pages:

241

Published Date:

06/25/2020

Type:

MedSuite
In 2020, the total Canadian operating room equipment market size was valued at $58.4 million, while the OR integration component market was valued at $8 million. The total market value is expected to increase at a compound annual growth rate (CAGR) of 3.6% to approach $74.8 million in 2026.
Throughout this medical market research, we analyzed 30 operating room equipment companies across Canada and used our comprehensive methodology to understand the market sizes, unit sales, company market shares, and to create accurate forecasts.
While this MedSuite report contains all the Canadian Operating Room Equipment market data and analysis, each of the market segments is also available as stand-alone MedCore reports. This allows you to get access to only the market research that you need.
DATA TYPES INCLUDED
Unit Sales, Average Selling Prices, Market Value & Growth Trends
Forecasts Until 2026, and Historical Data to 2016
Market Drivers & Limiters for Each Operating Room Equipment market
Competitive Analysis with Market Shares for Each Segment
Recent Mergers & Acquisitions
COVID19 Impact on the Canadian Operating Room Equipment Market
Market Value and Industry Trends
Fully integrated operating rooms are predominantly profit centers for hospitals. Increasing the workflow and efficiency not only benefits the patient, but also the hospital and staff. Numerous newer functions, such as archiving, streaming, video conferencing, and workflow enhancement, have become standard facets of integration in recent years.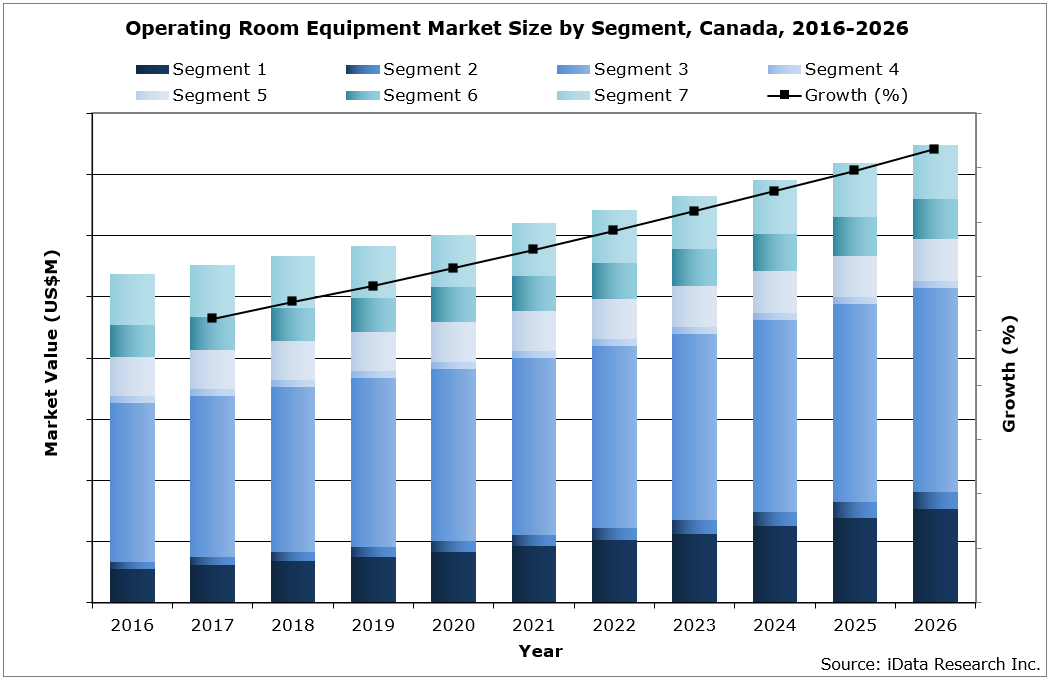 Hybrid operating rooms take integration to the next level by adding a dedicated fixed imaging system and an advanced image-guided surgical table into the mix. These operating rooms provide versatile solutions that save hospitals critical time and provide flexibility to perform open and minimally invasive surgeries. In the same room, cardiovascular, orthopedic, spine, neurosurgical and vascular procedures can be carried out.
The adoption of 4K-capable devices in the operating room has stimulated significant growth in the integrated operating room market. Hospitals are investing in this technology earlier than anticipated, in order to future-proof their operating rooms, which has resulted in unexpectedly high growth rates for 4K surgical displays and camera systems.
Impact of COVID-19 on the Canadian Operating Room Equipment Market
The worldwide breakout of the novel COVID19 pandemic in late 2019 and early 2020 has disrupted supply and distribution chains for many large healthcare manufacturers, both in Canada and globally. Due to the current situation in most hospitals, replacing capital equipment is not expected to be a high priority throughout this pandemic, as long as the original equipment is still functioning.
Furthermore, sales representatives from many manufacturers currently have limited travel and access to hospitals and other care sites. Not being able to sell, demo or train new devices on-site is expected to have an overall negative impact on the integrated OR market throughout 2020.
Competitive Analysis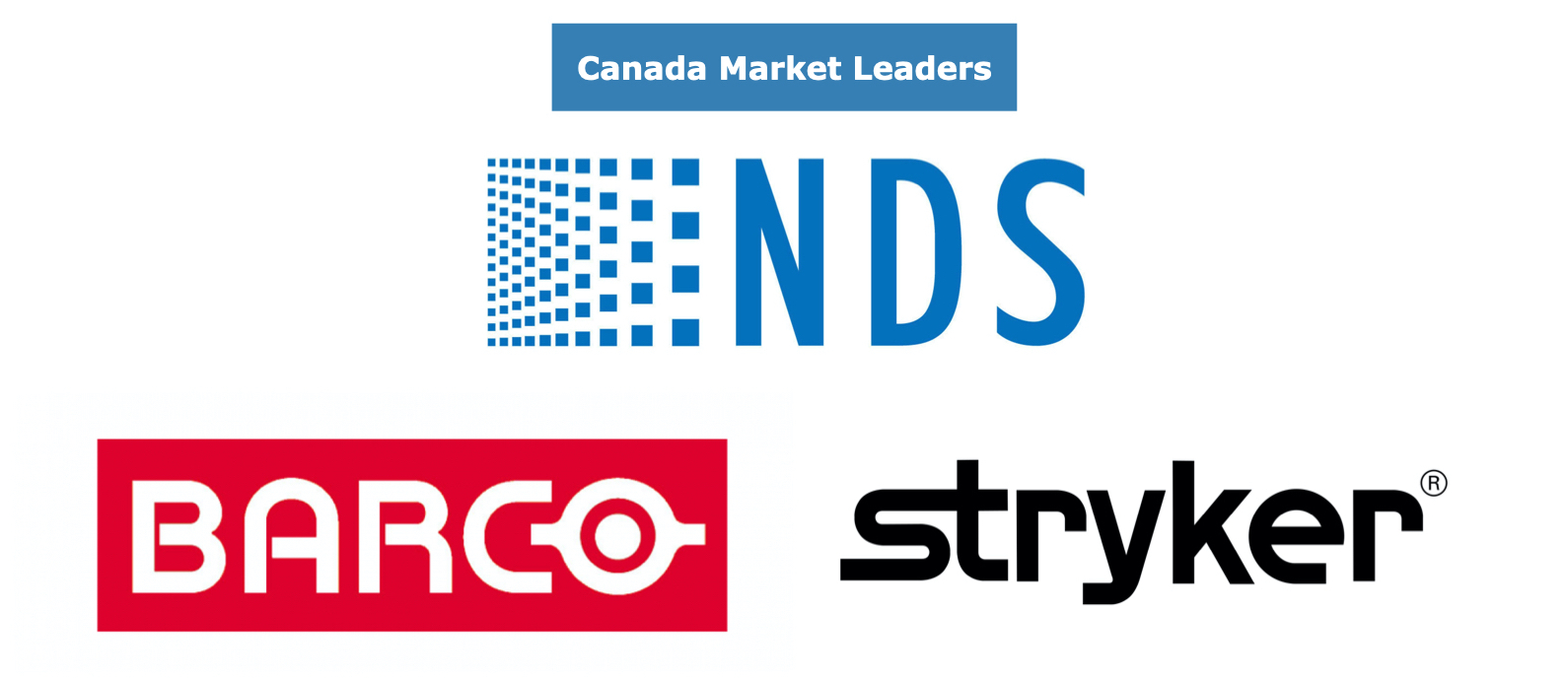 NDS Surgical Imaging (NDSsi) was the leading competitor in the Canadian OR equipment market, due to its leading position in the surgical display segment, the only segment in which the company is active. NDSsi was the first company to introduce flat screen panels in the OR and has since retained its position as the leading competitor, despite losing some share to manufacturers that have recently entered the market.
By 2020, Barco held the second-leading position in the Canadian Operating Room Equipment market, due to its second-leading position in the surgical display segment, the only segment in which the company is active. Unlike some of the other competitors in the surgical display market, Barco is focused on larger, more advanced HD and 4K surgical displays.
Stryker was the third-leading competitor in the Canadian Operating Room Equipment market by 2020. The company offered products in many segments and was the market leader in three of the segments. Its dominance is partly due to the fact that Stryker has been in the business since 1992, meaning that it was first company to enter the integration business.
Segments Covered
Click on each title to view detailed market segmentation.
DETAILED MARKET SEGMENTATION
DON'T SEE THE SEGMENT OR DATA YOU NEED?
Feel free to contact us or send a request by pressing one of the buttons below.
TABLE OF CONTENTS FOR THE CANADIAN OPERATING ROOM EQUIPMENT MARKET
The
Operating Room Equipment Market Report Suite | Canada | 2020-2026 | MedSuite
includes analysis on the following companies currently active in this market:
Amico
Arthrex
Avante Health Solutions
Barco
BFW
Brainlab
Cuda Surgical
EIZO
Enova Illumination
FSN Medical Technologies
Getinge
Heine
Hillrom
Integra LIfeSciences
Karl Storz

LG
Mitsubishi
Mizuho OSI
NDS Surgical Imaging
OASYS Healthcare
Olympus
Ronin Surgical
Schraerer Mayfield
SheerVision
Skytron
Sony
STERIS
Stryker
Sunoptic Surgical
SurgiTel
iData's 9-Step Research Methodology
Our reports follow an in-depth 9-step methodology which focuses on the following research systems:
Original primary research that consists of the most up-to-date market data
Strong foundation of quantitative and qualitative research
Focused on the needs and strategic challenges of the industry participants
Step 1: Project Initiation & Team Selection During this preliminary investigation, all staff members involved in the industry discusses the topic in detail.
Step 2: Prepare Data Systems and Perform Secondary Research The first task of the research team is to prepare for the data collection process: Filing systems and relational databases are developed as needed.
Step 3: Preparation for Interviews & Questionnaire Design The core of all iData research reports is primary market research. Interviews with industry insiders represent the single most reliable way to obtain accurate, current data about market conditions, trends, threats and opportunities.
Step 4: Performing Primary Research At this stage, interviews are performed using contacts and information acquired in the secondary research phase.
Step 5: Research Analysis: Establishing Baseline Estimates Following the completion of the primary research phase, the collected information must be synthesized into an accurate view of the market status. The most important question is the current state of the market.
Step 6: Market Forecast and Analysis iData Research uses a proprietary method to combine statistical data and opinions of industry experts to forecast future market values.
Step 7: Identify Strategic Opportunities iData analysts identify in broad terms why some companies are gaining or losing share within a given market segment.
Step 8: Final Review and Market Release An integral part of the iData research methodology is a built-in philosophy of quality control and continuing improvement is integral to the iData philosophy.
Step 9: Customer Feedback and Market Monitoring iData philosophy of continuous improvement requires that reports and consulting projects be monitored after release for customer feedback and market accuracy.
Explore Options
Operating Room Equipment Market Analysis, Size, Trends & COVID19 Impact Analysis | Canada | 2020-2026 | MedSuite | Includes: Surgical Table Market, Surgical Boom Market, and 5 more
$295 – $9,995
iData's Canadian operating room equipment MedSuite covers 7 markets including the hybrid and integrated operating room markets. The MedSuite is a compilation of all reports related to a specific market. It is ideal for device manufacturers, product managers, marketing managers, and consultants looking for a detailed analysis of every market segment and sub-segment within a given market.
2020

2016-2026

Canada

06/25/2020

241

MedSuite
Request Sample Sheets
Request Customization
Related Reports