The task of researching how many spinal fusions are performed each year is actually more complex than it first appears. Our analysts at iData have a multi-sourced approach, but one of the core methods is looking at procedure databases from hospitals and government organizations. For example, in the United States, our analysts looked at hundreds of CPT and ICD codes to determine that there are approximately 1.62 million instrumented spinal procedures performed annually.
But, of course, this doesn't provide the exact answer we need to the question of "how many spinal fusions are performed each year?" as it includes multiple types of spinal procedures. Moreover, this number is the aggregate of individual procedures, but many surgeries could involve multiple "procedures", coded as separate CPT codes, but performed during the same visit. For example, a patient might go into the hospital for a spinal fusion and receive an implanted interbody device, as well as a fixation device. This is a very important distinction to make, and because we study medical device markets, we look at these separately for the purpose of market sizing.
The Most Common Spinal Fusions Performed Each Year in the United States
Spinal procedures may be categorized by the region of the spine, or by implant type. The types of devices available range from plates, to pedicle screw/rod fixation systems, to interbody devices. Cervical fixation, thoracolumbar fixation and interbody fusion procedures were found to be the most commonly performed procedure types, compared to any other spinal procedures in recent years.
Interbody fusions were the most commonly performed spinal procedures in the United States, with over 352,000 performed annually. While this number might overlap with some of the cervical fixations, and won't give us a definitive answer to the number of overall spinal fusion operations each year, it does provide critical information for manufacturers of these devices on the size of the market and growth trends that relate to the devices that get produced, sold and used.
The volume of interbody spinal fusions performed is made up of invasive and minimally invasive spinal surgeries. While patients are now more commonly opting for minimally invasive options to reduce recovery times and chances of complications, there are still a significant portion that require standard surgical methods.
Another leading type of spinal fusion in the United States is cervical fixation. It was estimated that in 2017, 85.5% of cervical fixation procedures in the U.S. were performed via an anterior approach. These anterior procedures represent the implantation of cervical fusion plates. The remaining 14.5% of cervical fixation procedures were performed via a posterior approach and involved the use of screws and rods or wiring fixation systems. Posterior procedures are gaining popularity and are expected to increase more rapidly than anterior procedures.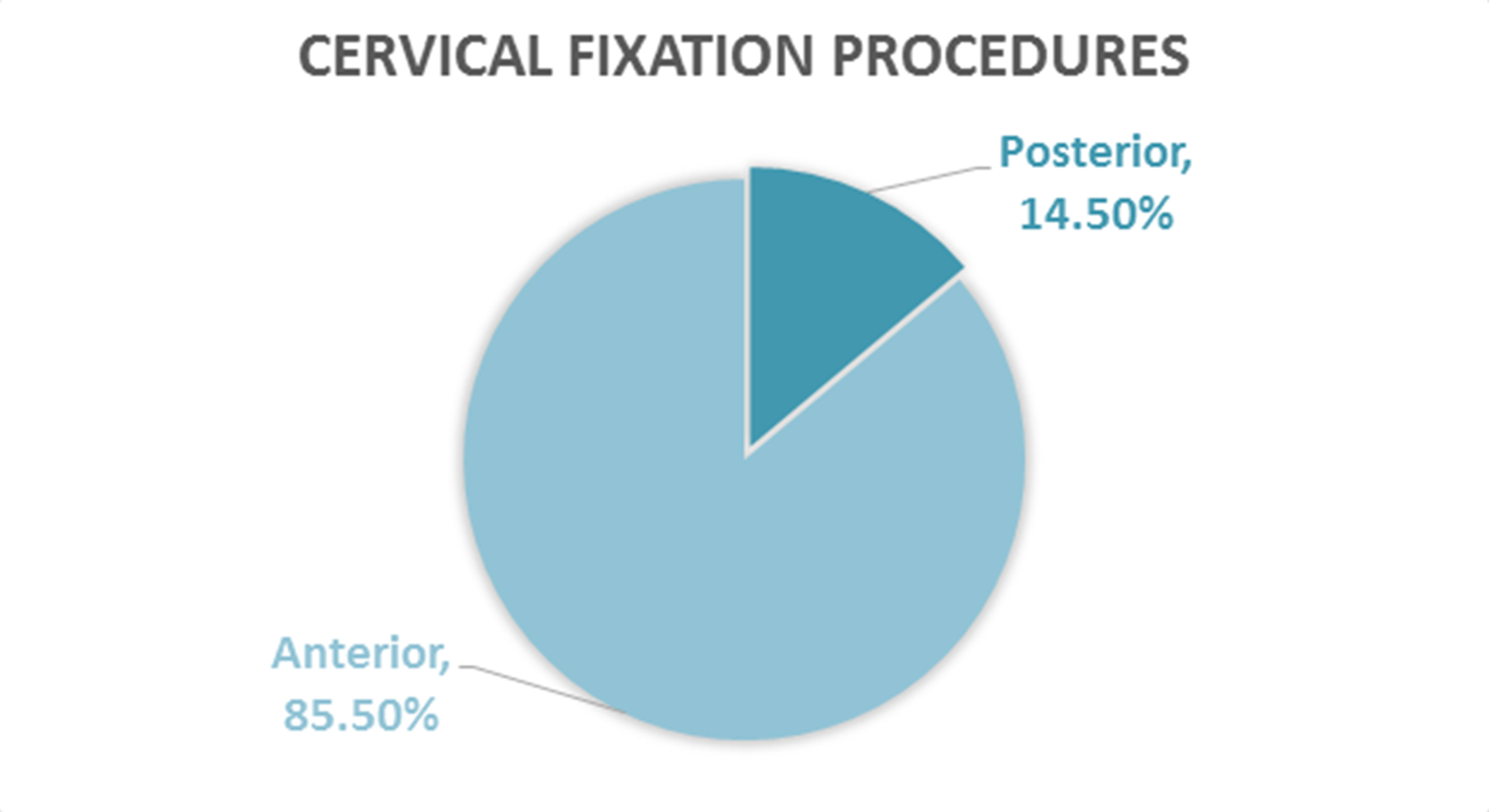 "Overall growth in the number of procedures performed is driven primarily by the demographics of the target population requiring spinal fusion," explains Dr. Kamran Zamanian, CEO of iData, "but growth is expected to slow significantly over the forecast period, due to the emergence and increasing prevalence of cervical artificial discs (CADs)."
The success of CADs is expected to increasingly cannibalize cervical spinal fusion procedures, as they offer a motion preserving alternative for many cervical fusion cases and do not require accompanying fixation devices.
In an interview with SpineUniverse.com, Richard D. Guyer, MD, a spine surgeon at the Texas Back Institute said, "the additional surgery rate is about 2-3 times higher with a fusion as compared to disc replacement. That's a significant argument for disc replacement surgery instead of fusion."
In contrast to the United States, cervical fixation makes up the smallest procedural segment in Europe. However, growth of this market is declining for a similar reason to that of the United States; CADs have begun to cannibalize the cervical fixation market, due to more favorable reimbursement, extensive physician training and increased patient preference for motion preservation devices.
For more on this spinal fusion research, the U.S. Market Report Suite for Spinal Implants and Vertebral Compression Fracture and U.S. Market Report Suite for Minimally Invasive Spinal Implants provide comprehensive reports on units sold, market values, average selling prices, procedure volumes and forecasts, as well as detailed competitive market shares and analysis of all major competitors.
iData's suite of reports on this subject cover the United States, Europe (15 countries), and three countries in Latin America – Argentina, Brazil, and Mexico.