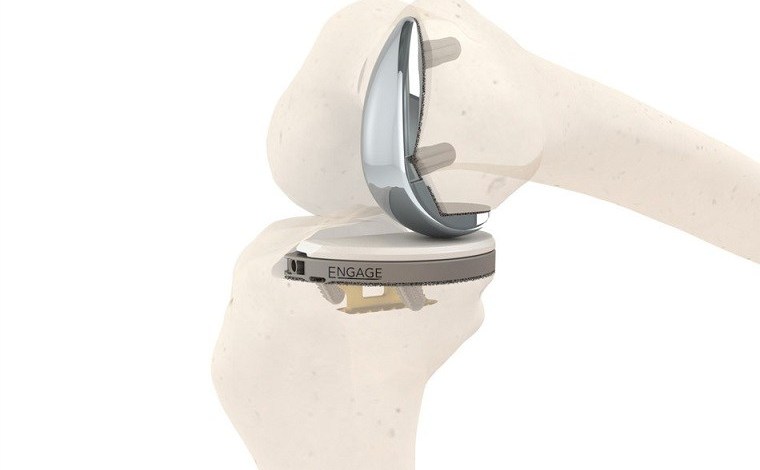 Engage Surgical has gained FDA approval for its Engage Partial Knee system, making it the only cementless partial knee system approved for use in the U.S. It uses Engage's innovative Anchor technology to provide stability at the tibial surface, and increased compression compared to other techniques. The Engage Partial Knee system is also combined with the Affinium3D ultra-porous bone ingrowth surface, to provide a cementless fixation that is long-lasting.
Much like many modern surgeries, this technique may be executed using robotics. However, in order to reduce cost and setup time, it may be completed with manual instrumentation, and still provide accurate placement and ligament balance.
Improving Patient Outcomes
Partial knee replacements are often used for young, active patients, and this surgical technique is intended to provide more options for patients while also removing some of the risks and complications associated with partial knee replacements. The longevity of implants is highly important, especially for younger patients, and the newly-approved Engage system seeks to provide greater longevity of implants.
Cementless systems are also much more attractive for younger patients in particular. One in five partial knee replacements using cement have excess cement floating in the knee joint, and these loose particles greatly expedite the wear of polyethylene. Debris generated by the polyethylene wear, in turn, leads to bone degradation.
Because of this surgery's efficiency, it is usable in an ambulatory surgery center setting. The minimal time required for surgery is optimal especially in the context of COVID-19, where it is imperative that healthcare professionals are able to maximize their time, and that operating room availability is also maximized. This technique also minimizes the number of surgical instruments used, which will decrease the amount of time spent sanitizing equipment.
Dan Justin, CEO and Co-Founder of Engage Surgical, said:
"Before founding our company, we asked knee surgeons what problems we could help solve. Repeatedly, surgeons mentioned that active patients are more satisfied with their knee function when healthy articular cartilage and ligament balance is preserved. A stable, non-cemented, ligament preserving, fixed bearing partial knee system was needed. To solve this problem, we brought together an experienced team of surgeons, engineers, and manufacturers who are proud to introduce this groundbreaking system."
Orthopedic Device Market
If cementless joint surgeries continue to be the preferable option, this will likely influence the direction of this market in the future, both in the U.S. and globally. In addition, future large joint surgery techniques will likely continue to move towards more streamlined surgical processes and minimizing operating room time, especially while COVID-19 is still a major factor to consider.
For more information on this market, iData's Large Joint Orthopedic Device Market Report and Sports Medicine Device Market Report contain detailed international market analyses that are based on primary interviews with industry leaders. Each study covers Units Sold, ASPs, Market Share, Procedural Data, Revenue, Growth Rates, and Market Value for each of the market segments. Request your complimentary research summary today!