Sports Medicine Market Size, Share and Trends Analysis | Global | 2019-2025 | MedSuite | Includes: Tendon Graft Reinforcement Market, Rotator Cuff Repair Market, and 7 more
Year:

2019

Scope:

2015-2025

Region:

Brazil, China, Europe, India, Japan, United States

Pages:

2468

Published Date:

03/04/2019

Type:

MedSuite
Global Sports Medicine Industry Trends
Overall, the global sports medicine market is projected to experience modest growth over the forecast period, largely limited by the longer durations of some of the procedures. Although arthroscopy offers many benefits when compared to open or mini-open surgeries, the operating time for arthroscopy is much longer. This limiting factor can be solved by innovations in products, such as knotless suture anchors.
The shift towards all-suture anchors, also known as soft anchors, is a major trend in the global sports medicine market. Suture anchors are used in many segments in the market and the emergence of this new segment has shifted the dynamic of some of the segments. All-suture anchors are smaller than the conventional suture anchors, being 1.8 mm in diameter as opposed to 3.0 mm in diameter. Requiring a smaller drill hole allows for difficult procedures to be performed with less damage to the bone during drilling. All-sutures have been gaining market share in both the rotator cuff repair and shoulder labrum repair markets. As a result, many competitors have introduced their own all-suture anchor products.
Changing population demographics is also a prominent driver of growth in the global sports medicine market. As the baby boomer generations reach retirement, their need for soft tissue arthroscopic surgery increases. Soft tissue repair is required for wear and tear of tendons, ligaments, and cartilage. This combined with the popularization of active lifestyles has made the need for orthopedic soft tissue repair increase. Arthroscopic surgery is becoming the preferable procedure as it is less invasive and reduces recovery time. Overall, the U.S. sports medicine market is projected to experience modest growth over the forecast period, which is, however, largely limited by the longer durations of some of the procedures.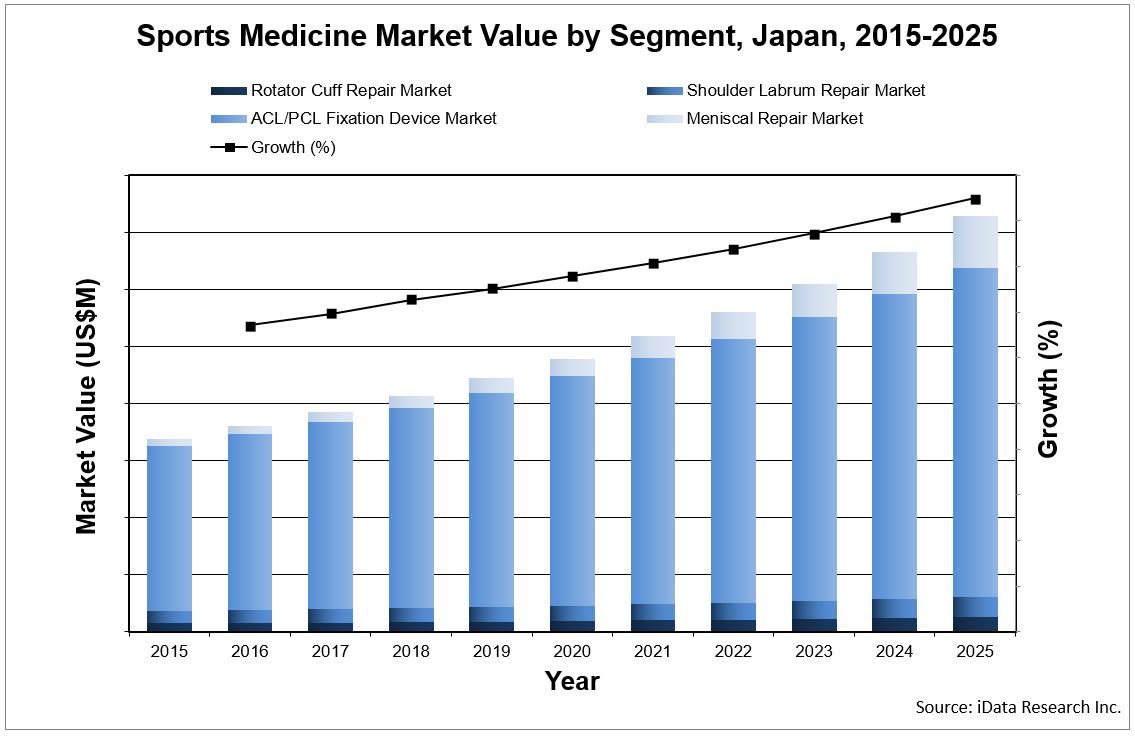 Report Regional Coverage
Throughout this research series, iData has covered several countries in great detail. Each country may be purchased as a stand-alone report, tailoring the data to your needs. The covered countries are:
United States
Europe (15 countries including Germany, France, U.K., Italy, Spain, Benelux (Belgium, Netherlands, and Luxembourg), Scandinavia (Denmark, Finland, Norway, and Sweden) Austria, Switzerland, and Portugal)
Japan
India
China
Brazil
The Only Medical Device Market Research With:

✔

Procedure Volume Data & Trends


✔

Unit Sales Growth Analysis


✔

Average Selling Prices


✔

Competitor Shares by Segment & Country


✔

 SKU-Level Research Methods


✔

 The Lowest Acquisition Cost


Highly Detailed Segmentation
While this report suite contains all orthopedic soft tissue repair market data, each of the markets is also available as stand-alone MedCore reports. This allows you to get access to only the sports medicine market research that you need. You can view these separate reports and segmentation here:
Procedure Volumes for Sports Medicine– MedPro
Tendon Graft Reinforcement Market – MedCore
Rotator Cuff Repair Market– MedCore
Shoulder Labrum Repair Market – MedCore
Biceps Tenodesis Repair Market– MedCore
ACL/PCL Reconstruction Market– MedCore
ACL/PCL Fixation Device Market– MedCore
Cartilage Repair Market – MedCore
Meniscal Repair Market – MedCore
Hip Arthroscopy Market – MedCore
Buying all of these reports together in this suite package will provide you with substantial discounts from the separate prices. Request Pricing to Learn More
Full Segmentation Map for the United States


Data Types Included
Unit Sales, Average Selling Prices, Market Value & Growth Trends
Forecasts Until 2026, and Historical Data to 2016
Market Drivers & Limiters for Each Segment
Competitive Analysis with Market Shares for Each Segment
Recent Mergers & Acquisitions
Procedure Volumes
Disease Overviews and Demographic Information
Company Profiles for Top Competitors
Global Sports Medicine Market Share Insights
While Arthrex is the clear leading competitor in the United States, in the European region they trail behind Smith & Nephew by a significant margin. Arthrex has maintained its position as market leader by establishing its presence in the shoulder market while continuing to grow its presence in the knee and hip arthroscopy markets. Arthrex was the market leader in the rotator cuff, shoulder labrum, and biceps tenodesis markets with their extensive line of biocomposite suture anchors and screws.
For the knee market, Arthrex is trying to grow its shares with products in ACL/PCL fixation, cartilage repair, and meniscal repair. Arthrex has a small market lead in the ACL/PCL fixation market due to their dominance of the interference screw market with their BioComposite™ interference screw and their ACL TightRope®. In addition, Arthrex is able to pick up on trends towards new technologies, creating the FiberTak™ all-suture product line in response to the growing all-suture market.
The leading competitor in Europe is Smith & Nephew, with a strong position in almost all of the market segments. The company has a wide coverage of products across the shoulder, knee, and hip
segments. Smith & Nephew exhibited the strongest performance in the meniscal repair and hip arthroscopy markets and also had a notable position in the rotator cuff repair and shoulder album repair market. The company's shoulder portfolio has a number of suture anchors like their BIORAPTOR™, OSTEORAPTOR™, HEALICOIL™, SPEEDLOCK™, SUTUREFIX™, and Q-FIX™.
In this series of reports we've analyzed over 56 manufacturers of these devices and provided a competitive analysis with market shares, see the entire list below.
All Companies Analyzed in this Study

AlloSource
Anika Therapeutics
Arcuro Medical
Artelon
Arthrex
Arthro Kinetics
Biocomposites
Bioretec
BIOTEK
BioTissue Technologies
CenoBiologics
Ceterix
Chetan Meditech Pvt. Ltd.
CO.DON
ConMed Linvatec
DePuy Mitek
Eberie
FH ORTHO
Genzyme Sanofi
Hardik International
Implanet
Inion
Integra LifeSciences
Johnson & Johnson
Joint Restoration Foundation
Karl Storz
LifeLink
LifeNet Health

MedShape
Medtronic
Merete
Microport
MinInvasive
Musculoskeletal Transplant Foundation
Orteq
OrthoD Group
Orthox
Osiris Therapeutics
Parcus Medical
Rotation Medical
RTI Biologics
SBM
Smith & Nephew
Stryker
Synthasome
Teknimed
TETEC
TiGenix
Tissue Regenix
Trauson
Uteshiya Medicare Pvt. Ltd.
Vericel
Vivex
Weigao
Wright Medical
Zimmer Biomet
Global Sports Medicine Statistics and Procedure Trends
Rotator cuff repairs are the second most common procedure performed in the United States with over 400,000 rotator cuff repairs done annually. The number of rotator cuff repairs should grow at a CAGR in the mid-to-low single digits, to nearly 600,000 by 2023. Rotator cuff repairs involve repairing tears in the rotator cuff tendon using suture anchors. These repairs are divided into single row and double row repairs, with double-row repairs being used for larger tears. Single row repairs consist of two to three suture anchors while double rows range from four to eight suture anchors per procedure. Single row repairs were the preferred technique in the past but double row procedures have since become the majority of the rotator cuff repair procedures done.
In Europe, rotator cuff repairs are just over half that of the United States, and a significantly greater portion of them performed using the Single Row method. Single row procedures are forecast to grow significantly over the forecast period, while double-row rotator cuff repairs will remain flat.
GLOBAL SPORTS MEDICINE Latest Market Developments
October 2018 – MinInvasive announced a limited U.S. launch of the OmniCuff™ device for rotator cuff repair. MinInvasive and MicroPort Scientific remain in pursuit of CFDA approval for the system in China.
June 2018 – The U.S. launch of DYNACORD Suture to repair soft tissue, such as the rotator cuff in the shoulder, as part of the DePuy Synthes Mitek Sports Medicine portfolio.
April 2018 – AK Medical, a Chinese orthopedic firm, acquired the U.K.-based JRI Orthopedics for $24 Million. The deal will make JRI Orthopedics a wholly-owned subsidiary of AK Medical.
One of the the most accurate methods of market research in the medical device industry is to analyze the procedure volumes and trends. Through this study on large joint devices, iData Research has performed an analysis on the following procedure segments in order to increase the accuracy of our market sizing, and provide you with the volume of procedures over a 10 year range. While the below market segmentation map is representative of the United States, procedure volume data is also provided for the other regions within this complete series.
Procedure Volume Analysis Segments in the United States
iData's 9-Step Research Methodology
Our reports follow an in-depth 9-step methodology which focuses on the following research systems:
Original primary research that consists of the most up-to-date market data
Strong foundation of quantitative and qualitative research
Focused on the needs and strategic challenges of the industry participants
Step 1: Project Initiation & Team Selection During this preliminary investigation, all staff members involved in the industry discusses the topic in detail.
Step 2: Prepare Data Systems and Perform Secondary Research The first task of the research team is to prepare for the data collection process: Filing systems and relational databases are developed as needed.
Step 3: Preparation for Interviews & Questionnaire Design The core of all iData research reports is primary market research. Interviews with industry insiders represent the single most reliable way to obtain accurate, current data about market conditions, trends, threats and opportunities.
Step 4: Performing Primary Research At this stage, interviews are performed using contacts and information acquired in the secondary research phase.
Step 5: Research Analysis: Establishing Baseline Estimates Following the completion of the primary research phase, the collected information must be synthesized into an accurate view of the market status. The most important question is the current state of the market.
Step 6: Market Forecast and Analysis iData Research uses a proprietary method to combine statistical data and opinions of industry experts to forecast future market values.
Step 7: Identify Strategic Opportunities iData analysts identify in broad terms why some companies are gaining or losing share within a given market segment.
Step 8: Final Review and Market Release An integral part of the iData research methodology is a built-in philosophy of quality control and continuing improvement is integral to the iData philosophy.
Step 9: Customer Feedback and Market Monitoring iData philosophy of continuous improvement requires that reports and consulting projects be monitored after release for customer feedback and market accuracy.
Explore Options
Sports Medicine Market Size, Share and Trends Analysis | Global | 2019-2025 | MedSuite | Includes: Tendon Graft Reinforcement Market, Rotator Cuff Repair Market, and 7 more
$295 – $30,000
2019

2015-2025

Brazil, China, Europe, India, Japan, United States

03/04/2019

2468

MedSuite
Request Sample Sheets
Request Customization
Related Reports