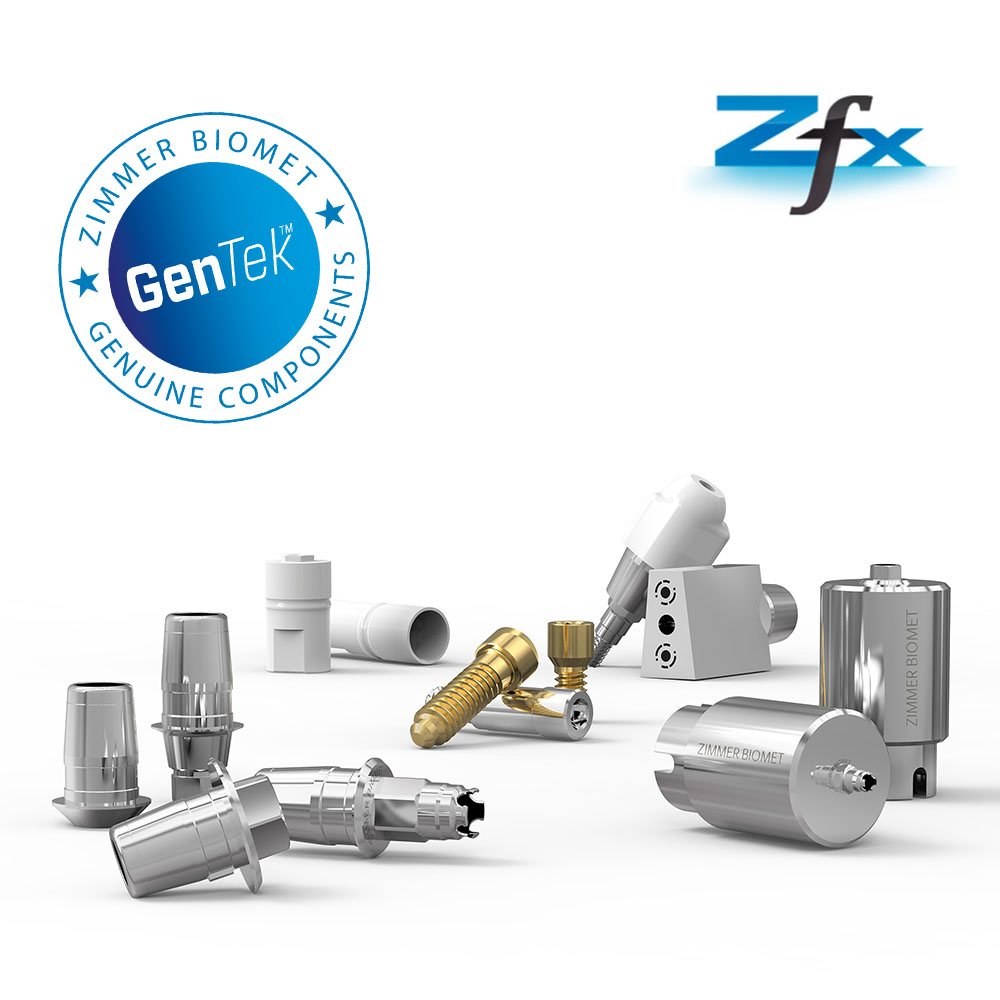 Register to receive a free U.S. Dental Implant Market Report Suite synopsis and brochure
Zimmer Biomet and Zfx announce the release of GenTek, a new restorative digital product line for Zimmer Biomet dental implant systems. GenTek products are bringing restorative solutions based on patients' needs, which will strengthen the integrity of clinically proven implant connection designs.
Zfx offers quality CAD/CAM restorative components for the industry's most popular dental implant connections. Clinicians can now be confident that GenTek components are designed with genuine Zimmer Biomet implant connection specifications. The GenTek portfolio is an open digital workflow, including scanbodies, ti-bases, pre-milled abutment blanks and accessories. To guarantee the highest level of accuracy in its implant-connection designs, the solutions were designed in close collaboration with Zimmer Biomet Dental.
"With the growing adoption of digital technologies and open architecture workflows in the European market, Zimmer Biomet Dental in collaboration with Zfx, strives to be a valuable partner to our customers by introducing genuine restoration components that are part of an open digital workflow," said Daniele Landi, Vice President, EMEA.
The Zfx GenTek Intraoral Scanbodies and GenTek Desktop Scanbodies allow an extremely accurate digitization of the implant in the patients' mouth. Scanning accuracy is made possible by the PEEK material used in the scanbodies, allowing an ideal surface for optical scanners, without needing spray.
Using genuine restorative components is essential in safeguarding the physical integrity of implant-based restorations. By mandating an accurate fit and tight connection between the components, the potential for biological and technical complications such as tissue inflammation, screw joint failure and screw loosening are further mitigated. Because of the quality materials used, the genuine connection can contribute to the long-run prosthetic stability of this line.
According to iData Research, the total market for dental implants was valued at under $1.1 billion. This includes the markets for dental implants, final abutments, dental instrument kits, treatment planning software (including maintenance fees) and surgical guides. The dental implant market itself made up the largest segment in the overall implant and final abutment market, holding almost one-third of the total revenue. With the forecasted future looking lucrative in this sector, it looks promising that GenTek will be contributing to this market's growth.
For Further Information
More on the dental implant fixtures and final abutments market in the U.S. can be found in a series of reports published by iData entitled the U.S. Market Report Suite for Dental Implants.