iData Research, a leading international medical market research and consulting firm, has released a new suite of reports which details the U.S. large joint reconstruction device market, including total knee replacement statistics for 2017.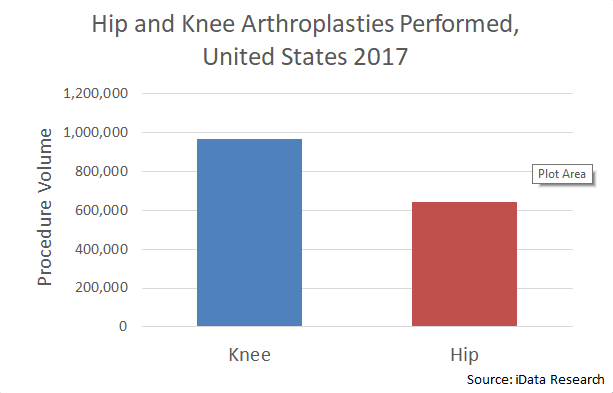 Recently released research showed that there were approximately 1.6 million hip and knee arthroplasties performed in the United States in 2017, of which over 966,000 were knee replacements. Most knee reconstruction procedures can be categorized by their use of total, partial or revision implants. Procedure volume growth is strongest in the knee revision procedures, with yearly increases reaching a high single-digit growth rate, followed closely by total knee replacements. On the other hand, partial knee replacements, a relatively niche market, is experiencing lower growth rates.
Knee revision procedures involve replacing worn implanted joints with new hardware. More precisely, it is not the implant itself that is worn, but the quality of its adhesion to the patient's existing bone. Conservative estimates of implant longevity are around 15 to 20 years, with many implants lasting longer than this period. The rate of revision is expected to climb as the number of primary implanted devices increases.
"The growth in knee revision procedures is driven by an increasing number of knee replacements for young patients who lead active lifestyles, and thus place more pressure and wear on the knee joint," explains Jeffrey Wong, Analyst Director at iData Research, "since these replacements do not last throughout their entire lifetime, the demand for revisions remains consistent."
As the patient age for knee replacement expands to include younger populations, the need for more robust and longer-lasting implants will increase. Additionally, demand for custom arthroplasty solutions is expected to increase over the next few years. A variety of advanced implant technologies have experienced considerable advancement over the past several years. For example, computer-aided manufacturing (CAD/CAM) data obtained from magnetic resonance (MR) and computed tomography (CT) images is being utilized to create custom design implants according to individual patients' anatomical needs. In addition, the application of additive manufacturing technology or 3D printing in the orthopedic industry is also gaining popularity.
These latest technological developments are making the prospect of knee replacement more attractive to younger individuals, as they reduce recovery time and allow patients to resume their mobility at a quicker rate. The price of devices, such as intelligent instruments or robotic systems, will increase the overall cost of the procedure and prompt revenue growth in the U.S. knee reconstruction device market.
For More Information
More research on the knee replacement market can be found in the full report suite titled U.S. Market Report Suite for Large Joint Devices, which provides a comprehensive analysis on units sold, market values, average selling prices, procedure volumes, forecasts, as well as detailed competitive market shares and analysis of all major competitors.
This suite of reports include segments for knee reconstruction devices, hip reconstruction devices and associated accessories such as knee cutting blocks and bone cement. Also included, is a market overview for the new emerging technologies such as robotic-assisted surgery and intelligent instrumentation.