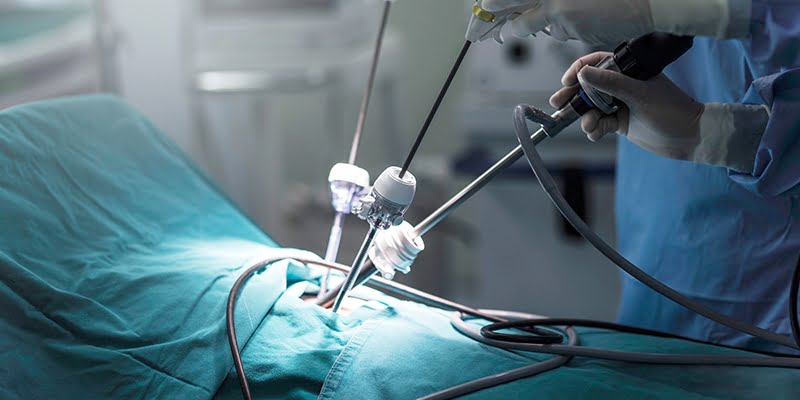 Did you know over 2.7 million laparoscopy procedures are performed every year in the United States? 
Laparoscopy is continually developing towards being the least invasive approach to surgery. It had originally emerged to address complications and improve the outcomes of open surgery and is now moving towards being the most advanced robotic-assisted surgery.
Many of the largest companies in the laparoscopy market offer many other medical devices. Reputation, branding, and extensive product portfolios allow these top companies to remain leaders, even when strong competition rises. Below, we have ranked the companies (in descending order) by their share in the total U.S. laparoscopy market in 2020.
Top Laparoscopy Companies in the US
Medtronic
Ethicon 
Applied Medical
Olympus
Stryker
Karl Storz
Becton Dickinson 
CONMED
Apollo Endosurgery 
LiNA Medical
Medtronic
Medtronic is the leading competitor in the laparoscopy market, holding over 40% market share. Sales of Medtronic's LigaSure™ devices allowed the company to gain the leading position in the direct energy device segment. Medtronic is working to enhance growth in their laparoscopic product sales through research and development, as well as further acquisitions. 
In February 2020, Medtronic announced its acquisition of Digital Surgery, a U.K.-based, privately held company that specializes in surgical artificial intelligence (AI), data and analytics, digital education, and training.
Ethicon
The second-leading competitor in the U.S. market for laparoscopic devices was Ethicon. This company relies on its well-known reputation for high-quality products, especially in the ultrasonic and access device markets. Ethicon generally prices its products above the market average, avoiding pricing wars altogether. A large part of Ethicon's revenue stems from its HARMONIC® ultrasonic instrument sales, which led to a longstanding monopoly in the reposable segment of the ultrasonic device market. 
Over the last few years, Ethicon and Intuitive Surgical have been involved in patent infringement litigation against each other regarding surgical stapling instruments. The dispute refers to Intuitive Surgical's EndoWrist® instrument and SureForm® 60 stapler, as well as Ethicon's Echelon® Flex product line. The latest decision regarding Ethicon's patent for a "Shiftable Drive Interface for Robotically-Controlled Surgical Tool" was reported in February 2020. 
Applied Medical
Applied Medical gained the third-leading share of the US laparoscopic device market in 2020. The company led the access and hand-assisted device segments and also competed in the hand instrument, insufflation, and closure device segments.
Applied Medical has seen major gains in its access device business, due mainly to its aggressive sales strategies. The company generally offers its access devices at prices well below the market average, to entice end-users into long-term contracts.
Laparoscopy market size and Forecast
In 2020, the US laparoscopic device market was valued at over $4.5 billion and is projected to reach nearly $5.5 billion in 2026. Clinical data clearly shows that while laparoscopic surgery is often more expensive to perform compared to open surgery, these heightened costs are outweighed by substantial benefits to the patient, including a reduced hospital stay, less scarring, and a significantly shorter recovery period.
Register to receive a free US Laparoscopic Devices and Accessories 2020 – 2026 synopsis
The total market will continue to benefit from stable growth in laparoscopic procedures performed. However, the continuing adoption of robotic-assisted minimally invasive surgeries is expected to partially offset growth across the market, primarily affecting high-volume general and laparoscopic procedures.