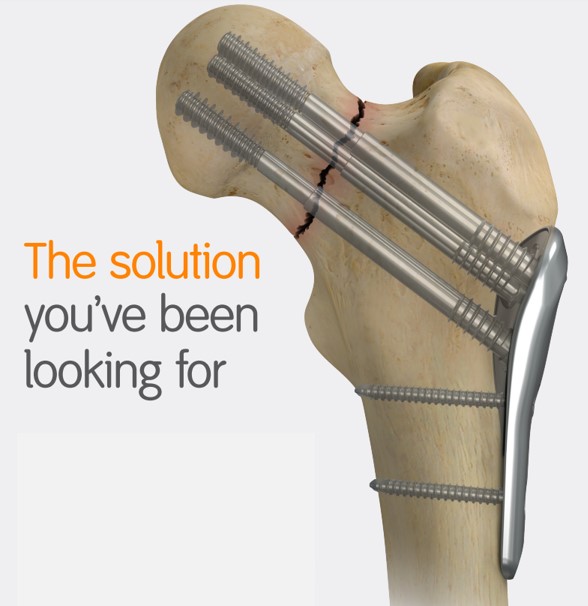 Register to receive a free U.S. Market Report Suite for Large Joint Devices – MedSuite report synopsis and brochure
Smith & Nephew, a major player in the orthopedic market, has recently announced a new femoral neck fracture implant solution called the CONQUEST FN™ system. Femoral neck fractures are no doubt serious injuries, with complication rates reported as high as 69%, no matter what age or bone quality of the individual. Smith & Nephew engineered the CONQUEST FN system to address fracture type, patient population, and therapeutic intervention challenges by providing a combination of innovative instrument and implant offerings.
If a femoral neck fracture is not properly treated, post operative complications and secondary procedures may occur. To avoid this problem, Smith & Nephew partnered their FX devices, becoming the first to offer their POGO® Technology for femoral neck fractures on the market.  The system provides surgeons with a new level of control when treating serious fractures; thanks to their dynamic locking fixation.
"Femoral neck fractures in physiologically young patients are significant injuries. I have had positive results in my initial experience with CONQUEST FN. Intra-operatively, it is easy to implant without a threat of loss of reduction; and post-operatively, patients often follow-up very comfortable with minimal pain, and have progressed to weight-bearing more quickly. I feel this speaks to the enhanced stability of the implant," said Daniel S. Chan, MD, an orthopaedic traumatologist with the Orthopaedic Trauma Institute in Macon, Ga.
"We take pride in designing products that address procedural challenges when treating traumatic injuries and are excited to introduce our CONQUEST FN system to a market that is clearly ready for new solutions. It offers truly differentiating POGO Technology that will help take femoral neck fracture treatment to the next level by offering dynamic locking fixation and promoting bone preservation – key elements in returning patients to pre-fracture function. It further complements our comprehensive hip fracture portfolio to give surgeons and their patients a choice of treatment options," said Skip Kiil, President of Global Orthopaedics, Smith & Nephew.
For Further Information
More on the large joint devices market in the US can be found in a report published by iData Research entitled U.S. Market Report Suite for Large Joint Devices – MedSuite