Soft Tissue Repair Market Analysis, Size, Trends | 2018-2024 | MedSuite
Year:

2018

Scope:

2014-2024

Region:

Europe, United States

Pages:

1940

Published Date:

05/04/2018

Type:

MedSuite
Industry Trends
Soft tissue repair devices are gaining popularity in the U.S. due to the rising awareness of their clinical history among surgeons. Furthermore, the growing and aging population, and the associated demand for soft tissue repair procedures, are expected to fuel the expansion of the soft tissue augmentation and reinforcement device in the U.S. and European market.
Recently in the European market, hybrid devices have begun to emerge, which are combinations of synthetic and biologic materials. These devices blur the lines between the traditional segmentation of soft tissue repair devices, but have not become common enough to warrant their own segment as of yet.
In the U.S. Laparoscopic devices market, the dental soft tissue regeneration segment, while having the smallest market value of all the segments, featured the highest overall growth out of all the segments. This growth was due primarily to increases in sales volumes, based on the ongoing expansions of indication of regenerative devices in this segment, as well as the inclusion of the fast-growing wound care market.

Report Regional Coverage
Throughout this research series, iData has covered several countries in great detail. Each country may be purchased as a stand-alone report, tailoring the data to your needs. The covered countries are:
United States
Europe (15 countries including: Germany, France, U.K., Italy, Spain, Benelux (Belgium, Netherlands and Luxembourg), Scandinavia (Denmark, Finland, Norway and Sweden) Austria, Switzerland and Portugal)
The Only Medical Device Market Research With:

✔

Procedure Volume Analysis


✔

Unit Sales Growth Analysis


✔

Average Selling Prices


✔

Competitor Shares by Segment & Country


✔

 SKU-Level Research Methods


✔

 The Lowest Acquisition Cost


Highly Detailed Segmentation
While this report suite contains all applicable market data, each of the markets are also available as stand alone MedCore reports. This allows you to get access to only the specific market segment research that you need. You can view all these included reports and segmentation here:
Procedure Volumes for Soft Tissue Repair Market – MedPro
Breast Reconstruction Market – MedCore
Hernia Repair Market – MedCore
Dural Repair Market – MedCore
Vaginal Sling Market – MedCore
Skin Repair Market  – MedCore
Sports Medicine and Tendon Reinforcement Market – MedCore
Dental Soft Tissue Regeneration Market – MedCore
Buying all of these reports together in this suite package will provide you with substantial discounts from the separate prices. Request Pricing to Learn More.
Full Segmentation Map for the United States

Soft Tissue Repair Market Report Data Types
Unit Sales, Average Selling Prices, Market Value & Growth Trends
Forecasts Until 2023, and Historical Data to 2013
Market Drivers & Limiters for Each Segment
Competitive Analysis with Market Shares for Each Segment
Recent Mergers & Acquisitions
Soft Tissue Reinforcement and Regeneration Market Procedure Volumes
Disease Overviews and Demographic Information
Company Profiles for Top Competitors
Related Press Releases from Top Competitors
Soft Tissue Repair Market Share Insights
In the soft tissue repair market, the leading competitor is Acelity, or more specifically LifeCell, one of their subsidiaries. In second and third place respectively were C. R. Bard and Ethicon. The majority of LifeCell's revenue in the U.S. is derived from the clinical applications of challenging hernia repair and post-mastectomy breast reconstruction, which is generated primarily in the acute care setting on a direct billing basis. In the U.S., the company's success arises from both the allograft and xenograft areas of the soft tissue repair market, as the company doesn't have any alloplast products. In Europe, LifeCell's signature human-based AlloDerm® soft tissue product is one
of the most well-known products in the industry and continues to remain the most popular choice among surgeons today. Recent developments regarding the company's other flagship xenograft product, Strattice™, have resulted in significant shifts in market share.
In the U.S., C. R. Bard is among the top three overall competitors, thanks to its vast array of products used
in various applications across different market segments. The company's broad range of hernia repair products allow it to be the top player in this market.
Medtronic, Ethicon and C.R. Bard all compete closely in the synthetic portion of the European soft tissue market, thanks to their vast array of products used in various applications across different market segments. All three companies offer a broad range of hernia repair products made of various materials and designed for myriad different types of hernias. C.R. Bard, specifically, offers many synthetic mesh products that have been on the market for decades and are well trusted by physicians throughout Europe.
In this report suite we've analyzed several other companies, which include significant market shares from MiMedx, Integra LifeSciences, Covidien, Organogenesis, Osiris, Boston Scientific, Baxter, Depuy Synthes, Coloplast, ACell, Smith & Nephew, Wright Medical, Atrium Medical, Athrex, BioHorizons, and Others.
All Companies Analyzed in this Study

3M
ACE Surgical
Acelity
ACell
Aesculap/B. Braun
Agency ffor Medical Innovations (A.M.I.)
Alliqua Biomedical
Allosource
Angiologica
Anika Therapeutics
Aspide Medical
Ariste Medical
Artelon
Arthrex
Atrium Medical
Baxter
BioHorizons
Biometrix
Boston Scientific
BSN Medical
C.R. Bard
Caldera
Citagenix
CL Medical
Collagen Matrix
Coloplast
ConMed Linvatec
Cook Medical
Cousin Biotech
Covidien
DECOmed
Dentsply
Dermarite Industries
Depuy Synthes
Dermasciences
DynaMesh
Epiflex
Ethicon
Geistlich
Genzyme
Gunze
Hartmann

Helioscopie
HerniaMesh
Human Biosciences
Integra LifeSciences
Johnson & Johnson
Lifecell
Medline
Medskin Solutions
Medtronic
Mentor
MiMedx
Molnycke
MPM Medical
MTF
Neomedic International
Novus Scientific
Olympus
Organogenesis
Osiris
Osteogenics
Promedon
Prosurg
Q Medical
Rotation Medical
RTI Biologics
Salvin
Smith & Nephew
Soluble Systems
Stryker
Surgical-IOC
Synovis/Baxter
Synthasome
TEI Biosciences
Tissue Regenix
Tutogen
Vedise Hospital
WL Gore
Wright Medical
Xtant Meidcal
Zimmer Biomet
Soft Tissue Repair Market Statistics and Procedure Trends
There are currently over 2.4 million total soft tissue repair procedures performed in the United States annually. In the U.S. and Europe, hernia procedures are by far the most frequently performed out all the included segments, constituting almost half of the total number of procedures. In the majority of segments, one product is used per procedure. The increasing popularity of soft tissue repair devices in both the U.S. and Europe, combined with the increasing incidence of most ailments for which these products are indicated, will drive growth of overall soft tissue repair procedures. Growing populations are further driving increases in procedure volumes.
In Europe, over 1.39 million soft tissue repair procedures are being performed annually.
The incidence of breast cancer in younger women has been increasing in the United States; this population is more likely to opt for both mastectomy and breast reconstruction. The vast majority of breast reconstructions were tissue expander/implant–based (TEI) reconstructions. The remaining procedures were performed with autologous tissue, using techniques such as latissimus dorsi myocutaneous (LDM) flap, deep inferior epigastric perforators (DIEP) flap and transverse rectus abdominis myocutaneous (TRAM) flap.
In the European Union countries, the number of cancer deaths in 2017 were estimated at about 1.4 million, compared with 1.3 million in 2012. The number of women who died of breast cancer in 2012 was 91,847 and the estimated number of breast cancer deaths among women in the EU in 2017 is 92,600.

For a Full Table of Contents From Any of the Country Reports in this Global Series, please
Contact iData
One of the the most accurate methods of market research in the medical device industry is to analyze the procedure volumes and trends. Through this study on the soft tissue repair market, iData Research has performed an analysis on the following procedure segments in order to increase the accuracy of our market sizing, and provide you with the volume of procedures over a 10 year range. While the below market segmentation map is representative of the United States, procedure volume data is also provided for the other regions within this complete series.
Procedure Volume Analysis Segments in the United States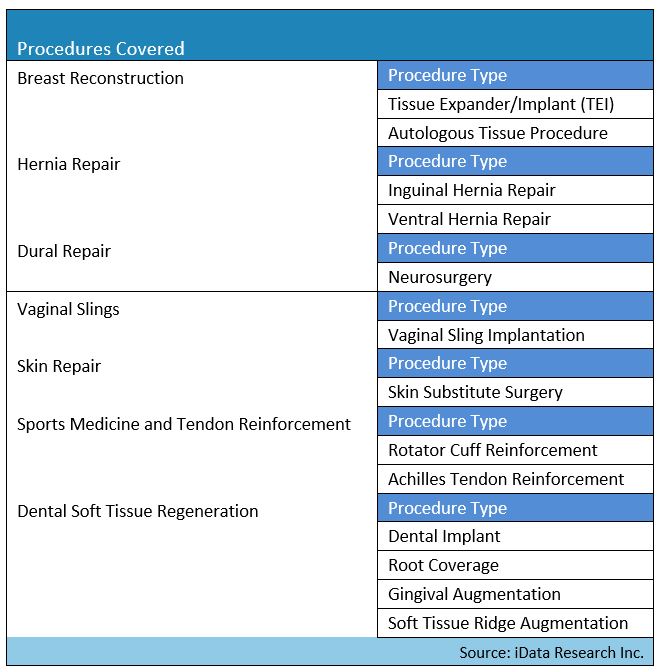 iData's 9-Step Research Methodology
Our reports follow an in-depth 9-step methodology which focuses on the following research systems:
Original primary research that consists of the most up-to-date market data
Strong foundation of quantitative and qualitative research
Focused on the needs and strategic challenges of the industry participants
Step 1: Project Initiation & Team Selection During this preliminary investigation, all staff members involved in the industry discusses the topic in detail.
Step 2: Prepare Data Systems and Perform Secondary Research The first task of the research team is to prepare for the data collection process: Filing systems and relational databases are developed as needed.
Step 3: Preparation for Interviews & Questionnaire Design The core of all iData research reports is primary market research. Interviews with industry insiders represent the single most reliable way to obtain accurate, current data about market conditions, trends, threats and opportunities.
Step 4: Performing Primary Research At this stage, interviews are performed using contacts and information acquired in the secondary research phase.
Step 5: Research Analysis: Establishing Baseline Estimates Following the completion of the primary research phase, the collected information must be synthesized into an accurate view of the market status. The most important question is the current state of the market.
Step 6: Market Forecast and Analysis iData Research uses a proprietary method to combine statistical data and opinions of industry experts to forecast future market values.
Step 7: Identify Strategic Opportunities iData analysts identify in broad terms why some companies are gaining or losing share within a given market segment.
Step 8: Final Review and Market Release An integral part of the iData research methodology is a built-in philosophy of quality control and continuing improvement is integral to the iData philosophy.
Step 9: Customer Feedback and Market Monitoring iData philosophy of continuous improvement requires that reports and consulting projects be monitored after release for customer feedback and market accuracy.