Soft Tissue Repair Market Analysis, Size, Trends | United States | 2020-2026 | MedSuite
0
The full report suite on the U.S. market for soft tissue repair includes breast reconstruction, hernia repair, dural repair, dental soft tissue regeneration, nerve repair and cardiovascular repair.
Year

:

2020

Scope

:

2016-2026

Region

:

United States

Published Date

:

18/03/2020

Pages

:

279

Type

:

MedSuite
In 2019, the U.S. market for soft tissue repair is expected to grow at a high-single-digit rate over the forecast period. This is mainly driven by increases in unit sales, as medical conditions become more prevalent and/or procedures become more common. This market includes segments for breast reconstruction, hernia repair, dural repair, dental soft tissue regeneration, nerve repair and cardiovascular repair.
Soft tissue repair devices are gaining popularity, due to the rising awareness of their clinical history among surgeons. Furthermore, the growing and aging population, and the associated demand for soft tissue repair procedures, are expected to fuel the expansion of the soft tissue augmentation and reinforcement device market. Moreover, continued advancement in medical device technology will also be a main driver of this market.
Overall, the U.S. soft tissue repair market was valued at $1.8 billion in 2019. This is expected to increase over the forecast period at a CAGR of 7.8% to reach $3.1 billion.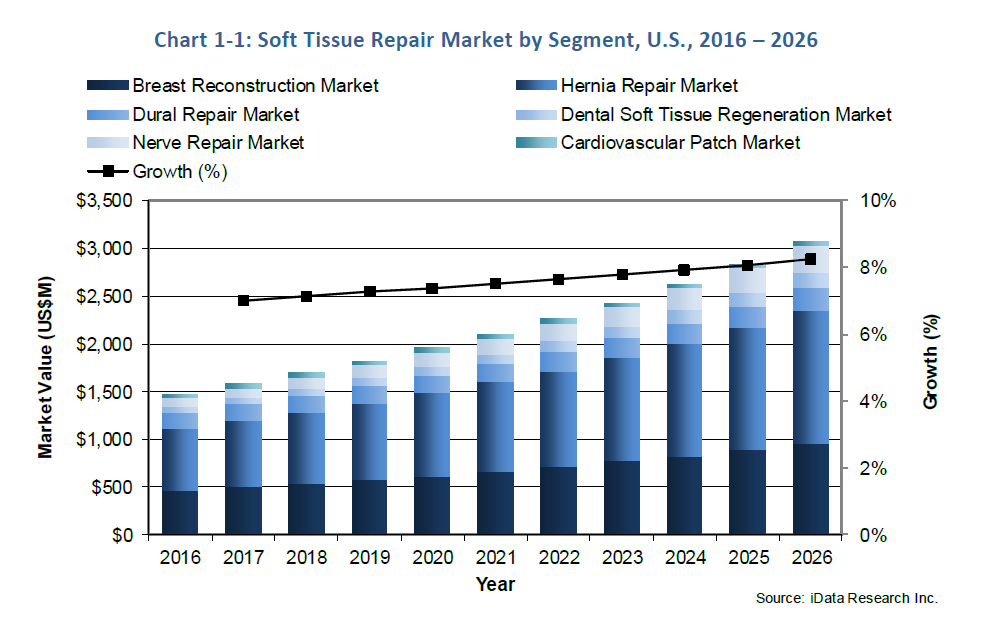 The "US Market Report Suite for Soft Tissue Repair 2017 - MedSuite" includes analysis on the following companies currently active in this market:LifeCellOrganogenesisC.R. BardEthiconCovidienArthrexASTORAWright MedicalIntegra LifeSciencesSmith & NephewMiMedxBoston ScientificSystagenixBioHorizonsAtrium MedicalColoplastStrykerCook MedicalJohnson & JohnsonOsirisSoluble SystemsSynovis/BaxterKCIRTI BiologicsGeistlichTEIZimmer BiometACellAesculap/B. BraunGore MedicalMedtronicDentsplyOthers include: Medline, MTF, WL Gore, Tutogen, Novus Scientific, Ariste Medical*Not all companies are currently active in every segment or sub-report from this suite. For more details contact an iData Research Product Advisor.
iData's 9-Step Research Methodology
Our reports follow an in-depth 9-step methodology which focuses on the following research systems:
Original primary research that consists of the most up-to-date market data
Strong foundation of quantitative and qualitative research
Focused on the needs and strategic challenges of the industry participants
Step 1: Project Initiation & Team Selection During this preliminary investigation, all staff members involved in the industry discusses the topic in detail.
Step 2: Prepare Data Systems and Perform Secondary Research The first task of the research team is to prepare for the data collection process: Filing systems and relational databases are developed as needed.
Step 3: Preparation for Interviews & Questionnaire Design The core of all iData research reports is primary market research. Interviews with industry insiders represent the single most reliable way to obtain accurate, current data about market conditions, trends, threats and opportunities.
Step 4: Performing Primary Research At this stage, interviews are performed using contacts and information acquired in the secondary research phase.
Step 5: Research Analysis: Establishing Baseline Estimates Following the completion of the primary research phase, the collected information must be synthesized into an accurate view of the market status. The most important question is the current state of the market.
Step 6: Market Forecast and Analysis iData Research uses a proprietary method to combine statistical data and opinions of industry experts to forecast future market values.
Step 7: Identify Strategic Opportunities iData analysts identify in broad terms why some companies are gaining or losing share within a given market segment.
Step 8: Final Review and Market Release An integral part of the iData research methodology is a built-in philosophy of quality control and continuing improvement is integral to the iData philosophy.
Step 9: Customer Feedback and Market Monitoring iData philosophy of continuous improvement requires that reports and consulting projects be monitored after release for customer feedback and market accuracy.