Orthobiologics Market Analysis, Size, Trends | Global | 2019-2025 | MedSuite
Year:

2019

Scope:

2015-2025

Region:

China, Europe, India, Japan, South Korea, United States

Pages:

1823

Published Date:

12/2/2018

Type:

MedSuite
Industry Trends
A particular trend in the U.S. orthobiologics market is competitors that are seeking to penetrate high growth segments outside their traditional space by distributing existing products manufactured by other companies, rather than creating their own. This often involves partnering with a company by taking on the costs associated with regulation and market approval, in exchange for exclusive market rights.
Several products within orthopedic biomaterials have much more market potential than others, but are also very expensive for manufacturers to develop and produce. This subsequently leads to
premium pricing to cover fixed and research and development (R&D) costs. This is the case for growth factor and cellular allograft competitors in the U.S. orthopedic biomaterials market. For
example, the R&D cost required to develop growth factor products is a major entry barrier against potential competitors. There are now three growth factor products in the United States. Since
they are all used for different indications, there is a lack of direct competition, allowing companies to charge a premium for their products. Despite high prices, the growth factor and cellular allograft segments have huge potential to expand as companies continue to research these products. Conversely, the commoditized nature in some parts of the market, such as the allograft and
possibly DBM segments, have limited growth.
The largest limiter in the U.S. orthobiologics markets is pricing pressure on nearly all products. Stakeholders that influence prices include consumers, physicians, hospitals, and
insurance providers. Many insurance providers are reluctant to cover such high costs for premium products, causing consumers to seek more inexpensive alternatives. This, in turn, affects how
likely physicians are to use them for procedures.
Constraints on reimbursements will continue to limit the European orthopedic biomaterials market. Presently, only a few premium products under the umbrella of pharmaceuticals are
reimbursed by the government or healthcare organizations in the European region. In addition to not being as well-received as reimbursed products, the lack of reimbursement drives pricing down, hinders innovation and discourages new entrants.

Report Regional Coverage
Throughout this research series, iData has covered several countries in great detail. Each country may be purchased as a stand-alone report, tailoring the data to your needs. The covered countries are:
United States
Europe (15 countries including: Germany, France, U.K., Italy, Spain, Benelux (Belgium, Netherlands and Luxembourg), Scandinavia (Denmark, Finland, Norway and Sweden) Austria, Switzerland and Portugal)
Japan
India
China
South Korea
The Only Medical Device Market Research With:

✔

Procedure Volume Data & Trends


✔

Unit Sales Growth Analysis


✔

Average Selling Prices


✔

Competitor Shares by Segment & Country


✔

 SKU-Level Research Methods


✔

 The Lowest Acquisition Cost


Highly Detailed Segmentation
While this report suite contains all data, each of the markets are also available as stand alone MedCore reports. This allows you to get access to only the market research that you need. You can view all these included reports and segmentation here:
Procedure Numbers for Orthobiologics – MedPro
Orthopedic Bone Graft Substitute Market – MedCore
Orthopedic Growth Factor Market – MedCore
Cellular Allograft Market – MedCore
Orthopedic Cell Therapy Market – MedCore
Hyaluronic Acid Viscosupplementation Market – MedCore
Orthopedic Cartilage Repair Market – MedCore
Spinal Machined Bone Allograft Market – MedCore
Buying all of these reports together in this suite package will provide you with substantial discounts from the separate prices. Request Pricing to Learn More
Full Segmentation Map for the United States Region



Data Types Included
Unit Sales, Average Selling Prices, Market Value & Growth Trends
Procedure Volume Analysis
Forecasts Until 2025, and Historical Data to 2015
Market Drivers & Limiters for Each Segment
Competitive Analysis with Market Shares for Each Segment
Recent Mergers & Acquisitions
Disease Overviews and Demographic Information
Company Profiles, Product Portfolios and SWOT for Top Competitors
Orthobiologics Market Share Insights
The competitive landscape among orthobiologics companies varies dramatically across different regions. For example, Medtronic and DePuy Synthes are battling for the leading market share in the United States market, with Zimmer Biomet and Sanofi trailing behind. Fidia actually has a minimal market share in the United States, in the single-digits, but significantly leads the European market.
Medtronic has the largest share in the United States bone graft substitute segment and has their dominating product, INFUSE™ in the growth factor market. This company's growth has been recovering since the negative media attention and lawsuits regarding off-label usage of its growth factor bone morphogenetic protein (BMP) product, INFUSE®, which accounts for a significant portion of the company's revenue in biologic therapy.
Fidia is the leading competitor in the total European orthopedic biomaterials market. However, the company is only present in the hyaluronic acid market. Extensive research of hyaluronic acid has solidified Fidia Farmaceutici S.p.A.'s leading position in the lucrative HA market. Fidia has increased their market share over the past few years, and a considerable amount of this expansion is due to Fidia's expansion into the German market.
Throughout this series of research, iData analyzed over 130 companies to estimate market size, trends, and market shares of leading competitors. Below is a list of all companies analyzed throughout this study.
All Companies Analyzed in this Study

Ajanta Pharma
Aju Pharm
Alkem Laboratories
Allgens Medical
AlloSource
Alphatec Spine
Anika Therapeutics
Arteriocyte/Isto
Arthrex
Aziyo
Basic Healthcare
Baxter
Berkely Advanced Biomaterials
Bharat Biotech
Biocomposites
Bioiberica
Bioimplant Technologies
Biolu Biomaterials
Biomantle
Bioventus
Bloomage Freda Biopharm
BonAlive
Bonesupport
Cadila Pharmaceutical
Cambridge Medical
Celling Biosciences
Cellumed
Cerapedics
Cesca Therapeutics
CG Bio
Chugai Pharmaceuticals
CO.DON
Collagen Matrix
Community Tissue Services
Croma-Pharma
Curasan
Cytomedix
Daewoong
Datsing Bio-tech
DCI Donor Servicers
DePuy Synthes
Doctor Reddy's Laboratory
Documedica
Dong Kwang
DongKook
Doo Song International
Etex
Exactech
Ferring Pharmaceuticals
Fidia Pharmaceuticals
Finceramica
FocusChem
Geistlich
Genzyme
Gland Pharma
Globus Medical
GS Medical
Guona Keiji
Hammi Pharm
Hangzhou Gallop
HansBiomed
Harbin Gloria Pharmaceutical
Harvest Technologies
Hoya Technosurgical
IFGL Bio Ceramic
Intas Pharmaceutical
Integra LifeSciences
Isto
Japan Medicalnext

Jinxingda Company (Tianjin)
JunYoung Medical
K2M
Kaken Pharmaceuticals
Kinedex Healthcare
Kunming Baker Norton
Kuraray
Kuros Biosciences
Kyocera Medical
Laboratoire Genevrier
LCA Pharma
LG Life Science
LifeNet Health
M. M. Surgical
Maruho
Meda Pharmaceuticals
Medtronic
Meji Seika Pharma
Mitsubishi Materials
Mizuho
Musculoskeletal Transplant Foundation (MTF)
Narang Medical Limited
NGKNTK
Novabone
NuTech Spine/LifeLink Tissue Bank
NuVasive
Olympus Terumo
Orotech
Orthofix
OrthogenRX
Osiris Therapeutics
Osteolink Biomaterials
Osteomed
OStetic
Pacific Pharma
Plasmaconcept AG
Ranbaxy
Recordati
Regenexx
RTI Surgical
Saehan Pharma
Sanofi
SeaSpine
Seikagaku
Shanghai Anjiu Biotechnology
Shanghai HaoHai
Shanghai Jingfeng Pharmaceutical
Shanghai Rebone Biomaterials
Shanxi OsteoRad Biomaterials
Shin Poong
Spinal Elements
Stella Pharmaceuticals
Stryker
Sun Pharma Limited
Taisho
Tedec-Meiji
Tetec
TiGenix
TRB Chemedica
Unimed
Vericel
Virchow Biotech
Vivex
Wright Medical
Xin Kang Chen
Xtant
Yunkanghengye Company
Zimmer Biomet
Zydus Cadila
Orthobiologics Statistics and Procedure Trends
Procedures using orthobiologics are expected to continue to grow at a rapid rate. Procedures in the U.S. total nearly 4.5 million annually and are expected to surpass 7 million procedures by 2025. This growth is largely due to market developments relating to stem cells. Cellular allograft procedures are expected to grow the fastest by far. Orthopedic cartilage repair is the slowest-growing segment in terms of procedures, as the high prices are a barrier for many patients.
Procedures using bone graft substitutes in the Europe will continue to grow moderately over the forecast period. The most common type of material for bone graft substitutes is synthetic bone grafts. Because the use of autograft bone requires two incisions, and thus an increase in operation time, alternative graft options are often more preferable. Moreover, the process of demineralization can make grafts more osteoinductive in exchange for osteoconductivity when compared to allografts, but the high ASP, as well as stringent regulation in the EU and other European countries, have made demineralized bone matrix (DBM) the least common BGS material.
Latest Market Developments
December 2018 – Meda Pharmaceuticals sells manufacturing facility in the U.S. to ADM
November 2018 – Stryker acquires K2M
August 2018 – Wright Medical acquires Cartiva

One of the the most accurate methods of market research in the medical device industry is to analyze the procedure volumes and trends. Through this study on orthopedic biomaterials, iData Research has performed an analysis on the following procedure segments in order to increase the accuracy of our market sizing, and provide you with the volume of procedures over a 10 year range. While the below market segmentation map is representative of the United States, procedure volume data is also provided for the other regions within this complete series.
Procedure Volume Analysis Segments in the United States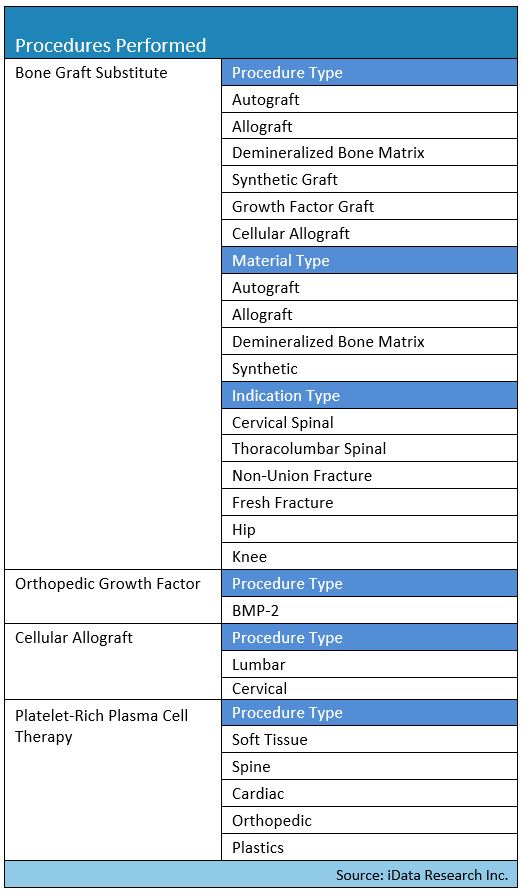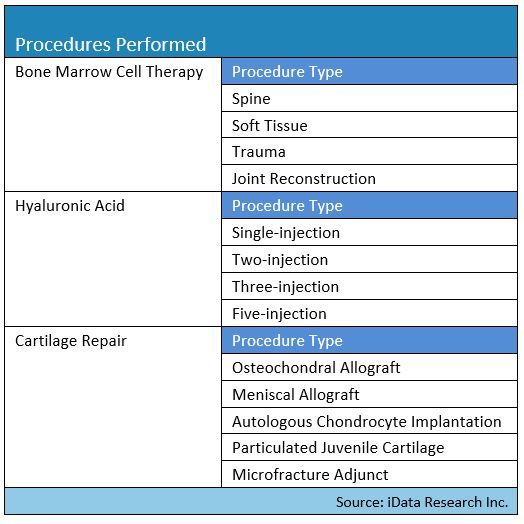 iData's 9-Step Research Methodology
Our reports follow an in-depth 9-step methodology which focuses on the following research systems:
Original primary research that consists of the most up-to-date market data
Strong foundation of quantitative and qualitative research
Focused on the needs and strategic challenges of the industry participants
Step 1: Project Initiation & Team Selection During this preliminary investigation, all staff members involved in the industry discusses the topic in detail.
Step 2: Prepare Data Systems and Perform Secondary Research The first task of the research team is to prepare for the data collection process: Filing systems and relational databases are developed as needed.
Step 3: Preparation for Interviews & Questionnaire Design The core of all iData research reports is primary market research. Interviews with industry insiders represent the single most reliable way to obtain accurate, current data about market conditions, trends, threats and opportunities.
Step 4: Performing Primary Research At this stage, interviews are performed using contacts and information acquired in the secondary research phase.
Step 5: Research Analysis: Establishing Baseline Estimates Following the completion of the primary research phase, the collected information must be synthesized into an accurate view of the market status. The most important question is the current state of the market.
Step 6: Market Forecast and Analysis iData Research uses a proprietary method to combine statistical data and opinions of industry experts to forecast future market values.
Step 7: Identify Strategic Opportunities iData analysts identify in broad terms why some companies are gaining or losing share within a given market segment.
Step 8: Final Review and Market Release An integral part of the iData research methodology is a built-in philosophy of quality control and continuing improvement is integral to the iData philosophy.
Step 9: Customer Feedback and Market Monitoring iData philosophy of continuous improvement requires that reports and consulting projects be monitored after release for customer feedback and market accuracy.