Minimally Invasive Spine Surgery Market Size, Share & Trends Analysis | Global | 2019-2025 | MedSuite | Includes: MIS Interbody Devices Market, MIS Pedicle Screws Market, and 5 more
Year:

2019

Scope:

2015-2025

Region:

Argentina, Australia, Brazil, China, Europe, Japan, Mexico, South Korea, Taiwan, United States

Pages:

4505

Published Date:

6/3/2019

Type:

MedSuite
Industry Trends
The global minimally invasive spine surgery market (MIS) is considered by many to be the most exciting and controversial segment of the orthopedics industry. This market has traditionally been a segment of the orthopedics market but, due to rapid growth and large market size, many manufacturers view spine as a key business division separate from traditional orthopedics.
The biggest limiting factor for the MIS device market is the complexity of the procedures and the skill required to master them. In particular, percutaneous techniques and, to a lesser extent, retractor techniques, are considered by many to be significantly more difficult to master than traditional open surgical methods. Older generations of doctors and surgeons are especially reluctant to switch to MIS, as it takes a considerable time investment to master the procedure.
One of the key drivers for the MIS spinal device market is the increase in the target population, which is composed of aging baby boomers. The majority of procedures are usually performed on individuals over the age of 60. This age group is the fastest-growing demographic cohort in the United States.
The MIS interbody market continues to see a shift toward OLIF and LLIF devices and away from MIPLIF and MITLIF devices. The oblique and lateral lumbar approaches are expected to see more growth than their posterior and transforaminal lumbar counterparts, although positive growth is expected across segments.
The fastest-growing segment in the United States and European regions are the spine endoscopy segment. This was the result of both endoscope and endoscope instrumentation sales. Spine endoscopes are visualization instruments that allow for an MIS approach to various procedures. By allowing direct visualization into the spinal canal, these endoscopes facilitate the investigation of nerve compression, inflammation, scarring, or abnormalities in the spinal space. In recent years, technological advancements in digital imaging have led to the use of high-definition (HD) cameras in conjunction with spine endoscopes. This market is expected to see the highest CAGR overall. However, this segment also makes up by far the smallest in terms of procedures and unit sales.

Report Regional Coverage
Throughout this research series, iData has covered several countries in great detail. Each country may be purchased as a stand-alone report, tailoring the data to your needs. The covered countries are:
United States
Europe (15 countries including: Germany, France, U.K., Italy, Spain, Benelux (Belgium, Netherlands and Luxembourg), Scandinavia (Denmark, Finland, Norway and Sweden) Austria, Switzerland and Portugal)
Japan
Taiwan
China
South Korea
Australia
Brazil
Mexico
The Only Medical Device Market Research With:

✔

Procedure Volume Data & Trends


✔

Unit Sales Growth Analysis


✔

Average Selling Prices


✔

Competitor Shares by Segment & Country


✔

 SKU-Level Research Methods


✔

 The Lowest Acquisition Cost


Highly Detailed Segmentation
While this report suite contains all data, each of the markets are also available as stand alone MedCore reports. This allows you to get access to only the research that you need. You can view all these included reports and segmentation here:
Procedure Numbers for Minimally Invasive Spine Surgery – MedPro
MIS Interbody Devices Market – MedCore
MIS Pedicle Screws Market – MedCore
Spinous Process Fixation Market – MedCore
Facet Fixation Market – MedCore
MIS Sacroiliac Joint Fusion Market – MedCore
Spinal Endoscopy Market – MedCore
MIS Instrumentation Market – MedCore
Buying all of these reports together in this suite package will provide you with substantial discounts from the separate prices. Request Pricing to Learn More
Full Segmentation Map for the United States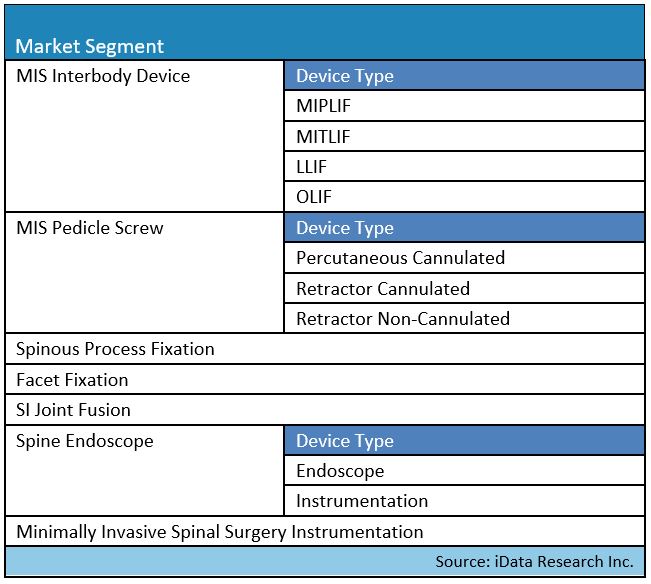 Report Data Types Included
Unit Sales, Average Selling Prices, Market Value & Growth Trends
Forecasts Until 2025, and Historical Data to 2015
Market Drivers & Limiters for Each Device Segment
Competitive Analysis with Market Shares for Each Segment
Recent Mergers & Acquisitions
Procedure Volumes
Disease Overviews and Demographic Information
Company Profiles, Product Portfolios and SWOT for Top Competitors
Related Press Releases from Top Competitors
Minimally Invasive Spine Surgery Market Share Insights
Medtronic leads the overall shares in the U.S. and European minimally invasive spine market, but only slightly more than Nuvasive in the U.S., and slightly more than DePuy Synthes in Europe. The company has established this role through strong performance in most segments, particularly the MIS interbody devices, MIS pedicle screw, spinous process fixation, facet fixation, and MIS instrumentation markets. Medtronic was not present in the spine endoscope markets.
Nuvasive has experienced strong growth and has the leading share in the MIS interbody device segment in the United States, as well as shares in the MIS pedicle screw, spinous process fixation, facet fixation, and MIS instrumentation segments. NuVasive was not present in the MIS sacroiliac or spine endoscope markets. While NuVasive continues to expand its presence in other areas of the spinal market, the XLIF® procedure is one of the company's best-known products. The XLIF® procedure involves a lateral approach to the patient, rather than an anterior or posterior approach.
DePuy Synthes is the second leading competitor within the European region. DePuy Synthes' MIS product portfolio contains a number of devices that are widely used in the spinal implant industry. The company was the leading competitor in the European MIS interbody device segment and held a strong position in the MIS pedicle screw segment. Products such as their MIS lateral platform and percutaneous pedicle screw system helped DePuy Synthes gain market share in these segments.
The minimally invasive spinal implants market contains nearly 100 companies that were analyzed in this study, many of which are smaller companies with less than 2% market share. For a full list of spinal device manufacturers' studies, see the table below.
All Companies Analyzed in this Study

Aegis Spine
Aesculap
Alphatec Spine
Amedica
Amendia
Apiary Medical
Asap Endoscopic Products
A-SPINE
Atlas Spine
Aurora Spine
Bacterin
Biotech Medical
Blazejewski MEDI-TECH
BM Korea
Boss Instruments
Camber Spine
Captiva Spine
Centinel Spine
ChoiceSpine
Clariance
Cook Medical
CoreLink Surgical
DePuy Synthes
Elite Surgical
Emos Technology
Endoservice Optical Instruments
Erbrich Instrumente
Exactech
Genesys Spine
Genesys Spine
Globus Medical
GS Medical
GS Medical
gSource
H.P.I. Medical
Huvexel
IDEAL Medical
iMedicom
Innomed
Integra LifeSciences
Interventional Spine
Invuity
Joimax
K2M
Karl Storz
L&K Biomed
Life Instruments
Life Spine

LinkBio Corp.
Maxer Endoscopy
Medacta International
Medfix Instruments
MedServ International
Medtronic
Millennium Surgical Corp
Neoortho Produtos Ortopedicos SA
Nexxt Spine
NuTech
NuVasive
Orthocision
Orthofix
Ortointese SA
Osteomed
Paonan Biotech
Pinnacle Spine Group
Richard Wolf
RTI Surgical
Sanyou Medical
Schindler Endoskopie Technologie
SeaSpine
Seeman Technologies
SI-Bone
Solco Biomedical
SOPRO-COMEG
Spinal Elements
Spineart
SpineFrontier
Spineology
Stryker
Superior Surgical
Symmetry Surgical
Taeyeon Medical
TDM
Tecomet
TeDan Surgical Innovations
Teleflex
Titan Spine
TranS1
Tsunami Medical
VGI Medical
Weigao Ortho
Wenzel Spine
Wiltrom
Xtant Medical
Zimmer Biomet
Zyga Technology
Minimally Invasive Spinal Implants Statistics and Procedure Trends
There are more procedures using minimally invasive spinal (MIS) pedicle screws than any other MIS device segment. Approximately 100,000 MIS pedicle screw procedures are performed each year in the United States, with this number growing at mid-to-low single digit rates each year.
Outside of the United States, most regions have much fewer MIS procedures performed, as expected, but considerably lower than simply population and market size differences. The trends here seem to reflect that of adoption rate differences for this type of technology, partly due to the complexity of these procedures and the training and education required to perform them.
MIS thoracolumbar fixation procedures made up the largest procedure segment in the European MIS market, with interbody device procedures, and spinous process fixation procedures coming in at second and third-largest segments respectively.
Latest Market Developments
March 7, 2019 – RTI Surgical announces acquisition of Paradigm Spine
January 28, 2019 – Medtronic launches Mazor X™ Stealth Edition – fully-integrated procedural solution for surgical planning, workflow, execution and confirmation for spine procedures (robot-assisted spinal surgery)
January 19, 2019 – DePuy Synthes (EU) invests €36 million into 3D printing research
November 9, 2018 – Stryker completes acquisition of K2M
One of the the most accurate methods of market research in the medical device industry is to analyze the procedure volumes and trends. Through this study on minimally invasive spine devices, iData Research has performed an analysis on the following procedure segments in order to increase the accuracy of our market sizing, and provide you with the volume of procedures over a 10 year range. While the below market segmentation map is representative of the United States, procedure volume data is also provided for the other regions within this complete series.
Procedure Volume Analysis Segments in the United States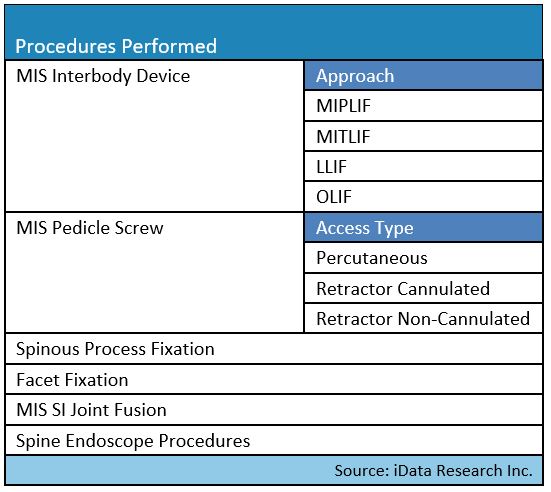 iData's 9-Step Research Methodology
Our reports follow an in-depth 9-step methodology which focuses on the following research systems:
Original primary research that consists of the most up-to-date market data
Strong foundation of quantitative and qualitative research
Focused on the needs and strategic challenges of the industry participants
Step 1: Project Initiation & Team Selection During this preliminary investigation, all staff members involved in the industry discusses the topic in detail.
Step 2: Prepare Data Systems and Perform Secondary Research The first task of the research team is to prepare for the data collection process: Filing systems and relational databases are developed as needed.
Step 3: Preparation for Interviews & Questionnaire Design The core of all iData research reports is primary market research. Interviews with industry insiders represent the single most reliable way to obtain accurate, current data about market conditions, trends, threats and opportunities.
Step 4: Performing Primary Research At this stage, interviews are performed using contacts and information acquired in the secondary research phase.
Step 5: Research Analysis: Establishing Baseline Estimates Following the completion of the primary research phase, the collected information must be synthesized into an accurate view of the market status. The most important question is the current state of the market.
Step 6: Market Forecast and Analysis iData Research uses a proprietary method to combine statistical data and opinions of industry experts to forecast future market values.
Step 7: Identify Strategic Opportunities iData analysts identify in broad terms why some companies are gaining or losing share within a given market segment.
Step 8: Final Review and Market Release An integral part of the iData research methodology is a built-in philosophy of quality control and continuing improvement is integral to the iData philosophy.
Step 9: Customer Feedback and Market Monitoring iData philosophy of continuous improvement requires that reports and consulting projects be monitored after release for customer feedback and market accuracy.