Large Joint Devices Market Analysis, Size, Trends | Global | 2018-2024 | MedSuite
Year:

2019

Scope:

2014-2024

Region:

Australia, Brazil, China, Europe, India, Japan, South Korea, United States

Pages:

3836

Published Date:

12/03/2018

Type:

MedSuite
Industry Trends
One of the main trends in the large joints devices market is a shift towards personalized orthopedic solutions that maximally adjust to the specific anatomical and clinical needs of each individual patient. While it is believed by some that application of an emerging 3D printing technology may potentially make manufacturing of the actual custom implants more cost-effective in a long-term, the area of a particularly growing interest in the orthopedic industry is creating personalized instrumentation which allows to improve the positioning precision of the off-the-shelf implants. The personalized instrumentation market is expected to grow rapidly over the forecast period.
Hospital buyers continue to apply a downwards price pressure in the large joint device market, which decelerates adoption of the new innovative products that often increase the overall cost of
the procedure. The price declines in the U.S. could be potentially stabilized by Ambulatory Surgery Centers (ASC), as their role in the orthopedic industry is becoming increasingly prominent. ASCs, where the procedure efficiency and fast patient recovery are particularly important, tend to adopt new developments faster than hospitals.
There have been consistent pressures on pricing across Europe, due to the economic climate in recent years. While such pressures have lessened, there is no room for increases in average selling
prices without new technology. Technological innovation is slow in the mature large joint device market and presents greater opportunities in the field of personalized instrumentation, which
allows for improved positioning precision in off-the-shelf implants. The adoption rate of new technologies, such as additive manufacturing, robotics and intelligent instrumentation in the cost conscious European market will become clear after more medium and long-term clinical data is gathered and the theoretical benefits of these technologies have been tested.

Report Regional Coverage
Throughout this research series, iData has covered several countries in great detail. Each country may be purchased as a stand-alone report, tailoring the data to your needs. The covered countries are:
United States
Europe (15 countries including: Germany, France, U.K., Italy, Spain, Benelux (Belgium, Netherlands and Luxembourg), Scandinavia (Denmark, Finland, Norway and Sweden) Austria, Switzerland and Portugal)
Japan
India
China
South Korea
Australia
Brazil
The Only Medical Device Market Research With:

✔

Procedure Volume Data & Trends


✔

Unit Sales Growth Analysis


✔

Average Selling Prices


✔

Competitor Shares by Segment & Country


✔

 SKU-Level Research Methods


✔

 The Lowest Acquisition Cost


Highly Detailed Segmentation
While this report suite contains all data, each of the markets are also available as stand alone MedCore reports. This allows you to get access to only the market research that you need. You can view all these included reports and segmentation here:
Procedure Volumes for Orthopedic Large Joint Replacement Devices – MedPro
Knee Replacement Devices Market – MedCore (18 Segments)
Hip Replacement Devices Market – MedCore
Bone Cement Market – MedCore
Buying all of these reports together in this suite package will provide you with substantial discounts from the separate prices. Request Pricing to Learn More
Full Segmentation Map for the United States


MARKET DATA TYPES INCLUDED
Unit Sales, Average Selling Prices, Market Value & Growth Trends
Procedure Volumes
Forecasts Until 2024, and Historical Data to 2014
Market Drivers & Limiters for Each Segment
Competitive Analysis with Market Shares for Each Segment
Recent Mergers & Acquisitions
Disease Overviews and Demographic Information
Company Profiles for Top Competitors
Related Press Releases from Top Competitors
LARGE JOINT DEVICES MARKET SHARE INSIGHTS
The competition level in the European large joint replacement market is much greater than that of the United States, with over twice as many major competitors. However, Europe is significantly led by Zimmer Biomet, DePuy Synthes, Stryker, and Smith & Nephew. These 4 competitors make up more than two-thirds of the European market. It's interesting to note, the United States market also sees these 4 main players as the leading competitors.
Zimmer Biomet led the overall U.S. and European large joint device market. Following their merger in 2015, the combined entity of the former Zimmer Holdings and Biomet Inc. held the lead in both hip and knee replacement devices, while trailing behind Stryker in bone cement in the United States. The merger caused both entities to sell off assets to comply with antitrust regulations. Although Zimmer Biomet remained the market leader in the large joint device market, its sales in both the U.S. knee and hip replacement segments declined slightly in 2017, as a result of supply issues related to production delays from the company's Warsaw North Campus facility.
Stryker enhanced their market share from 2016 and became the second-leading competitor in the overall U.S. large joint device market in 2017. Stryker's growth was largely due to the strengthening of their market position in the knee replacement device market, where they ranked second in 2017. Stryker's position is still behind DePuy Synthes in the European market.
Looking into the Asia-Pacific countries, the local competition starts to become more significant, particularly from manufacturers like Kyocera in Japan, AK Medical in China, and Maxx Medical in India.
All Companies Analyzed in this Study

Adler
Aesculap
AK Medical
Allegra Orthopaedics
Amplitude
AquaMed Japan
Arthrex
B. Braun
Baimtec Jinghang
Biorad Medisys
Biotechni
Care Rex
Cellumed
Ceraver
ConforMIS
Consensus Orthopedics
Corin Group
Dedienne Sante
DePuy Synthes
DJO Global
Evolutis India
Exactech
Exactech
FH Orthopedics
G-21
Global Orthopaedic Technology
Globus Medical
Groupe Lepine
Gruppo Bioimpianti
Heraeus Medical
Implantcast
Jiangsu Jinlu Group

JRI
Kyocera Corporation
LandMover Medical
Lima Corporate
LINK
Mathys
MatOrtho
Maxx Medical
Medacta
Medtronic
Microport
MN Solutions
OMNIlife Science
Ortho Development
Orthotech
Peter Brehm
SAMO
SeohanCare
Sharma Orthopedic
Signal Medical Corporation
Signature Orthopaedics
Smith & Nephew
StelKast
Stryker
Symbios
Tecres
Teijin Nakashima Medical
Teknimed
Uma Surgicals
United Biomech Japan
Weigao Ortho
Zimmer Biomet
Large Joint Replacement Statistics and Procedure Trends
There are nearly 1.6 million hip and knee arthroplasties in the United States every year. This number is expected to grow over the forecast period, due to the aging baby boomer population, the increasing number of highly active individuals and a rising obese demographic. An increasing number of younger patients undergoing large joints arthroplasty is also expected to contribute to the procedural growth. The fastest procedural growth in the large joint replacement device market was in knee replacement procedures, particularly within the knee replacement revision procedures segment.
Surprisingly, there are nearly the same number of hip and knee arthroplasties in Europe. This number is expected to grow over the forecast period as well due to the similar United States and global factors.
Osteoarthritis is the most prevalent joint disease and the most common form of arthritis. According to a study by Vos T et al. published in 2010, knee osteoarthritis was reported to account for more than 80% of the disease's total burden.
Based out of the Centers of Disease Control and Prevention (CDC), a survey conducted in the United States in 2015 reported a slightly higher diagnosis of arthritis in females (23.1%) than in males (18.6%), with an increasing prevalence in older populations. While it is more common in the over-50 population, younger populations with exceptionally high wear rates from activity or pathology are also susceptible to osteoarthritis. Nearly half of the affected population are under the age of 65, including an estimated 300,000 children.
Latest Market Developments
March 2018 – Stryker launches its first additive-manufactured hip implant, the Trident II Acetabular System which can be used with Mako™ Robotic Arm. The product features the company's additivemanufactured Tritanium® In-Growth Technology.
February 2018 – Exactech completes previously announced merger with TPG Capital. The agreement, which allows the company to go private, will provide capital to execute Exactech's strategic growth plans. Following the merger, Exactech's common stock is ceased trading on Nasdaq.
February 2018 – DePuy Synthes announces acquisition of a private software company, Orthotaxy, with the intention to develop a robotic assisted surgery application for total and partial knee arthroplasty.

For a Full Table of Contents From Any of the Country Reports in this Global Series, please
Contact iData
One of the the most accurate methods of market research in the medical device industry is to analyze the procedure volumes and trends. Through this study on large joint devices, iData Research has performed an analysis on the following procedure segments in order to increase the accuracy of our market sizing, and provide you with the volume of procedures over a 10 year range. While the below market segmentation map is representative of the United States, procedure volume data is also provided for the other regions within this complete series.
Procedure Volume Analysis Segments in the United States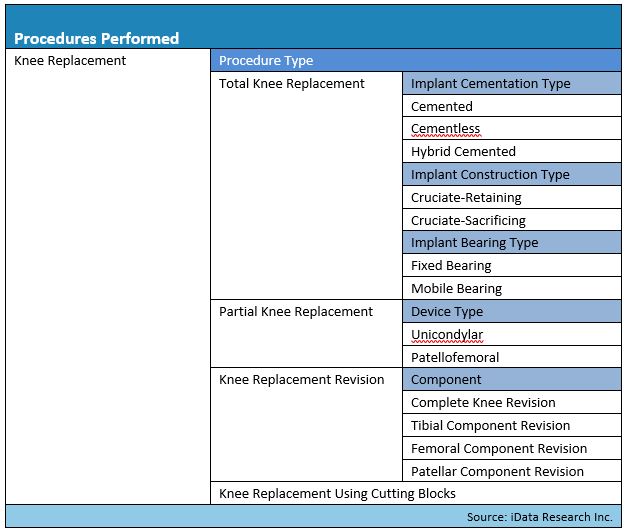 iData's 9-Step Research Methodology
Our reports follow an in-depth 9-step methodology which focuses on the following research systems:
Original primary research that consists of the most up-to-date market data
Strong foundation of quantitative and qualitative research
Focused on the needs and strategic challenges of the industry participants
Step 1: Project Initiation & Team Selection During this preliminary investigation, all staff members involved in the industry discusses the topic in detail.
Step 2: Prepare Data Systems and Perform Secondary Research The first task of the research team is to prepare for the data collection process: Filing systems and relational databases are developed as needed.
Step 3: Preparation for Interviews & Questionnaire Design The core of all iData research reports is primary market research. Interviews with industry insiders represent the single most reliable way to obtain accurate, current data about market conditions, trends, threats and opportunities.
Step 4: Performing Primary Research At this stage, interviews are performed using contacts and information acquired in the secondary research phase.
Step 5: Research Analysis: Establishing Baseline Estimates Following the completion of the primary research phase, the collected information must be synthesized into an accurate view of the market status. The most important question is the current state of the market.
Step 6: Market Forecast and Analysis iData Research uses a proprietary method to combine statistical data and opinions of industry experts to forecast future market values.
Step 7: Identify Strategic Opportunities iData analysts identify in broad terms why some companies are gaining or losing share within a given market segment.
Step 8: Final Review and Market Release An integral part of the iData research methodology is a built-in philosophy of quality control and continuing improvement is integral to the iData philosophy.
Step 9: Customer Feedback and Market Monitoring iData philosophy of continuous improvement requires that reports and consulting projects be monitored after release for customer feedback and market accuracy.