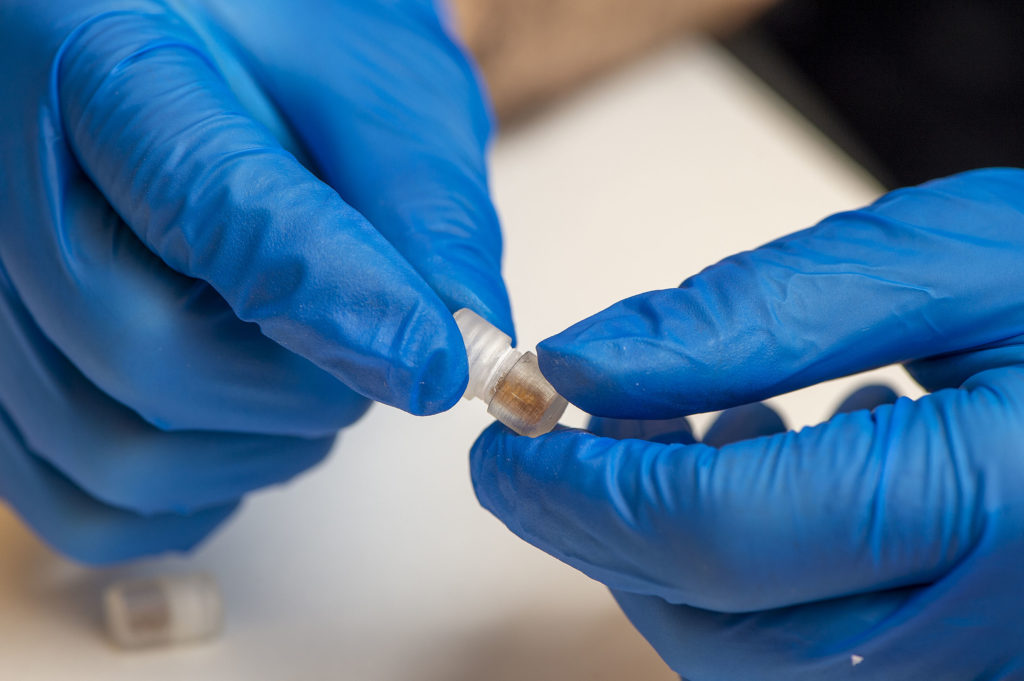 Gastrointestinal testing and surveying methods, such as endoscopies and colonoscopies, are often very invasive and are limited in how much of the small intestine they can reach. Thus, there is a need to develop devices or techniques that can both increase the visibility of the gastrointestinal tract and decrease invasiveness while preserving functionality.
Pill-shaped forms of colonoscopies exist to reduce invasiveness. Although they can also provide increased visibility of the GI tract, they cannot sample bacteria. Additionally, while video endoscopies allow issues like bleeding to be identified, they do not allow for a bacterial sample to be taken from the area to uncover further information about the issue.
New Bacteria Sampling Capsule
This new device being developed at Purdue University is the size of a pill, but can also take bacterial samples from within the body for analysis. Once the patient swallows the device, it could potentially examine more than just the colon, but also the mouth, esophagus, stomach, rectum, pancreas, gallbladder, and liver, and provide more insight into the small intestine than some devices are able to.
The tip of the device is sensitive to pH change, and its cap dissolves when it is exposed to an environment with a specified pH level. This allows bacteria to enter the device. A hydrogel inside the device absorbs the ingested liquid and expands, thus pushing against the opening of the device and sealing it off. Once the device exits the body, the capsule may be unscrewed and the sample recovered.
One of the most compelling features of this device is that it is inexpensive to produce, at a cost of approximately one dollar. It can be 3-D printed, and it requires no batteries. This is a stark difference from many other devices commonly used for endoscopies and colonoscopies.
Dr. Rahim Rahimi of Purdue University said:
"It's all about being able to take samples of bacteria anywhere in the gut. That was impossible before. This approach is providing new opportunities to study what type of bacteria are present in the gut. It would help us figure out how to manipulate these bacteria to combat disease."
Video Endoscopy Market
Traditionally, the Video Endoscopy market was dominated by a few surgical camera systems and imaging devices that are currently witnessing a shift towards 4K technologies. However, the new devices, such as the capsule developed at Purdue University, keep pushing the industry forward and introduce innovation into the market.
Register to receive a free Video Endoscopy Market Report Suite for U.S. 2020-2026 synopsis
As the level of innovation keeps rising, the US Video Endoscopy market is projected to exceed $1.2 billion in 2026. To gain more insight, the latest market analysis with the influence of COVID-19 can be found in the Video Endoscopy Market Report Suite. This research is one of the few studies available on the market that segments the entire market based on the Setting, split between the Hospital and Ambulatory Surgical Center operating rooms.
Via: Purdue University