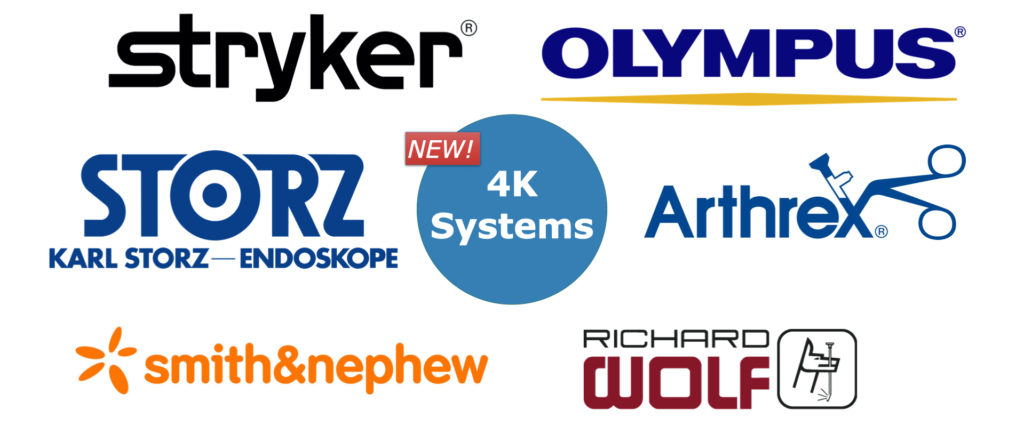 According to the latest study by iData Research, the US Video Endoscopy Equipment market was valued at $972 million by 2020. The US market has been growing consistently over the past few years due to the growing popularity of minimally invasive surgery (MIS).
Additionally, the market was primarily driven by the replacement of older and outdated systems along with a shift towards 4K systems. As a result, these trends had brought a significant level of innovation to the market with a majority of competitors releasing updated products.
Top Product Releases in the US Video Endoscopy Market
1. In 2015, Arthrex introduced the first 4K camera system to the market. As of June 2020, most of the major competitors introduced their 4K systems to the market, including:
• In March 2018, Olympus introduced the EasySuite® 4K, the next-generation integrated operating room solution for hospitals.
• In November 2017, Richard Wolf introduced ENDOCAM® Logic 4K camera system.
• In October 2017, Karl Storz launched IMAGE™ S 4U 4K camera system.
2. In May 2019, Stryker introduced its first Native 4K camera system, the 1688™ Advanced Imaging Modalities (AIM) 4K Platform, which is a complete visualization platform for surgical specialties. The system supports Spy® near-infrared (NIR) fluorescence imaging, which allows the surgeon to see indocyanine green (ICG) dye injected into the patients' blood. The system also features the Infrared Illumination System (IRIS) that allows surgeons to see infrared radiation output to help visualize and identify the ureters.
3. The most recent product introduction was the LENS® 4K system by Smith & Nephew in September 2019. This imaging system features a combination console, which combines the CCU, image management, and light source devices. Up to that point, Arthrex was the only competitor with such a combination device on the market.
Future of the US Operating Equipment Market
The video endoscopy market had been experiencing growth over the past years, and this is expected to continue as new technologies in the market become the new standard. Notable growth is projected in the combination console and image management device markets as increasing efficiency and converting to electronic medical records is currently a prevailing trend in the healthcare facilities.
Register to receive a free Video Endoscopy Market Report Suite for U.S. 2020-2026 synopsis
Despite the COVID19 pandemic, the US market value is still projected to exceed $1.2 billion in 2026. For more information, the market analysis with the influence of COVID-19 can be found in the latest Video Endoscopy Market Report Suite. This research is one of the few studies available on the market that segments the entire market based on the Setting, split between the Hospital and Ambulatory Surgical Center operating rooms.