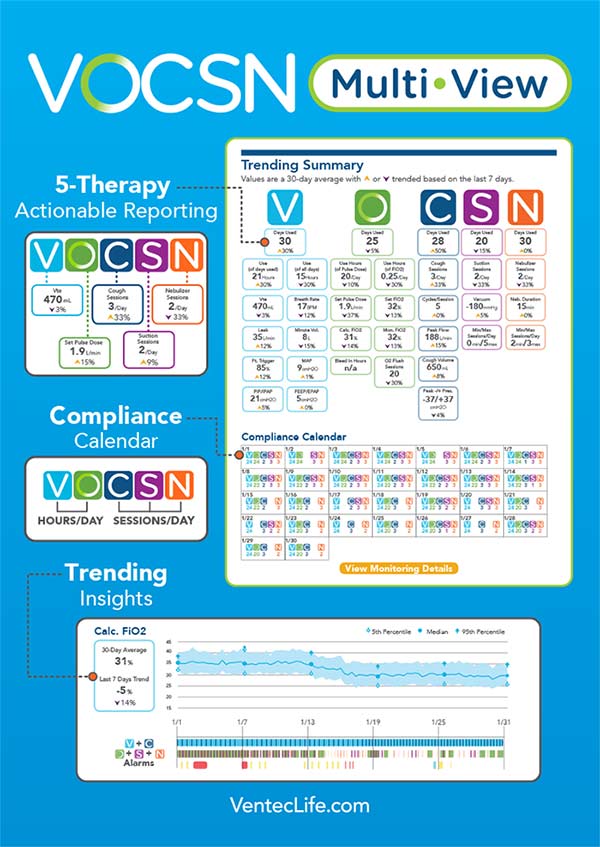 In a recent innovation in respiratory therapy, Ventec Life Systems has announced their Multi-View System. The Multi-View is able to monitor multiple respiratory therapies including ventilation, oxygen, cough, suction and nebulization (VOSCN). Physicians will be able to analyze trend insights, while monitoring their patients.
Register to receive a free Patient Monitoring Market Analysis, Size and Trends Report synopsis and brochure.
The trend summary provided by the Multi-View will give physicians the capability to quickly identify potential health convers and address them before they escalate further. Patient data is protected in the system, thanks to Ventec Life's partnership with Bridge-Tech Medical, as patient information is sent in an anonymous format that is secure. Additionally, the Multi-View system will be expanded and adjusted based on the feedback from physicians and respiratory therapists.
In a recent study, iData Research has found that clinically, there is a demand for high-performance devices with appealing features. Many modern monitors can display and integrate information from different devices across the hospital. Technologies are becoming more efficient, effective and safe to use. The Multi-View provides many appealing features such as next generation respiratory reporting, a therapy compliance calendar, therapy use trends, expandable monitors, an alarm summary, a settings summary, customizable reports, cloud access and GPS tracking. The incentive of the streamlined experience provided by Ventec Life can expect to drive the patient monitoring market in a positive direction.
"VOCSN is the only system to deliver integrated respiratory care and Multi-View now provides relevant data for caregivers to make informed treatment decisions in a way that's never been possible," said Chris Kiple, Chief Executive Officer of Ventec Life Systems. "Integrated Reporting opens a new chapter in respiratory care that we believe will lead to customized patient treatment plans, better health outcomes, and more cost-effective patient care."
The Multi-View data will be available in November through a beta, with a formal launch scheduled for 2020.
For Further Information
To get in an in-depth market overview of 22 countries, with insight through primary research and procedural volumes, please read iData Research's' 5,542 page Patient Monitoring Market Analysis, Size and Trends Report.