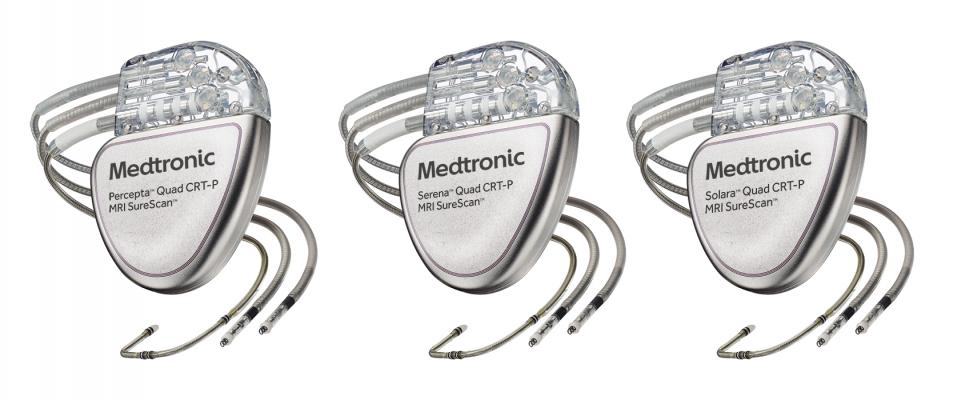 Medtronic has released its first-ever app-connected pacemaker called Azure. A pacemaker is an implantable device designed to regulate the electrical impulses of the heart. They are used to correct uneven heartbeats. Millions of patients have pacemaker implants to treat arrhythmia or heart failure. However, many patients do not understand how these devices function. This smartphone-connected pacemaker device was designed to give patients insight into their cardiac treatment.
The device is designed to accurately detect and reduce the likelihood of atrial fibrillation (AFib). In AFib, the heart beats with an irregular rhythm, due to the incorrectly generated electrical signals in the upper chambers of the heart. Many people with atrial fibrillation will not experience any symptoms. Even though they may not show symptoms AFib can result in complications such as a stroke or heart failure.
Azure™ by Medtronic
With Azure, Medtronic can now offer:
• patients the ability to have MRI (magnetic resonance imaging) scans in a greater range of machines. Previously, some patients were unable to be placed in an MRI machine.
• improved longevity of up to 15.8 years which shows a 24% improvement from previous systems. This update reduces the amount of device replacements required. There is a small but finite risk of infection and other complications each time a battery change is performed. Although the risk associated with this procedure is relatively low, 1 in 100 people will still develop an infection post op.
• new features that allow connectivity through Medtronics-exclusive BlueSync technology. The technology within Azure enables automatic, secure, wireless communication via the Medtronic CareLink™ Network, a Bluetooth Low Energy, remote monitoring system. This connectivity provides more timely alerts of clinically relevant patient events that can be reviewed by a clinician at any time, allowing patients to receive expert medical advice from their physician while at home or traveling.
Medtronic published a study in May 2020 demonstrating that the mobile apps better-engaged patients in monitoring their heart health. The usage of the Medtronic MyCareLink Heart (MCLH) mobile app was compared to traditional bedside monitoring devices. The study found that on average patients using the MCLH completed 30 percent more of their scheduled remote monitoring transmissions to their health care provider than patients using the traditional bedside monitors.
"The launch of Azure, our most advanced pacemaker, is a testament to our commitment toward re-imagining innovation and delivering improved outcomes while reducing the burden on healthcare systems. It is a boon for heart patients and caregivers, especially in situations such as the COVID-19 pandemic, providing peace of mind and freedom,"

Madan Krishnan, Vice President, India Medtronic Pvt Ltd and Minimally Invasive Therapies Group APAC.
Medtronic Market Share Insight
Medtronic leads the pacemaker market with single-chamber, dual-chamber, and leadless devices. Medtronic holds over 50% of the $2.2 billion global pacemaker market. They pioneered the development of pacemakers and have long been the leading manufacturer. Medtronic was first to market in the U.S. with its FDA-approved MRI-safe pacemaker, Revo MRI™ SureScan™. Through its first-mover advantage, the MRI-safe product has played a significant part in reinforcing Medtronic's hold on market share. Medtronic's remote monitoring CareLink® network is compatible with its pacemakers, ICDs, and CRT devices.
The second-largest competitor in the market is Abbot, holding over 20% market share. Abbott entered the market in 2017 with the acquisition of St. Jude Medical. The company has a very competitive pricing model and leverages off relationships from its electrophysiology and cardiac ablation business to gain more accounts within the CRM market.
Global Pacemaker Market Forecast
According to the market analysis by iData Research, the global pacemaker market size was valued at $2.2 billion by 2020. MRI-safe pacemakers have been applying upward pressure on the ASPs of pacemakers. However, as pacemaker customers are typically price sensitive, and pacemakers are viewed as commodities within the CRM market, price increases are not expected.
Register to receive a free Global Pacemaker Market Analysis for 2019-2025 synopsis
The pacemaker market growth will be driven by unit sales, allowing the global market size to reach $2.6 billion in 2025. The unit growth will be primarily driven by the aging population and the rising incidence of cardiovascular diseases.
Via: Medtronic