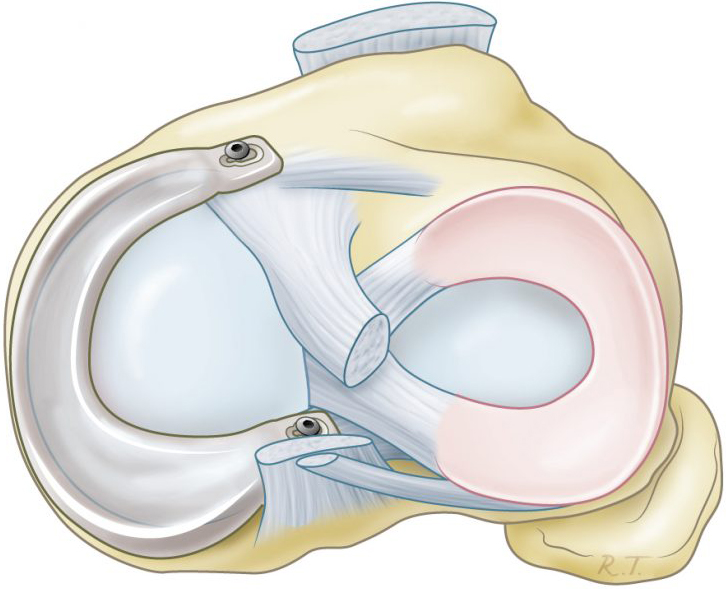 Interview with ATRO Medical CEO on Trammpolin® Meniscus Prosthesis
Meniscal tears can happen from a sudden forceful impact or twisting of the knee, which frequently occurs in athletic injuries. Depending on the lesion type, size, vascularization and location, doctors can asses if the tear can be repaired by suturing, or if the damaged parts need to be removed by meniscectomy.
Meniscectomy procedures remain the majority of meniscus procedures performed. The meniscus acts as a shock absorber and prevents friction between the two bones. It also helps stabilize the knee along with the ligaments and protects the articular cartilage of the knee, aiding in the prevention of degenerative arthritis. Once removed, patients often experience accelerated wear of the knee joint and are at risk of developing osteoarthritis. To treat knee pain associated with this, there are not many options for patients who often have to wait years to be eligible for a total knee replacement (TKR). ATRO Medical has been working on a solution that would address this 'treatment gap'.
Trammpolin®, by ATRO Medical, is a meniscus prosthetic designed for patients who have received meniscectomy procedures and now suffer from persistent knee pain on the inner (medial) side of the knee. The prosthesis is anatomically shaped and acts as an alternative for patients who are not yet eligible for a TKR.
Read what ATRO Medical CEO, Jan Hunik, has to say about his company and the Trammpolin device in an interview conducted by Medgadget:
Cici Zhou, Medgadget: Tell us about the founding of ATRO Medical. What was the inspiration behind the Trammpolin meniscus prosthesis?

Jan Hunik, ATRO Medical: There are approximately 1 million arthroscopic procedures in the US annually, and procedures for meniscus trauma often lead to removal of meniscus tissue. [We previously thought that] the meniscus has a limited function for the knee and removal has little consequences for the patient. This is not the reality and many people develop accelerated wear of their cartilage and chronic pain (osteoarthritis).

The current endpoint for these patients after (on average) 13 years of pain is a total knee replacement. This is a not a good solution for relatively young patients (below age of 65).

Although it seems odd, there is no meniscus prothesis on the market. Why not replace the dysfunctional native meniscus with an anatomical shaped meniscus prosthesis?

Medgadget: What makes the Trammpolin prosthesis special? Are there studies showing that it works and is better than traditional treatments?

Hunik: We did not yet compare it to the traditional way of pain treatment: pain medication. However, we see in clinical practice that medication is only partly effective as this allows patients to maintain their daily activity level but requires stronger medication over the years.

Visco-supplementation and corticosteroid injections are also not effective, and it explains the rapid growth of total knee replacement (TKR) procedures in patients below 65 years of age. A TKR is highly invasive and has a low patient satisfaction in this age group compared to older patients. Trammpolin® is less invasive compared to TKR and preserves the native knee joint.

Medgadget: Looking to the next 5-10 years, what are the biggest goals for ATRO Medical?

Hunik: Every year approximately 75,000 new patients with osteoarthritis in the context of meniscus trauma and meniscectomy can greatly benefit from our device and regain their normal daily activity. We want to obtain FDA approval and postpone the TKR in the younger patient.

Via: Medgadget
Trammpolin® has not yet been approved by authorities for commercial sale and may only be used in a clinical study. ATRO Medical is currently conducting its first clinical study (AIR) in the Netherlands. Visit https://www.atromedical.com/ for more information.
Orthopedic Soft Tissue Repair Market
In 2019, there were nearly 2.5 million soft tissue repair and reconstruction procedures performed in the United States, including Achilles tendon, rotator cuff, shoulder labrum, biceps tenodesis, anterior and posterior cruciate ligament (ACL/PCL), meniscal repair and meniscectomy and hip arthroscopy.
The major driver of the market is demographic factors, mixed with an active lifestyle trend and established professional sports industry. The majority of musculoskeletal injuries occur due to recreational and sports activities. The patient demographics include both younger populations, also involved in professional sports, as well as the elderly population, usually requiring treatment for degenerative disorders and chronic diseases.
The number of meniscal repair procedures is expected to grow at a low single-digit CAGR, while meniscectomy procedures are projected to slowly decline over the forecast period.
Overall, the U.S. market for orthopedic soft tissue repair was valued at $1.7 billion in 2019. This is expected to increase at a CAGR of 5% to reach $2.4 billion by 2025.
To read more refer to iData Research's report:
Sports Medicine Market Analysis, Size, Trends | Global | 2019-2025