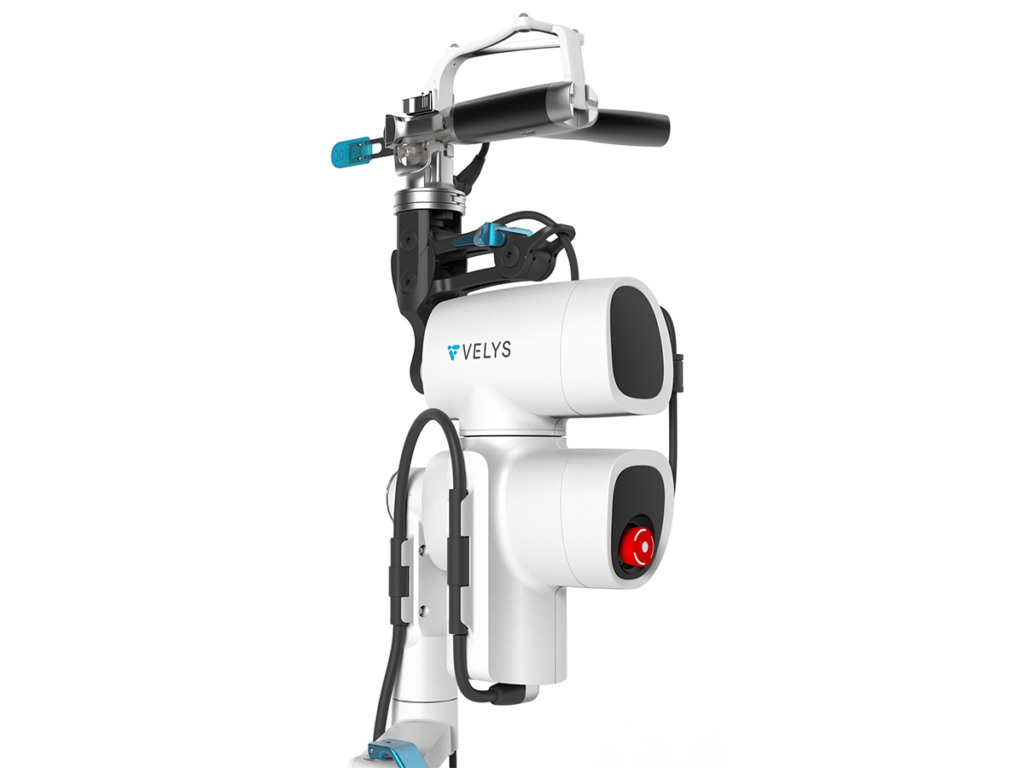 DePuy Synthes has recently announced they received 510(k) FDA Clearance for VELYS, a robotic-assisted system designed for use with the Attune total knee system. DePuy Synthes has described the Velys platform as a first-of-its-kind, table-mounted solution with an efficient design capable of integrating into any operating room. The company said it adapts to a surgeon's workflow, offers control they are used to and helps execute accurate bony cuts.
With a growing and aging patient population, demand for joint replacement surgery is increasing. But across the industry, data from DePuy Synthes has shown up to 20% of knee replacement patients aren't satisfied with the outcome of their surgery.  Technology advancements such as Velys help surgeons address pain, function, and alignment that could help facilitate a positive improvement in quality of life for patients.
It simplifies knee replacement surgery by providing: 
• Instinctive User Interface: Clear interface, streamlined clinical application, adaptable workflow and fast registration process aims to improve procedural efficiency; 
• Integrated Operating Platform: ATTUNE Knee INTUITION™ Instrumentation and an easily maneuverable robotic design streamline OR integration and help improve daily OR flow;
• Natural Control™ Technology: Proprietary technology maintains the saw cut plane to help execute precise, reproducible surgeon-controlled cuts;
• Valuable Insights: Gap balance data to help surgeons visualize and predict joint stability.
Additional studies have demonstrated that procedures performed using navigation systems across medical fields result in more accurate surgeries. Particular benefits include better outcomes and fewer complications and revisions during surgery. This reduces the length of stay for patients, resulting in cost savings. In addition, younger patients have increased demand for precision and for preventing unnecessary revisions.
"I have found the Velys Robotic-Assisted Solution to be accurate, fast, and efficient, the device enables me to evaluate the bony anatomy and soft tissue envelope of the knee to plan the optimal implant position and then use the robotic-assisted solution to deliver and execute the plan. I've found my knees to be well balanced at the end of the procedure and my patients are doing well post-operatively."

– Dr. Mark Clatworthy, orthopaedic surgeon at MercyAscot Hospital in Auckland, New Zealand, who performed the first ATTUNE Knee procedure using the VELYS Robotic-Assisted Solution.
Knee Replacement Device Market Players
Zimmer Biomet led the knee replacement device market in the United States. Before their merger, Zimmer ranked first and Biomet ranked fourth in market share. Stryker followed closely behind claiming the second-leading position in the knee replacement device market. DePuy Synthes was the third-leading competitor within the market claiming over 20% market share. 
The Attune® Primary Total Knee System is one of DePuy's more popular knee implants. In March 2017, DePuy Synthes reported the positive clinical and economic success of the Attune® Primary Total Knee implant. This report followed an independent analysis conducted by the National Joint Registry for England, Wales, Northern Ireland and the Isle of Man, which also reported the clinical success of the implant. 
Knee Replacement Device Market Size and Forecast
Overall, the U.S. Knee Replacement device market was valued at over $4.2 billion in 2019. This is expected to increase to almost $5 billion by 2025. The market is expected to experience strong growth, driven by the increase in unit sales as both the number of obese individuals and individuals with active lifestyles rise. An increase of post-traumatic arthritis prevalence caused by active lifestyles will contribute to the market growth. 
Register to receive a free US Market Report Suite for Knee Replacement Devices  2018 – 2024 synopsis
The use of robotic assistance platforms and intelligent instrumentation, such as sensors, during total knee arthroplasty procedures is also increasing. The adoption rate of these products will be hindered by the additional cost that their usage adds to the cost of the knee replacement procedure. However, the COVID19 pandemic  is expected to improve the robotic technology adoption rates within industry as the surgeons aim to minimize the spread of the virus.
Via: J&J