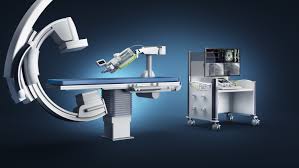 Register to receive a free Robotic Surgery and Navigation Devices Market Analysis | Global | 2019-2025 | MedSuite  synopsis and brochure
Corindus Vascular Robotics has recently announced that it has entered into a definitive merger agreement to be acquired by Siemens Healthineers AG. Under the merger agreement terms, Siemens Medical Solutions, a wholly-owned subsidiary of Siemens Healthineers AG,  will acquire all issued and outstanding shares of common stock of Corindus for $4.28 per share in cash, representing an aggregate purchase price of approximately $1.1 billion.
Corindus engineered the CorPath platform, the first robotic-assisted vascular interventions that received U.S. FDA clearance. Robotic systems can help protect cardiac catheterization lab personnel from additional radiation exposure.
"We are pleased to have reached this agreement with Siemens Healthineers," said Mark J. Toland, president and chief executive officer of Corindus. "We believe the transaction will deliver immediate, compelling and certain value to all Corindus stockholders, as well as substantial benefits to our customers. The combination of Siemens Healthineers' advanced, high-quality imaging, digital and artificial intelligence tools with Corindus' precision robotics platform has the potential to transform the way healthcare is delivered to those suffering from cardiovascular or peripheral disease. The tremendous technology synergies and shared vision between both companies should allow us to achieve a seamless integration between our businesses."
As recently reported by iData Research, there is an ongoing and significant push among healthcare workers and educators to reduce infections and failure rates across acute and alternative settings in the United States. This has limited some market segments for vascular access, as catheter-related bloodstream infections, thrombosis and other complications have, in many cases, rendered catheter insertion a last resort. The potential for alternative methods, such as using an AV fistula in place of a dialysis catheter, combined with the goal of decreasing insertion attempts and increasing dwell time, is the principal market limiter in the vascular access space. As healthcare workers continue to adopt recent guidelines, negative pressure on demand for certain vascular access products will persist.
"Corindus has established a leading position in vascular robotics with a compelling technology platform for robotic-assisted coronary, peripheral and neurovascular procedures," said Michel Therin, president, advanced therapies at Siemens Healthineers. "The acquisition of Corindus, combined with Siemens' strong advanced therapies portfolio will help further advance the growth of vascular robotics. The integration of our technologies could lead to reduced variability, improved efficiency, expanded access to care and ultimately improved patient outcomes. We look forward to welcoming the Corindus team to Siemens Healthineers."
For Further Information
More on the robotic surgery device market in the U.S. can be found in a series of reports published by iData Research, entitled the Robotic Surgery and Navigation Devices Market Analysis | Global | 2019-2025 | MedSuite