This year's conference marked the 30th anniversary of the annual TCT educational meeting, and the turnout was spectacular. Over 10,000 attendees gathered at the San Diego Convention Centre to see the latest in cardiovascular technology.
The iData team found similar success at the conference with our annual physician survey. We asked a variety of questions relating to product preferences, procedure volumes, and received responses from over 200 cardiologists. Contact us to learn about obtaining the results from this survey, or ask us about conducting a customized survey to answer specific questions for your team.
An overarching trend across the new products and technologies we saw this year at TCT was an increased focus on structural heart and complex PCI solutions.
Boston Scientific – Trial Results and FDA Approvals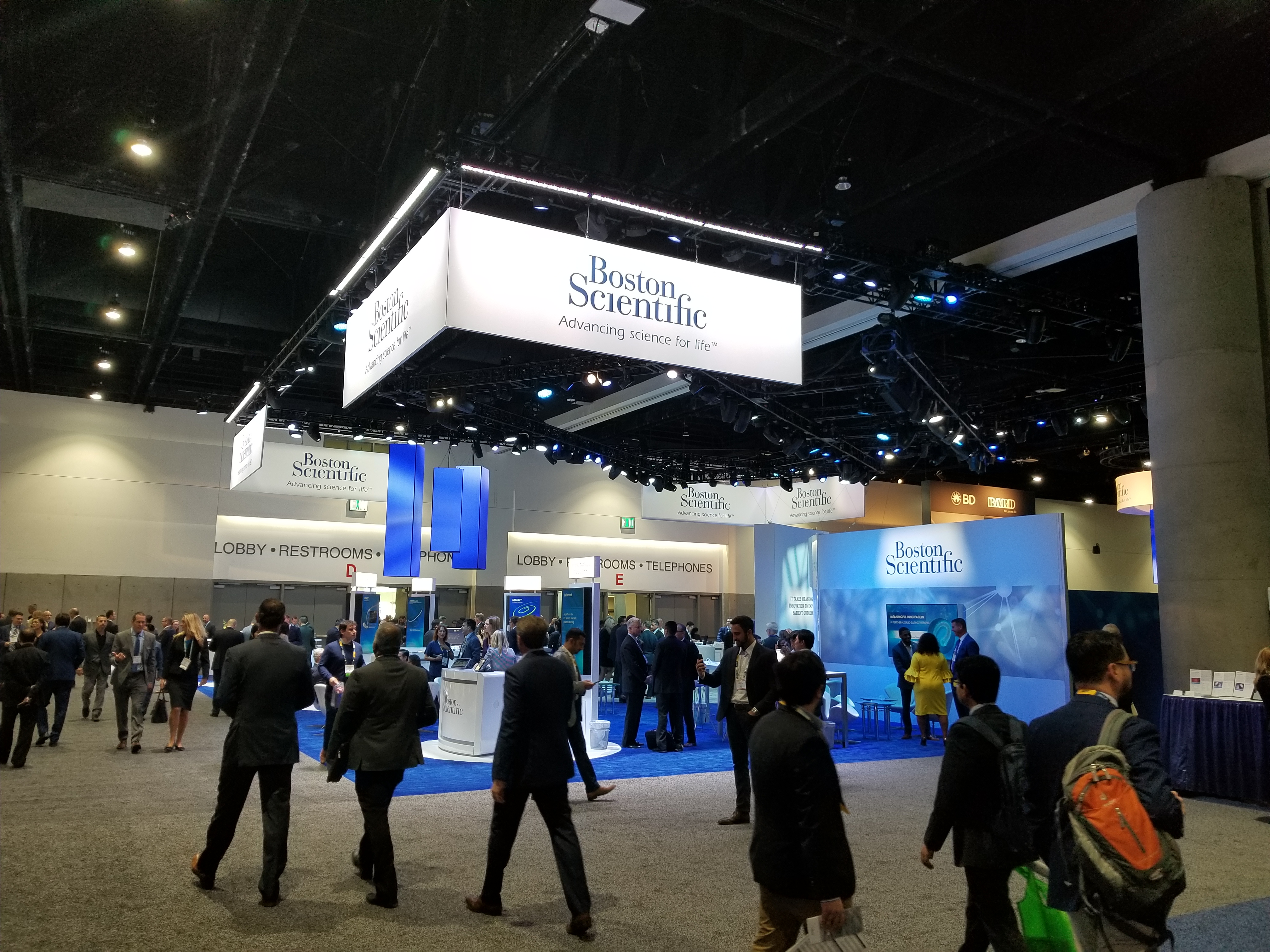 Our team was able to speak with the team at Boston Scientific to get some comments regarding their latest products showcased at this year's TCT conference, including the WATCHMAN LAAC Device, an integral part of their structural heart portfolio, as well as the highly-debated IMPERIAL trial results involving their Eluvia™ drug-eluting stent.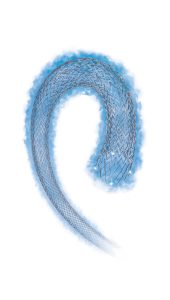 The IMPERIAL trial evaluated the Eluvia™ Drug-Eluting Vascular Stent System versus the Zilver® PTX® Drug-Eluting Peripheral Stent in the first head-to-head trial of DES in patients with superficial femoral artery disease. As the first-late breaking session presented at this year's TCT, data showed that the Eluvia Stent demonstrated superior 12-month data:
Key findings include:
– Statistically superior primary patency rate of 88.5 percent in patients treated with the Eluvia stent compared to 79.5 percent in patients treated with Zilver PTX (p=0.0119);
– Eluvia demonstrated half the TLR rate of Zilver PTX (4.5 percent TLR rate for Eluvia versus 9.0 percent TLR rate for the Zilver PTX cohort);
– Over 95 percent of the Eluvia patients were free of major adverse events at one year as compared to 91.0 percent with Zilver PTX.
On Monday, September 24, the company announced it had received FDA approval to market the Eluvia™ Drug-Eluting Vascular Stent System, the first device to offer sustained release of antiproliferative drug to treat patients with peripheral artery disease (PAD). The unique drug-polymer combination of Eluvia offers a sustained release of the drug paclitaxel out to one year, preventing tissue regrowth that might otherwise block the stented artery when it is most likely to occur.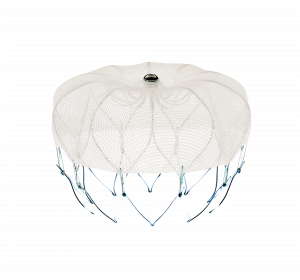 During a keynote presentation at TCT 2018, results from a sub-analysis of the final two-year EWOLUTION European registry data demonstrated that the WATCHMAN™ Left Atrial Appendage Closure (LAAC) Device continues to be a safe and effective alternative to long-term warfarin therapy, offering comparable stroke risk reduction and a significantly reduced risk of major bleeding for patients with non-valvular atrial fibrillation (AF).
The comprehensive analysis evaluated stroke rates of patients implanted with a WATCHMAN after the point of follow-up where they switched to a single antiplatelet agent or no medical therapy. After switching, the patients with a WATCHMAN device showed a significantly reduced risk of major bleeding, with no increase in stroke rate.
– An 80 percent risk reduction for ischemic stroke as compared to predicted rates based on risk scores;
– A 73 percent risk reduction of bleeding as compared to predicted rates for patients on warfarin.
COAPT Results for Abbott's MitraClip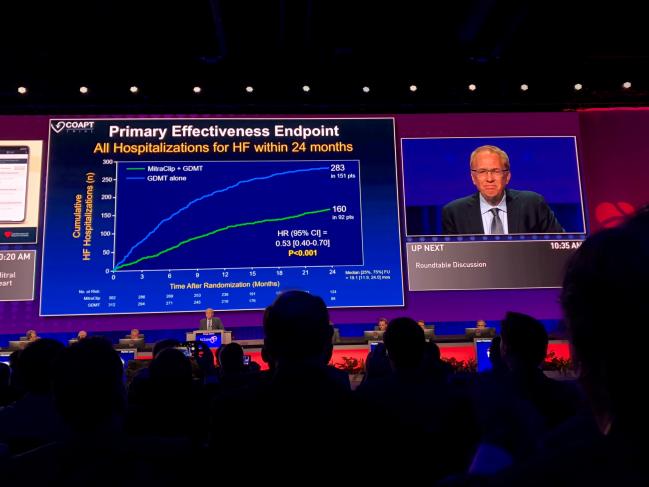 The much-anticipated results from the COAPT trial were revealed at the show, and the data showed that annual hospitalization rates were significantly lower in patients with the MitraClip versus those solely receiving medical care. Abbott's transcatheter clip-based therapy has been used to treat more than 65,000 patients worldwide in the past decade, and they recently received FDA approval for a next-generation version of this device. COAPT's lead investigator, Gregg W. Stone, MD, believes the positive clinical results will encourage the FDA to consider expanding current indications for Abbott's MitraClip to treat secondary mitral regurgitation.
Integrated and Image-Guided Solutions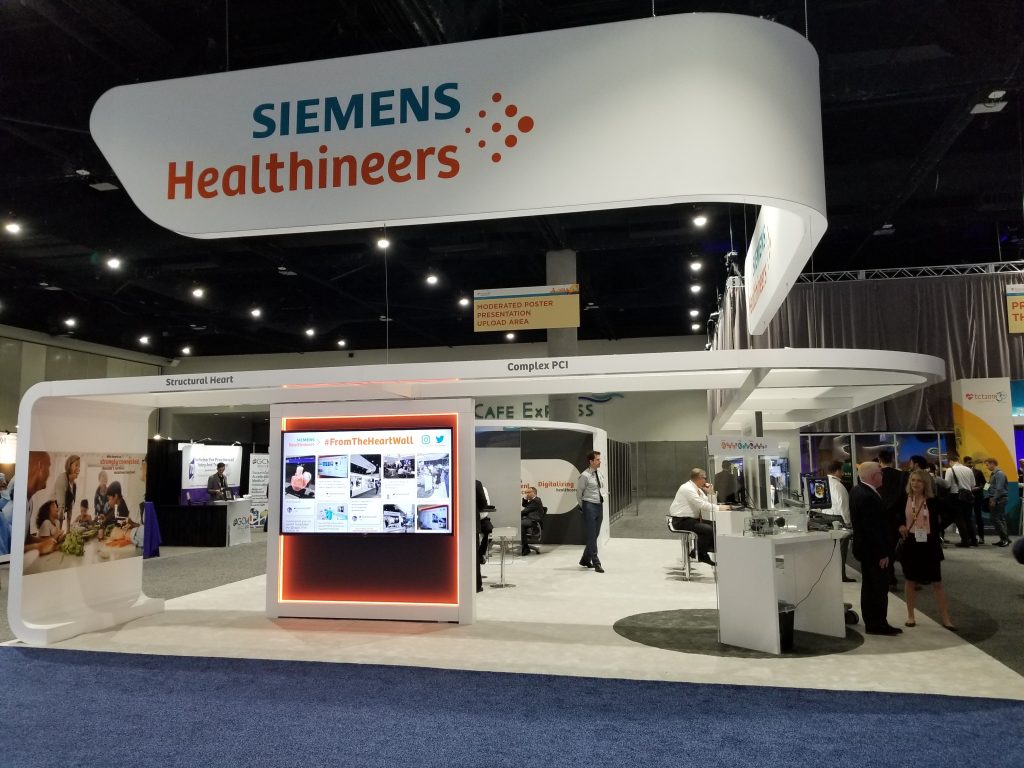 Siemens Healthineers debuted a new real-time volume intra-cardiac echo (ICE) catheter for exclusive use with their Acuson SC2000 Prime ultrasound system. This total structural heart disease solution helps to improve workflow throughout all stages of patient management, providing critical visualization necessary to perform heart valve repair and replacements.
Philips showcased a number of their newest releases including Azurion, a next-generation imaging and navigation system designed to improve physician control during sophisticated procedures such as complex PCI. Another product on display was a portable device, the Philips CX50 ultrasound system, updated with a new transducer placed closer to the heart. This added feature allows for more reliable diagnosis of structural heart disease.
Many other companies also dabbled in high tech imaging systems including GE's cardiovascular ultrasound systems and Abbott's virtual reality technology leading the future for interventional training.
Final Thoughts
Even with three full days, it was impossible to see everything there was at the conference. There was never a dull moment at TCT with exciting new innovations on display at the exhibitor hall, live case theatres and some booths even had their own beverage and dessert stations. If you were at the conference, you may have also seen a number of physicians walking about with complimentary iData Research tote bags or mugs from our booth, or gone home with one yourself.
If you missed meeting us this time around, contact us next year at TCT 2019 to see a live demo of our research, or even sponsor our survey to have specific questions asked.