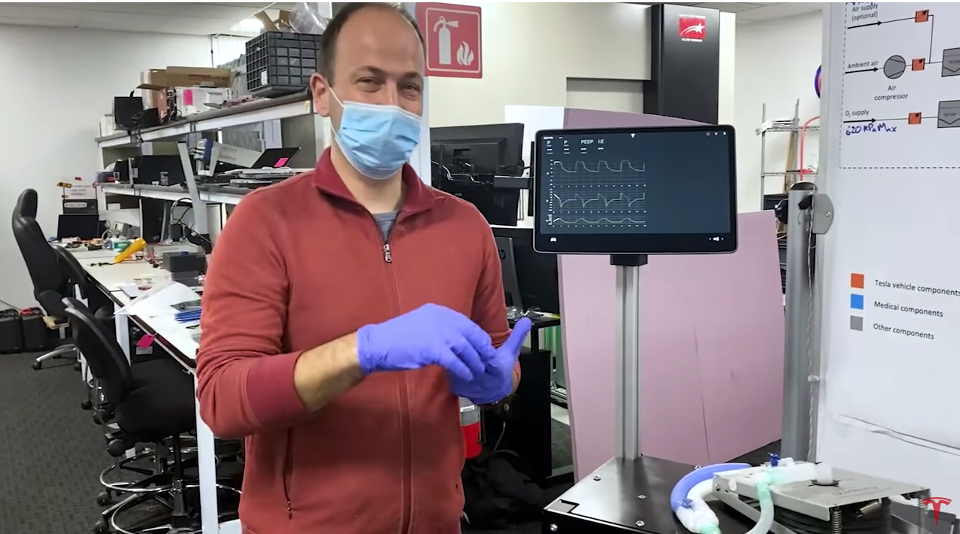 As ventilator shortages due to the coronavirus (COVID-19) continue to worsen throughout the Unites States, Telsa has redirected its focus to address the shortages, purchasing BiPAP breathing machines which can be re-purposed as non-invasive ventilators and shipping 1,000 ventilators from China to hospitals in California. Partnering with Medtronic, Tesla CEO Elon Musk has been reportedly designing and manufacturing ventilators in Tesla's Gigafactories and Musk's SpaceX has been engineering "proportional solenoid valves" for Medtronic ventilators.
This week, engineers from Tesla released footage previewing a prototype ventilator made from electric car parts. By using car parts, Tesla is taking advantage of components that are readily available, and that their engineers are familiar with, without limiting supplies other medical device manufacturing companies require to manufacture ventilators.
The prototype is composed of a lithium-ion battery, pumps, compressors, tubes and an oxygen mixing chamber. The design also features components from the Model 3 including HVAC components, its infotainment computer system and touch screen display panel which tracks oxygen input and carbon dioxide output.
Despite accelerated FDA approval processes for coronavirus-related treatments, getting approval for a device as complex as a ventilator will take time. It is uncertain whether or not Tesla will be given approval to the design in high volume.
Via: Forbes
COVID-19 has already caused a significant social and economic impact on medical device organizations world wide. At iData Research, it is our prime responsibility to keep you updated on the latest market trends in the industry. We are working hard to update reports within our report library to reflect on the changes in the market due to the effects of the coronavirus. Through our MedSKU service, our clients will be able to track the changes within different market segments based on the hospital purchasing data.
In addition, we have created a dedicated page, COVID-19: Implications for the Medical Device Industry, to post news updates and provide information on the current market situation. We hope that the page can help industry leaders ask the right questions and shed light on what the future might hold for different medical devices markets.