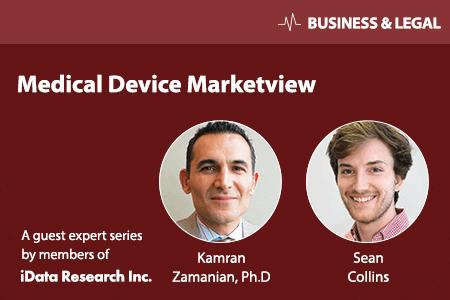 By Kamran Zamanian, Ph.D, and Sean Collins, iData Research Inc.
With less than 25 million residents, Taiwan flies under the radar of many medical device manufacturers. However, the low penetration rate of bone graft substitutes, a rapidly aging population, huge profit margins in the patient paid market segment, and the emerging allograft and bone morphogenic protein (BMP)/growth factor segments make Taiwan a potentially lucrative target for orthopedic biomaterial manufacturers considering expansion in the Asia Pacific region.
Bone Graft Substitutes: A Brief Introduction
Bone graft substitutes are designed to fill bone voids or act as extenders, thereby eliminating or reducing the need for autograft harvesting. These products are divided into four general categories:
Allografts — bone procured from the donation of another person.
Demineralized Bone Matrix (DBM) — a processed form of allograft.
Synthetics — non-biologic material that mimics the inorganic portion of natural bone. In Taiwan, some synthetic bone graft substitutes are reimbursed by Taiwan's National Health Insurance (NHI). However, patients pay out-of-pocket for select synthetic products.
BMP/Growth factor — a group of small, soluble proteins that bind onto cell surface receptors, triggering a series of signals that regulate the body's ability to grow, renew, and heal. BMP/Growth factor is not currently available in Taiwan.
Bone graft substitutes are widely used in a variety of indications, including dental, spine, trauma, large joint, foot & ankle, craniomaxillofacial, and oncology.
To continue reading, please visit Med Device Online
For Further Information
More on the orthopedic biomaterials market in the U.S. can be found in a series of reports published by iData entitled the U.S. Market Report Suite for Orthopedic Biomaterials. This report covers the following market segments: orthopedic bone graft substitutes, orthopedic growth factors, orthopedic stem cell therapy, orthopedic hyaluronic acid viscosupplementations, orthopedic cartilage repairs, and spinal machined bone allografts.