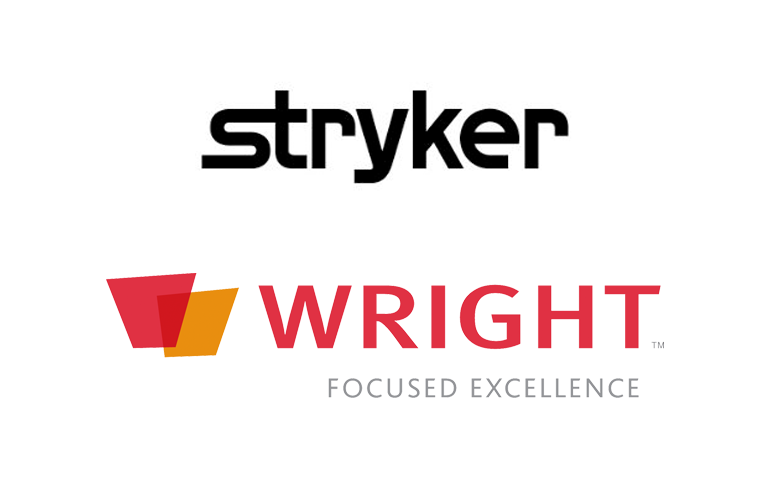 Stryker has announced it has cleared all regulatory hurdles previously in the way of its planned $4.7 billion acquisition of Wright Medical. The tender offer was initiated back in November 2019 and has now been completed as of November 11, 2020. 
"Wright Medical has built a successful business, and together we look forward to working with customers to continue delivering solutions that improve patient outcomes,"

 Kevin Lobo, Chairman and Chief Executive Officer, Stryker
Wright Medical was founded in 1950 in Memphis by an orthopedic salesman Frank O. Wright. It is a global medical company focused on extremities and biologics products. The company currently offers surgical solutions for upper extremities (shoulder, elbow, wrist, and hand), lower extremities (foot and ankle), and biologics products. 
Stryker was founded in 1946 by Dr. Homer Stryker. The company breaks down its products into three product groups: medical/ surgical, reconstructive/ neurotechnology, and spine. The medical and surgical group offers power tools, surgical equipment, computer-assisted surgery systems and applications, minimally invasive surgical solutions, and products pertaining to patient care and EMS. This new acquisition will allow Stryker the opportunity to drastically increase its market share within the upper extremities market, including the fast-growing foot and ankle market. 
Competitive Market Share Analysis
Prior to the acquisition, Wright Medical held approximately 20% of the U.S. small bone and joint orthopedic device market. They held over 26% of the 1 billion foot and ankle device market. Over the years, Wright Medical has become the definitive foot and ankle market manufacturer by offering a complete suite of products for orthopedic surgeons. Wright Medical has been slowly gaining market share over the past several years, which is partly due to their increased shoulder reconstruction portfolio. 
Stryker held the fourth-leading position in the $2.6 billion U.S. market for small bone and joint orthopedic devices, with a 7.7% share. The company had a notable presence in both the foot and ankle as well as the hand and wrist device markets. Stryker held 6.7% of the elbow repair market and around 3% of the shoulder reconstruction market. Unlike Wright Medical, Stryker was more focused on large joint reconstruction. Their hip and knee implant sales generated over half of their orthopedics business revenue, while trauma and extremities revenue accounted for approximately 30%.
Procedural Analysis and Market Forecast
To make this acquisition happen, both companies agreed to divest all assets related to finger joint implants and STAR total ankle replacements. The companies have agreed to sell assets to DJO Global. Stryker's $4.7 billion bid for Wright, announced last November, is one of the largest holdover deals from 2019 that had to clear regulatory hurdles. Wright medical brings a highly complementary product portfolio to Stryker which will undoubtedly push them into the #1 spot for the extremity market holding over 27% of this nearly $3 billion market in 2020. 
Register to receive a free Market Report Suite for Small Bone and Joint Orthopedic Devices 2019 – 2025 synopsis
In 2019, the US small bone and joint orthopedic device market saw over 1.9 million procedures performed and is expected to experience moderate growth over the next five years, reaching nearly $3.7 billion by 2025. The extremity market is also seeing a gradual shift to arthroplasty (replacement) instead of arthrodesis (fusion). Improved device durability, minimally invasive options, and the ease of revision open the door for younger patients to use implants. Companies are also educating more orthopedic surgeons as they invest in the relatively underdeveloped extremity markets. 
Via: Stryker, Wright