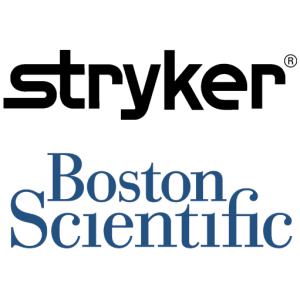 According to sources at the Wall Street Journal, Stryker had recently begun a takeover approach to Boston Scientific. However, only two days following this report, Stryker confirmed in a regulatory filing that they are not in merger talks with Boston Scientific.
Following the original news release and prior to Stryker's official statement, speculation was high. The notion of a merger between Boston Scientific and Stryker came as a surprise, but to many, it was not an implausible outcome.
The two companies are no strangers to doing business together. In 2010, the pair participated in a business transaction that saw the sale of Boston Scientific's neurovascular unit to Stryker for $1.5 billion.
Should Boston Scientific and Stryker be willing to engage in another deal, as was previously speculated, the two major players would combine to form an industry behemoth worth over $110 billion.
"A successful acquisition of Boston Scientific by Stryker would lead to a combined entity with annual revenues north of $20 billion, rivaling that of current medical device manufacturing leaders like Medtronic and Johnson & Johnson," says Jeffrey Wong, Analyst Director at iData Research. "It would also greatly expand Stryker's existing product portfolio to encompass a broader spectrum of healthcare applications."
Stryker already holds a leading position in the orthopedics market, performing particularly well in spinal surgery as well as large joint and small joint reconstruction devices. As a result of the hypothetical merger with Boston Scientific, Stryker could expect to elevate their position in the stroke prevention related heart device markets by gaining ownership to the former's extensive line of heart devices, including a variety of cardiac rhythm management products and the acclaimed WATCHMAN™ Left Atrial Appendage Closure (LAAC) Device for managing stroke risk and systemic embolism.
The medical devices community has seen its fair share of mergers and acquisitions over the past year. An overview of top acquisitions in 2017 can be found here.
More acquisition news in 2018:
Medtronic Acquires Gastrointestinal Diagnostic Developer Crospon in Deal Worth $45 Million
Dentsply Sirona Acquires Cleverdent
RTI Surgical Announces Acquisition of Zyga Technology
Boston Scientific to Acquire Maker of Treatment for Severe Mitral Regurgitation
Johnson & Johnson Medical Devices Companies Acquire Orthotaxy to Develop Next-Generation Robotic-Assisted Surgery Platform in Orthopaedics
Orthofix Announces Agreement to Acquire Spinal Kinetics
Recent Acquisitions Eroding Prices in Billion Dollar European Interventional Cardiology Market
Manageable Divestiture Likely in the Works for NxStage/Fresenius Merger
About iData Research
iData Research (www.idataresearch.com) is an international market research and consulting firm, dedicated to providing the best in business intelligence for the medical device industry. Our research empowers our clients by providing them with the necessary tools to achieve their goals and do it right the first time. iData covers research in: Spinal Implants and VCF, Spinal MIS, Orthopedic Soft Tissue Repair and Regeneration, Orthopedic Trauma, Large & Small Joints, Laparoscopy, Urology, Gynecology, Endoscopy, Dental Operatory Equipment, Dental Material, Dental Lasers, Dental Prosthetics, Dental CAD/CAM, Dental Bone Graft Substitutes, Ultrasound, X-Ray Imaging, Diagnostic Imaging, Oncology, Ophthalmics, Vascular Access, Interventional Cardiology, Cardiac Surgery, Cardiac Rhythm Management, Electrophysiology, Operating Room Equipment, Surgical Microscopes, Robotics and Surgical Navigation, Anesthesiology, Wound Management and more.
We have built a reputation and earned our clients' trust based on consistent and uniquely intelligent research that allows our customers to make confident decisions and impact their businesses. A combination of market expertise and over a decade of experience has resulted in a deep understanding of the medical device industry that has inspired innovation and propelled our clients to success.