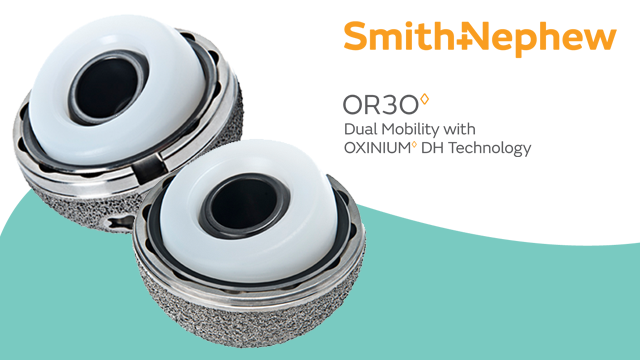 Hip arthroplasty is a form of treatment for patients suffering osteoarthritis. The Disease is degenerative and is generally irreversible, which causes paint and impacts quality of life. Smith & Nephew has developed an industry first in the hip replacement market with their OR30 Dual Mobility System.
Register to receive a free Large Joint Devices Market Analysis, Size and Trends Report synopsis and brochure.
What makes this a first to the market is the use of Smith & Nephew's proprietary OXINIUM DH (Diffusion-Hardened) metal alloy. This product increases the depth of hardening and is specifically designed to cater to hip arthroplasty patients. Furthermore, as a dual mobility implant, the OR30 offers better stability and an improved range of motion.
According to iData Research, hip arthroplasty is shifting towards a preference for cement-less implantation, since it allows for a reduction in surgical time compared to cemented alternatives. Smith & Nephew's latest development can expect to positively contribute the hip replacement segment of the large joint devices market. The implementation of Oxinium DH metal alloy, in cohesion with the dual mobility function of the OR30, makes the product a unique offering in hip arthroplasty.
"The OR3O Dual Mobility System is truly a fourth-generation dual mobility offering by introducing OXINIUM technologies. This is a solution that allows patients to get back to their lives by providing stability and offers unique advantages compared to other systems," said Stephen Duncan, MD an orthopedic surgeon at the University of Kentucky.
Skip Kiil, President of Orthopaedics at Smith & Nephew explains that the "new OR3O Dual Mobility System is a groundbreaking product that offers technology not available in competitive systems." He further adds that "the proven success of our VERILAST Technology and OXINIUM DH bearing surface set OR3O apart as a game changing solution in the hip arthroplasty market."
The OR3O Dual Mobility System is available for both primary and revision applications in the United States.
For Further Information
To get in an in-depth market overview of 22 countries, with insight through primary research and procedural volumes, please read iData Research's' 3836 page Large Joint Devices Market Analysis, Size and Trends Report.