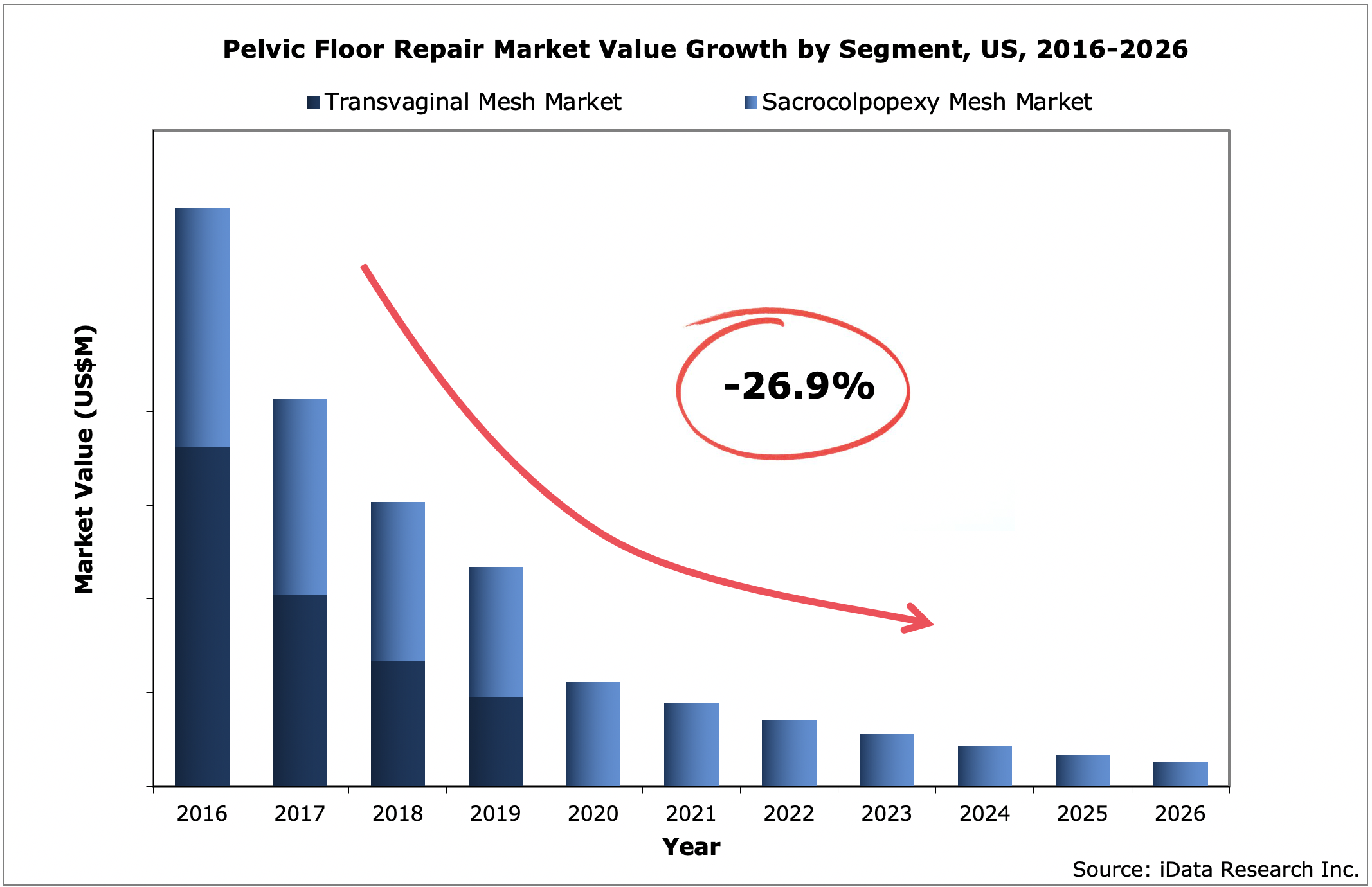 According to the recent market study by iData Research, the total Pelvic Floor Repair market in the U.S. will consequently decline at a -26.9% cumulative growth rate between the years of 2019-2026. The sharp decline is a result of FDA recalls for all transvaginal mesh devices along with a poor reputation of the sacrocolpopexy surgery.
Pelvic organ prolapse (POP) refers to a condition through which bodily changes cause the organs held in place by the pelvic floor to drop. The surgical treatment of such a condition is rapidly losing favourability which is expected to increase innovation within the market and bring new opportunities for market growth.
Article Overview
Pelvic Floor Repair Procedure
Pelvic floor repair is a surgical procedure that treats uterine or vaginal pelvic prolapse through the insertion of transvaginal or intra-vaginal mesh to support the organs in the pelvis. An alternative to pelvic floor repair is sacrocolpopexy, which is another form of pelvic prolapse surgery. With sacrocolpopexy, incisions are made in through the abdomen, and mesh is used to lift the apical portion of the vaginal vault.
While pelvic floor repair is reported to have shorter recovery times than the abdominal method of surgical treatment, pelvic floor repair has had more reported adverse effects. Both of these procedures may be performed concomitantly with a hysterectomy or surgery for stress urinary incontinence.
Pelvic organ prolapse is incredibly common and may affect 50% of women, though the severity of the condition may vary drastically and, in some cases, may be resolved with non-surgical treatments. As of 2019, however, approximately 15% of American women were estimated to require surgical repair for a POP at some point in their lifetime.
FDA Recalls and Litigations
In the past, treatment through mesh application was the preferred surgical solution for pelvic organ prolapse. During the surgery, the prolapsed organs are moved to their original position, the ligaments are tightened and a mesh is implanted to provide support.
However, in 2016, Astora, which was previously a market leader, terminated its vaginal mesh production due to legal issues. The discontinuation is apparent in the sudden decline of the total POP repair device market value. The market continued to decline in the years after but met another large drop between 2019-2020. Due to safety concerns and numerous litigations, the FDA recalled all transvaginal mesh products in April 2019.
Patients that previously received transvaginal mesh were increasingly reporting complications such as pelvic pain, mesh protruding, and others. There were also ongoing safety concerns with sacrocolpopexy mesh devices. Although still available for sale in the United States, pelvic prolapse surgery mesh devices may result in mesh erosion and cause damage to the vagina and other organs. Furthermore, even when treated with sacrocolpopexy mesh, there is still a risk of vaginal prolapse arising again.
Consequent Shift of the Competitive Landscape
Since Astora left the market in 2016, the share of the remaining companies was shuffled around, enabling Coloplast to attain the leading position in the U.S. pelvic organ prolapse repair market in 2019. Coloplast offered a line of products under the name of Restorelle® that consisted of a full array of products for pelvic organ prolapse repair. These products included the Restorelle® L and the Restorelle® Y (synthetic meshes for sacrocolpopexy procedures) and the Restorelle® DirectFix (synthetic mesh for anterior and posterior transvaginal repair).
Although transvaginal mesh devices were recalled by the FDA in 2019, the recall didn't come into effect until April. As such, some profit was still generated by transvaginal mesh products in Q1 of 2019.
Future of the Pelvic Prolapse Market
Despite the sharp decline of the US market, the latest research by iData indicates that the pelvic floor repair procedure volumes are expected to only decline moderately with over 85,000 yearly procedures performed in 2026. Pelvic organ prolapse continues to be a widespread issue as it affects an overwhelming volume of women at some point in their lifetime.
Register to receive a free Gynecological Devices Market Report Suite for U.S. 2020-2026 synopsis
The primary course of surgical treatment is losing favourability, as safety concerns and lawsuits continue to accumulate. Although alternatives, such as pelvic prolapse repair without mesh, are available, they have traditionally not been as popular as mesh treatment. Because of this, there is a significant opportunity for product innovation and market share growth in the market for pelvic organ prolapse.