Ulcerative Colitis Drug Market Analysis | United States | 2018-2024 | MedCore
Year:

2018

Scope:

2014-2024

Region:

United States

Pages:

928

Published Date:

10/1/2017

Type:

MedCore
The ulcerative colitis drug market in the US was valued at $XX billion in 2017 with a compound annual growth rate of XX%.
SEGMENTS COVERED IN THE US ULCERATIVE COLITIS DRUG MARKET
BY KEY BRANDS:
Entyvio (vedolizumab) – Marketed by Takeda
Humira (adalimumab) – Marketed by AbbVie
Remicade (infliximab) – Marketed by Johnson & Johnson
Simponi (golimumab) – Marketed by Johnson & Johnson
Others
ULCERATIVE COLITIS DRUG MARKET TRENDS
The ulcerative colitis (UC) drug market is largely driven by the expiration of patents and the entry of biosimilars. Although, the market players face strong competition from companies developing biosimilars for these biologics, there are significant unmet needs for treatment of this disease in terms of safer treatment and more convenient administration, which continues to bolster the growth of the market. The UC market has experienced consistent growth due to the high cost of the biologics, unmet needs in the UC space, and the efficacy of ant-TNF biologics. Currently, the market is dominated by AbbVie and Takeda.
ULCERATIVE COLITIS DRUG MARKET DATA TYPES INCLUDED
Market Size, Value & Growth Trends
Market Share by Drug With Forecasts
Forecasts Until 2024, and Historical Data to 2014
Disease Overview, Epidemiology & Treatment Population
Units Sold by Drug
Annual Drug Cost Analysis
Ulcerative Colitis Drug Product Portfolios
Competitive Analysis and SWOT
Press Releases from Top Competitors
WHAT MAKES THIS REPORT DIFFERENT
Our pharmaceutical research now brings a level of detail and depth unseen elsewhere in the industry. In addition to the standard market sizing, we also offer units sold by drug, annual drug cost analysis, and market share forecasts, critical information not typically found in pharmaceutical market reports. This is because we believe that the only way to accurately measure the whole is to measure the separate parts first – and to do so with insight from the people living and breathing the market.
Through interviewing key market players we have insights into market sizing, company information, and can obtain qualitative information like trends and analysis that are essential to shaping our models and forecasts. Our methodology allows us to increase accuracy and provide you with more detailed data points, ensuring you can make confident decisions every time and grow your market share.
QUESTIONS THIS REPORT WILL HELP YOU ANSWER
How are new biosimilars threatening to change the market?
How are patents affecting market growth and competition?
How does your brand compare with your close competitors and biosimilars?
How is this market going to change in the next 7 years?
How can you strategize to gain market share, or mitigate the impact of biosimilars?
ABOUT OUR IN-DEPTH MEDCORE RESEARCH
Our analysts meticulously research for up to 3 to 4 months to put together one suite of reports (MedSuite), which is a comprehensive analysis on a group of pharmaceutical markets in a specific region. A MedCore is one portion of that analysis that focuses on a particular drug market within that region, and provides further detailed segmentation to get a much more granular set of immunology drugs market data.
For more market research on related immunology drugs markets, this MedCore on ulcerative colitis drugs is also found in the full report suite titled US Immunology Drugs Market Report Suite.
To learn more about these product types click here or contact us to have a product consultant help you find the data you need.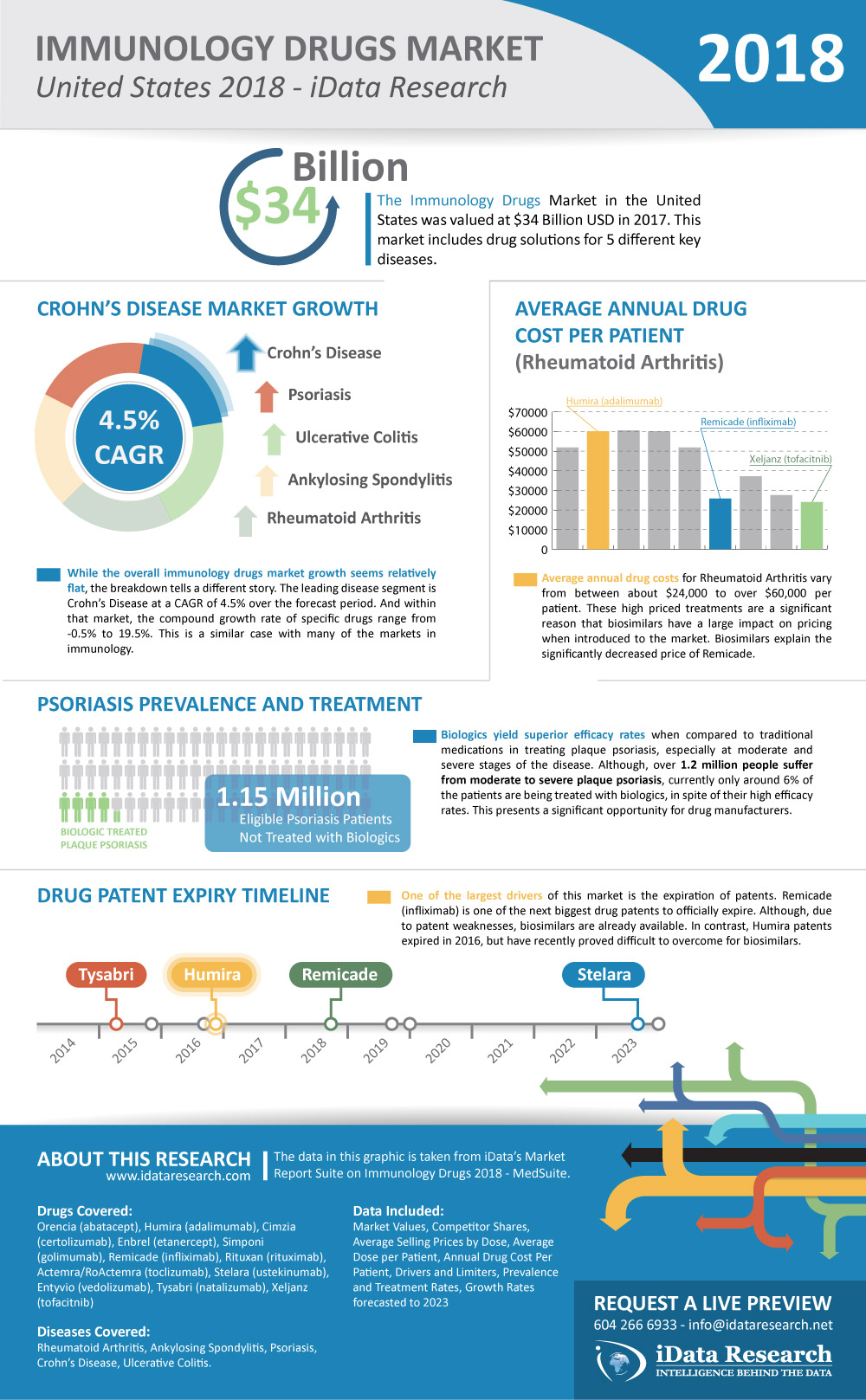 The "U.S. Market Report Suite for Immunology Drugs 2018 - MedSuite" includes analysis on the following companies currently active in this market:AbbVie Inc.AstraZeneca PlcF. Hoffmann-La Roche LtdJohnson & JohnsonMerck KGaANovartis AGPfizer Inc.Takeda PharmaceuticalsUCB S.A.*Not all companies are currently active in every segment or sub-report from this suite. For more details contact an iData Research Product Advisor.
iData's 9-Step Research Methodology
Our reports follow an in-depth 9-step methodology which focuses on the following research systems:
Original primary research that consists of the most up-to-date market data
Strong foundation of quantitative and qualitative research
Focused on the needs and strategic challenges of the industry participants
Step 1: Project Initiation & Team Selection During this preliminary investigation, all staff members involved in the industry discusses the topic in detail.
Step 2: Prepare Data Systems and Perform Secondary Research The first task of the research team is to prepare for the data collection process: Filing systems and relational databases are developed as needed.
Step 3: Preparation for Interviews & Questionnaire Design The core of all iData research reports is primary market research. Interviews with industry insiders represent the single most reliable way to obtain accurate, current data about market conditions, trends, threats and opportunities.
Step 4: Performing Primary Research At this stage, interviews are performed using contacts and information acquired in the secondary research phase.
Step 5: Research Analysis: Establishing Baseline Estimates Following the completion of the primary research phase, the collected information must be synthesized into an accurate view of the market status. The most important question is the current state of the market.
Step 6: Market Forecast and Analysis iData Research uses a proprietary method to combine statistical data and opinions of industry experts to forecast future market values.
Step 7: Identify Strategic Opportunities iData analysts identify in broad terms why some companies are gaining or losing share within a given market segment.
Step 8: Final Review and Market Release An integral part of the iData research methodology is a built-in philosophy of quality control and continuing improvement is integral to the iData philosophy.
Step 9: Customer Feedback and Market Monitoring iData philosophy of continuous improvement requires that reports and consulting projects be monitored after release for customer feedback and market accuracy.
Explore Options
Ulcerative Colitis Drug Market Analysis | United States | 2018-2024 | MedCore
$295 – $5,995
This market report includes a detailed analysis of the drugs used to treat ulcerative colitis in the US, including Entyvio, Humira, Remicade, and Simponi. The ulcerative colitis drug market is largely driven by the expiry of patents and the entry of biosimilars which present strong competition for the biologics listed above.
2018

2014-2024

United States

10/1/2017

928

MedCore
Request Sample Sheets
Request Customization
Related Reports