Neurological Devices Market Size, Share & Trends Analysis | Global | 2019-2025 | MedSuite | Includes: Detachable Coils Market, Neurovascular Stents Market, and 13 more
Year:

2019

Scope:

10 Years

Region:

China, Europe, India, Japan, United States

Pages:

2271

Published Date:

09/04/2019

Type:

MedSuite
Global Neurology Device Industry Trends
One of the major drivers for the global neurology device market is the patient and physicians demand for minimally invasive procedures. This has been driving the growth in aspiration thrombectomy and neurovascular stenting and the decline of and aneurysm clipping procedures treatments. With the growth in these markets, the market value for ubiquitous neurovascular guidewire is climbing. Access devices are becoming increasingly technologically advanced and various embolization devices have been released in recent years.
The largest segment of the neurological devices market is the neuromodulation devices segment. Neuromodulation devices command a high premium and there are many varieties that are growing in popularity since there are a wide variety of indications.
Global Neurology Device Market Report Coverage
Throughout this research series, iData has covered several countries in great detail. Each country may be purchased as a stand-alone report, tailoring the data to your needs. The covered countries are:
United States
Europe (15 countries including: Germany, France, U.K., Italy, Spain, Benelux (Belgium, Netherlands and Luxembourg), Scandinavia (Denmark, Finland, Norway and Sweden) Austria, Switzerland and Portugal)
Japan
India
China
The Only Medical Device Market Research With:

✔

Procedure Volume Data & Trends


✔

Unit Sales Growth Analysis


✔

Average Selling Prices


✔

Competitor Shares by Segment & Country


✔

 SKU-Level Research Methods


✔

 The Lowest Acquisition Cost


Highly Detailed Segmentation
While this report suite on the global neurology device market contains all applicable neurological device market data, each of the market segments is also available as stand-alone MedCore reports. This allows you to get access to only the neurological market research that you need. You can view these separate reports and segmentation here:
Procedure Numbers for Neurological Devices – MedPro
Market Report for Ultrasonic Aspirators – MedCore
Market Report for Neurovascular Stents – MedCore
Market Report for Neuromodulation Devices – MedCore
Market Report for Stereotactive Devices – MedCore
Market Report for Neurovascular Guidewires – MedCore
Market Report for Neuroendoscopes – MedCore
Market Report for Neurovascular Catheters – MedCore
Market Report for Mechanical Thrombectomy Devices – MedCore
Market Report for Liquid Embolics – MedCore
Market Report for Intrathecal Pumps – MedCore
Market Report for Transcranial Magnetic Stimulators – MedCore
Market Report for Detachable Coils – MedCore
Market Report for Cerebrospinal Fluid Management – MedCore
Market Report for Balloon Occlusion Devices – MedCore
Market Report for Aneurysm Clips – MedCore
Buying all of these reports together in this suite package will provide you with substantial discounts from the separate prices. Request Pricing to Learn More
Full Segmentation Map for the United States


Data Types Included
Unit Sales, Average Selling Prices, Market Value & Growth Trends
Procedure Volume Analysis and Trends
10 Year Scope and Forecast Range
Market Drivers & Limiters for Each Segment
Competitive Analysis with Market Shares for Each Segment
Recent Mergers & Acquisitions
Disease Overviews and Demographic Information
Company Profiles and SWOT for Top Competitors
Global Neurology Device Market Share Insights
In both the United States and European neurological device markets Medtronic leads the way. Their acquisition of Covidien in 2015 positioned the company as the biggest player in the medical device industry in the U.S. by almost doubling the size of the business. They report seeing strong growth opportunity in stroke treatment and the neurovascular division saw a signigicant percentage rise. They were the market leader in many of the neurological device market segments.
Other notable competitors in the global neurology device market include Boston Scientific, Abbott, and LivaNova. Of these, Boston Scientific holds the second spot behind Medtronic in the United States market. Boston Scientific offers multiple products in the Precision line of spinal cord stimulator systems including the MontageTM and the SpectraTM. The Montage is MRI compatible and the Spectra is designed for more coverage and more advanced control by controlling the amount of current to each contact.
All Companies Analyzed in this Study

Acandis
Accuray
Adeor Medical
ANT Neuro
Argon Medical
Arkis Biosciences
Asahi Intecc
Axonics
B. Braun
Balt
Beckersmith Medical
BTG
Boston Scientific
Brainlab
Brainsway
Cardinal Health
Cerenovus
Covidien
Cordis
Dispomedica
Embolix
ElectroCore Medical
Elekta
Emboflu
EnteroMedics
ET Medical Group
FHC
Flowonix
GE Medical Systems
Greatbatch Medical
Haag-Streit
Heraeus
ICU Medical
Innerspace Medical
InoMed
Integra LifeSciences
IntraPace
Kaneka Medical Products
Karl Storz
Leica
LivaNova
MAG & More
Magstim
MagVenture
Meagan Medical Inc.

Medtrode Inc.
Medtronic
Merit
MHT
Microbot Medical
MicroPort
MicroVention
Micrus Endovascular
Misonix
Mizuho America
Mizuho Ikakogyo Co., Ltd
Moëller Wedel
Monteris Medical
MRC
Navimetric
Neuravi
Neuronetics
NeuroPace
Neuromedex
Neurosoft
Nevro
Nexstim
NextGen Medicla System
NICO Corporation
Nuvectra
Olympus
Penumbra Inc.
Peter Lanzic
Phenox
Raumedic
Renishaw
Saluda Medical
Scientia Vascular
Soering
Sophysa
SAI Infusion Technologies
Spiegelberg
St. Jude Medical
StimWave
Stryker
Terumo MicroVention
Tokai Medical Product
Tricumed
Teleflex
Vascular Solutions
Global Neurology Device Statistics and Procedure Trends
In the United States, there are over 600,000 neurological device procedures performed annually. Of these, the largest segment is the peripheral neurostimulator implantaion procedures, which are a kind of peripheral nerve stimulation procedure, with close to 200,000 procedures performed annually.
In 2018, nearly 115,000 neurological device procedures were conducted across Europe. This analysis will include procedures associated with cerebrospinal fluid (CSF) shunting, interventional aneurysm treatments, aspiration thrombectomy, neuromodulation generator and intrathecal pump implantation procedures. The volume of these procedures will continue to grow with the market over the forecast period.
One of the the most accurate methods of market research in the medical device industry is to analyze the procedure volumes and trends. Through this study on neurological devices, iData Research has performed an analysis on the following procedure segments in order to increase the accuracy of our market sizing, and provide you with the volume of procedures over a 10 year range. While the below market segmentation map is representative of the United States, procedure volume data is also provided for the other regions within this complete series.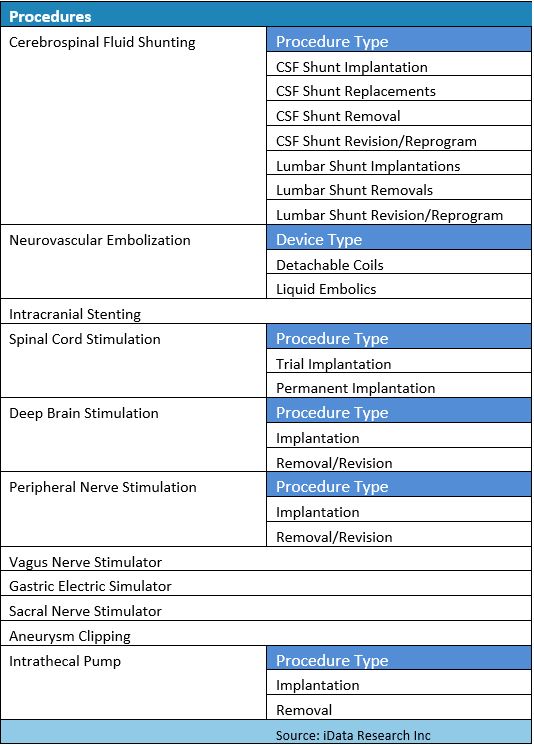 iData's 9-Step Research Methodology
Our reports follow an in-depth 9-step methodology which focuses on the following research systems:
Original primary research that consists of the most up-to-date market data
Strong foundation of quantitative and qualitative research
Focused on the needs and strategic challenges of the industry participants
Step 1: Project Initiation & Team Selection During this preliminary investigation, all staff members involved in the industry discusses the topic in detail.
Step 2: Prepare Data Systems and Perform Secondary Research The first task of the research team is to prepare for the data collection process: Filing systems and relational databases are developed as needed.
Step 3: Preparation for Interviews & Questionnaire Design The core of all iData research reports is primary market research. Interviews with industry insiders represent the single most reliable way to obtain accurate, current data about market conditions, trends, threats and opportunities.
Step 4: Performing Primary Research At this stage, interviews are performed using contacts and information acquired in the secondary research phase.
Step 5: Research Analysis: Establishing Baseline Estimates Following the completion of the primary research phase, the collected information must be synthesized into an accurate view of the market status. The most important question is the current state of the market.
Step 6: Market Forecast and Analysis iData Research uses a proprietary method to combine statistical data and opinions of industry experts to forecast future market values.
Step 7: Identify Strategic Opportunities iData analysts identify in broad terms why some companies are gaining or losing share within a given market segment.
Step 8: Final Review and Market Release An integral part of the iData research methodology is a built-in philosophy of quality control and continuing improvement is integral to the iData philosophy.
Step 9: Customer Feedback and Market Monitoring iData philosophy of continuous improvement requires that reports and consulting projects be monitored after release for customer feedback and market accuracy.