Laparoscopic Devices Market Analysis, Size, Trends | 2017-2023 | MedSuite
0
Year

:

2017

Scope

:

2013-2023

Region

:

Europe, United States

Published Date

:

8/1/2017

Pages

:

1158

Type

:

MedSuite
Industry Trends
This market benefited substantially from growth in laparoscopic procedures, especially the significant growth in bariatric procedures over the last few years. Disposable instruments are preferred over reusable instruments within the United States, but reposable devices, which have a reusable component and a disposable component, are becoming more popular. Ongoing research continues to drive technological advancements, and newer, multifunctional devices that can play a variety of roles during laparoscopic surgery continue to be favored.
Large amounts of resources have been allocated to researching and developing more advanced tools to refine the process of conducting laparoscopic procedures. Newer, state-of-the-art multifunctional devices are the future of laparoscopy. Their high costs will further drive growth in this market.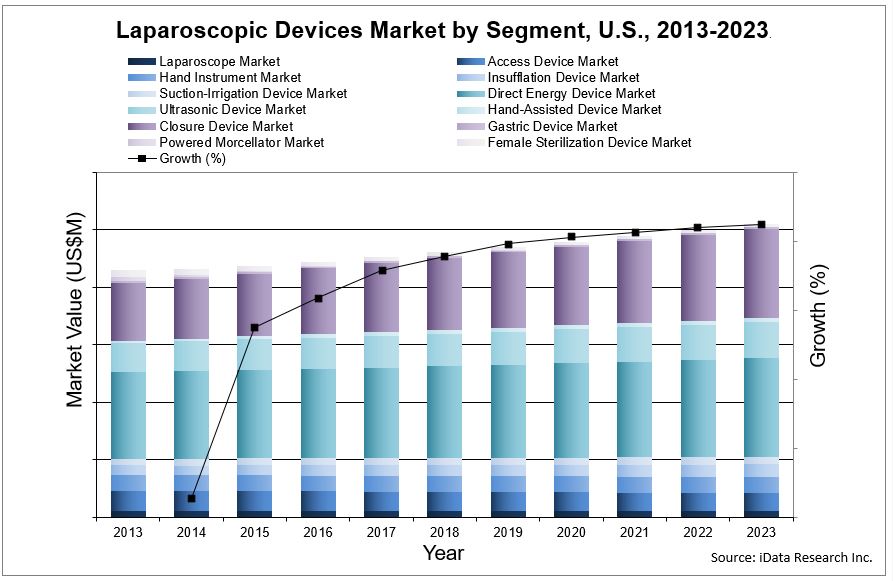 Report Regional Coverage
Throughout this research series, iData has covered several countries in great detail. Each country may be purchased as a stand-alone report, tailoring the data to your needs. The covered countries are:
United States
Europe (15 countries including: Germany, France, U.K., Italy, Spain, Benelux (Belgium, Netherlands and Luxembourg), Scandinavia (Denmark, Finland, Norway and Sweden) Austria, Switzerland and Portugal)
The Only Medical Device Market Research With:

✔

Procedure Volume Analysis


✔

Unit Sales Growth Analysis


✔

Average Selling Prices


✔

Competitor Shares by Segment & Country


✔

 SKU-Level Research Methods


✔

 The Lowest Acquisition Cost


Highly Detailed Segmentation
While this report suite contains all applicable market data, each of the markets are also available as stand alone MedCore reports. This allows you to get access to only the specific market segment research that you need. You can view all these included reports and segmentation here:
Procedure Volumes for Laparoscopic Devices – MedPro
Laparoscope Market – MedCore
Access Device Market – MedCore
Laparoscopic Hand Instrument Market – MedCore
Insufflation Device Market – MedCore
Suction-Irrigation Device Market – MedCore
Direct Energy Device Market – MedCore
Ultrasonic Device Market – MedCore
Hand-Assisted Device Market – MedCore
Closure Device Market – MedCore
Gastric Band Market – MedCore
Powered Morcellator Market – MedCore
Female Sterilization Device Market – MedCore
Buying all of these reports together in this suite package will provide you with substantial discounts from the separate prices. Request Pricing to Learn More.
Full Segmentation Map for the United States

 Data Types Included
Unit Sales, Average Selling Prices, Market Value & Growth Trends
Forecasts Until 2023, and Historical Data to 2013
Market Drivers & Limiters for Each Laparoscopic Device Segment
Competitive Analysis with Market Shares for Each Segment
Recent Mergers & Acquisitions
Laparoscopic Devices Procedure Volumes
Disease Overviews and Demographic Information
Company Profiles, Product Portfolios and SWOT for Top Competitors
Related Press Releases from Top Competitors
Laparoscopic Device Market Share Insights
Of the many companies in the laparoscopic device market, Medtronic is the leading competitor, with Ethicon behind in second place for both the U.S. and Europe. Together, the two companies account for over half of the total market share. Medtronic's lead can be attributed to the largely successful sales of their LigaSure™ devices which allowed the company to gain a commanding position in the direct energy device segment.
Olympus and Applied Medical secured the third and fourth highest market shares in the U.S. Stryker held the fifth highest share, aided by the uptake in video laparoscopy procedures. Their products also provide a high cross-selling potential, with the majority of Stryker's diagnostic laparoscopy sales also securing sales of their Olar Video towers.
Karl Storz has a strong presence in the European market due to their high quality reusable products and devices. The one exception would be the access device market where disposables are more commonly used than reusables.
In this report suite we've analyzed several other companies, which include market shares from Olympus, Applied Medical, Stryker, ConMed, Ethicon, Richard Wolf, Bayer, B. Braun Aesculap, and Others.
All Companies Analyzed in this Study

Ackermann Instrumente
Anetic Aid
Apollo Endosurgery
Applied Medical
Aspide Medical
Bayer
B. Braun Aesculap
 Becton Dickinson
Bissinger
 Blue Endo
 Bovie Medical
Cambridge Endo
 Cardinal Health
 ConMed
 Cooper Surgical
 Cousin Biotech
Endomed
ERBE
Ethicon
Genicon
Gimmi
Grena
Helioscopie
ILO Electronic
Integra LifeSciences

Jarit
Karl Storz
LiNA Medical
Lamiday Nourey
Lemke
Locamed
Maxer
Medtronic
Megadyne
Microline Surgical
Midband
Molnlycke
Olympus
Purple Surgical
Richard Wolf
Schoelly
Seeman Technologies
Smith and Nephew
Soering
Solos Endoscopy
Soring
Stryker
Surgical Innovations
Surgiquest
Teleflex
ThermoFisher
Laparoscopic Statistics and Procedure Trends
There are currently over 3.1 million total laparoscopic procedures performed in the United States annually. The number of laparoscopic procedures performed has been growing steadily contributed to be the growth in laparoscopic sleeve gastrectomy procedures.Since its inception, minimally invasive surgery has become increasingly advanced as more sophisticated technology continues to be developed in order to maximize the clinical benefits of this approach. Laparoscopy is the most popular form of minimally invasive surgery. This technique continues to gain traction as an increasing number of surgeons continue to recommend this approach based on its notable clinical benefits. Many procedures that have been traditionally performed using an open approach are now often performed using laparoscopy.
In Europe, there are currently over 1.67 million laparoscopic procedures performed annually. The number of laparoscopic procedures has been growing steadily over the last few years, spurred on by strong growth in the market for bariatric surgeries. Germany, France, and Benelux were the largest supporters of laparoscopic surgery in Europe. The Benelux region has become a well-known center for bariatric surgery, attracting thousands of foreign patients. Procedure rates in the U.K. were relatively low for a country of over 60 million people. Low procedure rates in the U.K. are due to multiple factors, but mainly, cost concerns and an older surgeon population that has not been trained in laparoscopy. Despite having one of the most obese populations in Europe, the U.K. performs less obesity interventions than Belgium, a country with approximately 20% of the overall
population of the United Kingdom.
See many more by requesting a free sample report of this analysis.
For a Full Table of Contents From Any of the Country Reports in this Global Series, please
Contact iData
One of the the most accurate methods of market research in the medical device industry is to analyze the procedure volumes and trends. Through this study on laparoscopic devices, iData Research has performed an analysis on the following procedure segments in order to increase the accuracy of our market sizing, and provide you with the volume of procedures over a 10 year range. While the below market segmentation map is representative of the United States, procedure volume data is also provided for the other regions within this complete series.
Procedure Volume Analysis Segments in the United States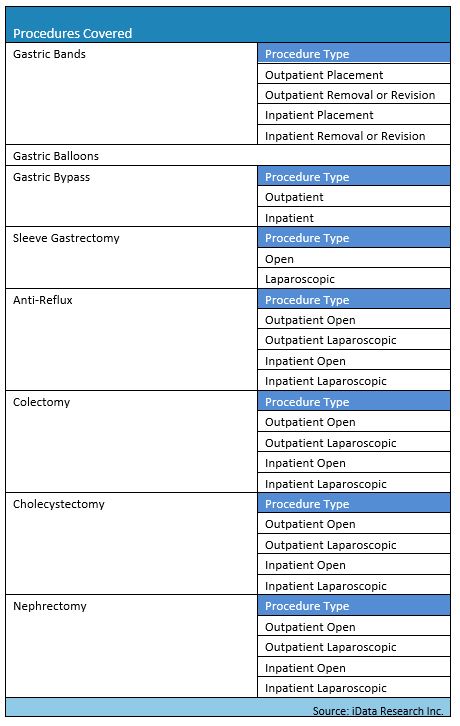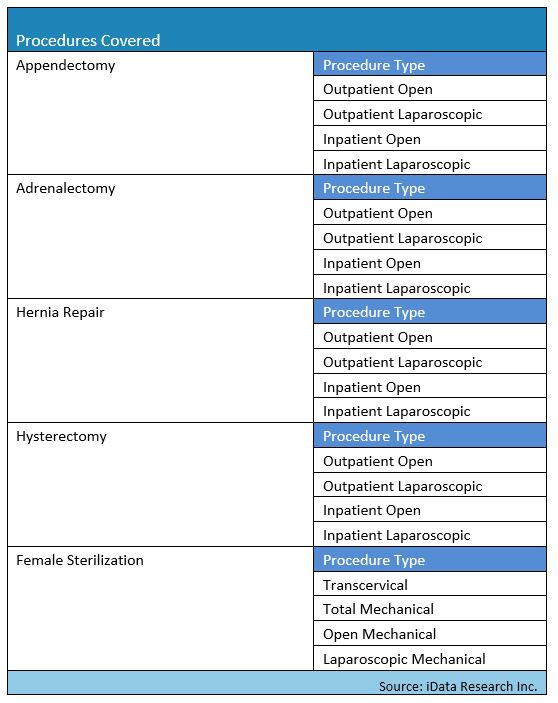 iData's 9-Step Research Methodology
Our reports follow an in-depth 9-step methodology which focuses on the following research systems:
Original primary research that consists of the most up-to-date market data
Strong foundation of quantitative and qualitative research
Focused on the needs and strategic challenges of the industry participants
Step 1: Project Initiation & Team Selection During this preliminary investigation, all staff members involved in the industry discusses the topic in detail.
Step 2: Prepare Data Systems and Perform Secondary Research The first task of the research team is to prepare for the data collection process: Filing systems and relational databases are developed as needed.
Step 3: Preparation for Interviews & Questionnaire Design The core of all iData research reports is primary market research. Interviews with industry insiders represent the single most reliable way to obtain accurate, current data about market conditions, trends, threats and opportunities.
Step 4: Performing Primary Research At this stage, interviews are performed using contacts and information acquired in the secondary research phase.
Step 5: Research Analysis: Establishing Baseline Estimates Following the completion of the primary research phase, the collected information must be synthesized into an accurate view of the market status. The most important question is the current state of the market.
Step 6: Market Forecast and Analysis iData Research uses a proprietary method to combine statistical data and opinions of industry experts to forecast future market values.
Step 7: Identify Strategic Opportunities iData analysts identify in broad terms why some companies are gaining or losing share within a given market segment.
Step 8: Final Review and Market Release An integral part of the iData research methodology is a built-in philosophy of quality control and continuing improvement is integral to the iData philosophy.
Step 9: Customer Feedback and Market Monitoring iData philosophy of continuous improvement requires that reports and consulting projects be monitored after release for customer feedback and market accuracy.