Dialysis Market Analysis, Size, Trends | United States | 2017-2023 | MedSuite (Includes 13 Reports)
Year:

2017

Scope:

2013-2023

Region:

United States

Pages:

237

Published Date:

12/03/2016

Type:

MedSuite
Industry Trends
Overall, the dialysis market was valued at $1,814.1 billion in 2016. This is expected to increase over the forecast period at a to reach over $2,000 billion by 2023.
Due to a growing patient population and growth in both the home hemodialysis (HHD) and peritoneal dialysis (PD) markets, the dialysis market is expected to increase at a CAGR in the low single digits over the forecast period. Despite the Fistula First Breakthrough Initiative and a trend toward AV fistula usage, dialysis catheters will still be the most beneficial form of access for the hemodialysis patient population. Catheters will also continue to be used for new hemodialysis patients, while their AV fistula is prepared. The dialysis catheter market is expected to increase at a CAGR of 3.1% over the forecast period.
Despite its growth, the dialysis market is being limited by falling prices and the resistance to transition to home dialysis. While all types of dialysis are still growing, the market share increase per new patient is the lowest for in-center hemodialysis. As more patients shift to alternative methods of treatment, this will help fuel market growth.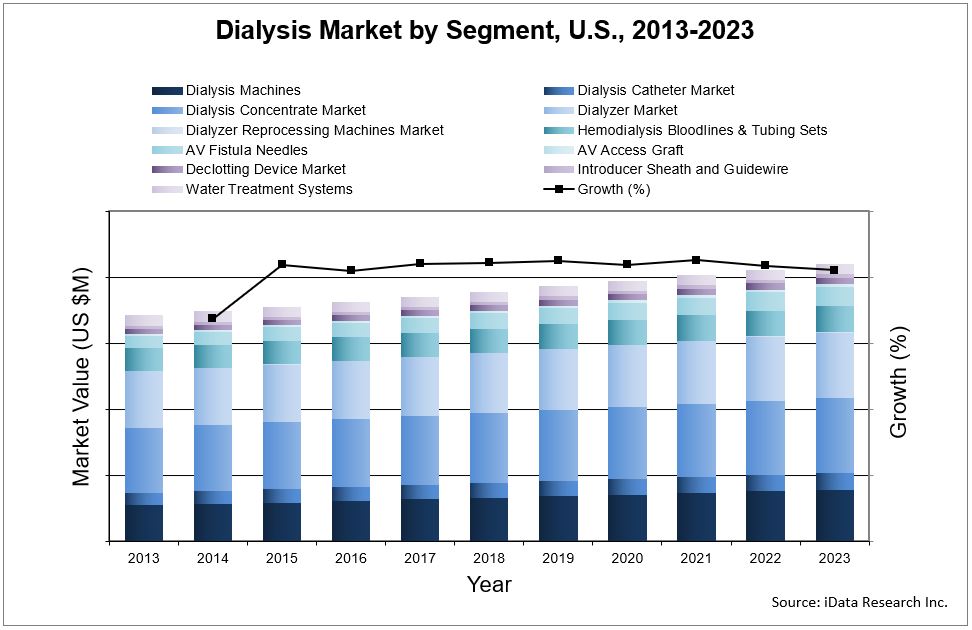 The Only Medical Device Market Research With:

✔

Procedure Volume Data & Trends


✔

Unit Sales Growth Analysis


✔

Average Selling Prices


✔

Competitor Shares by Segment & Country


✔

 SKU-Level Research Methods


✔

 The Lowest Acquisition Cost


Highly Detailed Segmentation
While this report suite contains all applicable United States dialysis market data, each of the market segments are also available as stand alone MedCore reports. This allows you to get access to only the dialysis market research that you need. You can view all these included reports and segmentation here:
Procedure Numbers for Dialysis Devices – MedPro
Market Report for Dialysis Machines – MedCore
Market Report for Dialysis Catheters – MedCore
Market Report for Dialysis Concentrates – MedCore
Market Report for Dialyzers – MedCore
Market Report for Dialyzer Reprocessing Machines – MedCore
Market Report for Hemodialysis Bloodlines and Tubing Sets – MedCore
Market Report for AV Fistula Needles – MedCore
Market Report for AV Grafts – MedCore
Market Report for Declotting Devices – MedCore
Market Report for Introducer Sheaths and Guidewires – MedCore
Market Report for Water Treatment – MedCore
Buying all of these reports together in this suite package will provide you with substantial discounts from the separate prices. Request Pricing to Learn More
Full Segmentation Map for the United States


Data Types Included
Unit Sales, Average Selling Prices, Market Value & Growth Trends
Procedure Volume Analysis and Trends
10 Year Scope and Forecast Range
Market Drivers & Limiters for Each Segment
Competitive Analysis with Market Shares for Each Segment
Recent Mergers & Acquisitions
Disease Overviews and Demographic Information
Company Profiles, Product Portfolios and SWOT for Top Competitors
Dialysis Device Market Share Insights
Fresenius, DaVita and U.S. Renal Care are the industry leaders in the dialysis market within the United States. Fresenius, however, is the only manufacturer than owns and operates their own clinics equipped with their own supplies. This has afforded Fresenius an exceptional lead in the dialysis market. Fresenius offers products in five of the eleven segments of the 2016 U.S. dialysis market including dialysis machines, dialysis concentrates, dialyzers, hemodialysis bloodline and tubing sets and AV fistula needles.
All Companies Analyzed in this Study

Abbott
AmeriWater
Angelini Pharma Inc.
AngioDynamics
Applied Medical
Argon Medical
Artegraft
Asahi Kasei Medical
Asid Bonz
Atrium
B. Braun
Baxter
Biosensors International
Boston Scientific
Cook Medical
Cordis
C.R. Bard
Cryolife
Dispomedica
Edwards Lifesciences

Fresenius
ISOMed
Kawasumi Laboratories
Lemaitre Vascular Inc.
MarCor
Medcomp
Medisystems
Medivators
MEDRAD
Medtronic
Merit Medical Systems
Nipro Medical
NxStage Medical
REX Medical
Rockwell Medical
Smiths Medical
Terumo
Teleflex Medical
W.L. Gore
Dialysis Device Statistics and Procedure Trends
Dialysis patients receive treatment in one of three ways: in-center hemodialysis, home hemodialysis and peritoneal dialysis. In-center hemodialysis was the method of treatment for the majority of all dialysis patients, in 2016, whereas home hemodialysis and peritoneal dialysis accounted for the remaining percentage of the total patient population. Although small sub-segments, both home hemodialysis and peritoneal dialysis will grow in prevalence over the forecast period.
One of the the most accurate methods of market research in the medical device industry is to analyze the procedure volumes and trends. Through this study on dialysis devices, iData Research has performed an analysis on the following procedure segments in order to increase the accuracy of our market sizing, and provide you with the volume of procedures over a 10 year range.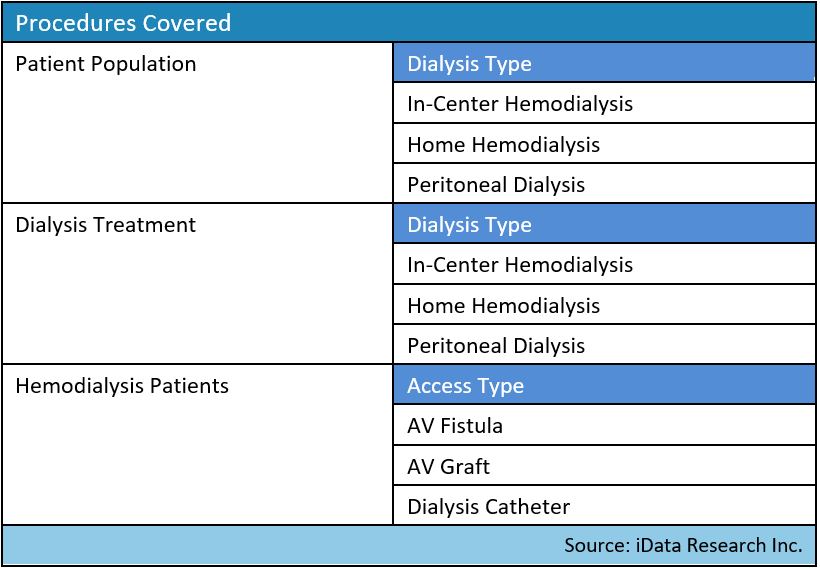 iData's 9-Step Research Methodology
Our reports follow an in-depth 9-step methodology which focuses on the following research systems:
Original primary research that consists of the most up-to-date market data
Strong foundation of quantitative and qualitative research
Focused on the needs and strategic challenges of the industry participants
Step 1: Project Initiation & Team Selection During this preliminary investigation, all staff members involved in the industry discusses the topic in detail.
Step 2: Prepare Data Systems and Perform Secondary Research The first task of the research team is to prepare for the data collection process: Filing systems and relational databases are developed as needed.
Step 3: Preparation for Interviews & Questionnaire Design The core of all iData research reports is primary market research. Interviews with industry insiders represent the single most reliable way to obtain accurate, current data about market conditions, trends, threats and opportunities.
Step 4: Performing Primary Research At this stage, interviews are performed using contacts and information acquired in the secondary research phase.
Step 5: Research Analysis: Establishing Baseline Estimates Following the completion of the primary research phase, the collected information must be synthesized into an accurate view of the market status. The most important question is the current state of the market.
Step 6: Market Forecast and Analysis iData Research uses a proprietary method to combine statistical data and opinions of industry experts to forecast future market values.
Step 7: Identify Strategic Opportunities iData analysts identify in broad terms why some companies are gaining or losing share within a given market segment.
Step 8: Final Review and Market Release An integral part of the iData research methodology is a built-in philosophy of quality control and continuing improvement is integral to the iData philosophy.
Step 9: Customer Feedback and Market Monitoring iData philosophy of continuous improvement requires that reports and consulting projects be monitored after release for customer feedback and market accuracy.