Oncology Market Analysis, Size, Trends | United States | 2016-2022 | MedSuite
Year:

2016

Scope:

2012-2022

Region:

United States

Pages:

254

Published Date:

02/03/2016

Type:

MedSuite
Industry Trends
The oncology market encompasses many different types of methodical approaches to the treatment of cancer. As the cancer epidemic continues to flourish in the U.S., so too do a vast variety of treatment options all designed to increase patient survival, comfort and affordability. Despite multiple challenges such as declining ASPs and expensive capital investment, growth is expected for the overall market as the patient demographics in the U.S. maintain a steady demand for cancer treatments. The transcatheter embolization particle segment will be the fastest growing in the market, and will be continually driven by novel and emerging technologies. Similarly, the tumor ablation device segment is expected to exhibit market growth due to an ongoing shift towards newer and more expensive modalities.
Although declining in value, the external and internal radiation therapy device segments will be experiencing rising procedure volumes. Market decline in the external radiation therapy segment will be driven by fluctuations in the number of new system installations on an annual basis. Meanwhile, the market decline in the internal radiation therapy segment will be primarily driven by falling prices.
Competition amongst the different modalities will continue to limit the market. Many of the product segments discussed and analyzed as part of the interventional oncology device market can be considered direct substitutes or alternatives to another. As such, growth in procedural volumes for one area often leads to cannibalization of another.
This report also includes an analysis of other factors and trends that have positively and negatively impacted the market.

The Only Medical Device Market Research With:

✔

Procedure Volume Data & Trends


✔

Unit Sales Growth Analysis


✔

Average Selling Prices


✔

Competitor Shares by Segment & Country


✔

 SKU-Level Research Methods


✔

 The Lowest Acquisition Cost


Highly Detailed Segmentation
While this report suite contains all applicable United States oncology market data, each of the market segments are also available as stand alone MedCore reports. This allows you to get access to only the oncology market research that you need. You can view all these included reports and segmentation here:
Procedure Numbers for Oncology – MedPro
External Radiation Therapy Market – MedCore
Internal Radiation Therapy Market – MedCore
Tumor Ablation Device Market – MedCore
Transcatheter Embolization Particle Market – MedCore
Buying all of these reports together in this suite package will provide you with substantial discounts from the separate prices. Request Pricing to Learn More
Full Segmentation Map for the United States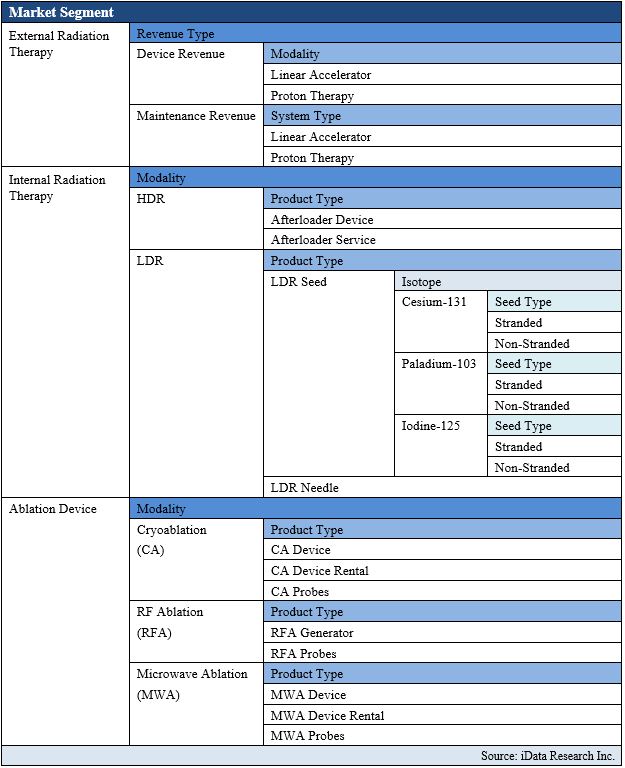 Data Types Included
Unit Sales, Average Selling Prices, Market Value & Growth Trends
Procedure Volume Analysis and Trends
10 Year Scope and Forecast Range
Market Drivers & Limiters for Each Segment
Competitive Analysis with Market Shares for Each Segment
Recent Mergers & Acquisitions
Disease Overviews and Demographic Information
Company Profiles, Product Portfolios and SWOT for Top Competitors
Oncology Market Share Insights
Varian leads the overall oncology market. This is primarily due to the company's commanding position in the external radiation therapy device segment, which accounts for a large majority of the overall market. In addition to the external radiation therapy device segment, the company is also a leading player in the internal radiation therapy device market.
Elekta holds the second-leading position in the overall oncology market. This is primarily due to the company's large share of the external radiation therapy device segment, which accounts for a large majority of the overall market. In addition, the company also holds the commanding position in the internal radiation therapy device segment. Similar to Varian, Elekta has a strong global presence in the overall radiation therapy market space.
All Companies Analyzed in this Study

Accuray
AngioDynamics
Best Medical
Boston Scientific
BrainLab
BTG
C.R. Bard
Cook Medical
Covidien
Eckert & Ziegler BEBIG
Elekta
Galil Medical
GE Oncura
HealthTronics
Hitachi
Ion Beam Applications (IBA)

IsoAid
IsoRay Medical
MedWaves
Merit Medical Systems
Mevion Medical Systems
NeuWave Medical
Optivus
Perseon
Pfizer
ProCure
ProTom International
Sirtex
Theragenics
Varian Medical Systems
Vascular Solutions
Oncology Statistics and Procedure Trends
This report investigates the number of interventional oncology procedures performed via the following treatment types: external radiation therapy, internal radiation therapy, tumor ablation and transcatheter embolization particles. These treatments type are further broken down by modality or product type. Despite rapid growth in cancer incidence rates and potential patient base, growth in procedural volumes will remain low throughout the forecast period. This will primarily be due to the availability of alternative treatments and limitations in the number of patients who can be treated.
It is estimated that over 20 million oncology procedures are performed annually in the United States. External radiation therapy procedures make up the vast majority of the total market procedures.

One of the the most accurate methods of market research in the medical device industry is to analyze the procedure volumes and trends. Through this study on oncology devices, iData Research has performed an analysis on the following procedure segments in order to increase the accuracy of our market sizing, and provide you with the volume of procedures over a 10 year range.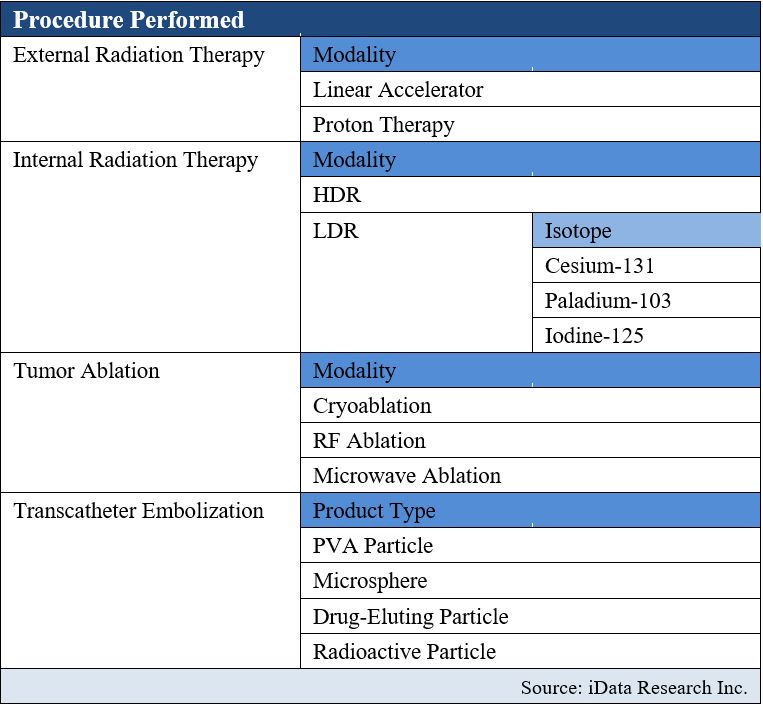 iData's 9-Step Research Methodology
Our reports follow an in-depth 9-step methodology which focuses on the following research systems:
Original primary research that consists of the most up-to-date market data
Strong foundation of quantitative and qualitative research
Focused on the needs and strategic challenges of the industry participants
Step 1: Project Initiation & Team Selection During this preliminary investigation, all staff members involved in the industry discusses the topic in detail.
Step 2: Prepare Data Systems and Perform Secondary Research The first task of the research team is to prepare for the data collection process: Filing systems and relational databases are developed as needed.
Step 3: Preparation for Interviews & Questionnaire Design The core of all iData research reports is primary market research. Interviews with industry insiders represent the single most reliable way to obtain accurate, current data about market conditions, trends, threats and opportunities.
Step 4: Performing Primary Research At this stage, interviews are performed using contacts and information acquired in the secondary research phase.
Step 5: Research Analysis: Establishing Baseline Estimates Following the completion of the primary research phase, the collected information must be synthesized into an accurate view of the market status. The most important question is the current state of the market.
Step 6: Market Forecast and Analysis iData Research uses a proprietary method to combine statistical data and opinions of industry experts to forecast future market values.
Step 7: Identify Strategic Opportunities iData analysts identify in broad terms why some companies are gaining or losing share within a given market segment.
Step 8: Final Review and Market Release An integral part of the iData research methodology is a built-in philosophy of quality control and continuing improvement is integral to the iData philosophy.
Step 9: Customer Feedback and Market Monitoring iData philosophy of continuous improvement requires that reports and consulting projects be monitored after release for customer feedback and market accuracy.