Dental Implants Market Analysis, Size, Trends | Global | 2019-2025 | MedSuite
0
Year

:

2019

Scope

:

2015-2025

Region

:

Argentina, Australia, Brazil, China, Europe, India, Japan, Mexico, United States

Published Date

:

01/03/2019

Pages

:

4503

Type

:

MedSuite
Industry Trends
The drive towards commoditization has limited the dental implants market. While premium implant companies control a large portion of the market, more affordable value and discount options are on the rise. As a result, many companies have engaged in price cuts to attract customers from their competitors. Even premium companies are recognizing the trend towards more affordable implants by pursuing acquisition strategies of more affordable implant brands. The declining ASP of the implant market will continue to limit revenue going forward.
Particularly in the United States, driving the market for dental implants and final abutments is the rising number of dentists trained to place implant restorations in patients suffering from tooth loss. Implantology is being implemented into the dental education of general practitioners (GPs) at an increasing rate, creating growth across all market segments. The growing number of treatment professionals are combining with expanding marketing efforts increased consumer awareness.
An ongoing trend within the dental implant industry is the bundling of dental products. This trend stems from the aforementioned competitive pressure posed in the market. Established implant companies have expanded their portfolio to dental regenerative products, such as bone graft substitutes, while continuing to offer complimentary treatment planning software as a part of bulk implant orders.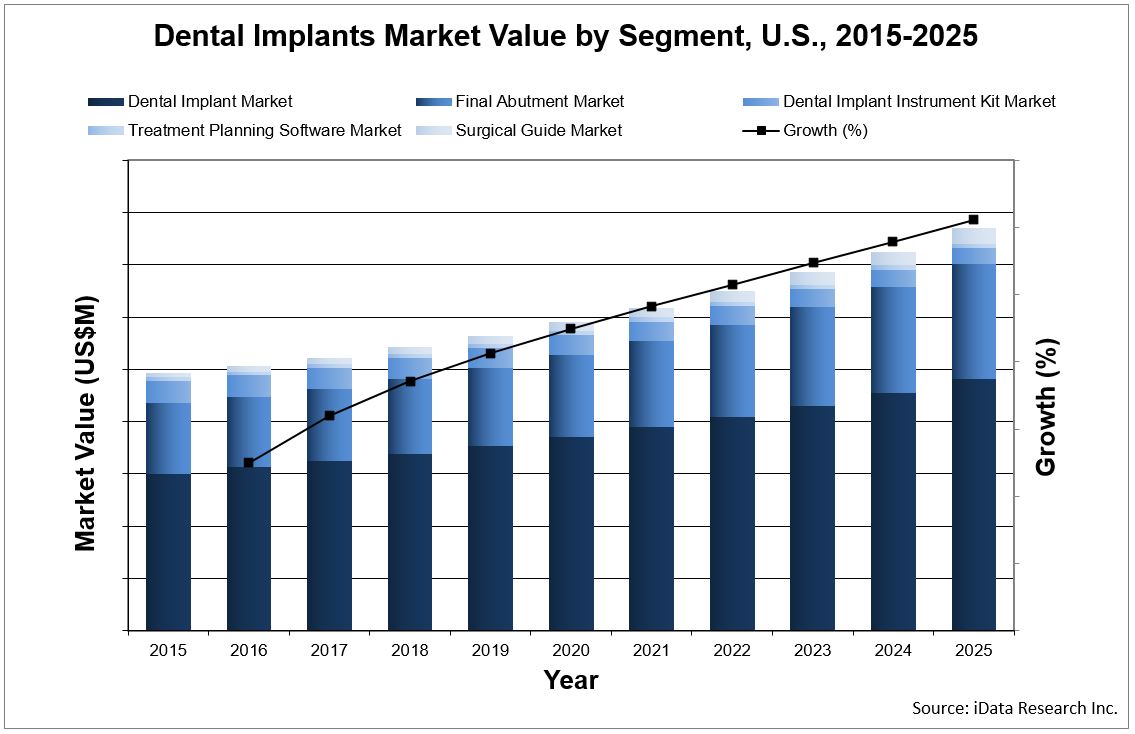 Report Regional Coverage
Throughout this research series, iData has covered several countries in great detail. Each country may be purchased as a stand-alone report, tailoring the data to your needs. The covered countries are:
United States
Europe (15 countries including: Germany, France, U.K., Italy, Spain, Benelux (Belgium, Netherlands and Luxembourg), Scandinavia (Denmark, Finland, Norway and Sweden) Austria, Switzerland and Portugal)
Japan
India
China
South Korea
Australia
Mexico
Brazil
Argentina
The Only Medical Device Market Research With:

✔

Unit Sales Growth Analysis


✔

Average Selling Prices


✔

Competitor Shares by Segment & Country


✔

 Interview-Based Research Methods


✔

 The Lowest Acquisition Cost


Highly Detailed Segmentation
While this report suite contains all applicable market data, each of the markets are also available as stand alone MedCore reports. This allows you to get access to only the specific market segment research that you need. You can view all these included reports and segmentation here:
Dental Implants Market – MedCore
Final Abutments Market – MedCore
Dental Implant Instrument Kits Market – MedCore
Treatment Planning Software Market – MedCore
Surgical Guides Market – MedCore
Buying all of these reports together in this suite package will provide you with substantial discounts from the separate prices. Request Pricing to Learn More
Full Segmentation Map for the United States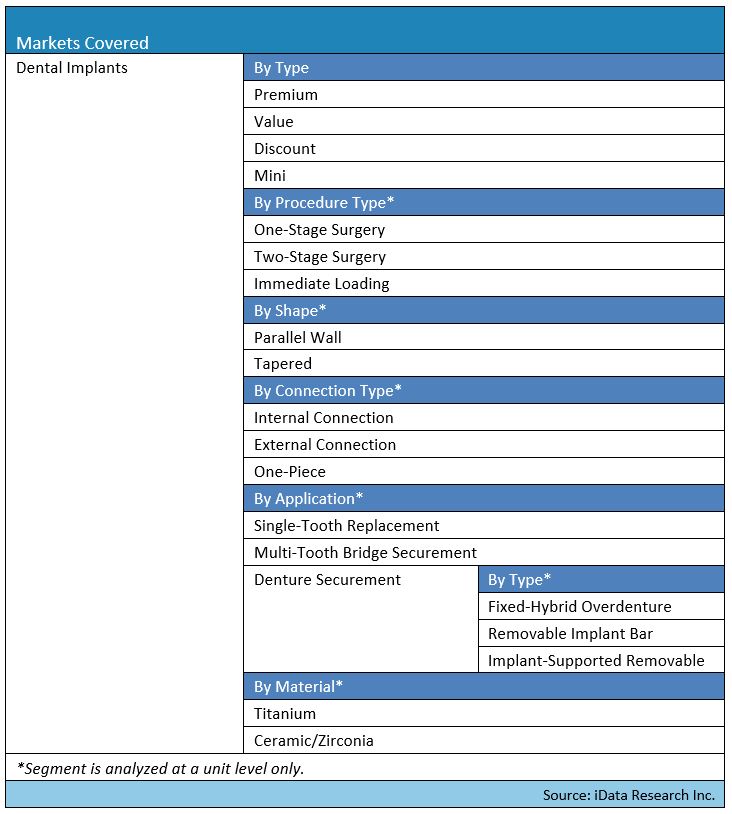 Data Types Included
Unit Sales, Average Selling Prices, Market Value & Growth Trends
10 Year Scope
Market Drivers & Limiters for Each Segment
Competitive Analysis with Market Shares for Each Segment and Country
Recent Mergers & Acquisitions
Disease Overviews and Demographic Information
Company Profiles, Product Portfolios and SWOT for Top Competitors
Related Press Releases from Top Competitors
Dental Implants Market Share Insights
The United States and European markets are dominated by 3 major players, Nobel Biocare, Straumann, and Dentsply Sirona. These three manufacturers take up nearly two-thirds of the market share in the United States, and just over half of the market in Europe. Throughout the other major countries studies, they face stronger competition from other companies that may or may not be present in all regions.
Nobel Biocare proved to be a major player in the U.S. dental implant fixture, final abutment and implant instrument kit markets. Nobel Biocare also had some presence in the markets for treatment planning software and surgical guides. The entire range of products under NobelActive® maintained strong growth rates over the previous year. Similar to their position in the dental implant fixture market, Nobel Biocare also leads the final abutment market. The company's position in the market is largely reflective of its success within dental implant fixtures, as Nobel Biocare mostly sells abutments to supplement their own implant fixtures, although they are compatible across a number of offerings.
Straumann holds the largest share of the total dental implant fixture and final abutment market in Europe. The premium implant brand demonstrated particular dominance in its domestic market of Switzerland and was also strong in Germany, the United Kingdom, Spain, Benelux, Austria and Portugal. Straumann's success can be attributed to its comprehensive product portfolio, comprising traditional implants and abutments, as well as innovative offerings that include ceramic implants, full-arch restorations, CAD/CAM abutments and regenerative dental biomaterials. Furthermore, Straumann has continually reinforced its leading position in the market with strategic investments in value and discount implant companies, such as Neodent, Biodenta, Medentika, MegaGen and Anthogyr.
Throughout this study, iData analyzed over 150 dental implant companies, and used our comprehensive methodology to understand the market sizes, unit sales, company market shares and forecasts. For the a total list of companies studied, see the table below.
All Companies Analyzed in this Study

360 Imaging
3D Diagnostix
3D Med
3DIEMME
3Shape
A.B. Dental
AB Dental
ACE Surgical
ADIN Dental Implant Systems
ADT Dental
Allmed
Alpha-Bio Tec
Amann Girrbach
Anatomage
Anthogyr
AQB Implant
Argen
Arrail Dental Group
Atec Dental
Avinent
B&W
BEGO
BenQ Corporation
Bicon
BioHorizons
Biomain
Bionnovations
Blue Sky Bio
BrainBase Corp.
Bredent
BTI
BTLock
Bybo Dental Group
CAMLOG
Champions
ClaroNav
Conexao
Consult-Pro
Cortex Dental
Cowellmedi
Danaher Corporation
Danville Materials
Dental Class
Dental Cremer
Dental Wings
Dentatus
Dentium
DentoFlex Dental Laboratory
Dentsply Sirona
DERIG
DIO Implant
DOT
DSP Biomedical
Easy System Implant
Ebi Implant
Eckermann
Emfils
Equinox
Euroteknika
EvoImplant
Exactech
Federa
GC Corp
Genesis Implants
Glidewell Laboratories
Global D
Globtek Implant System
Henry Schein
HIOSSEN
Hi-Tec Implants
iDent
IDI
Implacil de Bortoli
Implance
Implant Concierge
Implant Direct

Implant Fort
Implant VEL
Implantium
integrated dental systems (ids)
Intra-Lock
Intraoss
J Morita
JetImplant
Jiamei Dental
JMP-Dental
Kentec
Keystone Dental
Klockner
Klockner
Kyocera
LASAK
Leader Italia
Leone
Maxtrim
Med3D
Medentika
Medentis
MediaLab
MegaGen
Microdent
MIS Implants
ML Implant
Mode Implant
Mozu-Grau
Nemotec
Neobiotech
Neodent
Neoss
NewImplant
Nobel Biocare
nSequence
NucleOSS Implant
Odontit
Osstem Implant
Osteoplant
Paltop Dental
Patterson
Phibo
Platon Japan
Protec Dental Laboratories
Q-Implant
Ritter Implants
Rosterdent
S.I.N.
Salvin Dental Specialties
Sani Dental Group
Schiavello
Serson Implant
Sewon Medix
Shatkin
Signo Vinces
Si-Guide
Sistema INP
SmileTech
Southern Implants
Straumann
Sweden & Martina
Swissmeda
Systhex
TBR Implants Group
Thommen Medical
Timplant
TitaniumFix
TreeOss
UniDental Direct
Uniti
VitaDent
Zest Anchors
Zimmer Biomet
Ziterion
Dental Implants Statistics and Procedure Trends
According to the second edition of the Oral Health Atlas published in 2015, tooth decay affected almost half (44%) of the world population in 2010, followed by tension-type headache (21%), migraine (15%), severe periodontitis (11%), diabetes (8%) and asthma (5%). The untreated decay of permanent teeth affects over 40% of the people worldwide and is the most prevalent condition out of 291 diseases included in the Global Burden of Disease Study.
Oral cancer is a high mortality disease and is among the ten most common cancers. It is estimated that 300,000 to 700,000 new cases occur every year. South and Southeast Asia are among the regions with the highest rates of new cases. Oral cancer is generally a disease of middle-aged men, but women and younger people are increasingly affected. About 95 percent of the cases occur in persons over 40 years old. The gender ratio has dropped from 6 to 1 in 1950 to about 2 to 1 in 2014. The average five-year survival rate of oral cancer is only 50%.
iData's 9-Step Research Methodology
Our reports follow an in-depth 9-step methodology which focuses on the following research systems:
Original primary research that consists of the most up-to-date market data
Strong foundation of quantitative and qualitative research
Focused on the needs and strategic challenges of the industry participants
Step 1: Project Initiation & Team Selection During this preliminary investigation, all staff members involved in the industry discusses the topic in detail.
Step 2: Prepare Data Systems and Perform Secondary Research The first task of the research team is to prepare for the data collection process: Filing systems and relational databases are developed as needed.
Step 3: Preparation for Interviews & Questionnaire Design The core of all iData research reports is primary market research. Interviews with industry insiders represent the single most reliable way to obtain accurate, current data about market conditions, trends, threats and opportunities.
Step 4: Performing Primary Research At this stage, interviews are performed using contacts and information acquired in the secondary research phase.
Step 5: Research Analysis: Establishing Baseline Estimates Following the completion of the primary research phase, the collected information must be synthesized into an accurate view of the market status. The most important question is the current state of the market.
Step 6: Market Forecast and Analysis iData Research uses a proprietary method to combine statistical data and opinions of industry experts to forecast future market values.
Step 7: Identify Strategic Opportunities iData analysts identify in broad terms why some companies are gaining or losing share within a given market segment.
Step 8: Final Review and Market Release An integral part of the iData research methodology is a built-in philosophy of quality control and continuing improvement is integral to the iData philosophy.
Step 9: Customer Feedback and Market Monitoring iData philosophy of continuous improvement requires that reports and consulting projects be monitored after release for customer feedback and market accuracy.